This hearty beet chili is made with roasted beets and beans. Quick, simple recipe for summer cookout. To keep it vegan, omit the Romano cheese
Have you tried beets in a chili recipe before?
Its the perfect dense texture that will fool the most ardent meat-eaters.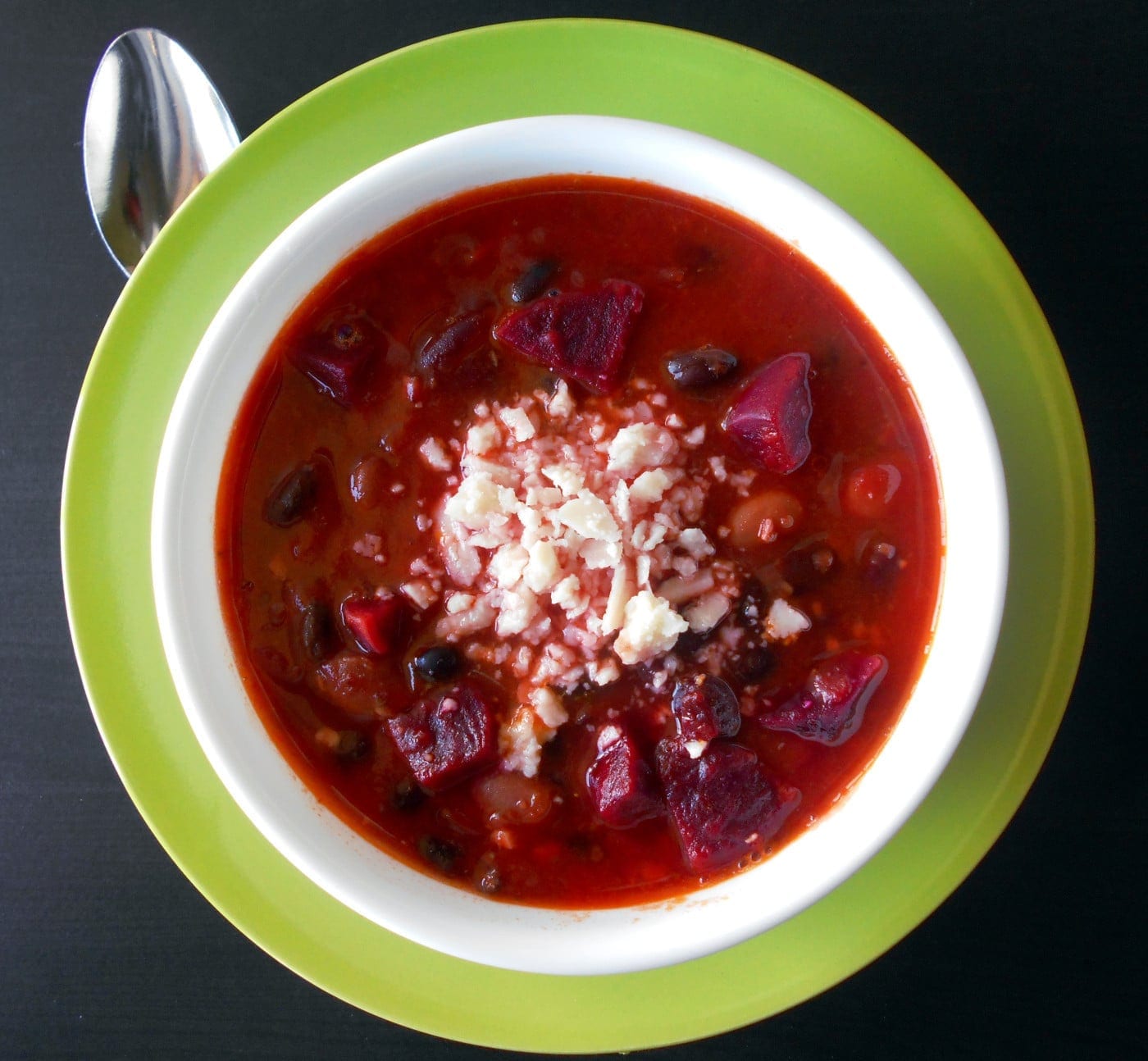 Some of my meat eating friends always complained that vegetarian food doesn't seem to feed the soul!
In my quest to show them some delicious vegetarian meals that are comforting too, I went on a quest for hearty ingredients.
That's how I discovered that roasted beets are a great way to make any meal dense and hearty.
Then, this recipe was born and my friends had to concede that
It has ingredients that are not the norm in many chili recipes
For one, it has beets. They give this vegetarian chili a very "meaty" texture. To the point that you will not even notice that it doesn't have any meat in it.
Also included in this recipe is habanero peppers. They are high on the scoville scale so they will make for a spicy meal. If used correctly, the habanero can add the perfect level of spiciness to any recipe.
I have tried this vegetarian beet chili recipe in the past without the beets and they just feel and taste like soup. So, I make sure that I include beets in every one of my recipes.
The beans are also a star in this recipe. I went with pinto beans, black beans and kidney beans. I think that is enough beans, right?
All 3 beans contribute a delicious flavor to this recipe.
I have another 3 bean chili made with completely different beans and it's made in the crock pot. Even leftover beet chili can be put into chili tacos.
For beet lovers, I have a super healthy and delicious beet salad, beet hummus, beet canape and beet tart recipe that you just can't resist.
Do you love Beets?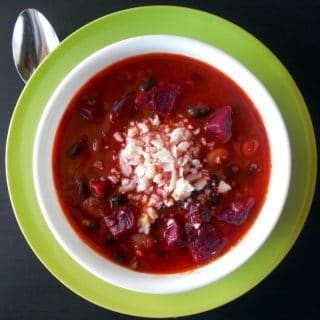 Vegetarian Chili Made With Beets
This hearty vegetarian chili is made with roasted beets and beans
Ingredients
2

beets

Fresh, thoroughly washed

1

can

dark red kidney beans

drained and washed

1

can

black beans

drained and washed

1

can

pinto beans

drained and washed

5

cherry tomatoes

½

can

tomato sauce

(unsalted)

½

red onion

Finely chopped

3

cloves

garlic

Finely chopped

1

habanero chili

or 2 jalapenos

2

tsp

Sunflower Oil

2

tsp

salt

1

tsp

black pepper

freshly ground

1

tsp

cayenne pepper

(optional)

1

tsp

lemon juice

½

tsp

sugar

(optional)

1

tsp

cumin seeds

1

tsp

cumin powder

2

tsp

Romano cheese

or Cojita

1

cup

water
Instructions
How To Cook Beets
Preheat oven to 400 degrees. Wear plastic gloves when working with beets


Make shallow cuts in the beets and lightly oil them


Wrap them in aluminum foil

Cook them for about 25-30 Minutes or until a knife passes them easily


Remove them from the oven and let them cool while covered/


Remove foil and cut beets into small bite size pieces
To Cook the Chili
Split habanero into half and remove the seeds. Wear plastic gloves


In a pan, add the oil and warm it up

Add the onions, cumin seeds, garlic and habanero pepper

After 30 Seconds, add the beets and cherry tomato

Cook for 15 minutes on low heat or until the beets turn slightly crispy


Add the salt, fresh pepper, cayenne pepper and sugar

Add the cumin powder

Add the tomato sauce and all the beans

Add the water and cover

Allow the vegetarian beet chili to simmer for about 25 minutes on low heat

Add the lemon juice at the end and heat for 5 more minutes

Remove the vegetarian beet chili from heat and adjust taste if needed.
Serve the vegetarian beets chili in a bowl and top with cheese. Omit cheese to keep it vegan
Nutrition
Calories:
331
kcal
Carbohydrates:
56
g
Protein:
16
g
Fat:
6
g
Cholesterol:
1
mg
Sodium:
3310
mg
Potassium:
1478
mg
Fiber:
16
g
Sugar:
16
g
Vitamin A:
1395
IU
Vitamin C:
37.9
mg
Calcium:
113
mg
Iron:
6.8
mg