Vegan Collard Greens Stew with black eyed peas is the perfect dinner meal. Packed with vitamins and nutrients. Healthy, hearty stew for the whole family
I am a huge fan of southern cooking because I see how much passion the chefs have for this cuisine. Sadly, I can't eat most of it, but, I can sit there and watch them cook until the end of time!
Who sees all that butter and frying that is a staple in most southern cuisines?
Not me!
All I see is a pure, unbridled passion for a good meal. All I see is a keen understanding of ingredients and how to best pair them!
My favorite vegetarian southern recipe has to be tomato cobbler, mainly because it is so near and dear to my heart. If you ask me to choose my favorite tomato recipe ever, I would have to choose that cobbler recipe.
So, today, I decided to take a southern classic ingredient and put it into a stew.
Collard greens recipes are common in southern cooking. Most of the time, when you ask southern chefs how to cook collard greens, you get a wide range of answers. Collard greens have been blanched, fried, roasted, stir-fried, baked, steamed, sauteed and even eaten raw by those with a brave personality.
Sauteing them has always been my favorite way to cook them. This way, they stay crispy and also retain most of their flavor. When combined with black-eyed peas, this recipe absolutely consumes the soul and rejuvenates you from the inside!
I put very few ingredients into this recipe because I wanted to keep it simple and easy to make. Enjoy this vegan stew as dinner starter or just as a meal by itself for lunch. Even the salt is kept to a minimum, so, this recipe is very healthy.
I topped it with my favorite buttered radishes (without the hoisin sauce) because they provide a little spice to this stew. Collard greens and radishes pair very well together because they compliment each other. The greens have all the nutrients but are light on flavor. The radish brings wakes up the mouth and adds a new layer of deliciousness!
The black-eyed peas are not from a can. I soaked the dry version overnight and slow cooked them for about 3 hours before using them in this recipe. You can absolutely use the can version if you don't have the time. The only thing I would strongly recommend is that you wash the peas thoroughly so as to remove as much of the salt as possible.
I also made an amazing green smoothie using collard greens! Its packed antioxidants and all kinds of nutrients. Plus, its delicious.
What is your favorite way to make southern collard greens?
Collard Greens Stew With Black-Eyed Peas
1) If you are using dried black-eyed peas (1 cup), soak overnight in hot water and slow cook them for about 3 hours before using in this recipe. For canned version, use 1.5 cups and make sure you wash them thoroughly
2) Add 2 Tbsp of vegetable oil to a medium pot. Heat on medium heat for 30 seconds and add ½ tsp cumin seeds (optional)
3) Add ¼ of a red onion cut into long strips. Saute it until it browns
4) Add 2 cloves of garlic cut into long strips and 1 tbsp of red pepper flakes (optional, adjust to your taste)
5) Add 2 cups of collard greens (roughly chopped)
6) Add 2 tsp of sea salt and 1 cup of tomato pulp
7) Add ½ cup of water and let it cook for about 4 minutes.
8) Add the black-eyed peas and bring to a boil.
9) Cover and keep the heat to low. Let it stew for 40 minutes
10) While the stew is simmering, prepare the buttered radishes
11) Take 3 cleaned radishes and cut them into thick rounds. I cut about 3 rounds per radish
12) Place them in a bowl and add 2 tsp of earth balance butter (melted), ¼ tsp of sea salt and ¼ tsp of black pepper. Mix well and lay them out on a baking tray
11) Place tray in a preheated mini oven. I heated the mini oven to 400 degrees and baked them until they turned brown. Don't let them burn
12) Remove radishes from oven and let them cool
13) When the stew is done, add 1 tsp of lime juice. Mix and transfer to a serving bowl. Top with the buttered radishes
Serve these collard green stew immediately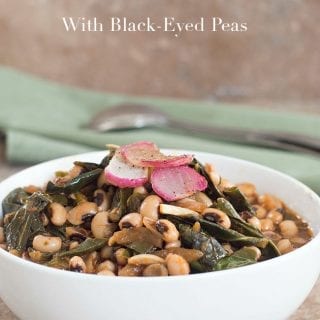 Collard Greens Stew With Black-Eyed Peas
Packed with vitamins and nutrients. Healthy, hearty stew for the whole family
Ingredients
For The Buttered Radishes
3

radishes

Cut into thich rounds

2

tsp

vegan butter

¼

tsp

black pepper

or to taste

¼

tsp

salt
For The Stew
2

Tbsp

vegetable oil

½

tsp

cumin seeds

optional

¼

red onion

julienned

2

cloves

garlic

julienned

1

tbsp

red pepper flakes

optional, adjust to your taste

2

cups

collard greens

roughly chopped

2

tsp

sea salt

1

cup

tomato

pureed

1

cup

water

Black-eyed peas

see notes

½

tsp

lime juice
Instructions
Pre-heat mini oven to 400 degrees


Heat a medium pan for 30 seconds before adding the oil and cumin seeds

Add red onions and saute until they brown


Add garlic, red pepper flakes and collard greens


Add sea salt and tomato pulp

Add water and let it cook for about 4 minutes.

Add the black-eyed peas and bring it to a boil.

Cover and keep the heat to low. Let it stew for about 40 minutes

While the stew is simmering, prepare the buttered radishes

Place them in a bowl and add vegan butter (melted), sea salt and black pepper


Mix well and lay them out on a baking tray

Baked them until they turn brown (about 7-10 minutes)


Remove them from the oven and allow them to cool

When the stew is done, transfer to a serving bowl and top with the buttered radishes

Serve these collard green stew with black-eyed peas immediately
Notes
If you are using dried black-eyed peas, soak them overnight in hot water. Then, slow cook them for about 3 hours before putting them in this recipe. I used 1 cup of dried black-eyed peas for this recipe. For canned version, use 1.5 cups and make sure you wash them thoroughly