Packed with mighty ingredients, this ultimate antioxidant blast is a powerful way to start your day. Needs only 7 ingredients and takes only 15 minutes to make

** This ultimate antioxidant blast recipe is sponsored by NutriBullet Select at Walmart.  All opinions are mine **
Collard greens, celery, pineapple and green apples!
That is a powerhouse of antioxidant ingredients and a great way to start the day.
MY LATEST VIDEOS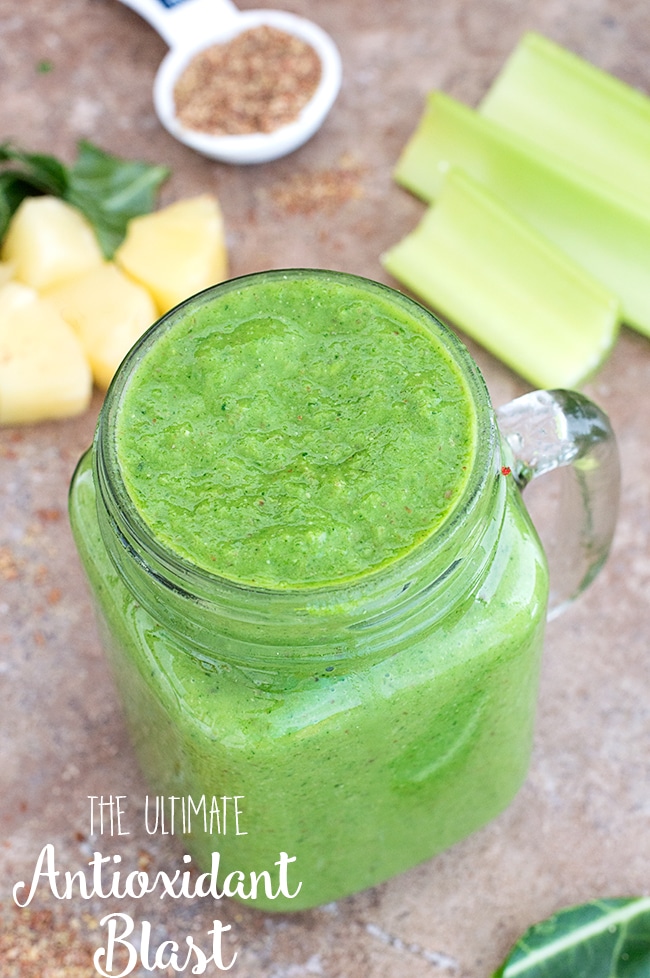 Collard greens have made an appearance on this blog in stews and colcannon.  But, I had never thought I would be using collard greens in a smoothie!
Until now…
I always found collard greens to be a tough green leaves and chopping them would be the only way to cook them.
So, when NutriBullet Select claimed that their precision extraction blade was amazing at crushing any ingredient, I decided to put it to the test
To my pleasant surprise, it turned them into pulp with no effort at all.  I can't wait to throw different ingredients in it to see what else it can do!
Can you believe that it took me less than 15 minutes to make this ultimate antioxidant blast? If you can get the collard greens pre-cut with the thick stem removed, this smoothie will take you even less time than that.
There! I have taken away all your rationalization for not eating good-for-you meals!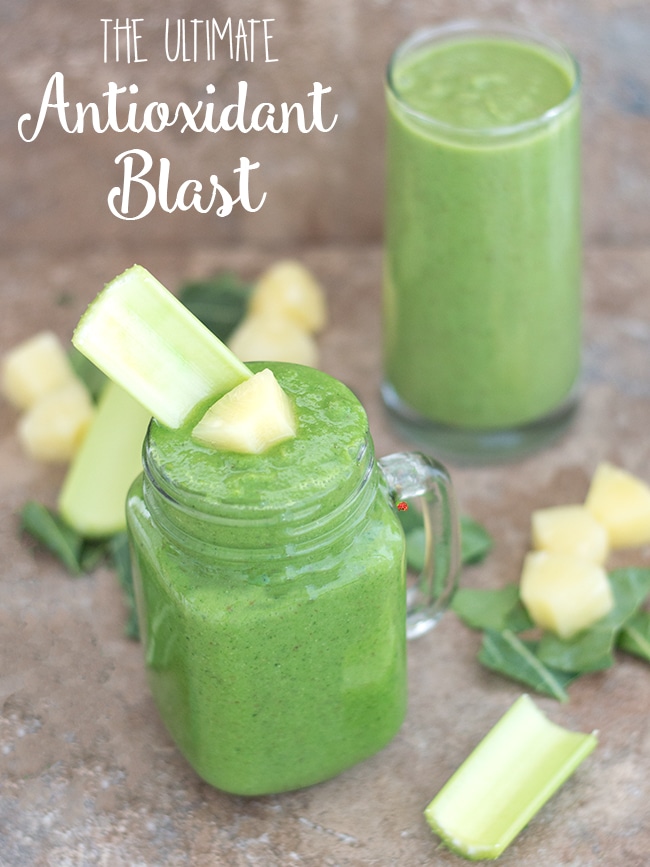 Besides, wouldn't you want to start the day consuming powerful ingredients that will help fight free radicals throughout the day??  I know I want to!
Although breakfast / lunch for me is usually around 11am, I sill find this smoothie waking me up from my morning stupor.  Now, even I don't have any reason not to eat right!
The best part is that NutriBullet made their containers to be portable!
So, I can just remove the blade attachment and replace it with a flip-top cap and dash out the door! Or, I can put a comfort lip ring (which comes with) and sip it right at my desk.  That is one less thing for me to wash and if you know anything about food bloggers, dirty dishes are our biggest enemy!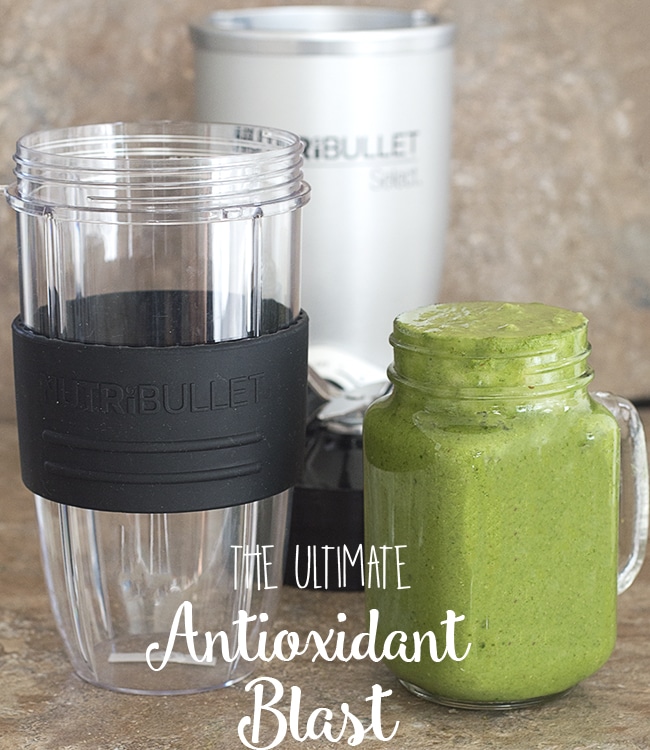 As I was flipping through their user guide and recipe book, I was astounded by all the recipes I can make using any or all of NutriBullets add-ons.  Of all the processors I have owned, this one is the most versatile because I can make lunch, dinner, breakfast, dessert and snacks using this one machine
With all its different settings, this Nutribullet can make pizza crusts and sauces, veggie burgers, salsa, falafal, soups and my favorite is the raspberry sorbet!  My mind is already thinking of hundreds of recipes I can blend, pulse and / or crush!
Then, there are the variable speeds….
Be still my heart!
So, hurry and get your own Nutribullet Select today! It is available exclusively at Walmart today! Go, run, fly, jump, or bike to your nearest Walmart.  This is the best investment you will make for your body!
Do you prefer to blend, crush or pulse?
Ultimate Antioxidant Blast Green Smoothie
1)  Take the Colossal cup and add 1 cup of collard greens.  Make sure the thick stem is removed and they are roughly chopped
2) Roughly chop one celery stick and add it to the cup
3) Add 1/2 of an apple.  Remove the skin and roughly chop it before adding to the cup
4) Take an 8 oz tin of pineapple chunks.  It normally comes with chopped pineapple chunks in pineapple juice.  Add both the chunks and the juice to the colossal cup
5) Add 1 Tbsp of flax seed meal
6) Add 1 Tbsp of maple syrup
7) Add 1/4 cup of unsweetened almond milk
8) Cover with the blade attachment and gently drop it into the base with the blade side down
9) Twist it gently and let the cup lock in place
10) Set the mode to blend and gently press down on the top of the cup.  Press the green G-button with is blinking and let it blend.
11) When fully blended, press the G-button to stop it and wait for the green light to turn off.  This is important because you don't want to remove the cup before the blades have stopped
Take the cup on the go or at home
Ultimate Antioxidant Blast Green Smoothie
Packed with 7 mighty ingredients, this ultimate antioxidant blast is a powerful way to start your day.

Ingredients
1

cup

collard greens

chopped, thick stem removed

1

stick

celery

roughly chopped

1/2

green apple

chopped and skin removed

8oz

can

Pineapple chunks

use the pineapple juice also

1

Tbsp

flax meal

1

Tbsp

pure dark maple syrup

1/4

cup

unsweetened almond milk
Instructions
Add 1 cup of collard greens to the colossal cup


Add celery stick to the cup

Add pineapple chunks and its juice


Add pure dark maple syrup

Add the unsweetened almond milk

Close with the base and blend for 1 minute or until well blended

Recipe Notes
Nutrition Facts
Ultimate Antioxidant Blast Green Smoothie
Amount Per Serving (3 Cups)
Calories 2899
Calories from Fat 90
% Daily Value*
Total Fat 10g 15%
Sodium 170mg 7%
Potassium 6021mg 172%
Total Carbohydrates 736g 245%
Protein 26g 52%
* Percent Daily Values are based on a 2000 calorie diet.