Packed with mighty ingredients, this ultimate antioxidant blast is a powerful way to start your day. Needs only 7 ingredients and takes only 15 minutes to make. Its one of my favorite green smoothies ever!
** This ultimate antioxidant blast recipe is sponsored by NutriBullet Select at Walmart. All opinions are mine **
Collard greens, celery, pineapple and green apples!
That is a powerhouse of antioxidant ingredients and a great way to start the day.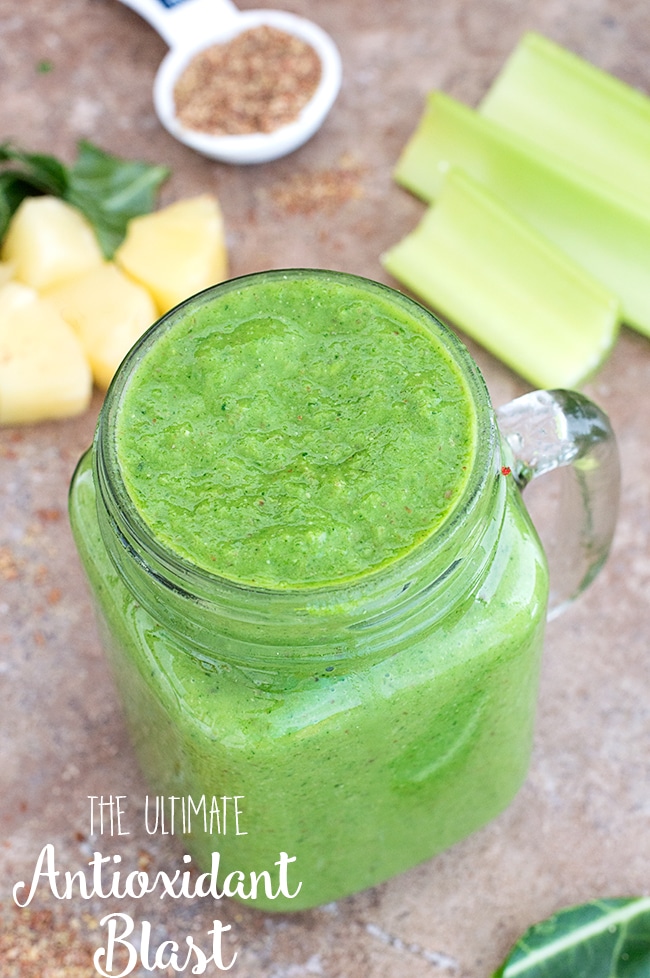 Using collard greens
Collard greens have made an appearance on this blog in stews and colcannon. But, I had never thought I would be using collard greens in a smoothie!
I always found collard greens to be a tough green leaves and chopping them would be the only way to cook them.
Until now…
Collard greens pack an antioxidant punch like no other!
What are antioxidants?
"Anti" is against and "Oxidants" are things that oxidize. The way I understand There are different chemicals that fight the evil free-radicals. Every day, my skin is exposed to pollen, dirt, dust, smoke and even the sun.
Florida has its share of free-radicals like the giant red ball in the sky! So, I love consuming antioxidant rich foods that will help fight free radicals.
It all boils down to this for me: Free Radicals = Bad, Antioxidants = GOOD!
What's your take on antioxidants?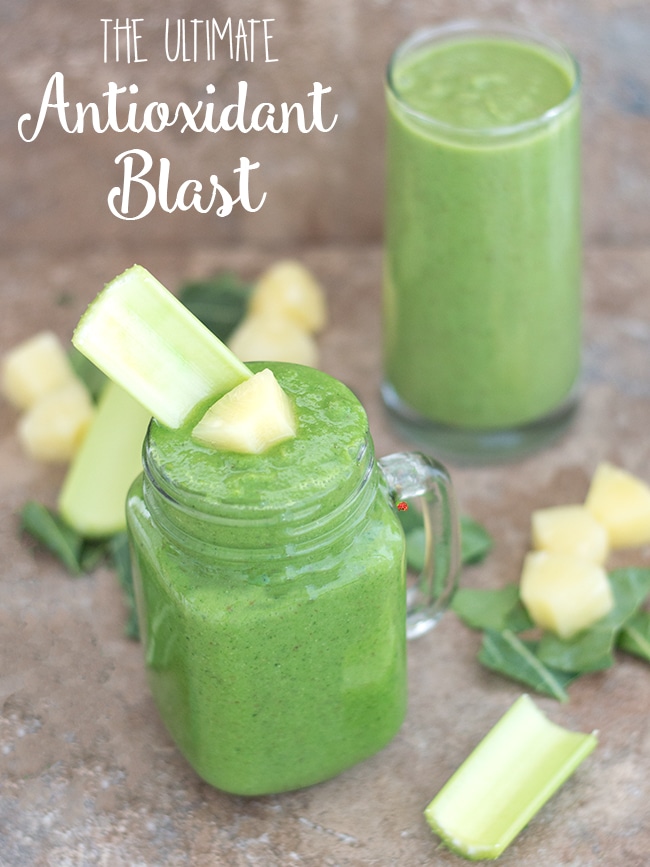 Foods high in antioxidant
We are so lucky to be living in a time where organic and natural foods are so easy to find. I am always glad to see that they are affordable, so, I don't have any excuse not to eat right. I don't always succeed in eating right, but, I am happy to keep trying.
This recipe has a
Blueberries
Blueberries
Blueberries were an acquired taste for me. I have never been a fan of it, but, I started slowly introducing it in my diet. At first, I only made blueberry vinaigrette with them. Eventually, I started using them in overnight oats, Matcha Pancakes and scones.
Today, I am happy to say that I love blueberries and will eat them right out of the clam shell.
P/S: Have you tried my blueberry gazpacho recipe?
Source: WebMD
Dark Chocolate
Eating dark chocolate is actually good for you! I was so happy to see dark chocolate on the list of antioxidant rich foods to eat. I think I am going to make my hot chocolate recipe using dark chocolate. If you like brown rice puddings, add some dark chocolate to it.
But, nothing will make you love dark chocolate more than my chocolate peanut butter smoothie bowl!
Source: WebMD
Red Kidney Beans
Red kidney beans have trace amount of magnesium which is helpful for the mitochondria. I love them not only because they are good fighters, but, red kidney beans do taste so good. I put them in a red kidney beans salad with baby corn. It was delicious!
Source: HealthLine
Cilantro
Did you just do a double take when you saw cilantro on the list? I was surprised too! I had no idea that it has the flavanoid quercetin which is a huge factor in fighting anti oxidants!
Next time, when you see the garnish on your favorite food, devour it. It will help fight free-radicals.
Who knew!! I guess its time for me to go and make some of my cilantro pesto!
Source: Dr. Axe.
Cranberries
Cranberries have Vitamin C is packs quite a punch when fighting free radicals. It also helps lower cholestrol and fight cancer. So, why eat them only at Thanksgiving, right? I try to eat them as often as possible. I am going to make my navy beans salad over the weekend
Source: Cleveland Clinic
My recipe includes pineapple, collard greens, celery and granny smith apples which are all huge sources of antioxidants. If you want more sources of antioxidant check out the list by WebMD.
Which one is your favorite?
Using NutriBullet for everything
When NutriBullet Select claimed that their precision extraction blade was amazing at crushing any ingredient, I decided to put it to the test.
To my pleasant surprise, it was actually very good. I am very impressed by this product.
I use it to grind lentils, curries, soups, smoothies and even fruit juices.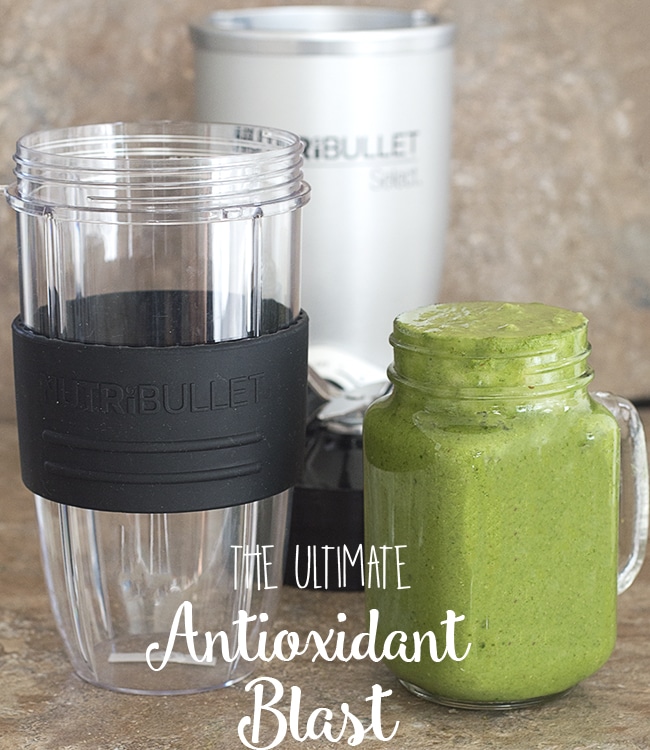 5 Year update
*** 2022 Update – 5 years later, I still use this blender!
I am down to just 1 of the Jugs (the smallest one). But, the blades are still as sharp as ever. It's my go to blender for making smoothies, juices or pureeing.
Yesterday, I pureed yellow split peas for a curry recipe and couldn't believe how well it ground it. It was practically liquid by the time I was done with it.
Also, I have other green smoothies that I would love for you to try. Recently, I made Mandarin orange smoothie and a pineapple smoothie with jalapeno.
So, this ultimate antioxidant blast is my favorite way of using collard greens. What's your favorite way of using collard greens?
How to make an antioxidant smoothie
1) Take the Colossal cup and add 1 cup of collard greens. Make sure the thick stem is removed and they are roughly chopped
2) Roughly chop one celery stick and add it to the cup
3) Add 1/2 of an apple. Remove the skin and roughly chop it before adding to the cup
4) Take an 8 oz tin of pineapple chunks. It normally comes with chopped pineapple chunks in pineapple juice. Add both the chunks and the juice to the colossal cup
5) Add 1 Tbsp of flax seed meal
6) Add 1 Tbsp of maple syrup
7) Add 1/4 cup of unsweetened almond milk
8) Cover with the blade attachment and gently drop it into the base with the blade side down
9) Twist it gently and let the cup lock in place
10) Set the mode to blend and gently press down on the top of the cup. Press the green G-button with is blinking and let it blend.
11) When fully blended, press the G-button to stop it and wait for the green light to turn off. This is important because you don't want to remove the cup before the blades have stopped
Take the cup on the go or at home
Ultimate Antioxidant Blast Green Smoothie
Packed with 7 mighty ingredients, this ultimate antioxidant blast is a powerful way to start your day.

Ingredients
1

cup

collard greens

chopped, thick stem removed

1

stick

celery

roughly chopped

½

green apple

chopped and skin removed

8oz

can

Pineapple chunks

use the pineapple juice also

1

Tbsp

flax meal

1

Tbsp

pure dark maple syrup

¼

cup

unsweetened almond milk
Instructions
Add 1 cup of collard greens to the colossal cup


Add celery stick to the cup

Add the apple


Add pineapple chunks and its juice


Add pure dark maple syrup

Add the unsweetened almond milk

Close with the base and blend for 1 minute or until well blended


Serve immediately

Nutrition
Calories:
966
kcal
Carbohydrates:
245
g
Protein:
8
g
Fat:
3
g
Sodium:
56
mg
Potassium:
2007
mg
Fiber:
21
g
Sugar:
222
g
Vitamin A:
1415
IU
Vitamin C:
147.9
mg
Calcium:
316
mg
Iron:
4.4
mg