This is a very easy sweet potato soup recipe. A perfect vegan soup for any meal. This Homemade soup is Lo-Carb, gluten free & packed with of vitamins. Made with fresh vegetables that are delicately roasted in the oven and blended until smooth and creamy!

Is it a snow day?
Want something warm and soothing to comfort you?
Nothing says warm comfort quite like the aroma of fresh herb and vegetables gently roasting away in the oven. The aroma of Rosemary and Basil wafting throughout the house, making it feel like a warm summer afternoon in the Italian countryside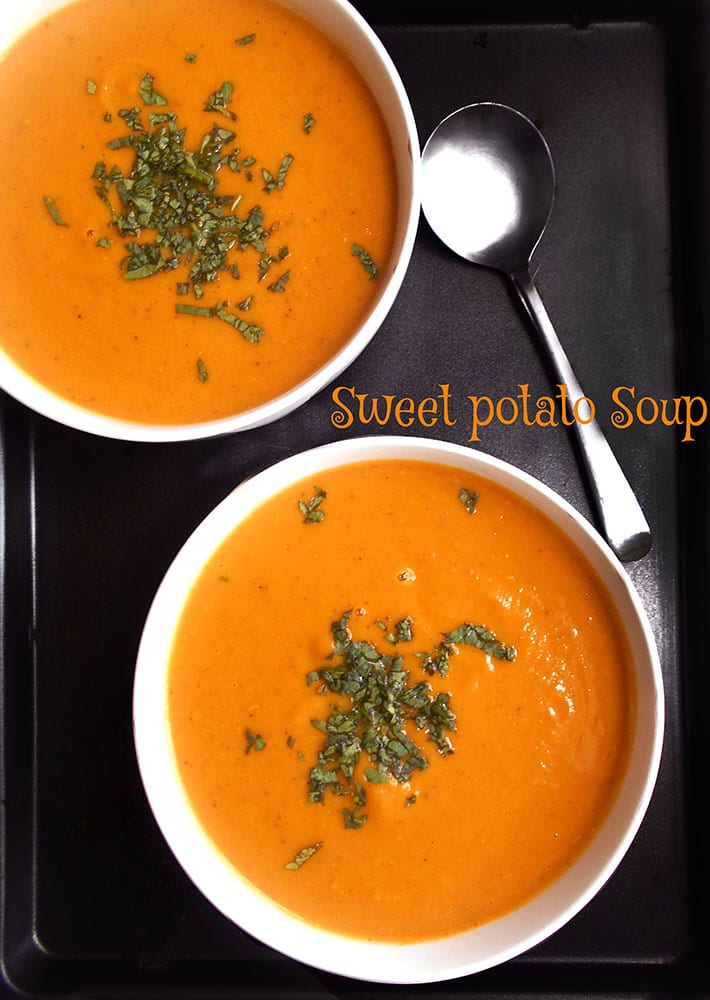 This sweet potato soup is exactly what you need. It is filled with ginger and spices that will make you forget the horrible weather outside.
Fall was always my favorite time of the year in NY. After hibernating in the summer, I would start my fall with soup recipes. My favorite was always the sweet potato soup with a heavy dose of ginger.
Even tough I am in Florida now, I haven't lost my affinity for soups. I have experimented with Potato and fennel soup, broccoli soup, vegetable soup and even Orzo soup.
I find that vegan soups are some of the most popular soups because they are simple and delicious. So, I kept this soup vegan by using almond milk. You can also substitute it with coconut milk or coconut cream.
The star of this recipe surprised me. I thought the sweet potatoes would be the center of attention when it came to flavor. However, it is the dried Rosemary that stole the show!
The rosemary packed quite a huge flavor punch to this soup and gave the soup a wonderful aroma. It became one of those soups that just warms you through to the soul.
To give it a little nutty flavor, I added hazelnut to the recipe and green apples gave it a hint of sourness.
The turnips evened out the sweetness from the potatoes which is exactly what the soup needed.
You can keep sweet potato cubes and put them into a navy bean soup. I love that soup for any time of the year.
What is your favorite winter soup?
Have you checked out my 5 Tips on working with sweet potatoes?
Easy Sweet Potato Soup
Easy Sweet Potato Soup
Quick and easy vegan sweet potato soup that is Lo-Carb and packed with vitamins
Ingredients
2

sweet potatoes

1

turnip

1/4

tsp

salt

2

Tbsp

extra virgin olive oil

1/4

tsp

whole peppercorns

3

pieces

ginger

, small chunks and skin removed

1

clove

garlic

1

Tbsp

dried Rosemary

1

tsp

dried basil

2

Tbsp

hazelnuts

1

large green apple

3

tsp

lime juice

, split into 2 parts - 1 tsp and 2 tsp

3

tsp

almond milk.

5

Cups

water

divided into 2 equal parts

1

tsp

cilantro for garnish
Instructions
Preheat oven to 350 degrees. Peel and cut 2 sweet potatoes into large chunks and place them in a baking dish

Peel and cut 1 turnip into large chunks. Put it with the sweet potatoes

Add 1/4 tsp of salt

Add 2 Tbsp of extra virgin olive oil

Add 1/4 tsp of whole peppercorns

Add 3 small chunks of ginger to the mixture. Remove the skin.

Add 1 clove of garlic. Cut it into thin slices

Add 1 Tbsp of dried Rosemary

Add 1 tsp of dried basil

Mix all the ingredients well

Place them dish in the oven and roast the veggies for 30 minutes or until you can easily crush a sweet potato with a spoon

While the potatoes are in the oven, prepare 2 Tbsp of hazelnuts. Remove as much of the skin as you can.

Cut 1 large green apple into half. Save 1/2 of it for another recipe. Cut the apple into large chunks

In a blender, add the hazelnut and apples. Add 1 tsp of lime juice

Remove from the oven and let it cool for about 5 minutes, no more.

Add the potatoes into the blender. Add 3 tsp of almond milk.

Add 1/2 cup of water and pulse. Keep adding 1/2 cup of water and pulsing until the soup is blended perfectly. You will need about 5 cups of water and about 10 minutes of blending.

Transfer the contents to a large pan and heat at medium heat. Adjust for salt, spice and water. I also added 2 tsp of lime juice here

Transfer to soup bowls and serve immediately. Garnish with cilantro. It will stay fresh for about 1 week. Heat well before serving.
Notes
Nutrition Info is approximate