A Light vegan penne pasta made with mushrooms and spinach. I used a light coconut milk sauce to mix all the ingredients together. Its the perfect quick dinner recipe with just a few ingredients. Its also made with red lentil pasta
Disclosure – This post is sponsored by (affiliate link) Barilla but the content and opinions expressed here are my own.
I love a pasta recipe with very few ingredients.
A quick pasta recipe that takes very little effort to make and tastes delicious!
Who can resist that pasta for dinner, right?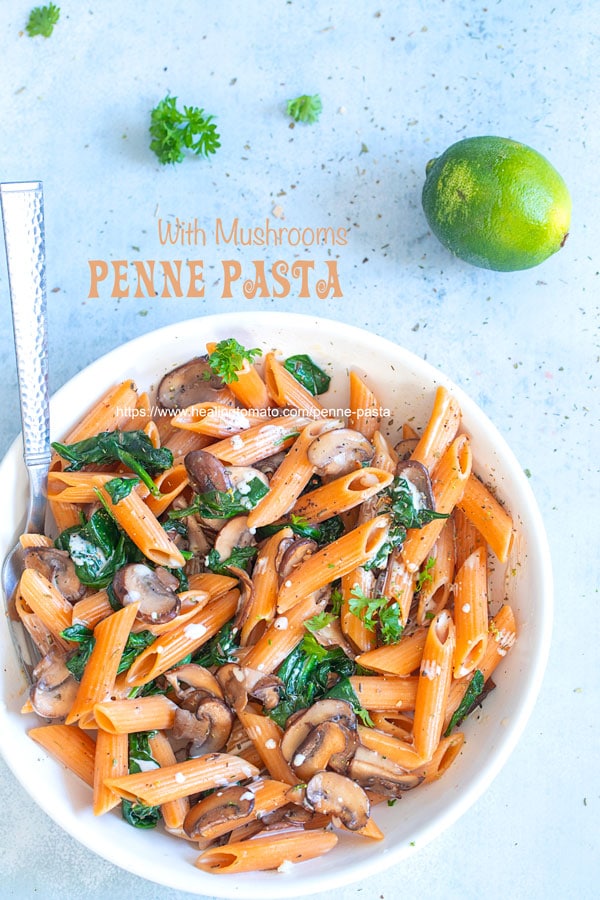 Barilla red lentil pasta
Today's recipe is a quick, easy penne pasta recipe made with (affiliate link) Barilla's Red Lentil Pasta which is a huge game changer for me
It's good in a light sauce, marinara sauce or with a whole bunch of grilled veggies. Or, make this super simple bucatini cacio e pepe by Running To The Kitchen.
The pasta happens to be gluten free, low carb and non-gmo certified, as well as, all vegan
It has all plant based proteins and NO animal protein. It makes me happy to see companies working to make great pastas for us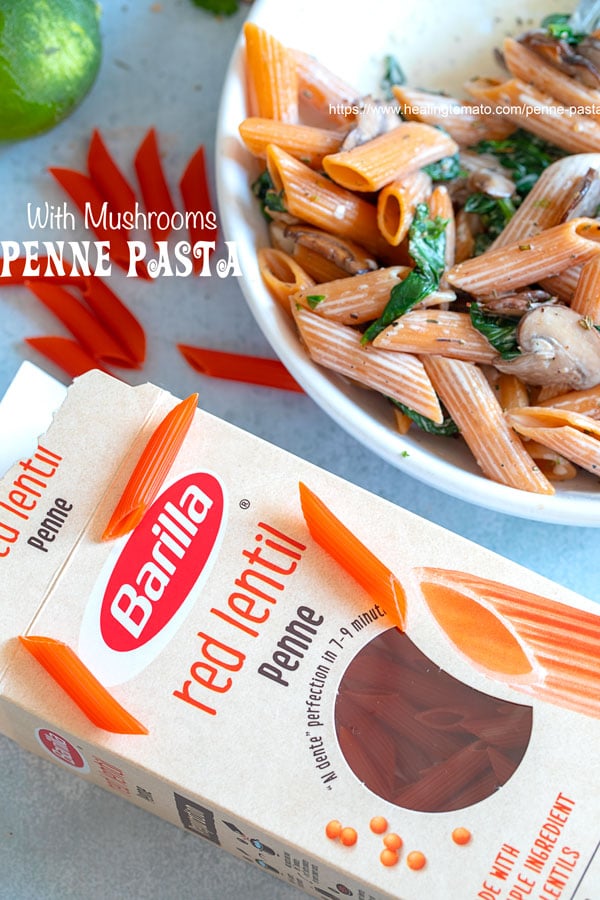 Tips for making this mushroom penne pasta
– Use very small baby bella mushrooms in this recipe because they blend well with the pasta
– If you wash mushrooms right before you cook them, make sure they are very dry. Water tends to make these mushrooms soggy. Ideally, wash them the day before and wrap them in paper towel to absorb any moisture
– Make sure you slice the mushroom as thinly as possible. It might be a little tedious, but, so worth the effort
– I used fresh spinach in this recipe because that's all I had in my refrigerator. You can experiment with frozen spinach and let me know how it tasted
– Be sure to use full fat coconut milk to make the sauce because lite coconut milk makes the pasta runny
– If you have time, make this Greek seasoning and put it in the coconut sauce.
– I also recommend using my vegan Alfredo sauce or Fit As A Mama Bear's coconut milk Alfredo sauce. They both work great with mushrooms and spinach
– The lime zest really brings all the flavors together, so, don't skip it
Cooking the lentil pasta
1) Start by putting 5 cups of water in a strong bottom pot
2) Add 1/4 tsp salt and bring water to a boil
3) Set the heat to medium high
4) Add 2 cups of the red lentil penne pasta into the boiling water
5) Give it a quick stir and let it cook
6) I noticed that this pasta has a lot of starch floating to the top. So, I skimmed off as much of the starch as I could during the cooking process
7) The package calls for cooking it for 7 minutes of cooking time for "Al Dente" pasta. I actually cooked it for 9 minutes
8) Drain the pasta and put it immediately into the pan with the mushrooms. I found that the cooked penne pasta dries quickly, so, I sauce it immediately
Veggies to add to vegan pasta
– Kale (instead of the spinach)
– Bell Peppers
– Asparagus
– Onions
– Sun-dried tomatoes
– Red pepper flakes for a slightly spicy penne pasta recipe
Answering Common Questions
Is Spinach necessary in this pasta?
Spinach is definitely optional in this penne pasta recipe. But, it adds additional nutrients and a differently texture to the red lentil pasta.
Plus, they are easy to cook and a great way to get my veggies in for the day. Kale or even collard greens will be good substitute for the pasta. Collard greens are a little unusual, but, if you have tried my ultimate antioxidant smoothie, you know that they are a pleasant surprise in any recipe
Can I freeze this pasta recipe?
Yes, but, freeze only the sauce part. The red lentil penne pasta doesn't freeze well and its best when consumed hot.
However, you can make the mushrooms and sauce in advance and save it. Mix it into the pasta when you are ready to consume it. You can also add a little pumpkin puree to the sauce like I did in my mushroom stroganoff
Is it possible to use regular pasta in this recipe?
Yes, you can use regular wheat, GMO, pesticide laden, gut-ripping pasta in this recipe. It will taste good, sure. But, is it worth hurting your gut?
So, try this pasta recipe tonight and let me know what you think. Be sure to rate it below and comment on what you thought of it.
This pasta happens to be a delicious low-carb pasta. If you like low carb recipes, try my whipped feta dip and my olive salad.
Vegan pasta recipes
If you are a fan of light pasta meals, then you are in luck. Some of my blogger friends and I have a few recipes that you can try. Which one is your favorite?
Balsamic Dressing Pasta Salad by Life Currents
Balsamic Dressing Pasta Salad
This Balsamic Dressing Pasta Salad is a classic easy to make vegan pasta salad. Perfect for a picnic, lunch, or light dinner
Check out this recipe
Creamy Lemon Pasta by Bowl-Me-Over
Creamy Lemon Garlic Pasta
Creamy Lemon Garlic Pasta – Lemons, garlic, parmesan cheese, cream, olive oil and some spices – that's it!
Check out this recipe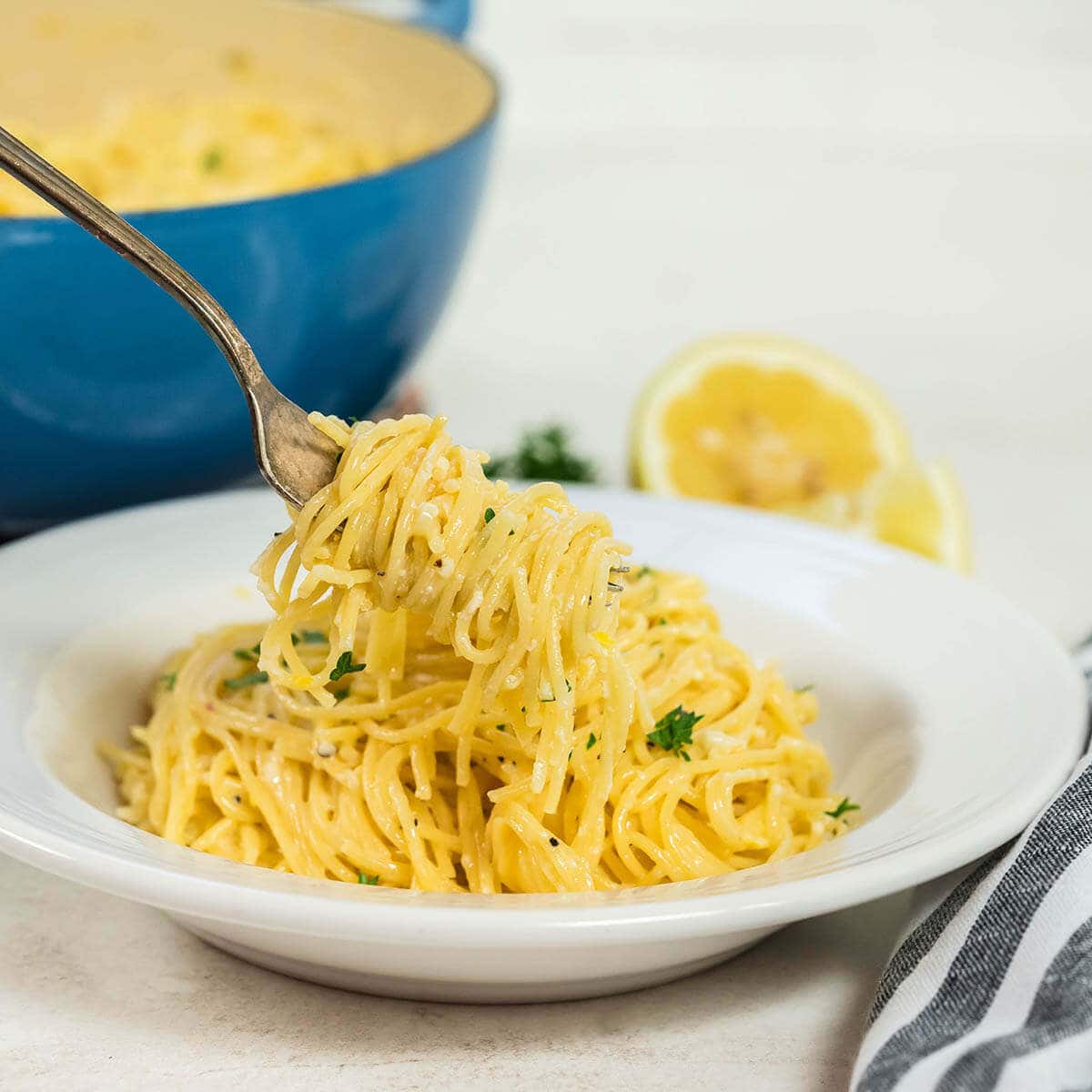 Casarecce Pasta with Broccolini Rabe
Casarecce Pasta With Broccolini Rabe
Simple casarecce pasta with broccolini rabe in a rich herb butter sauce
Check out this recipe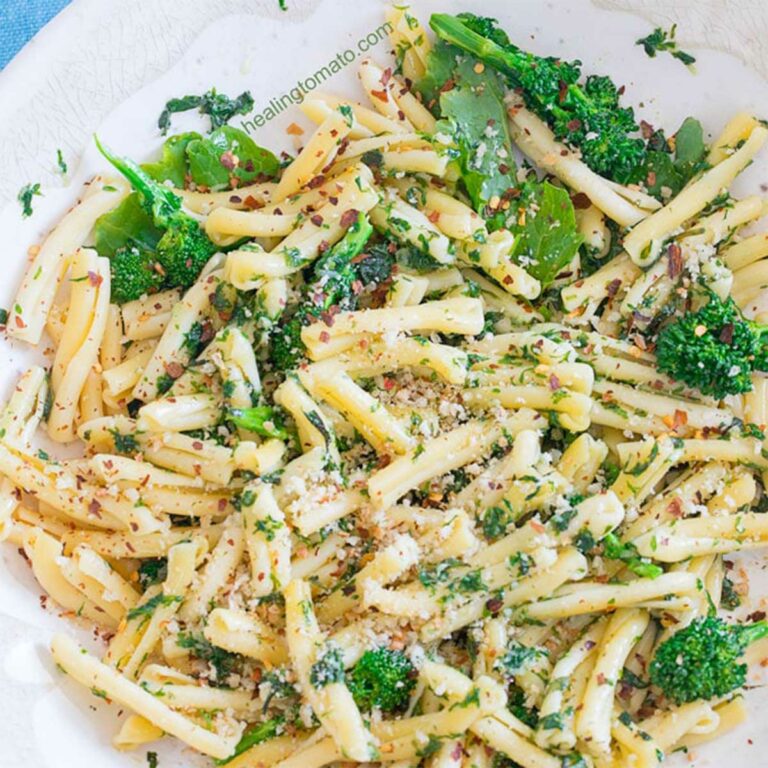 Cold Pasta Salad Recipe
A simple cold pasta salad recipe that is perfect weeknight meal idea. Works as the main course meal or as a side dish
Check out this recipe
Penne Pasta With Mushrooms
Quick, easy vegan penne pasta recipe

Ingredients
water

To cook the pasta

2

Tbsp

extra virgin olive oil

3

cloves

garlic

finely diced

8

oz

baby bella mushrooms

slice them very thin

3

oz

baby spinach

about 2 cups loosely packed

1.5

cup

coconut milk

or cream

1

tsp

salt

adjust to your taste

1

Tbsp

oregano

dried or fresh

2

sprigs

parsley

or 1 tsp dried parsely

1

tsp

black pepper

1.5

tsp

lime zest
Instructions
Start by boiling the water for the pasta while working on the other ingredients


Heat a pan for 30 seconds and add the oil


Add the garlic and cook for about 30 seconds on medium heat


Add the mushrooms and stir well


Cook mushrooms on medium heat for about 7minutes or until they start to brown


Add the spinach, but, don't stir it


When the spinach is half its size, stir the mixture and cook for about 2 minutes


While the mushrooms are browning, the water should be ready, so, add the penne pasta


Cook the penne pasta for about 9 minutes. See notes


Drain the pasta and add it to the mushroom + spinach mixture


Add all the remaining ingredients (except the lime zest)


Mix well and let it cook for about 3 minutes on medium heat


Turn off heat and add the lime zest


Mix well and serve immediately

Notes
– When cooking this pasta, I skim off as much of the starch that rises up. I prefer it that way, but, its not required
Nutrition