This easy Navy Bean Soup slow cooker version is really easy to make! Just dump all the ingredients into the slow cooker and 5 hours later, you will have a hearty vegan navy bean soup.
Don't you just love soups that practically make themselves?
I love recipes that I can drop into a slow cooker and do my chores while it cooks in the kitchen
This navy bean soup slow cooker version is the perfect "dump and cook" type of soup.
Tips for making this soup
– Make sure your carrots are thinly diced. I kept mine thick and it took much longer to cook them. I think if you can get your carrots to be as thin as a quarter, it will be perfect
– Finely dice the artichoke hearts
– You can also use an immersion blender to mash parts of the soup. Be sure to not mash everything because you will have a creamy, blended soup.
– Use a small, round sweet potato in this recipe. If you want tips on how to pick the perfect sweet potato, check out my tips on baking the perfect sweet potato.
– I am not a fan of using veggie broth or broth of any kind in any of my cooking. I used rice water in this recipe and have used coconut water in the past. If you don't have a problem using broth, use it in place of rice water.
P/s: Here is how I easily make rice water
– You can use a pressure cooker instead of slow cooker to make this navy bean soup. Choose the "Beans" option on your pressure cooker or instant pot. Add the coconut milk at the very end.
Spices for navy bean soup
– Dill
– Parsley
– Lemon Pepper
– Thyme
– Cloves
– Cayenne Pepper
– Mushrooms
– Bell Peppers
Is it necessary to soak beans?
Soaking beans, whether they are navy beans, lentils or other grains, it is a good idea to soak them. Soaking them makes them softer and also takes away some of the lectins.
Cooking the navy bean soup stove top definetly requires pre-soaking. Since it takes a long time to cook dry navy beans, speed up the process by pre-soaking them.
Navy bean soup slow cooker version doesn't require soaked navy beans. But, I will sometimes soak them overnight night for nutritional benefits.
Cooking dry beans
Place about 5 cups of water to 1 cup of dry navy beans on the stove top. Cook for 2 hours or until they can be mushed easily
To slow cook them, add 1 cup of navy beans to the slow cooker along with the other ingredients and set it to cook on high. It will take about 6-7 hours to fully cook it.
Or, you could do what I did and cook with canned navy beans which save so much time! Sometimes, its fun to take a few shortcuts.
Why are they called navy beans?
They are called navy beans because it is a huge part of the diet for members of the US Navy. According to Wikipedia, it is a popular ingredient in their recipes in the 20th century.
There are several other theories out there on why they are called navy beans. However, the US Navy version is the widely accepted version.
You can also substitute Navy beans with white beans, cannellini beans, pea beans or go outside the box and use some red beans.
What can you make with Navy beans
Parsley Hummus (Substitute chick peas with navy beans)
…. and of course, Ribollita!
More soup recipes
Creamy Avocado Soup Recipe
A Quick and Easy Creamy Avocado Soup made with quick and easy ingredients

Check out this recipe
Healing Tomato Soup
Creamy vegan tomato soup with coconut milk is made by using roasted tomatoes and roasted bell peppers.
Check out this recipe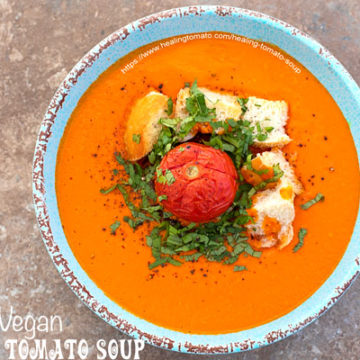 Vegan Pumpkin Soup with Butter Beans
Vegan Pumpkin Soup with Butter Beans is flavored with Cinnamon + Nutmeg and Simmered to Perfection
Check out this recipe
Easy Sweet Potato Soup
Quick and easy vegan sweet potato soup that is Lo-Carb and packed with vitamins
Check out this recipe
Navy Bean Soup
Quick, easy crock pot Navy Bean Soup recipe

Ingredients
1

Tbsp

extra virgin olive oil

4

cloves

garlic

crushed

1

Tbsp

ginger

crushed

¼

cup

celery

finely diced

¼

cup

red onions

finely diced

1

can

navy beans

I used a 16oz can

1

sweet potato

¼

cup

artichoke hearts

finely diced

1

cup

carrots

diced

½

cup

diced tomatoes

from a can

2

tsp

dill

2

Tbsp

nutritional yeast

2

Tbsp

lemon pepper

1

Tbsp

thyme

dried

1

Tbsp

parsley

dried

5

cloves

2.5

tsp

salt

adjust to taste

½

cup

rice water

or broth of your choice

2.5

cup

water

1.5

cup

coconut milk
Instructions
Set your crock pot or slow cooker on high settings and heat for 5 minutes


Add the oil, garlic and ginger


Add the onions and celery


Cook for about 7 minutes or until they have softened


Add the remaining ingredients (except coconut milk) in the order listed


Mix well and close the lid to the slow cooker


Cook for about 5 hours or until the carrots and sweet potatoes have cooked


Using a potato masher, gently mash some of the soup


Add the coconut milk and mix well


Close the lid and cook for about 30 more minutes


Serve the soup immediately

Notes
– Make sure you thinly slice the carrots. Otherwise, it may take longer than 5 hours to cook the soup
– I prefer rice water in place of veggie broth. Use your choice of broth or even coconut water will do the trick
– The video shows that the artichoke is roughly chopped. Hopefully, you don't make the same mistake I made. Be sure to dice artichoke finely before adding to the soup