Roasted Broccoli and Potatoes are a Very Simple Combo of Healthy and Comfort Food. They are roasted with tons of Garlic, Oregano, Parsley, Thyme, and Pepper.
Every recipe I have made with "tons of garlic" has been a giant hit. Case in point: My Pizza Sauce recipe. This recipe has fresh veggies roasted and pureed, but is that the motivating factor?
Oh, no!
It is the "tons of garlic" which has made all of you drool.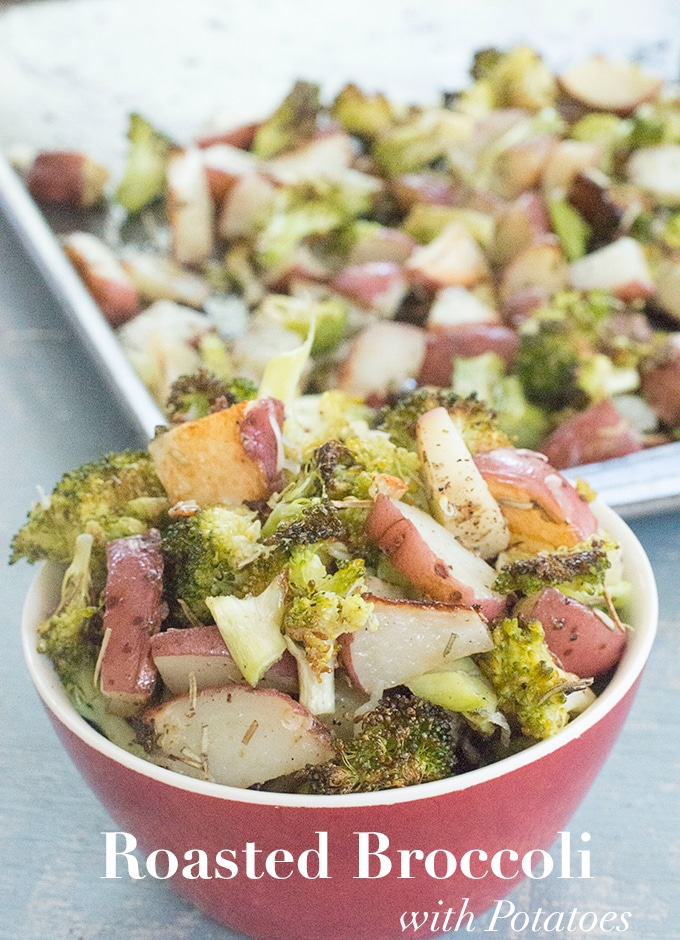 Roasted Vegetables Make the Perfect Vegetarian or Vegan Side Dish
I have had readers tell me that they made my pizza sauce and garlic bread recipes for the same meal! Those 2 recipes combined have enough garlic to wade away vampires for 10 lifetimes.
Second case in point: my garlic butter potatoes. Nobody cares so much about the butter but the "tons of garlic" really gets them to sit up and take notice.
So, I feel it is safe to assume that all of you are ginormous fans of garlic. I wouldn't be surprised if I saw you consume it with every meal and even as an afternoon snack. I don't see anything wrong with that!!
The broccoli and potatoes go into the oven like this…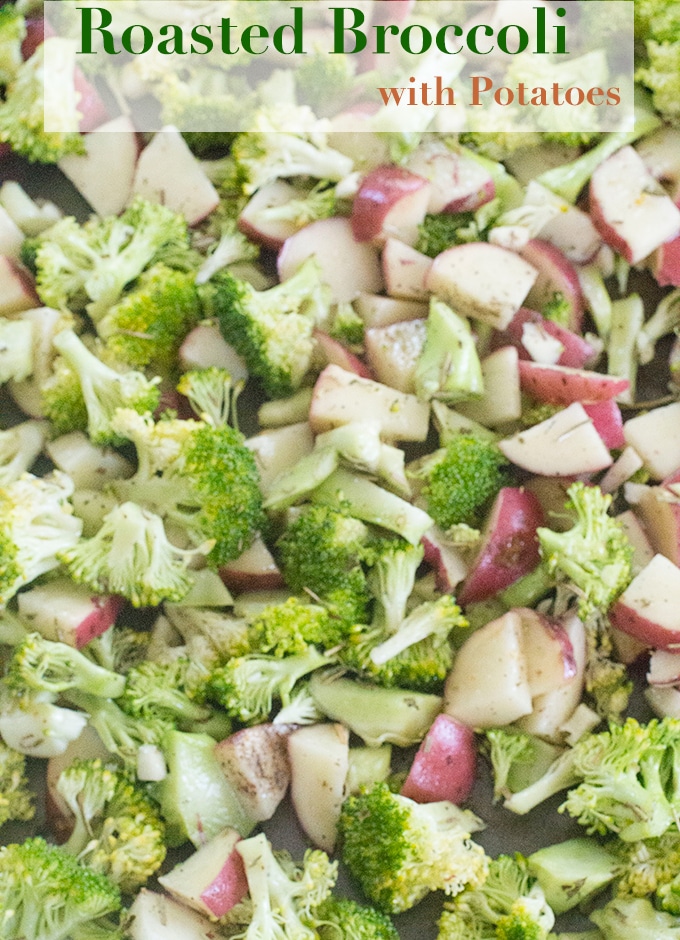 ….. and come out looking like this!
Have I succeeded in making you drool uncontrollably?
For any broccoli recipe, adding a little comfort food always makes even the broccoli haters love the recipe. In this case, the potatoes will lure them into eating this roasted broccoli dish.
So, recipes with potatoes and broccoli will be a huge hit at your Thanksgiving table.
Related: Try my Broccoli Casserole recipe.
How to make oven roasted broccoli with potatoes
Preheat oven to 350 degrees
1) Take 2 broccoli crowns and cut them into bite-size pieces
2) Take 4 small red potatoes and cut them into bite-size pieces. I like to keep the potato skin
3) Finely chop 5 cloves of garlic and put them into a mixing bowl
4) Add the cut broccoli and potatoes to the mixing bowl
5) Add 2 Tbsp of extra virgin olive oil to the bowl
6) Add 1 tsp of salt to the bowl
7) Add 1 tsp of each of these dried herbs – Oregano, basil, thyme
8) Add a 1/4 tsp of Rosemary
9) If you are using cayenne pepper and black pepper, add it to the bowl
10) Use two wooden spoons to gently mix all the ingredients together
11) Spread the broccoli and potatoes on a baking tray. Spread evenly and make sure there are very few gaps
12) Place in the oven for 25 minutes or until the broccoli starts to brown. Also, pierce a potato with a knife tip. It should pierce easily
13) Remove from the oven
14) Drizzle 1 tsp of lemon juice on the veggies and toss gently
15) Grate Parmesan directly onto the veggie. (Affiliate Link) Go Veggies makes a great vegan Parmesan cheese.
Serve this roasted broccoli and potatoes immediately.
P/s: I have loved growing my own broccoli. Check out Broccoli growing by MI Gardener.
Simple Roasted Red Potatoes & Broccoli Recipe
Roasted Broccoli and potatoes are a very simple combo of healthy and comfort food. They are roasted with tons of garlic, oregano, parsley, thyme and pepper.
Ingredients
2

broccoli crowns

4

small red potatoes

5

cloves

garlic

2

Tbsp

extra virgin olive oil

1

tsp

salt

1

tsp

dried oregano

1

tsp

dried basil

1

tsp

dried thyme

1/4

tsp

dried Rosemary

1/4

tsp

black pepper

(optional)

1/8

tsp

cayenne pepper

(optional)

1

tsp

lemon juice

Parmesan cheese

(Vegan)
Instructions
Preheat oven to 350 degrees

Take 2 broccoli crowns and cut them into bite size pieces

Take 4 small red potatoes (leave skin on) and cut them into bite size pieces

Finely chop 5 cloves of garlic and put into a mixing bowl

Add the cut broccoli and potatoes to the mixing bowl

Add 2 Tbsp of extra virgin olive oil to the bowl

Add 1 tsp of salt to the bowl

Add 1 tsp of each of these dried herbs – Oregano, basil, thyme

Add a 1/4 tsp of Rosemary

If you are using cayenne pepper and black pepper, add it to the bowl

Use two wooden spoons to gently mix all the ingredients together

Spread the broccoli and potatoes evenly on a baking tray

Place in the oven for 25 minutes or until the broccoli starts to brown


Remove from the oven

Drizzle 1tsp of lemon juice on the veggies and toss gently

Grate Parmesan directly onto the veggies and serve immediately