Garlic Butter Potatoes are so delicious that they will make you drool! Made using Revol individual pans, they are the perfect side dish for the whole family
Garlic Butter Potatoes – This post is sponsored by REVOL. All opinions expressed here are my own.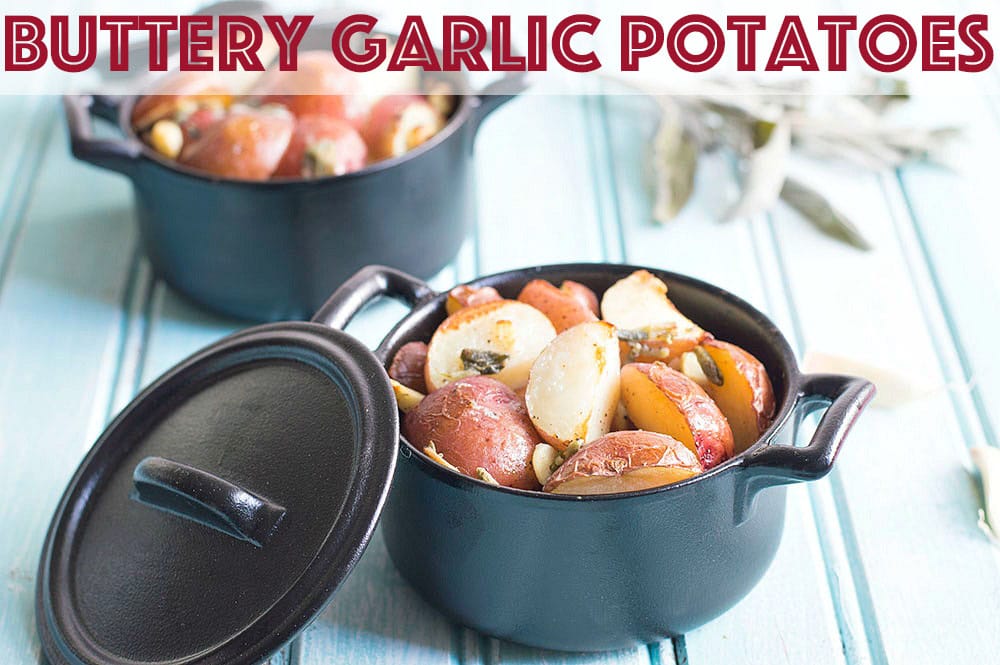 Whenever I see potatoes, I have to stop and drool for a few minutes. You know what I am talking about, right?
Potatoes have a hypnotic power on anyone. Even the strictest of diet followers cannot help but be mesmerized by potatoes. It could in the form of wedges, baked, smothered , roasted, Curried or drenched in cheese, potatoes can be all consuming.
Personally, I am happy to surrender to its power occasionally and make a drool worthy meal from it. So, when Revol sent me these (affiliate link) individual covered dish casserole made of porcelain, All I could see was delicious, aromatic potatoes slow roasting in them.
Ever since I made this Wonton ravioli, I have been obsessed with Sage in butter. Sage butter and potatoes are a match made in foodie heaven! To round out the recipe, I added copious amounts of garlic.
In each casserole, I added about 4 baby potatoes and 2 cloves of garlic. With the combination of Sage butter, salt and pepper, this meal makes a loud statement!
Oven roasted red potatoes make the perfect side dish to any meal. I think they will end up on my Thanksgiving Feast this year.
The porcelain (looks like cast-iron) ensures that the potatoes are cooked evenly and cooked all around because it distributes the heat evenly all over.
The best part about these pans is that they are super easy to clean. The food doesn't stick to the bottom or sides and all I need was soap + a soft sponge to clean them. For a person who is infinitely lazy when it comes to doing the dishes, these ceramic pans are exactly what I need.
Don't be surprised it you see new potato recipes show up frequently on the blog!
Sage is a great way to flavor butter, but, that's not the only way. I also like to infuse it with lemon balm. You won't believe the heavenly aroma that comes out of that butter recipe!
If you love working with sweet potatoes, check out my 5 tips on how to cook them to perfection.
What is your favorite way to cook potatoes?
Garlic Butter Potatoes
1) Preheat oven to 450 degrees
2) Take 8 baby potatoes and wash them thoroughly. I don't remove the skin from the potatoes because it is a personal preference. If you prefer skinless potatoes, go for it.
3) Cut each baby potato into wedges and place them into the individual round cocottes
4) Finely chop four cloves of garlic and set it aside. Do the same to the sage leaves
5) Take a small pan and put it on low heat on the stove. Add ¼ of a stick of butter. For vegan version, use vegan butter sticks
6) Add the sage and chopped garlic to the melting butter
7)Add ½ tsp of salt and ½ tsp of freshly ground black pepper to the butter
8) When the butter has melted completely, pour it on top of the potatoes. I made sure that the butter was evenly shared with both pans. Gently mix the potatoes so that they are coated evenly
9) Close the lid and place it in the oven. Its okay if the lid doesn't close tightly
10) Bake in the oven for about 15 minutes with covered lid. Then, remove the lid and bake for another 5-7 minutes until the potatoes start to brown on the white part.
11) Remove from the oven and serve the garlic butter potatoes in the pan. Trust me, that is the best way to keep them warm and delicious.
Originally, this recipe was made using vegan butter. But, I have since stopped using vegan butter because of the terrible seed oils in them. Instead, I am using regular butter in it, but, it's not vegan anymore. You can use regular extra virgin olive oil instead of vegan butter.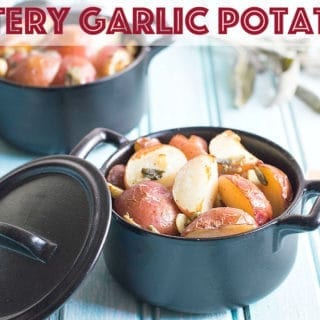 Garlic Butter Potatoes For Your Drooling Pleasure
Garlic Butter Potatoes are so delicious that they will make you drool! Made using Revol individual pans, they are the perfect side dish for the whole family
Ingredients
8

baby potatoes

thoroughly washed, cut into wedges

4

cloves

garlic

finely chopped

4

leaves

Sage

finely chopped

¼

stick

butter

(Vegan Option: Use Earth Balance's butter sticks)

½

tsp

salt

½

tsp

black pepper
Instructions
Preheat oven to 450 degrees

Place cut potatoes into the individual pans

Heat a pan on low heat and add the stick of butter

Add the sage and chopped garlic to the melting butter

Add salt and pepper, mix well


Pour the melted butter on the potatoes and mix carefully


Close the lid and place it in the oven


Bake in the oven for about 15 minutes with covered lid.

Remove lid and bake for another 5-7 minutes or until the potatoes start to brown


Remove from the oven and serve the garlic butter potatoes in the pan