Spicy Kale Chips recipe made with Sriracha sauce. Quick snack idea that is also a healthy snack. Instead of snacking on potato chips, try this healthy chips
Recently, I made a Kale Salad With Peaches and had so much kale left over. I find the taste of Kale to be bland, so, I always try to add something spicy to it.
This time, I turned kale into kale chips with sriracha sauce.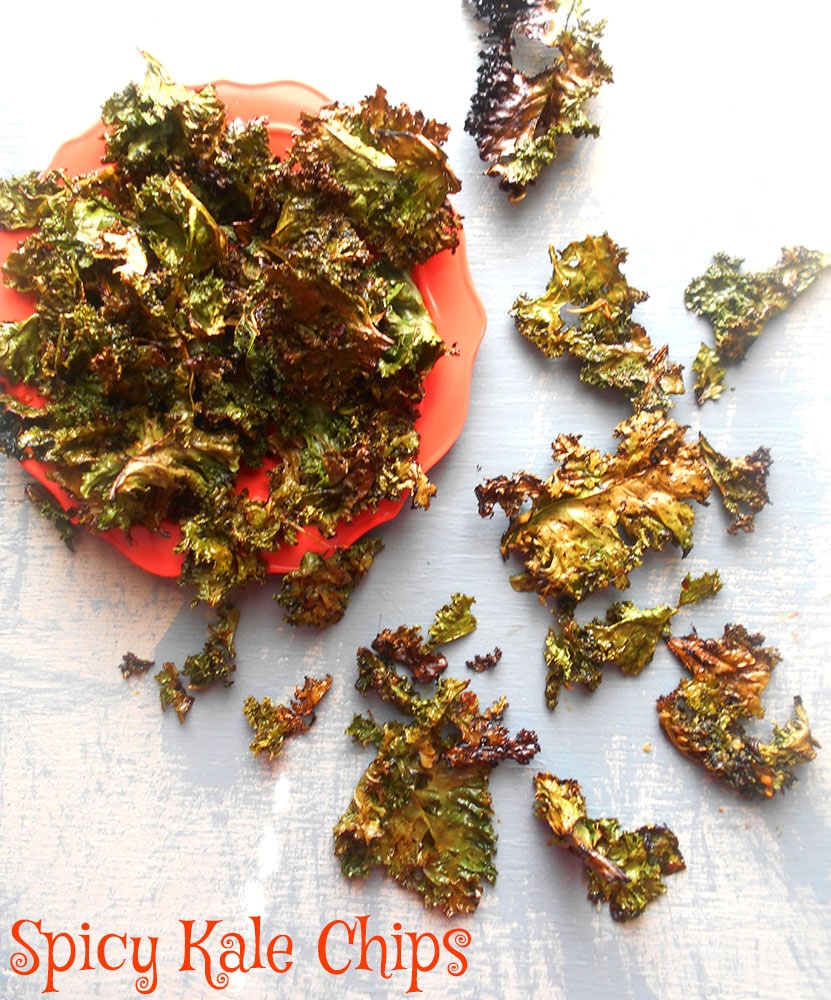 Don't you just hate it when you have to make a recipe and you are missing a key ingredient? When I decided to make spicy kale chips, I noticed that I was out of sriracha sauce!
After throwing a tantrum, I decided to go to the internet for a help. Like a good parent, the internet never lets anyone down.
I made my sriracha at home using the free people's blog's recipe. Boy, was it good!
Making condiments at home is a huge trend on the internet. I contributed to the trend with a ketchup recipe.
Also, I blended some of the chips and put them in a Ziploc bag. I add a tea spoon into soups, curries, sandwiches and any recipe that I can. It is a way for me to eat kale without eating kale.
What is your favorite condiment to make?
Kale Chips Recipe Using Sriracha Sauce
1) Preheat oven to 300 degrees. Take about 8 whole kale leaves and remove their stems
2) Place the kale in a bowl and add ½ tsp of salt
3) Add 1 Tbsp of extra virgin olive oil
4) Add 1 Tbsp of Sriracha sauce
5) Mix well
6) Spread the kale chips on baking sheet.
7) Bake for 20 minutes or until the chips turn dark brown.
Optional Steps:
8) Place the kale chips in a blender and crush it until it is powdery texture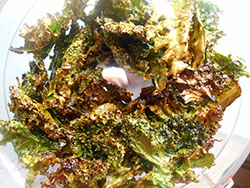 9) Place in a Ziploc bag and mark the date. I like to use it in one month, so, I write the date I made it.
Kale Chips Recipe Using Sriracha Sauce
Kale leaves flash baked and drizzled with sriracha

Ingredients
8

kale leaves

½

tsp

salt

1

Tbsp

extra virgin olive oil

1

Tbsp

Sriracha sauce
Instructions
Preheat oven to 300 degrees.


Take about 8 whole kale leaves and remove their stems

Place the kale in a bowl and add salt, extra virgin olive oil and sriracha sauce


Place kale on baking sheet and place tray in the oven.


Bake for 20 minutes or until the chips turn dark brown.

Optional Steps:

Place the kale chips in a blender and crush it until it is powdery texture

Place in a Ziploc bag and mark the date. Use in soups or as salad toppings