Easy Quinoa Salad Wraps are made with veggies is an easy snack for kids and adults. Packed with nutrition, these wraps are going to be your favorite lunch recipe too.
This post was originally sponsored by Tyson Foods, Inc. All opinions are my own.
Looking for easy recipes to make using quinoa?
Want to take a healthier lunch to work, instead of spending money?
These easy quinoa wraps are packed with protein and so easy to make.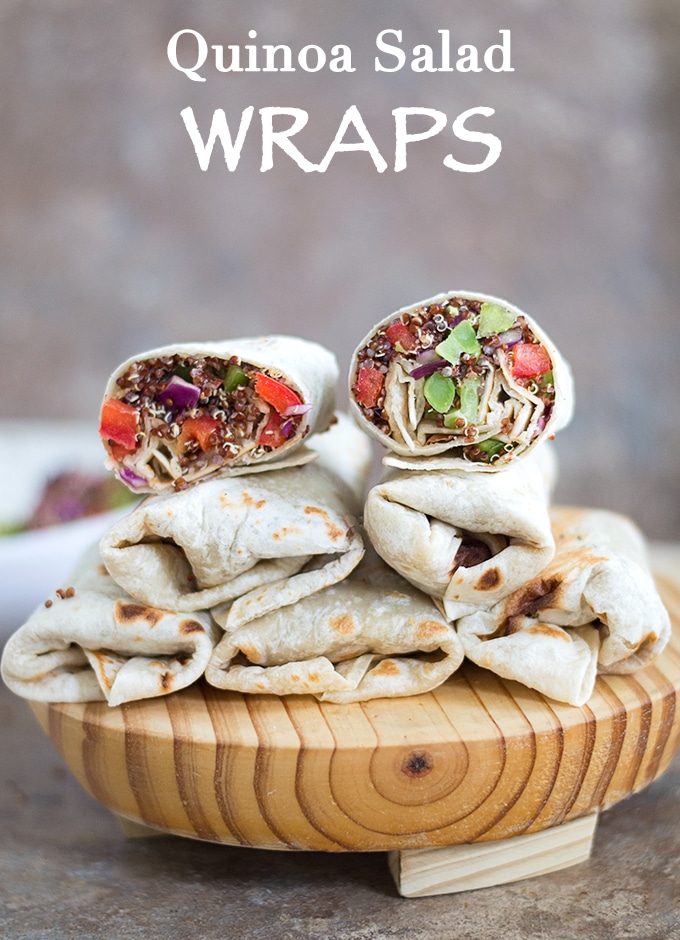 Tips for making these wraps
You can eat the salad by itself without making the wrap.
Add the sauce and let is stay for about 30 minutes before wrapping it. This is optional, but, it helps infuse the flavors
Heat the tortilla and immediately wrap them in the quinoa salad. It will make the wrapping process easier
Use the recipe for meal prep. Make the quinoa salad ahead of time and wrap it when you are ready to eat
If possible, use in-season veggies like squash, etc. Seasonal veggies are the fresh and at peak nutrition.
Types of quinoa
In my recipe, I use red or brown quinoa only. These quinoa are on the expensive side but they do stand out!
If you can find them easily, use red quinoa because they had wonderful contrasting colors. As far as nutrition, it has the same nutrition as regular quinoa.
For these quinoa salad wraps, you can use black quinoa, white quinoa and Tri-color quinoa (AKA rainbow quinoa). The idea is to find quinoa that you can easily get your hands on and those that are affordable.
According to Simply Quinoa, there are 101 types of quinoa!! I had no idea!
How to cook quinoa
Cooking quinoa is the easiest thing in the world. I use a method similar to cooking my basmati rice.
I start with boiling water. Here are the ratios I use. For 1 cup of quinoa, I boil 3 cups of water.
When the water has come to a boil, I add the quinoa. You can add 1 tsp salt to the water, but it's optional.
Cook the quinoa on medium high for 15 minutes or until you see the quinoa has doubled in size. They will also be easy to mush with the back of a spoon.
Then, drain the excess water from the quinoa. Make sure you shake the strainer until all the water has been removed. You want to make sure that the wrap doesn't get soggy
Use a fork to stir the quinoa. This will make them fluffy.
You are now ready to put them in a recipe.
Check out Dizzy, Busy and Hungry's method of cooking quinoa in your slow cooker.
Frozen, uncooked TortillaLand tortillas
So, when I found out about TortillaLandⓇ uncooked tortillas, I knew I just had to try them immediately!
They are frozen tortillas that can be quickly cooked stove-top and ready for devouring.
It feels like you are eating freshly made tortillas from scratch just like your grandmother used to make them.
The best part is that I can use TortillaLand tortillas on any of the cuisines. It takes only 60 seconds to warm them in the skillet and fill it with ingredients from all over the world
The tortillas come in the refrigerated section at Costco in packs of 36 or 50.
Easy quinoa recipes
Quinoa is a protein packed ingredients that vegans, vegetarians and meat eaters love. Here are some very easy recipes that everyone will fall in love with.
This hearty vegan quinoa soup with red beans, veggies and kale is the perfect way to beat the winter blues!
Awesome Instant Pot Quinoa Soup
Make this easy vegan instant pot kale and quinoa soup in just 30 minutes. Warm winter soup for everyone to enjoy
Check out this recipe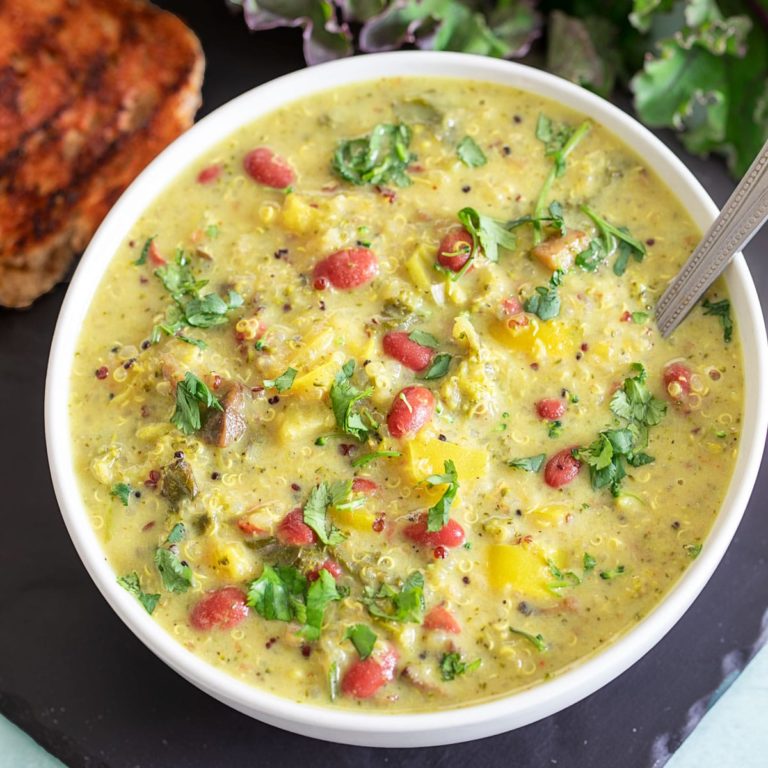 The fruits of summer taste even better when mixed with quinoa! The dressing has exotic flavors too that are simply irresistible.
How to Prepare Fruit Salad
Quick Summer Fruit Salad Recipe made with just a few ingredients. Perfect for a light lunch or a summer picnic
Check out this recipe
This very easy quinoa fajita bowl is a favorite Mexican recipe of mine. It's made with just a few ingredients, so, you can make it ahead of time and use it in meal-prep recipes.
Vegan Fajita Bowls with Quinoa and Peperoncini
This is a very easy vegan fajita bowl with quinoa and peperoncini. It's a very quick lunch recipe.
Check out this recipe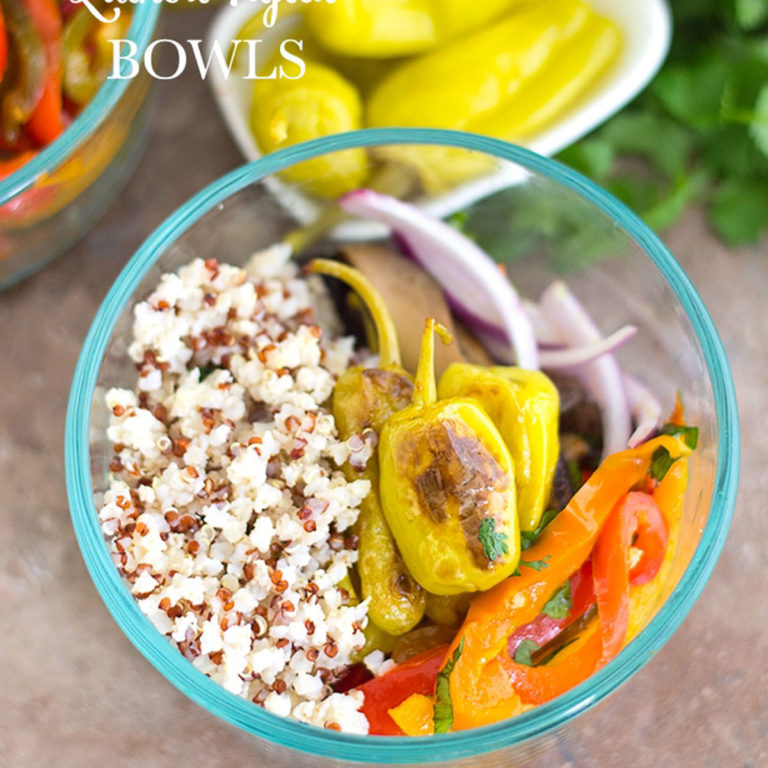 Thai Quinoa Salad Wraps
Thai Quinoa Salad Wrap made with Quinoa, Peppers and red cabbage.

Ingredients
For the quinoa salad
2

Cup

Brown Quinoa

cooked

1

Cup

red cabbage

chopped

½

Green Bell Pepper

chopped

¼

Red Bell Pepper

chopped

¼

Cup

Edamame

chopped and steamed

1

Cup

broccoli florets

steamed
For the Wrap
2

TortillaLand Tortillas

frozen
Instructions
In a mason jar, add the ingredients for the dressing

Cover the mason jar and shake well

Set aside for 30 minutes to overnight, if possible

In a bowl, add the ingredients for the salad

Add the peanut butter dressing. I used only about ¾ of the dressing and refrigerated the rest

Mix the salad well and set aside

Heat a cast iron skillet on medium heat. You can use a heavy bottom non-stick pan too

Place one tortilla on the skillet and heat for 30 seconds. Do the same for the other side.

Put the tortilla on a plate and add the quinoa salad in the middle

I put about a half cup per tortilla

Start by folding the sides of the tortilla

While holding the sides in, fold the bottom of the tortilla over the sides and the quinoa

Roll over the top tortilla fold and set aside

Do the same for the remaining tortillas.

Serve Immediately (Or See notes for freezing instructions)

Notes
Serve immediately or wrap them in a parchment paper and put them in a ziploc bag. Write the date on it and freeze. I try to use them up within a week.
Nutrition
Serving:
1
Wrap
Calories:
280
kcal
Carbohydrates:
21
g
Protein:
6
g
Fat:
9
g
Saturated Fat:
1
g
Sodium:
568
mg
Potassium:
293
mg
Fiber:
3
g
Sugar:
4
g
Vitamin A:
450
IU
Vitamin C:
37.2
mg
Calcium:
31
mg
Iron:
1.6
mg