Looking for a side dish to make for dinner tonight? This sweet peas and mushrooms dish comes together very quickly. Its light, nutritious and delicious!
I am not a peas-and-mushrooms-together type of person.
To me, they are 2 ingredients that just don't go well together.
So, 2 ingredients that don't belong together, SHOULD be bought together in a recipe, right?
Tips for making these peas recipe
Making this recipe quick is its selling point, so, take shortcuts to make it. I used roasted red peppers from a jar in this recipe, but, if you have time, roast fresh green peppers and use them in this recipe. Leftover roasted bell peppers can go into Mozzarella Sandwich too
Wash, wash and wash your mushrooms. I don't like tasting 'dirty' mushrooms, so, I make sure I clean and dry them thoroughly before cooking them.
Slice the mushrooms as thinly as possible because they will cook faster
Use sweet peas because they add a wonderful flavor to this recipe
I preferred using frozen sweet peas in this recipe because they cooked well with mushrooms. But, you can also use fresh green peas or even sugar snap peas in this recipe.
When to eat it?
Glad you asked this question 🙂 The best of everything I make can be adopted to any meal.
This recipe is designed to be a side dish for dinner. Sure, it makes sense to it along side your main dish.
It is perfect for BBQs or other outdoor parties. Take it to potluck dinners any time of the year.
But, I find myself craving it for lunch last week which turned out to be a delicious idea. I put it in a wrap with hummus and had the BEST lunch ever
It also works as a toast topper. Seriously, try it because it is too good that way. You can put a simple spread on the toast first, then, top it with this peas and mushrooms combo
Another option is to put it into a tofu scramble recipe and eat it for lunch/breakfast. Awesome, right?
What can I serve with it?
The sky is the limit, so, serve these peas and mushrooms with any ingredient you like. Be sure to tell me how you used it by commenting below
Brown vs white mushrooms
I think that brown mushrooms cook better than white mushrooms which is why I use them exclusively in my recipes.
In this recipe, brown mushrooms AKA crimini mushrooms are the right mushrooms to use. They are "meatier" and they work well with the peas.
If you want more mushroom recipes, check out my mushroom salad recipe. Mushroom recipes collection
Which type of mushroom will you put in this recipe?
Common questions about making this recipe
Can I freeze them?
Yes, these mushrooms and peas recipe is completely freezer friendly. Put it in a microwave safe container, so, you can put it directly into the microwave to be heated.
What kind of oil should I use?
I have made this with extra virgin olive oil, but, you can also use coconut oil or sesame oil.
Can I buy the pre-cut mushrooms from the grocery store?
For this recipe, I say no. That's because they cut them very thick and my recipe calls for thinly sliced mushrooms. Also, they tend to use some large mushrooms in it which I don't like using in this recipe.
So, get the small brown mushrooms and slice them thinly. It might a little tedious, but, totally worth it.
Can I use fresh herbs in this recipe?
Absolutely! If you have fresh oregano and basil use that instead. I love using fresh herbs, but, I didn't have any left over. Try some fresh mint too, if you have them.
Can I roast the mushrooms in an oven?
Yes, you can oven roast the mushrooms and mix it with the peas and other ingredients. Slice the mushrooms first, add oil, salt and spices. Roast in the oven for about 15 min or until the mushrooms are browned.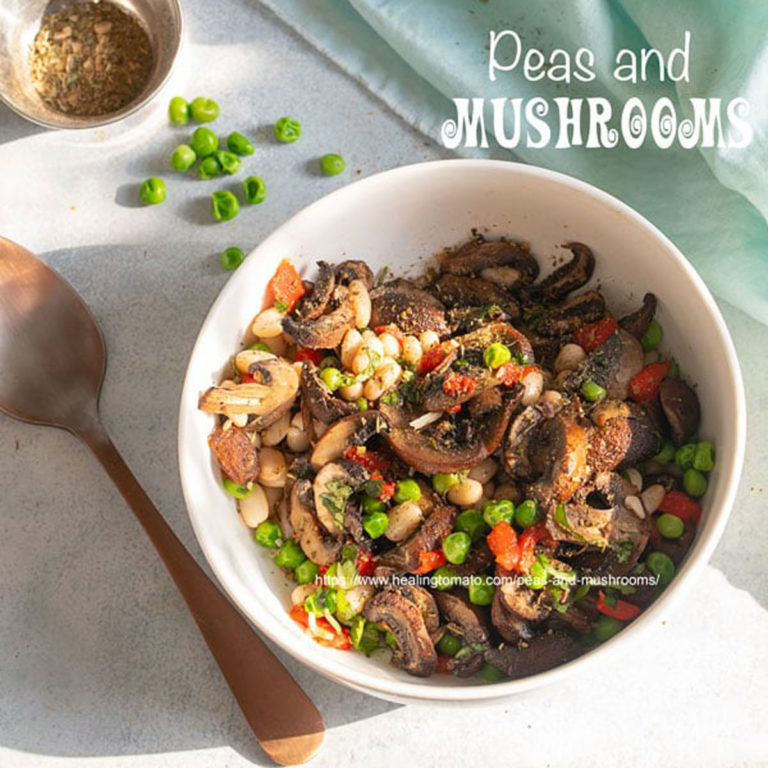 Peas and Mushrooms Recipe
Sauteed green peas and mushrooms with navy beans, bell peppers + Spices
Equipment
Wok or a sautee pan

Wooden spoon
Ingredients
2

Tbsp

extra virgin olive oil

2

cloves

garlic

minced

¼

cup

red onions

finely diced

8

oz

crimini mushrooms

wash, dry and thinly slice them

½

cup

green peas

frozen or fresh

½

cup

navy beans

from a can, thoroughly washed

2

slices

roasted bell pepper

from a jar, chopped

1

tsp

white wine vinegar

or sub with lime juice

1½

tsp

salt

adjust to taste

1

tsp

oregano

dried

1

tsp

basil

dried

½

tsp

Rosemary

optional
Instructions
Heat a saute pan or work on medium heat for 30 seconds

Add the oil and let it warm up for 30 seconds

Add the garlic and cook for 15 seconds

Add the red onions and mix well

When the red onions have caramelized, add the mushrooms

Saute the mushrooms for about 7-10 minutes, until they are cooked

Add the frozen peas, do not thaw them

Cook the peas until they are not a frozen clump and turned bright green (about 6 minutes)

Add the remaining ingredients (except garnish items) and mix well

Cook for another 5 minutes and then turn off the heat
Notes
Make sure the mushrooms are thoroughly washed and completely dried before you slice them. This will ensure that its not watery when cooked