Quick and Easy Spinach Rice made in one pan with peas, mushrooms and tomatoes. This is the perfect vegan side dish or main course meal.
Don't you wish that you could own a robot whose sole responsibility was to wash the dishes?
I HATE washing dishes and it shows! Given all the recipe testing I do, I have a sky high pile of dirty dishes in the sink
So, I am starting to love one pan meals again, like this Spinach rice!
Tips for making this one pot rice
Be sure to rinse the rice before adding to the pan
If you have time, remove the bottom stems from the baby spinach leaves. I didn't have time, so, I left them on
Add frozen baby peas to the pan without thawing them. The cooking process will thaw and cook them at the same time
After adding all the ingredients, cover and cook the spinach rice on medium heat from 30 minutes
If you have a small pan (like mine, lol), add water in 2 parts. Add the second part about 20 minutes into the cooking process
Make sure the Roma tomatoes are firm. Soft tomatoes will make the rice soggy
Garnish the spinach rice with fresh lemon juice and cilantro. I didn't do that for this recipe, but, I should have done it
If you are not a fan of sweet coconut, you can omit it. You can substitute coconut palm sugar or brown sugar instead
Transfer the cooked spinach rice to meal planning containers and enjoy it all week
I wanted to make this extra spicy, but, I know that many of you are not fans of spicy food. If you are a fan, add about 3 chopped and de-seeded Thai chili
Recipe inspiration
I was surfing around Washington Post's website looking at some of their amazing recipes. In the past, I have gotten good cocktail recipes from their site and I love their style.
One recipe that struck me was their Stir-fried Peas and Spinach recipe. I took one look at their recipe and thought to myself, "How delicious would that be with rice!!!"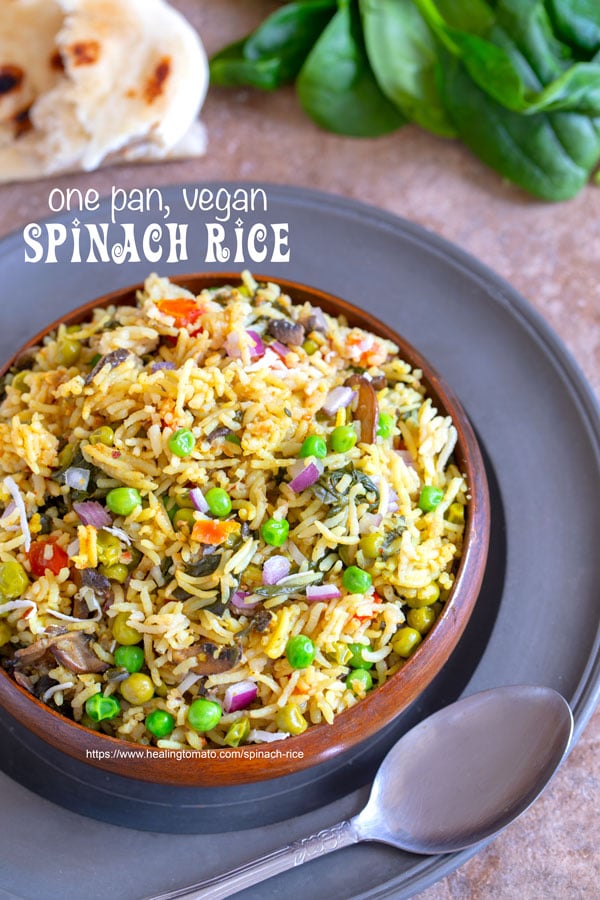 So, I borrowed some of their ingredients, put rice, mushrooms and tomatoes along with spices and voila!
This recipe is made for four people and its perfect vegan weeknight dinner recipe. If you have leftover spinach rice, do what I did. I put it into a Mexican quesadilla recipe.
Ingredients to add
Bell Peppers
Zucchini
Butternut Squash Zoodles (make Souvlaki with leftover zoodles)
Use Orzo instead of rice
Carrots
Chickpeas (If I had leftover chickpeas after making my Roasted Chickpeas, I would have loved to use it in this spinach rice recipe
Coconut Milk (To make it creamy)
Add a peanut seasoning like I did in peanut rice.
Can I make it in Instant Pot or slow cooker
Yes, you can absolutely make this spinach rice in the Instant Pot or in the slow cooker. The idea behind my recipe is that there is very little clean up involved
Since the Instant pot and slow cooker make clean up a breeze, this recipe would be perfect for it
For the slow cooker, I think it would take about 4-5 hours to make and in the instant pot, choose the rice option and add about 5 more minutes of cooking time. The Mushrooms need a little more cook time in the pressure cooker, in my opinion
I have a mushroom wild rice recipe that I made in the pressure cooker. Check it out for tips and tricks to make it in the pressure cooker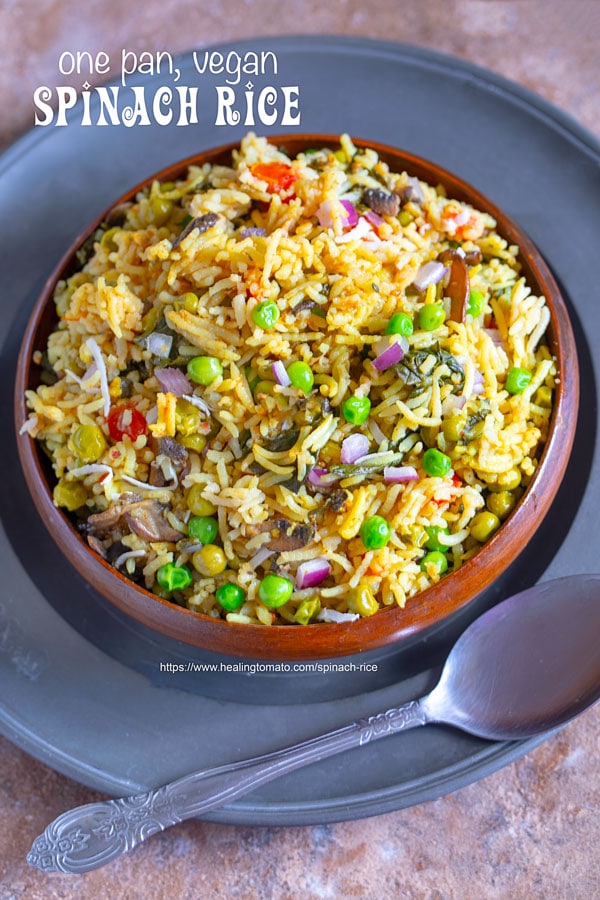 Can i freeze it?
No, I don't recommend freezing this spinach rice once you have cooked it. I find that it looses all its subtle flavors when you re-cook it.
However, refrigerating it is perfect because this rice will be good for about a week. Put it in my favorite (affiliate link) meal prep containers and enjoy it all week.
I also put pita bread and pickled vegetables or pickled tomatoes on the side. Its sooo good!!
Can I use frozen spinach?
I haven't experimented with frozen spinach in this recipe, but, I would think that it would be ok to use it. What I can say for sure is that you should thaw it and squeeze out ALL the water from it before adding it to the pan.
Also, make sure you wash the spinach after thawing. I have noticed brown dirt when I squeeze frozen spinach. So, I make it a point to wash it thoroughly before adding it to the pan.
If you have a (affiliate link) cheese cloth, place the washed frozen spinach in it and wrap it tightly. Place a heavy object on it to squeeze out all the moisture.
Spinach and mushrooms are a match made in heaven
I am a huge fan of the spinach and mushroom combo! I don't know why it tastes so good, especially in one pan recipes.
Check out some of my favorite Spinach and Mushroom recipes. Which one is your favorite?
How To Make Spinach Rice
Quick and Easy Spinach Rice made in one pan with peas, mushrooms and tomatoes. This is the perfect vegan side dish or main course meal.
Ingredients
2

Tbsp

extra virgin olive oIl

Or Coconut Oil

3

cloves

garlic

minced

1

Tbsp

ginger

minced

1/2

cup

red onion

finely diced

8

oz

brown mushrooms

see notes

9

oz

baby spinach

stems removed

3

roma tomatoes

chopped

1

cup

baby sweet peas

2

tsp

salt

1

tsp

red chili powder

1

tsp

turmeric

1.5

Tbsp

cumin-coriander powder

1.5

cup

basmati rice

2

cups

water

divided into 2 parts

3

pods

cardamom pods

open the pods
Instructions
Heat a pan on medium heat for 30 seconds before adding the oil


Add the ginger+garlic and let it brown slightly (30 seconds)


Add the onions and let them caramelize (about 2 minutes)


Add the sliced mushrooms and let them cook to half their size


Add the baby spinach and don't stir it until its half its size


Mix well and then add the


Add the tomatoes, rice salt and spices


Add one part water and give it a light stir


Top with cardamom pods and close the lid


Cook on medium heat for 10 minutes


Open the lid and add the 2nd part water


Close the lid again and cook for another 10 minutes or until the rice is cooked


Garnish with lemon juice and cilantro (both are optional)

Notes
– Make sure you thoroughly wash the mushrooms and dry them completely before slicing them. Soggy mushrooms ruins the texture and taste of the rice
– Thinly slice the mushrooms so that they cook quickly and evenly
– Nutrition Info is approximate