A simple vegan paella made with quinoa which I made in the Dutch Oven and it is sooo good!  The recipe takes very little effort to make with only a few ingredients. 
Disclaimer: Swiss Diamond Sent me a free Dutch Oven in exchange for this post and a giveaway (giveaway is now over).  No financial compensation was provided and all opinions are my own.
Have you been to Spain and seen an authentic paella being made?
If you have or if you are one of those people, you have my complete respect and admiration!
I have always wanted to see paella being made in Spain, especially for a crowd.  Its one of my top 5 food bucket list.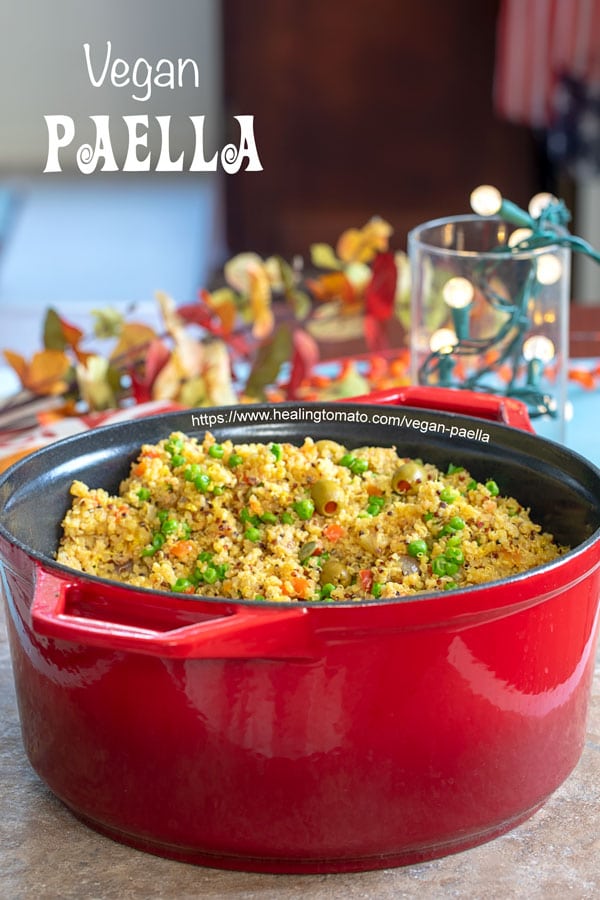 Until I have a chance to go to Spain and be a part of the authentic paella making process, I figured I would try my own version of the recipe.
Being a non-meat eater, I can never taste the authentic Spanish paella, but, I would love to see it being made.  Watching YouTube videos doesn't do the process any justice.
Instead of using rice, I went with quinoa in this vegan paella.  Its not authentic paella because it requires rice.  However, I think quinoa would be perfect substitute.
What is Paella?
– Paella translates to "Pan" which is derived from an old French term for "Paelle".
– Paella comes from the Spanish region of Valencia.
– Its normally cooked in large caldrons in an open air setting using pine cones as fire fuel
– Paella has been modified and experimented by chefs all around the world which has caused somewhat of a controversy
Source: Wikipedia, The Spanish Table and my personal experiences.
If you like this vegan quinoa recipe, you will love this quinoa and green bean salad or a hearty quinoa and red beans Cuban style
Traditional Ingredients in a Paella
When Valencians' make Paella, they go for the very authentic method of cooking it and that includes:
– Rice
– Seafood
– White wine
– Saffron
– Onions, Bell peppers and Sofrito
– Smoked Paprika
Tips for making this Vegan Paella
I made this paella stove top but it would be perfect to make in the oven too.  Add your ingredients into the Dutch Oven and place it in a 400° oven.  It should take about 20 minutes to cook inside the oven.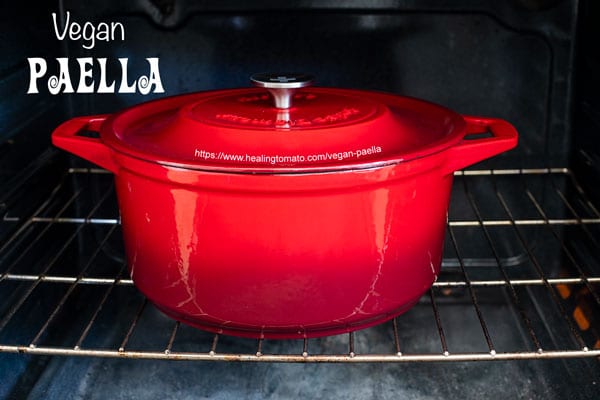 In my recipe, I used a medley of colorful quinoa.  However, in hindsight, that was not a good idea.  For best results, use white quinoa because the saffron color will really stand out.  If you don't have it, you can also use brown quinoa or sprouted quinoa
The quinoa will get a little crusty or toasted.  That is supposed to happen because the traditional paella always has a crusty bottom of rice.  In fact, many chefs pride themselves in getting the perfectly toasted bottom rice.
Use premium grade saffron for this recipe.  Its expensive, but, its completely worth the price.  Plus you can make other recipes using saffron like yogurt mayo or barley pilaf
Keep the heat at an even temperature when cooking on top of the stove.  This will make the vegan paella will cook evenly
To reheat it in the dutch oven, mix a little warm water with sugar in it.  Then add this sugar water to the vegan quinoa in the pan and heat on medium for about 10 minutes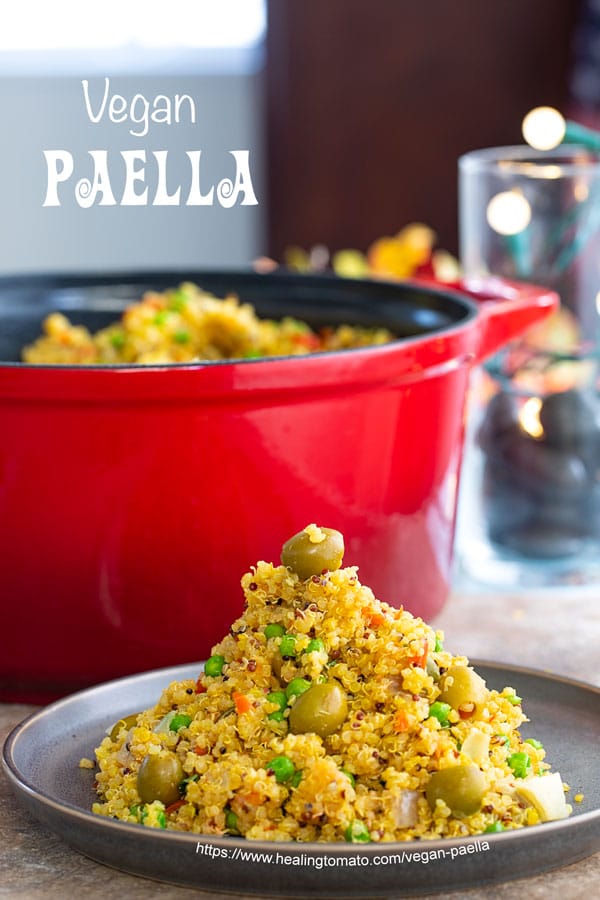 Vegan Paella Ingredients
– Quinoa (or any short grain rice)
– Saffron
– Red Bell Peppers
– Artichokes
– Tomatoes
– Smoked Paprika
– Spanish Olives
– Peas
About the Swiss Diamond Dutch Oven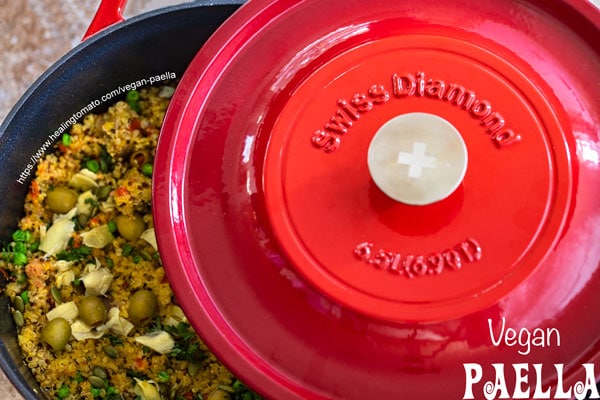 This was my first true experience with a Dutch oven and it didn't disappoint!  The food cooked so perfect and evenly that I wondered where this magical device has been my whole life.
I made vegan ravioli bake in it and it came out soooo good (recipe coming soon).  The veggies were cooked to perfection and the ravioli was crispy.
It has a unique moisture return system and they refer to it as the "rainforest effect".  This means that the moisture goes back into the food and completely evaporates.
The outside and the inside are chip resistant.  I have already washed it 5 times and it still looks like new!
Swiss Diamond Gifts for Foodies
Here are some totally awesome gift ideas for your foodie loved ones this year:
How To Make Vegan Paella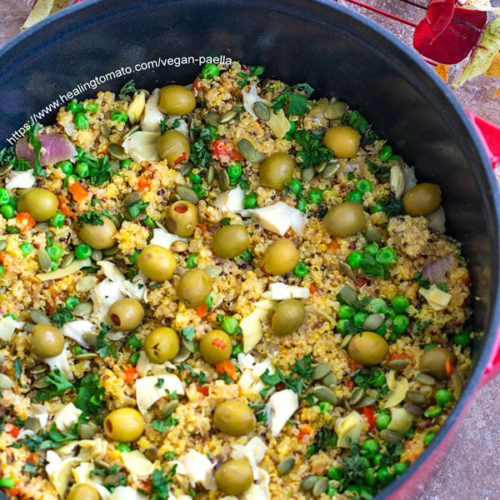 Vegan Paella With Quinoa
A simple vegan paella recipe made using paella and cooked in a dutch oven

Instructions
To make the Paella
Soak the saffron strands in the warm water and set aside


Place the dutch oven on top of the stove and warm it for about 1 minute


Coat the inside bottom of the dutch oven with the oil


Add the quinoa, bell pepper, onions, tomato, artichoke hearts and peas to the pan


Gently add the 4 cups of water to the pan


Add the salt, paprika and cumin water


Mix well and close the lid


Let it cook on low-to-medium heat for 21 minutes


If all the water hasn't evaporated, cook uncovered for another 4 minutes max


Turn off heat and close the lid. Let it stand for about 5 minutes

Nutrition Facts
Vegan Paella With Quinoa
Amount Per Serving
Calories 503
Calories from Fat 153
% Daily Value*
Total Fat 17g 26%
Sodium 1528mg 64%
Potassium 883mg 25%
Total Carbohydrates 70g 23%
Protein 17g 34%
* Percent Daily Values are based on a 2000 calorie diet.