Simple polenta recipe made with fresh asparagus and gold beets in a sweet syrup. The asparagus give flavor and texture, beets add a sweetness. This post is sponsored by Florida Dairy Farmers in conjunction with a social media campaign through Sunday Supper LLC. All opinions are my own.
Making polenta can be a little intimidating, but, it is not true!
Polenta is one of the easiest Latin recipes you can make and use it in so many delicious recipes.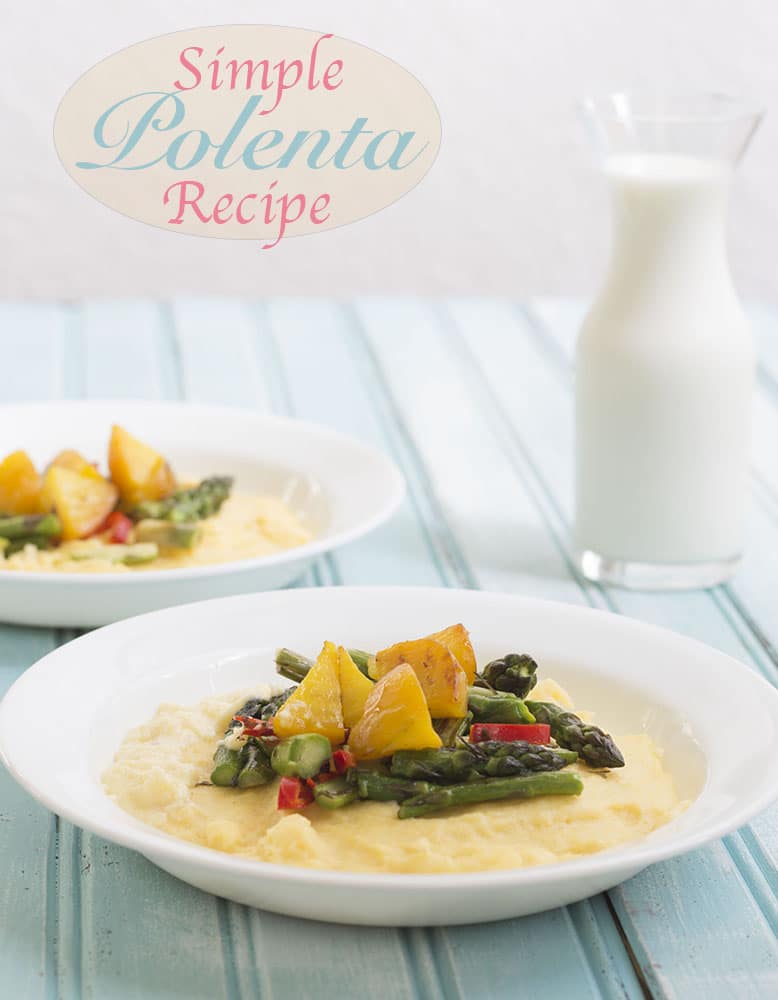 I have to confess that I had never made polenta until I made this recipe!
Strange, right?
I have eaten it at Italian restaurants and tapas restaurants all along the East coast.
Now that I have discovered how easy it is to make, I am kicking myself for not making this simple polenta recipe before!
The best polenta recipes in the world were always the creamy ones. As I researched this recipe, I found that the secret to getting the perfect creamy polenta is milk and baking soda!
And its not just any milk!
I am talking about the delicious pure, unadulterated 100% whole milk!
It provides volume, texture and taste to the polenta. I couldn't believe how perfect it turned out. Overall, I am very happy with how my very first simple polenta recipe turned out
June is month that is dedicated to Dairy. It also brings awareness to the how important Milk is for the human body. There are 9 essential nutrients and vitamins in milk – protein, vitamins A, D, and B12, calcium, potassium, phosphorus, riboflavin, niacin, zinc, and magnesium. For me, the B12 is very important because of my vegetarian diet. I try to get about 3 cups of milk daily. Personally, I like to chug it right out of the gallon (Ok, I drink out of a glass because, sadly, I live in a civilized society)
Florida Dairy Farmers are made up of more than 130 second and third generation farming families who own their own cows. Their herds range from 150 cows to 5000 cows. My mind is boggled at how much time and energy it takes to herd those many cows! To feed those many cows is a ginormous task. It is so nice to hear that they are fed 170,000 tons of citrus pulp, brewer's grain, whole cotton seeds and other byproducts. I am sure if our landfills could talk, they would thank the farmers.
Here is an even bigger mind blowing stat – 123,000 Florida cows produce 2.34 BILLION pounds of milk each year. Whew! Think of all the polenta I can make with that much milk!
In our home, milk is used for so many reasons. The main reason is that we make our own yogurt using milk. Sure, we buy store bought yogurt but when we want to make batches of lassi or raita, it is cheaper to make it at home. Making yogurt is so easy. In addition to yogurt, we use it to make Kheer (rice pudding), pancakes, ricotta cheese and paneer.
I felt that asparagus and gold beets would be a great flavor combination to the mild taste of polenta. To add a little spice, I went with red chili pepper. Together, it made this recipe sweet and spicy.
The Florida dairy farmers and Florida milk folks are so accessible and they open up their lives on social media. I am completely mesmerized by their farm life and tidbits from their world. Follow them on social media to be entertained and informed by their captivating experiences.
There are 2 key factors when making polenta. First, soak the polenta in cold water for about 1:30 hours. Second, add a pinch of baking soda to the cold water and polenta. It will help the polenta cook faster.
Incidentally, did you know that Polenta is also known as Italian grits? And you can even make polenta snacks?
Have you tried my Asparagus Gnocchi recipe
Simple Polenta Recipe
Simple Polenta Recipe
Simple polenta recipe made with fresh asparagus and gold beets. The asparagus give flavor and texture, beets add a sweetness. Florida Milk Farmers
Ingredients
For the polenta
4

cups

water

(to soak the polenta)

1

cup

yellow corn meal

1/8

tsp

baking soda

(to soak the polenta)

2

cups

water

(to cook the polenta)

2

cups

milk

(to cook the polenta)

1

tsp

salt
Instructions
Do not use cooked polenta for this recipe. Instead, find yellow corn meal in your grocery and use that instead. It is so much better than the cooked stuff.

In a bowl, add 4 cups of cold water, 1 cup of yellow corn meal (It is what is known as polenta) and 1/8 tsp of baking soda. Set it aside for 1:30 hours

Thoroughly wash the gold beets. Coat them with a thin film of olive oil. Use a brush to coat it evenly. Use a fork to poke holes in the beets, then individually wrap them in foil and roast them in a mini oven at 400 degrees for 40 minutes or until you can easily stick a knife into it. If you have an mini oven that can go up to 500 degrees, use it.

Cut asparagus into small pieces. Do the same for the red chili pepper. Be sure to remove the seeds from the chili.

In a small pan, add 2 tsp of extra virgin olive oil. Heat at medium heat for 30 seconds

Add the chopped asparagus and red chili pepper to the oil

Add 1/4 tsp of salt, 1 tsp of parsely and 1 tsp of thyme. Mix well using the wooden spoon

Cook for about 7 minutes. When the asparagus starts to brown, remove from heat and set aside. Make sure they remain crisp yet tender.

When the beets are done, remove them from the oven and let them cool down. Then remove the skin and cut them into bite size pieces. Use the same pan as the asparagus to roast the beets. I like to char their skin a little because it makes the beets juicy

Add the asparagus back into the same pan and mix well. Add 1 tsp of balsamic vinaigrette and mix well. Set aside
Making the polenta
In a pan, add 2 cups of water and 2 cups of milk

Add 1 tsp of salt and bring the water and milk mixture to a boil

Drain the excess water from the soaking polenta

Slowly add the polenta with one hand while using the other hand to stir. Personally, I prefer using a spoon, but, you can use a whisk to stir it. Make sure you are stirring quickly. This will prevent lumps from forming and keep air bubbles at bay

Keep stirring until the mixture has completely blended and it has a thickened consistency

Remove the polenta from heat and plate it immediately. Top with the asparagus and beet mixture.
Note: Please serve this simple polenta recipe immediately after plating.
Notes
Please serve this simple polenta recipe immediately after plating.
Nutrition info is approximate
Nutrition
Serving:
4
g
Calories:
268
kcal