Easy way to use kale! This vegan keto spicy kale hummus recipe can be used as a dip, spread or sauce. It's packed with good fats and is low carb too.
I am not a fan of kale!
Not at all!
But, ever since I turned to keto and low carb lifestyle, I have been using kale extensively.
Now, I am a huge fan of it. It's a superfood packed with nutrients and vitamins
What makes this hummus keto friendly?
All the ingredients in this spicy kale hummus are keto approved. Also, there are no sugars or artificial ingredients in it.
I used chickpeas from a can, but, you can soak dry chick peas overnight and pressure cook them. Then, remove the outside skin and put it in the hummus recipe.
Also, I use keto friendly extra virgin olive oil. My favorite oil to use is California Olive Ranch 100% Extra Virgin Olive oil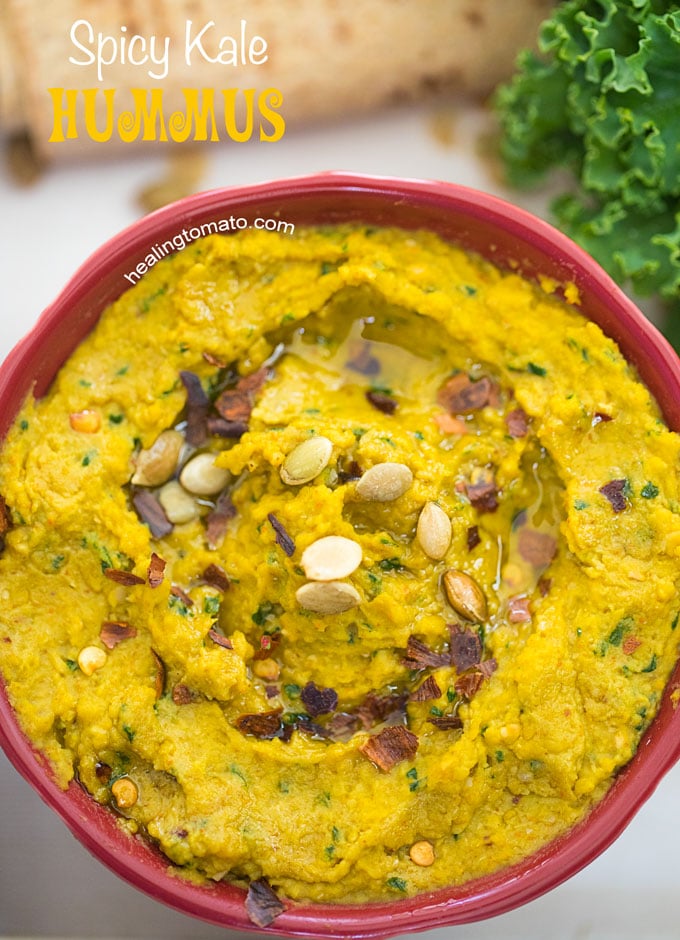 Don't forget to remove the skin!
I can't tell you how many times I have had homemade hummus where the outer shell of the chickpeas is left in the hummus.
The result is a rough texture and makes this a tasteless hummus!
You must remove the outer shell or the skin of the chickpeas. If you are using canned version, you will notice that it comes off easily.
It may be a little tedious, but totally worth it. It does pay off in the end when this spicy kale hummus practically melts in my mouth.
A few more uses for kale
It has good fats
Keto is about keeping the carbs as low as possilbe. But, it's also about consuming foods high in good fats. The extra virgin olive oil, chickpeas and pepitas are the best good fats to use in this recipe.
The kale is a nutritionally dense ingredients. Packed with cancer fighting ingredients, nutrients and vitamins, you will love how good this hummus makes you feel.
I have made this hummus many times now and it's always tasty. I love dipping roasted broccoli in it or spread it on grilled mushrooms.
What is your favorite way to use this hummus?
Spicy Kale Hummus Recipe
Fresh kale blended with Chick Peas and spices

Ingredients
1

can

chickpeas

remove outer skin from each pea

2

leaves

Kale

small sized

1/4

cup

Extra Virgin Olive OIl

1

Tbsp

Extra Virgin Olive Oil

In addition to the 1/4 cup

1

tsp

Kosher salt

1.5

tsp

Lime juice

2.5

Tbsp

Aquafaba

The liquid from the Chickpea Can

1.5

tsp

Nutritional Yeast

1

Tbsp

Red chili powder

or hot sauce

1

Tbsp

Cumin

1/2

tsp

Turmeric

1

Tbsp

Pepitas

1

tsp

Crushed Red Pepper

Optional
Instructions
Add all the ingredients in a mini food processor

Grind until smooth and creamy

Transfer to serving bowl or refrigerate

Notes
This spicy kale hummus can be refrigerated for up to 1 week.