I am always looking to get more greens in your diet without knowing that I am eating them. So, I like to hide greens like kale, collard greens and spinach in delicious recipes. This vegan spicy kale hummus has all natural ingredients. Adding a little spice to the hummus definitely makes this hummus recipe stand out!
I am not a fan of kale!
Not at all!
Sure, I have used it in my spicy kale chips recipe and in my turmeric smoothie bowl. I even used it in my copycat whole food's kale salad and a peach kale salad!
Those are the only 4 kale recipes on my blog. So, you see, I am NOT a fan of kale.
I like to hide it in any recipe I make and I am sure you (or people you know) have similar sentiments on this bitter leafy green!
So, when I decided to make a spicy hummus recipe, I forced myself to put kale in it. I find it silly that a grown woman like me has such strong repulsion towards kale!
I am trying to change that and this hummus recipe definitely helped!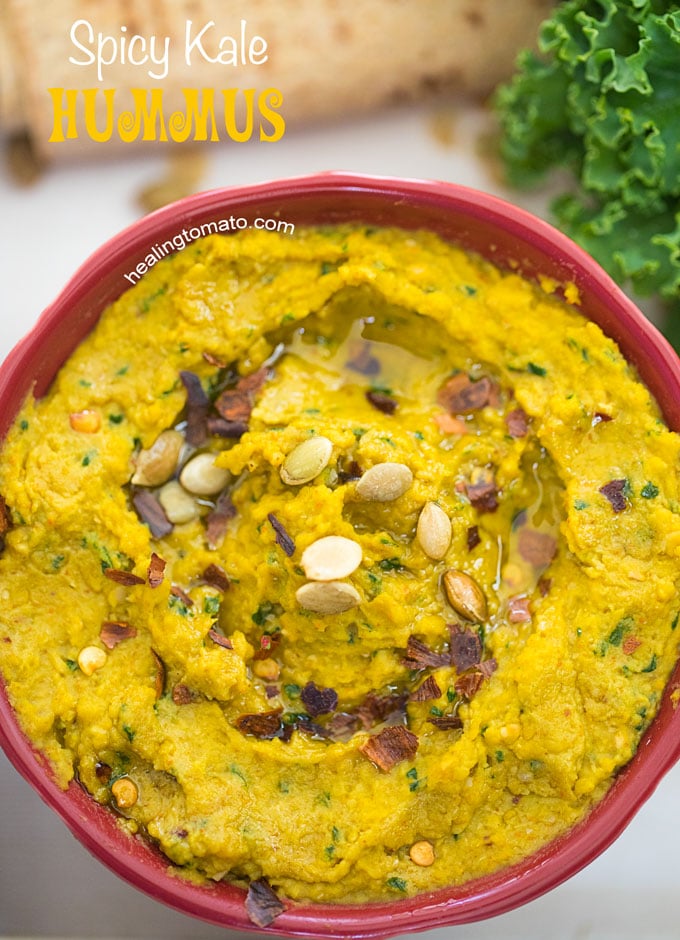 Plus, its really easy to make, so, I didn't have to put too much effort into making it.
The hardest part of making this spicy kale hummus were the chickpeas. I make sure that I remove the skin from ever chick pea! The skin gives the hummus a rough texture and it ruins the taste too.
It does pay off in the end when my hummus practically melts in my mouth.
I do have a love affair with hummus! I have made parsley hummus and even beet hummus which was soooo good. I put hummus on my Paneer Pizza, Hummus Club Sandwich and even put it in my Vegan Gyros occasionally.
This hummus is going to be the star in an upcoming sandwich recipe, so, stay tuned for that. Its really delicious and colorful!
Spicy Kale Hummus Recipe
Spicy Kale Hummus Recipe
Fresh kale blended with Chick Peas and spices

Ingredients
1

can

chickpeas

remove outer skin from each pea

2

leaves

Kale

small sized

1/4

cup

Extra Virgin Olive OIl

1

Tbsp

Extra Virgin Olive Oil

In addition to the 1/4 cup

1

tsp

Kosher salt

1.5

tsp

Lime juice

2.5

Tbsp

Aquafaba

The liquid from the Chickpea Can

1.5

tsp

Nutritional Yeast

1

Tbsp

Red chili powder

or hot sauce

1

Tbsp

Cumin

1/2

tsp

Turmeric

1

Tbsp

Pepitas

1

tsp

Crushed Red Pepper

Optional
Instructions
Add all the ingredients in a mini food processor

Grind until smooth and creamy

Transfer to serving bowl or refrigerate

Notes
This spicy kale hummus can be refrigerated for up to 1 week.