This tropical fruit smoothie is made with all kinds of delicious fruits! Its the best summer drink to beat the heat and a makes you feel like you are sitting on a sandy Caribbean beach!
This Tropical Fruit Smoothie Recipe has been compensated by Collective Bias, Inc. and its advertiser. All opinions are mine alone. Smoothies don't have to be boring right?
They can make you think that you are sitting somewhere in the Caribbean and there is sand between your toes, right?
You know I have a love of smoothies. My avocado smoothie and my Antioxidant smoothies are a delicious way to start the day.
This time, I wanted to have an afternoon smoothie that I can sip while I am sitting by the pool. Nothing says fun and sun smoothie like a tropical smoothie!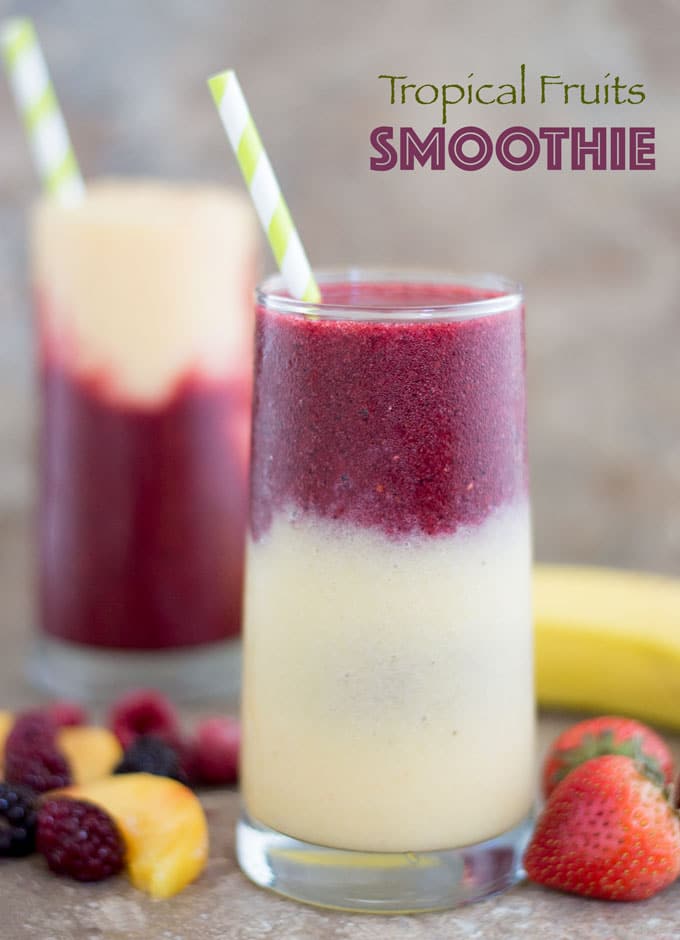 I am always walking through the tea aisle to find something that will catch my eye. Walmart is great at drawing my attention to amazing new products. This time, my eye fell on a blue label with the words new and I just had to stop.
The new product was Torani's line of 3 flavored syrups: Raspberry, Passion Fruit and Peach! They were just screaming, "Make tropical smoothies out of us!!"
Who wouldn't listen to that calling, right?? I just had to oblige!
The good thing about this syrups is that I don't have to add any more ingredients. Its just the fruits and the flavoring. I used mostly frozen fruits, so, I didn't even have to bother washing or chopping them.
Overall, this smoothie took me only 15 minutes to make!
I feel like repeating that: It took only 15 minutes to make!!! Yay!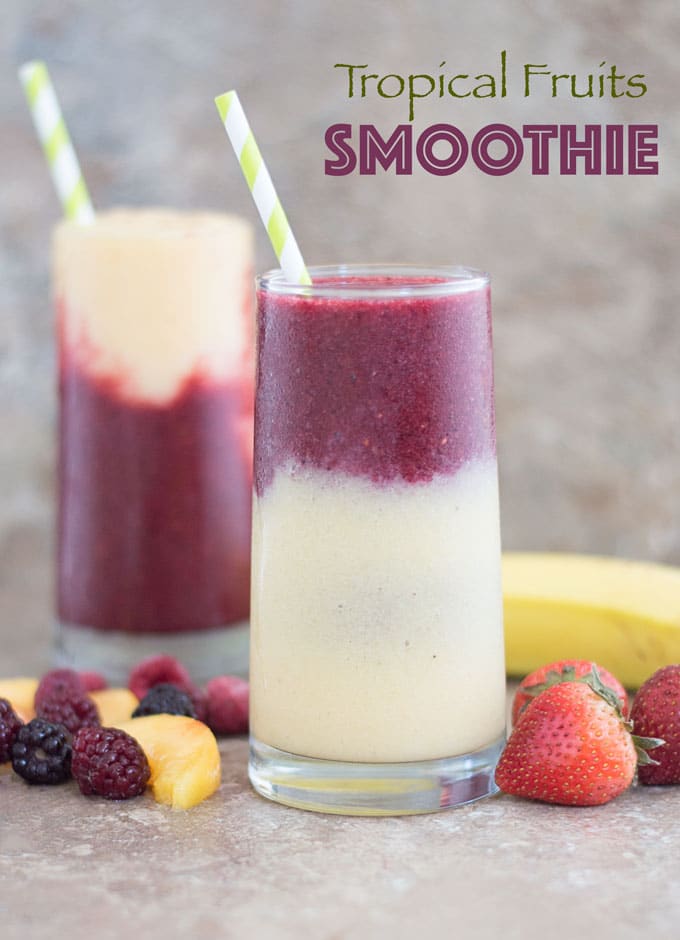 The trick behind the colored layers is to have all the light colored fruits crushed separately from all the dark colored fruits. It feels like laundry days, doesn't it?
The light colored fruits I used were pineapples, apple, bananas and peaches. For this one, the light colored syrup works great. Growing up, passion fruit was my favorite fruit in the world, so, adding the passion fruit flavored syrup was a no-brainer!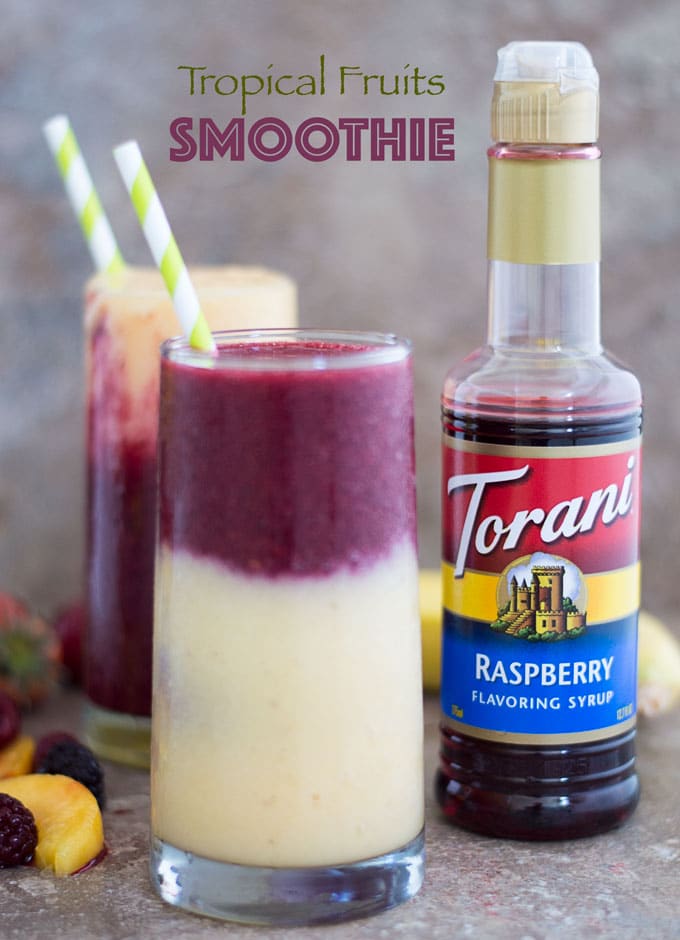 The dark fruits I used were blackberries, blueberries, strawberries and raspberries. All these colors and the raspberry syrup give it a very distinct dark purple color.
It is a very vibrant color, isn't it?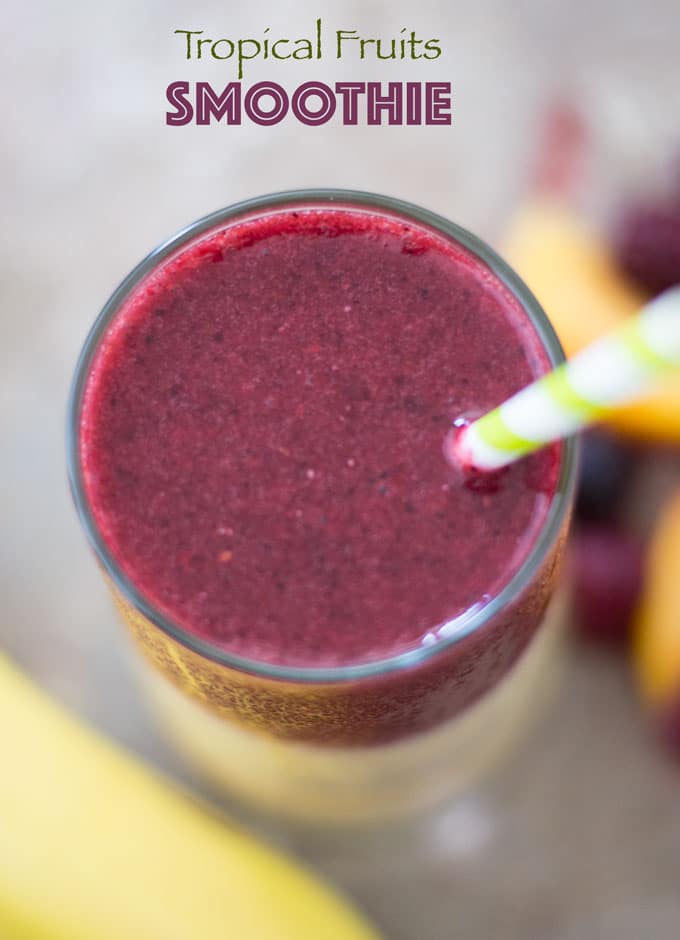 These Torani Syrups are unique, simple and can be used in almost any drink or dessert recipe. You only need a little splash of the syrup and the pour valve made it so easy to, well, pour!
If you are stranded on a sandy beach next to a smoothie hut, which smoothie would you like to drink until you get rescued?
Tropical Fruit Smoothie Recipe
Tropical Fruit Smoothie
Quick and Easy Tropical Fruit Smoothie Made With Fruits

Ingredients
3

Tbsp

Torani Raspberry Flavored Syrup

3

Tbsp

Torani Passion Fruit Flavored Syrup

1

Banana

Peeled, frozen if possible

1.5

cup

Peaches

frozen

1

cup

Pineapple

Fresh, chopped into cubes

½

Granny Smith Apple

Peeled, cored and roughly chopped

3

pieces

Strawberries

Fresh, tops cut off

½

cup

Blueberries

Frozen

½

cup

Raspberries

Frozen

1

cup

Blackberries

Frozen

6

Ice Cubes

3 for the light fruits and 3 for the dark fruits
Instructions
In a blender, add the light fruits (banana, peaches, pineapple, apple)


Add the Torani Passion Fruit Syrup


Add 3 ice cubes and blend until smooth. If it's too thick, add 3 tbsp of water


Fill 2 glasses with the smoothie about ¼ of the way and set aside


In a blender, add blackberries, raspberries, strawberries and blueberries


Add the Torani Raspberry syrup and 3 cubes of ice


Blend until smooth. If it's too thick, add 3 tbsp of water

Gently add this smoothie on top of the light layer of each glass


The trick is to drop the 2nd layer in circular motion


Place a straw and serve immediately