Vegan Strawberry Cupcakes With Pumpkin Spice Frosting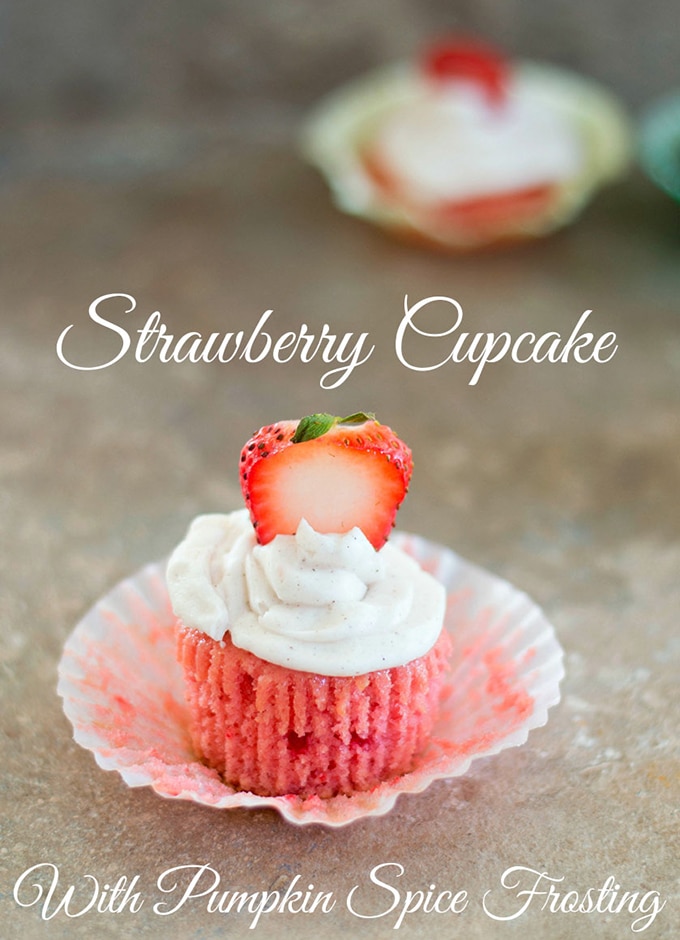 These vegan strawberry cupcakes turned out to be so moist, soft and unbelievably delicious! I loved making them because I took a shortcut.  You can take the same shortcut and not have to spend hours in the kitchen.
Baking is not in my skill set!  Same goes for my frosting skills.  Neither comes to me as naturally as cooking savory meals.  So, I decided to find a quicker way to make them.
My shortcut was to use store bought strawberry cake mix for the base.  I got lucky because I found a cake mix that had all vegan ingredients.  To it, I added finely crushed pistachios and apple sauce.
That's all! I didn't have to try and figure out what kind of flour or non-dairy product to use in the cupcake.  Can you believe how easy it is to make these drool-worthy vegan cupcakes?
The applesauce made the cupcakes very moist.  There is a slight nuttiness to them because of the pistachios which made it a perfect taste match to the pumpkin spice frosting!
If you want to make these cupcakes for Valentine's day, switch the frosting to a strawberry or vanilla frosting.  You can even try it with a chocolate or buttercream frosting.
My frosting skills not withstanding, I have to say that these strawberry cupcake tasted so gooooood.
In some of the cupcakes, I added finely diced strawberries just to experiment.  Oh my! Can I just tell you how amazing they tasted!! I couldn't get over how delicious the artificial strawberry flavor played with the real strawberries!  So, if you have fresh strawberries lying around, I suggest you try adding them to the cupcakes.  You will not regret it.
Strawberries have become very near and dear to my heart.  Recently, I had the good fortune to visit the farms where Florida Strawberries are researched, perfected and grown.  It is amazing to see that they can be picked right from the plant and sold directly to you and me! Trust me, there is nothing better than a Florida strawberry because they are sweet, juicy and oh so very delicious!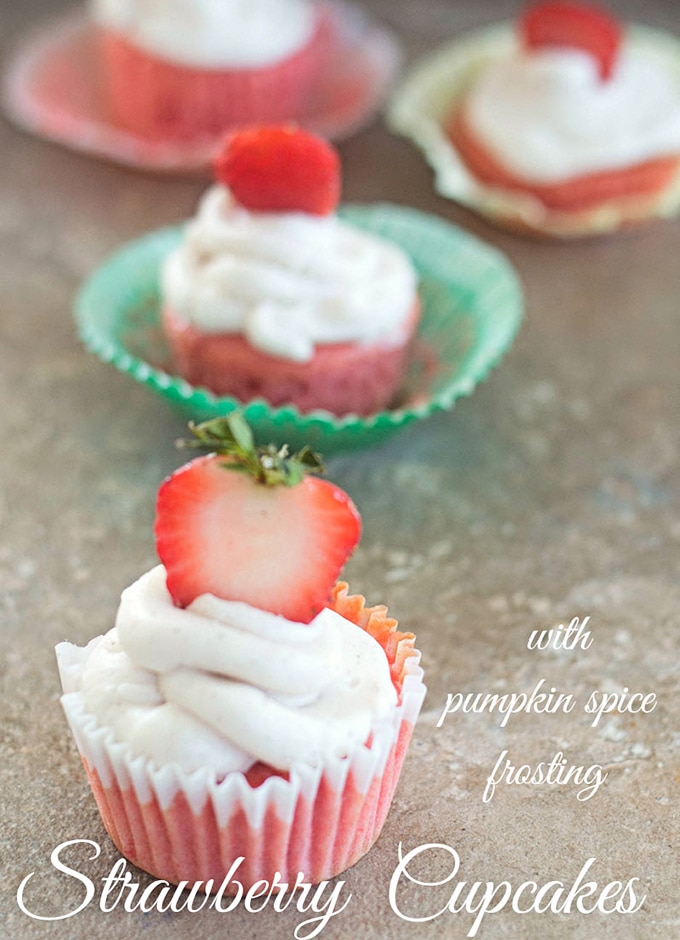 These cupcakes were so delicious that I didn't even wait to do the frosting on them.  I ate them right out of the oven and even burnt my mouth as I devoured them.
What is your idea of THE perfect cupcake?
Vegan Strawberry Cupcakes

1) Preheat oven to 400 degrees.  Get store bought strawberry cake mix.  I used the whole bag of the mix but didn't use any of the frosting ingredients
2) Place the mix in a bowl.  Add 1/2 cup of finely ground unsalted pistachios
3) Add 1/2 cup of apple sauce, 3 Tbsp of vegetable oil and 1/4 cup of water.  If it feels too dry, add 2 Tbsp of water
4) Add 1 tsp of maple syrup and mix everything
5) Line cupcake tray with cupcake liners.  This will make about 20 cupcakes
6) Fill up the cupcakes liners with the strawberry mixture.  I filled up about half way
7) Place in the oven and bake for about 15 minutes or until a knife goes through the cupcakes and comes out clean.
8) Remove from the oven and let them cool
9) While the cupcakes are in the oven, prepare the frosting.  I used my vegan buttercream frosting recipe.  Instead of the food coloring, I put 2 tsp of pumpkin spice instead of the food coloring.
10) When you are ready to serve the cupcakes, put the frosting into a piping bag and frost the cupcakes
Serve these vegan strawberry cupcakes with pumpkin spice frosting immediately.
Strawberry Cupcakes For The Cure
Easy to make Vegan Strawberry Cupcakes with pistachios and a very simple pumpkin spice frosting. Can be made in 30 minutes or less. Perfect for birthdays
Ingredients
For The Strawberry Cupcakes
1

packet of strawberry cake mix

Add 1/2 cup of finely ground unsalted pistachios

1/2

cup

of apple sauce

3

Tbsp

of vegetable oil

1/4

cup

of water + 2 Tbsp more

1

tsp

of maple syrup
For The Frosting
1

cup

of confectioners sugar

1

cup

of vegetable shortening

2

drops of vanilla essence

1

Tbsp

of almond milk

2

tsp

of pumpkin spice
Instructions
Preheat oven to 400 degrees. Get store bought strawberry cake mix. I used the whole bag of the mix but didn't use any of the frosting ingredients

Place the mix in a bowl. Add 1/2 cup of finely ground unsalted pistachios

Add 1/2 cup of apple sauce, 3 Tbsp of vegetable oil and 1/4 cup of water. If it feels too dry, add 2 Tbsp of water

Add 1 tsp of maple syrup and mix everything

Line cupcake tray with cupcake liners. This will make about 20 cupcakes

Fill up the cupcakes liners with the strawberry mixture. I filled up about half way

Place in the oven and bake for about 15 minutes or until a knife goes through the cupcakes and comes out clean.

Remove from the oven and let them cool

While the cupcakes are in the oven, prepare the frosting. I used my vegan buttercream frosting recipe. Instead of the food coloring, I put 2 tsp of pumpkin spice instead of the food coloring.

When you are ready to serve the cupcakes, put the frosting into a piping bag and frost the cupcakes

Serve these strawberry cupcakes with pumpkin spice frosting immediately