Vegan Greek Recipes

One of the places to visit on my bucket list is Greece! I want to sit on top of a cliff overlooking the Agean sea while munching on a Greek Wrap or any one of these 7 recipes!
It isn't hard to find good Greek food around you.  I have seen Greek restaurant and food trucks pop up around me.  From the fried food to the healthy salads, there is nothing the Greek can't make.  Below, is just a small sample of what you can devour.
One bit of quick advice: Don't ever ask a Greek restaurant if they serve falafal! A true Greek chef will be offended by that request.  I speak from personal experience.
7 Vegan Greek Recipes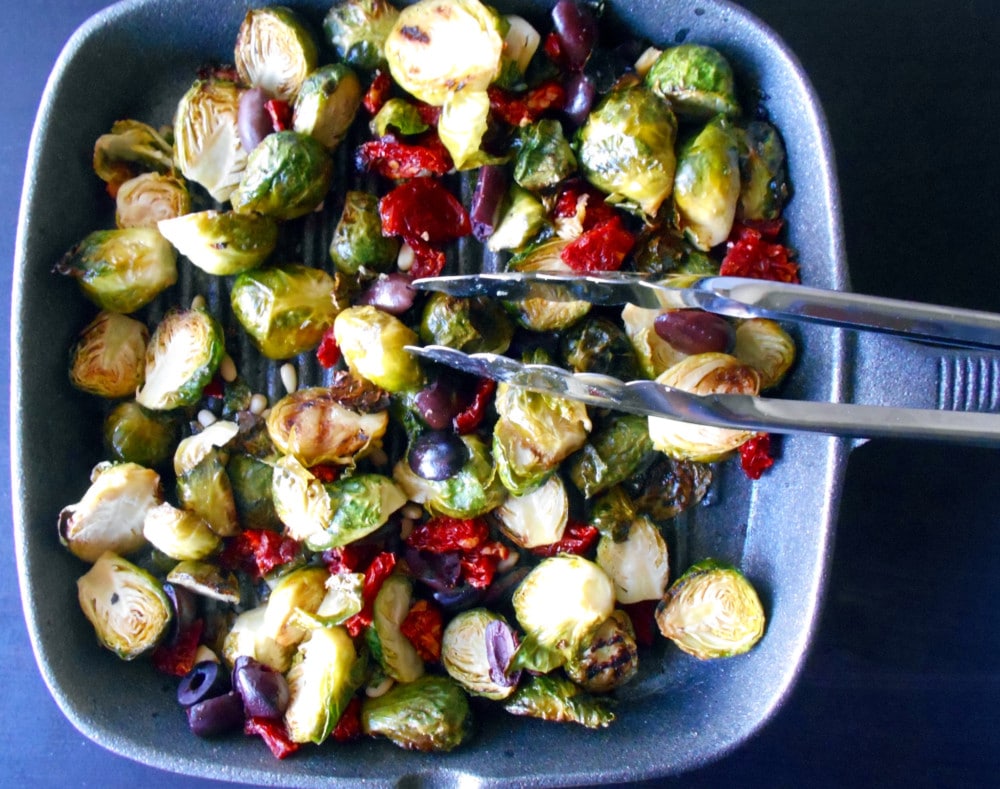 Copyright – Healing Tomato
All the elements of a healthy recipe can be found in this salad.  It has brussels sprouts, olives, sun dried tomatoes, pine nuts and aromatic spices make up this brussels sprouts salad.  It is perfect as a lunch by itself or a side meal for dinner
Ok, what is NOT to like about this burger.  I am willing to bet that this will entice any cheeseburger lover and maybe, even convert them to Vegan.  Made with eggplant and delicious spices, this burger will be perfect for date night.
On a cold day, when the rain and are just merciless outside, I want to be curled up on my lazy chair with a bowl of this soup!  It is a very hearty soup made with chickpeas, onions, tomatoes and spices. I think could eat a bowl of this all year round.
Photo Credit – Good Thymes and Good Food
Lunch is a rushed process in my home.  Have the time, I am grabbing a piece of bread with sriracha and a glass of juice.  Now, I have no excuse to eat unhealthy.  This heavenly sandwich idea is so perfect for a working lunch.  Everything healthy is healthy in this recipe and it is paired with just the right amount of Balsamic vinegar.
P/S: For the feta cheese, you can try my vegan crumbled feta cheese recipe
5) Stuffed Tomatoes – By The Greek Vegan
Photo Credit – The Greek Vegan
"Stuffed" and "Tomatoes"! What is not to like, right?  The best part is that it is made exactly like a Greek chef makes in their kitchen! and all the while, they would be staring into the vast blueness of the Agean Sea? I would like to think so.  The currants and pine nuts are the perfect offset to the tanginess of a tomato.
Photo Credit – Mouthwatering Vegan Recipes
No vegan Greek recipes list would be complete without grape leaves! I had a Greek restaurant close to my home in NJ and I would go to it everyday just for the grape leaves.  Now, I can make them myself using this recipe.
This recipe is very near and dear to my heart.  I combined tomatoes with olives and feta cheese then topped it with an authentic Greek blueberry vinaigrette.  It is so very delicious and I can't stop eating it.  It is perfect light lunch or you can eat it as a side dish.
This is my list of my favorite vegan Greek recipes.  What are some of your favorite?