This homemade pumpkin pie spice is an aromatic and easy blend to make at home. I put a little twist on the traditional recipe by including 2 extra ingredients in my pumpkin spice blend
I am one of those people who never understood why everyone loves PSL!
All that changed last year when I had my very first taste of a PSL latte. WOW! I can't believe I have been missing out.
This year, I have made it my mission to enjoy everything with pumpkin pie spice!
That means I better learn to make my own or my spice mission will get very expensive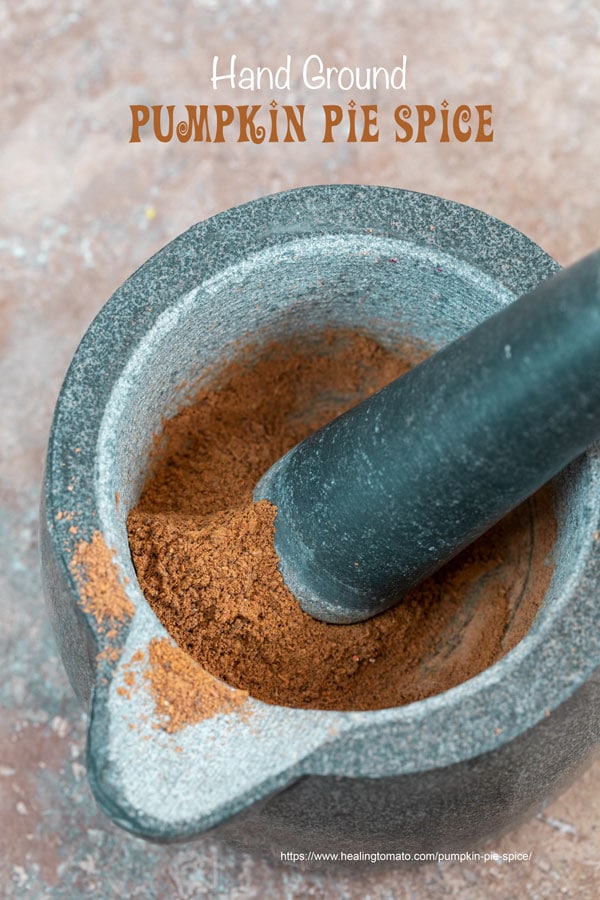 Tips for making this spice
Place the mortar and pestle on the ground or floor because it will be so much easier to grind the ingredients.
I try to use whole spices instead of their powdered counterparts because the difference in taste and aroma is very distinctive.
As with my creole seasoning and any homemade seasoning, I make sure I store it in a glass jar with an air-tight seal.
I used a mortar and pestle to ground all the whole spices (except for the ginger powder). It was a little extra work, but, definitely worth it.
Use up this batch of homemade pumpkin pie spice this season because it will go stale by next year.
If you have easy access to an Indian store, buy whole nutmeg from there. It will be cheaper.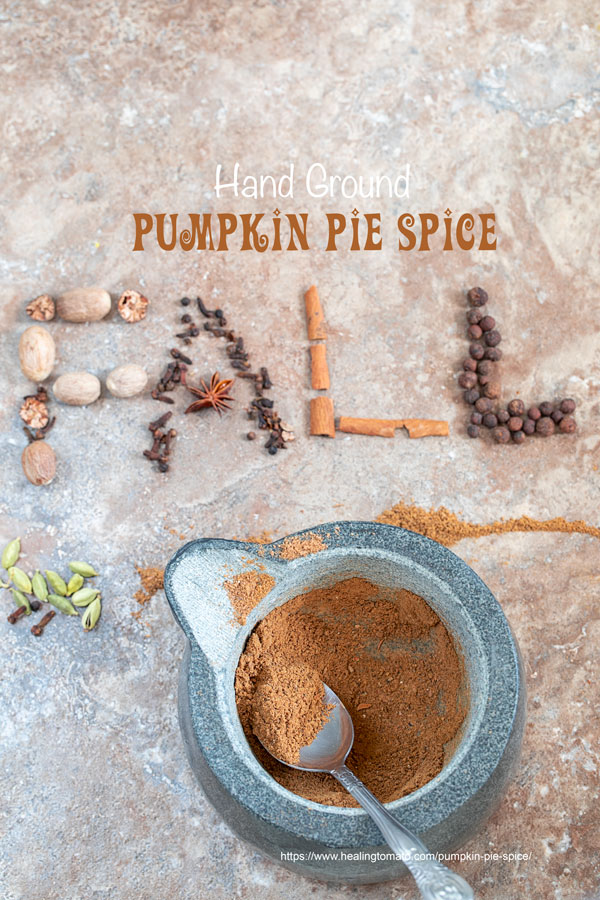 What's pumpkin pie spice?
Pumpkin pie spice is made by blending several spices together. These spices are everyday spices and can be easily found in any pantry
As you guessed from the name, pumpkin pie spice is the spice used to flavor pumpkin pies. No matter what kind of pumpkin pie you make, this spice will always be present.
Why I like making my own
In my area, store bought pumpkin spice is about $6 for a 1-2 oz bottle! That is way to expensive, especially for a spice that I use for only 3 months out of the year.
So, now, I know what you are probably thinking! Isn't it more expensive to buy all the ingredients to make this pumpkin pie spice at home?
Yes, the total comes out to just under $30 to buy all the ingredients needed to make this spice at home. I can hear the wheels turning in your head as you try to calculate the difference between $6 and $30, lol!
Here is why I consider it to be cheaper to make it at home. I can use the same ingredients in other recipes or other homemade spices. Pretty cool, right?
In the end, its much cheaper to DIY pumpkin pie spice from scratch. Do you agree?
Now, my head hurts from all the math! Excuse me while I go take a nap. 🙂
Common questions when making this spice
As you grind this pumpkin pie spice, you might think of some questions. "Why is it so expensive?", "Can it go bad?" and other questions.
Below, I answer some common questions. Feel free to ask other questions in the comments below
Why is it so expensive to buy?
From what I understand, the type of cinnamon used determines the price of the Pumpkin Pie Spice.
If Ceylon cinnamon is used in the spice, then its bound to be expensive. Ceylon cinnamon is the "true cinnamon" and comes from Sri Lanka. This is the stuff that is expensive and it makes our pumpkin spice be pricey
Source: Bon Appetit and my own experience
Can this spice go bad?
Store bought pumpkin pie spice does loose its strong aromas quickly. I have noticed that I should use it up within a month of buying it.
Those companies that store it in glass bottles will have a longer shelf life. The one sold in plastic bottles loose their potency very quickly, in my experience
My homemade version lasts about 2 months, if I store it in a glass jar with an air-tight container.
This pumpkin pie spice is vegan friendly, so, use it in all your vegan desserts. I wrote up a nifty guide to what is vegan and what is not vegan.
How do I make pumpkin pie spice from scratch?
Blend these ingredients together:
– Nutmeg
– Cloves
– Cinnamon Sticks
– All Spice
– Star Anise
– Cardamom
– Ginger Powder
What can I use this spice in?
My favorite way to use this spice is in my olive oil cake! It's makes the cake taste so good. If you are on a Keto diet, then Trina Krug has an easy keto pumpkin pie recipe that is so good. She use pumpkin pie spice that gives it a unique flavor.
Why use a mortar and pestle to make it?
Growing up, we always saw our spices and flours ground by hand. We loved watching family members sit around the kitchen and grind ingredients.
Ginger, garlic, chili, cinnamon, cloves, cardamon, cumin, coriander seeds and so many ingredients were hand ground. They would be stored and be used for months to come.
If you find dried ginger, use it in this recipe. Ground ginger has so much more aroma and flavor.
For me, grinding spices is very natural and its also a way to pay homage to all that came before me that used the mortar and pestle to make food. I find that food tastes more authentic when it the ingredients are hand ground.
Recipes that use this spice blend
The next time a recipe calls for pumpkin spice, pull out your mortar and pestle to make it. Your recipe will have that wonderful homemade taste.
Why pay $6-$8 for pumpkin spice latte when you can make your own, right?
My favorite recipe to make using this pumpkin pie spice is a rustic vegan apple pie recipe, strawberry cupcakes, butternut squash pie, and a blueberry galette! It flavored the pie so well and tasted delicious.
---
Sharing is caring
Don't be shy, chime in below in the comments. Let me hear your opinion on this recipe. If you enjoyed this, please give it 5 stars and share it on Facebook, Pinterest, Twitter, Instagram and Youtube.
⭐️ Want even more Healing Tomato recipes? Sign up for my weekly newsletter ⭐️
How to make Pumpkin Pie Spice
Quickly blend a few spices to make a this homemade pumpkin pie spice. I love using my mortar and pestle to grind the ingredients.
Equipment
Mortar and pestle

Air-tight glass spice jar
Ingredients
1

nutmeg

1½

Tbsp

cloves

2

sticks

cinnamon sticks

1½

Tbsp

all Spice

1

star anise

6

cloves

cardamom

just the seeds.

1½

tsp

ginger powder
Instructions
Place the nutmeg in the mortar and pestle (see notes)

Grind it to powder consistency

Add the cloves on top of the ground nutmeg

Grind the cloves until its a fine powder

Continue the process with cinnamon, all spice, cardamom and ginger powder

Give all the spices one final grind to mix it all together

Transfer to a glass spice bottle
Notes
Nutrition info is approximate
Grinding the nutmeg is not going to be easy. It takes lots of elbow grease and pounding to get it to a find powder. It took me about 10 minutes to get it really fine. So, be sure to have patience when blending it.
You can use ground nutmeg too, if you don't want to blend whole nutmeg
Keep the bottle with pumpkin pie spice in the pantry, away from direct sunlight