This vegan turmeric smoothie bowl is the perfect healthy breakfast recipe. Made with Kale, vegan yogurt and a good load of turmeric powder in it. Turmeric has amazing healing properties and very little taste. Yet, it packs quite an Ayurvedic punch in any recipe.
If you are like me, you love breakfast in bed!
Most of the time, I get pancakes or waffles which is delicious.
There is nothing wrong with either of those recipes, but, once in a while I like to mix things up a little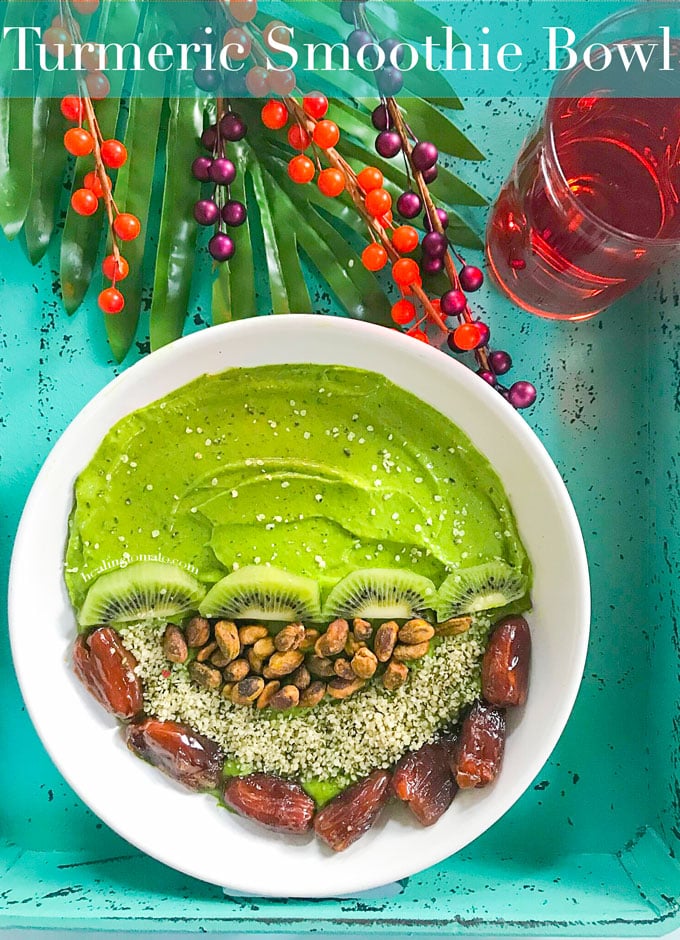 This time, I went with this Turmeric Smoothie bowl for breakfast in bed. Its so easy to make because all it needs is to blend the ingredients and transfer to a bowl.
Turmeric is nothing new in Indian cuisine. We use it in appetizers like my tofu skewers or main dishes like my Bombay potatoes. Its in our drinks, breakfast recipes and even desserts! I think the only meal that its not seen is when we cook pure Basmati rice.
Growing up, we were always told about turmeric and how its the super spice! Its good for the body on the inside as well as the outside. So many facial creams, masks and soaps contain this spice. It helps clear the skin blemishes and also helps fight the aging process.
If you are not comfortable with the taste of turmeric, then this recipe is perfect for you. Its in the recipe but you won't taste it at all. Its one of those spices that does its magic in the background without wanting any attention.
I put 1 Tbsp of turmeric in this recipe, but, if you are comfortable, you can even go for 1.5 Tbsp. The best way to get turmeric is by (affiliate link) grinding turmeric root. However, if you don't have time, you can always get (affiliate link) turmeric powder and use it in all kinds of recipes.
For the dates, I decided to heat them up a little and add maple syrup. This way, they are sweet and juicy when you pop them in your mouth.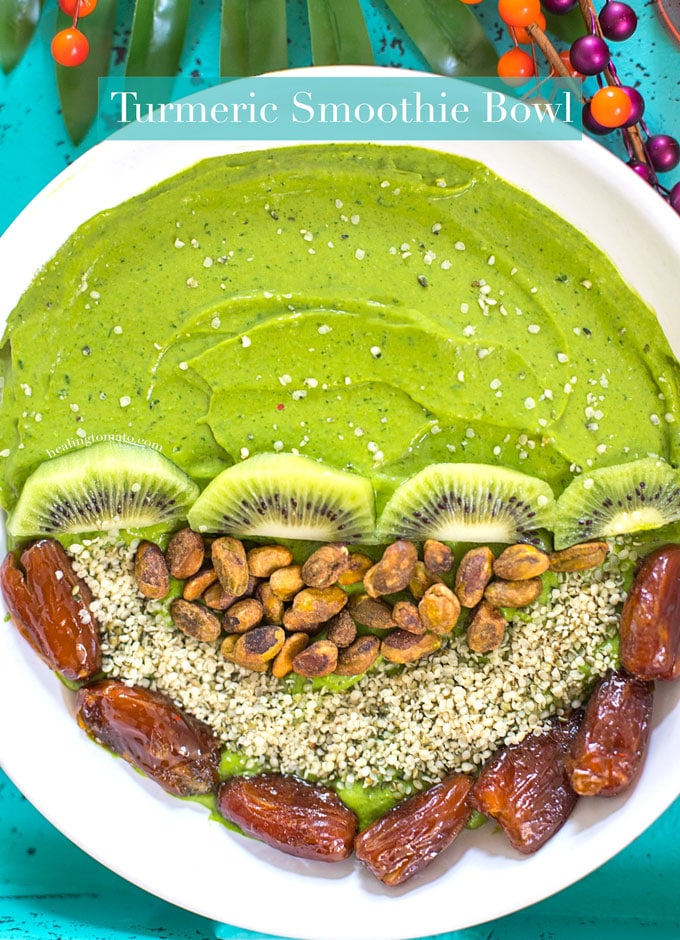 I have a chocolate banana smoothie bowl with avocado that you will love just as much as this recipe.
The dates really steal the show, even though the green smoothie color grabs your attention. I loved how delicious the dates tasted with all the other ingredients.
This is also the first time that I have featured hemp seeds on the blog. I haven't tried them in recipes until recently, but, now that I have tried them, I am using them daily! I love this article on LiveStrong's Website which details all the good things about using hemp seeds
What's your favorite turmeric recipe?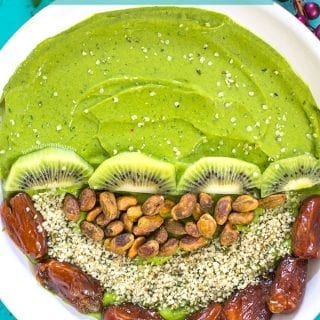 Turmeric Smoothie Bowl
Vegan Turmeric Smoothie Bowl made with healthy ingredients.

Ingredients
For the Turmeric Smoothie
3

leaves

Kale

Roughly torn

1

Avocado

1

Tbsp

Turmeric

1.5

Tbsp

Agave

2

sprigs

Fresh Peppermint

2

tsp

Nutritional Yeast

2

tsp

Apple Cider Vinegar

5.3

oz

Vegan Yogurt (Vanilla Flavored)

*See Note

¼

cup

Almond Milk

Or any nut milk
For the Toppings
1

Kiwi

Cut into half moon shape

¼

cup

Hemp Seeds

Hulled

8

pieces

Medjool Dates

1

tsp

Agave

Optional *See Notes

½

cup

Pistachios

roasted or raw
Instructions
In a blender, add all the ingredients


Blend on low until its smooth. If its too thick, add about 1 Tbsp more of Almond Milk


Transfer to smoothie bowl


Optional: In a pan add the Medjool Dates and 1 Tsp of Agave. Heat on low for about 1 minutes


In the smoothie bowl, arrange all the toppings to your liking

Notes
– If you don't have vegan vanilla yogurt, use regular vegan yogurt and add 2 drops of vanilla extract
– I don't like eating raw Medjool dates, so, I heat them up with agave before adding to any recipe. If you don't have a problem with raw dates, you can skip the process of heating them with agave.