Strawberry Cupcakes With Pumpkin Spice Frosting For The Cure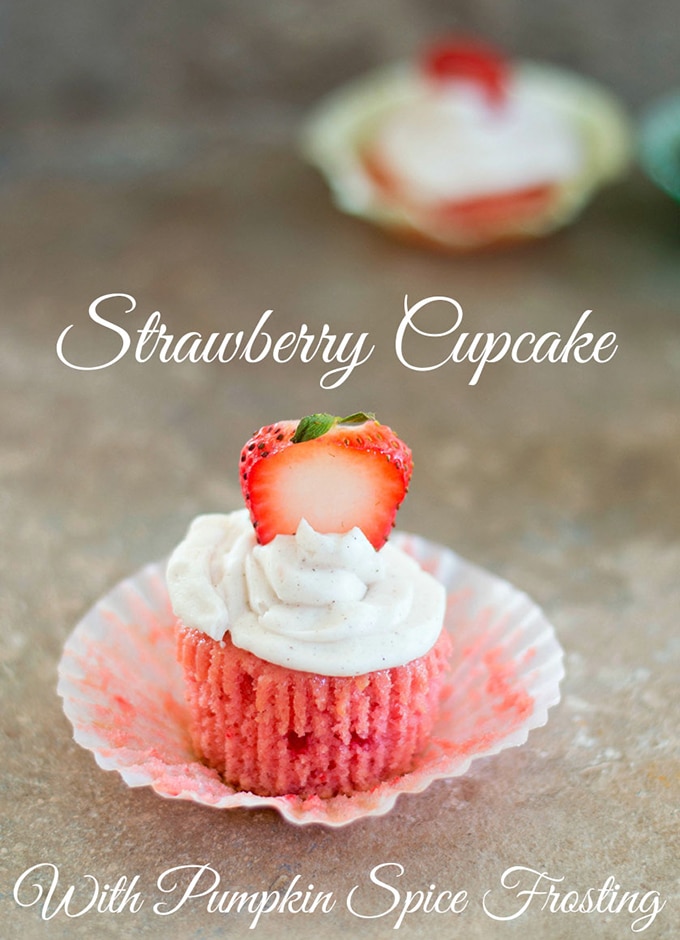 How often has a cupcake photo helped change the world? Your cupcake photo will help in finding the cure for breast cancer.  Join me in the 10,000 cupcake challenge with KitchenAid to save lives.
Baking is not in my skill set!  Same goes for my frosting skills.  Neither comes to me as naturally as cooking savory meals.  But, when it comes to an important cause like helping find the cure for breast cancer, I will rise to the challenge and become a lean, mean baking machine!
My frosting skills not withstanding, I have to say that these strawberry cupcake tasted so gooooood.  I decided to take the slightly easier route by using store bought strawberry cake mix for the base.  To it, I added finely crushed pistachios and apple sauce.  That makes all the difference because I wanted to make sure that even vegans could eat it.  There is a slight nuttiness to them which makes them a perfect match to the pumpkin spice.
You can make THE perfect cupcakes or you can make average cupcakes.  KitchenAid doesn't care! For every cupcake photo you share on Twitter and Instagram with the hashtag #10000Cupcakes, KitchenAid will donate $1 to the Susan G. Komen Foundation.  That's all it takes! A simple photo can help in finding the cure for cancer.
So, come join me in participating in the $10,000 cupcake challenge with KitchenAid.  You could also win one of three KitchenAid Mixers.  Enter here and one of these babies could be yours. Hurry because sweepstakes ends on October 16, 2016.
Go to Cook for the cure's website to learn more about how they are making a difference and how you can participate.  You can be a part of the solution that will help so many people.
What is your idea of THE perfect cupcake?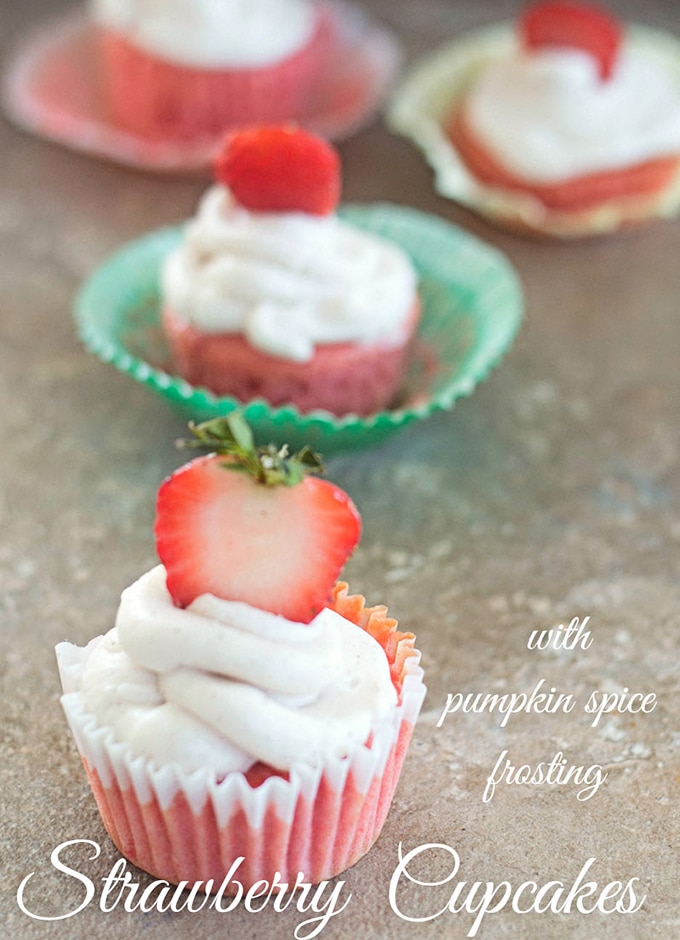 Strawberry Cupcakes With Pumpkin Spice Frosting
1) Preheat oven to 400 degrees.  Get store bought strawberry cake mix.  I used the whole bag of the mix but didn't use any of the frosting ingredients
2) Place the mix in a bowl.  Add 1/2 cup of finely ground unsalted pistachios
3) Add 1/2 cup of apple sauce, 3 Tbsp of vegetable oil and 1/4 cup of water.  If it feels too dry, add 2 Tbsp of water
4) Add 1 tsp of maple syrup and mix everything
5) Line cupcake tray with cupcake liners.  This will make about 20 cupcakes
6) Fill up the cupcakes liners with the strawberry mixture.  I filled up about half way
7) Place in the oven and bake for about 15 minutes or until a knife goes through the cupcakes and comes out clean.
8) Remove from the oven and let them cool
9) While the cupcakes are in the oven, prepare the frosting.  I used my vegan buttercream frosting recipe.  Instead of the food coloring, I put 2 tsp of pumpkin spice instead of the food coloring.
10) When you are ready to serve the cupcakes, put the frosting into a piping bag and frost the cupcakes
Serve these strawberry cupcakes with pumpkin spice frosting immediately.
Strawberry Cupcakes For The Cure
Easy to make Vegan Strawberry Cupcakes with pistachios and a very simple pumpkin spice frosting. Can be made in 30 minutes or less. Perfect for birthdays
Ingredients
For The Strawberry Cupcakes
1 packet of strawberry cake mix
Add 1/2 cup of finely ground unsalted pistachios
1/2 cup of apple sauce
3 Tbsp of vegetable oil
1/4 cup of water + 2 Tbsp more
1 tsp of maple syrup
For The Frosting
1 cup of confectioners sugar
1 cup of vegetable shortening
2 drops of vanilla essence
1 Tbsp of almond milk
2 tsp of pumpkin spice
Instructions
Preheat oven to 400 degrees. Get store bought strawberry cake mix. I used the whole bag of the mix but didn't use any of the frosting ingredients
Place the mix in a bowl. Add 1/2 cup of finely ground unsalted pistachios
Add 1/2 cup of apple sauce, 3 Tbsp of vegetable oil and 1/4 cup of water. If it feels too dry, add 2 Tbsp of water
Add 1 tsp of maple syrup and mix everything
Line cupcake tray with cupcake liners. This will make about 20 cupcakes
Fill up the cupcakes liners with the strawberry mixture. I filled up about half way
Place in the oven and bake for about 15 minutes or until a knife goes through the cupcakes and comes out clean.
Remove from the oven and let them cool
While the cupcakes are in the oven, prepare the frosting. I used my vegan buttercream frosting recipe. Instead of the food coloring, I put 2 tsp of pumpkin spice instead of the food coloring.
When you are ready to serve the cupcakes, put the frosting into a piping bag and frost the cupcakes
Serve these strawberry cupcakes with pumpkin spice frosting immediately
http://www.healingtomato.com/2016/10/08/strawberry-cupcakes-pumpkin-spice/
Copyright - Healing Tomato. All Right Reserved