This navy beans salad is very healthy, quick salad idea. Made with Parsley, it's a very easy vegan Thanksgiving side dish.
Growing up, we always ate navy beans in a tomato gravy and then put on top of toast.
If I never ate another navy bean in my life, I would have never complained!
Now, here I am confronting my disdain for navy beans by putting them front and center in a delicious salad recipe.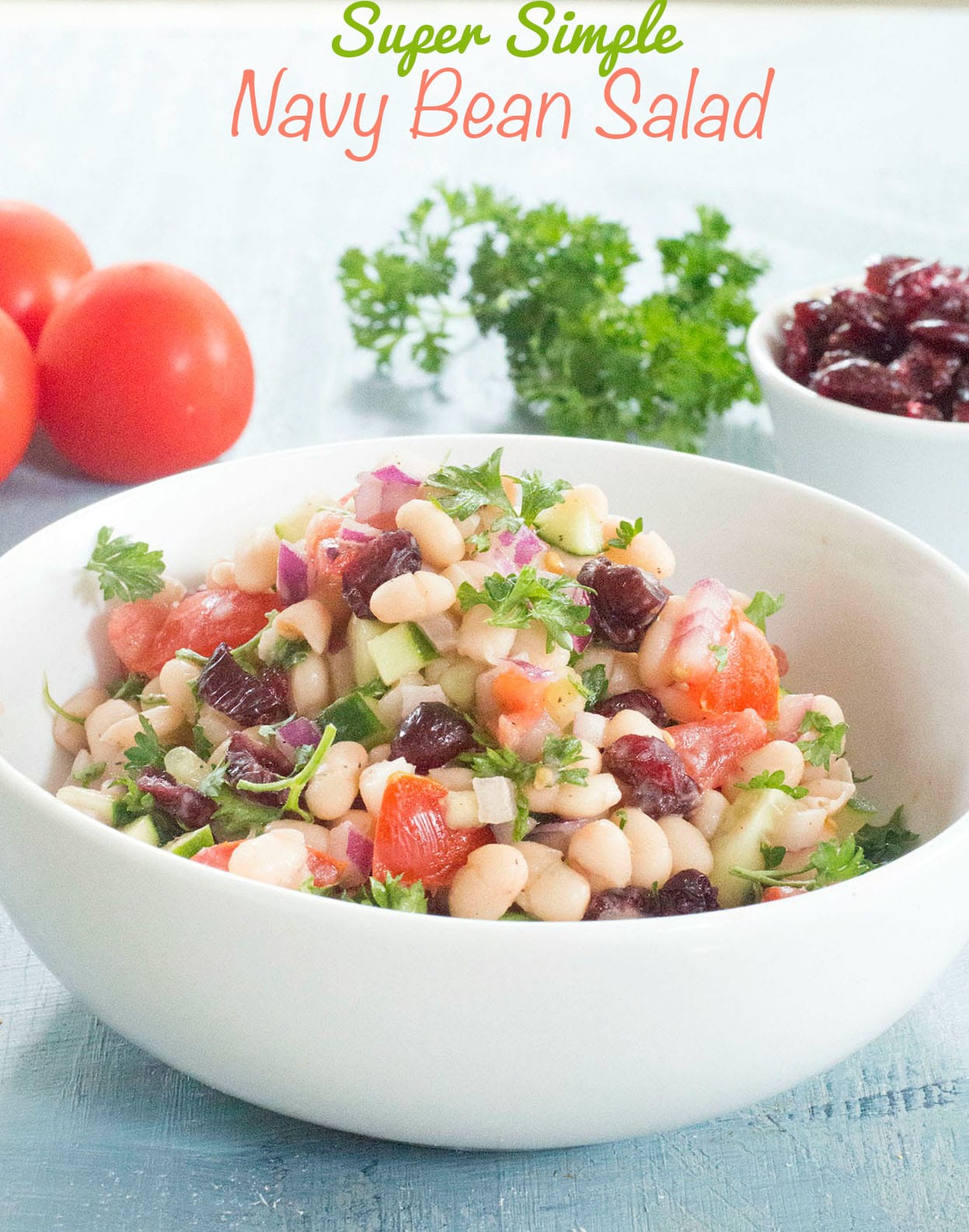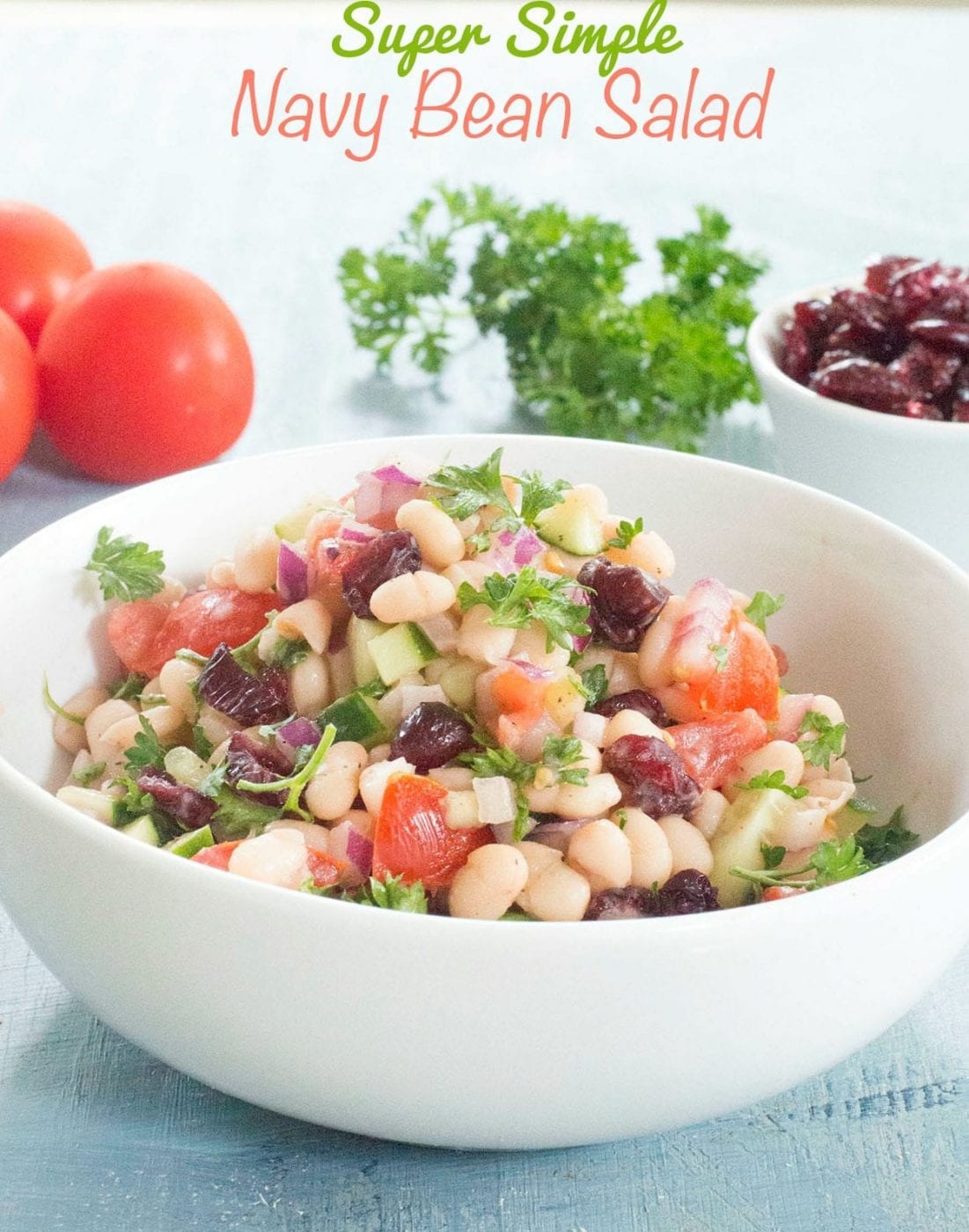 Tips for making it
– Use can beans because it will be faster.
– Make sure you thoroughly drain the navy beans. The liquid in the can has extra salt in it
– Assemble this salad about 30 minutes before serving. Let the parsley work its magic for 30 minutes
– Use a firm tomato otherwise it will make this salad very soggy
– Cut all the ingredients smaller than the navy beans. This way, all the wonderful colors in this salad will stand out
– Salt is optional, but, I highly recommend it.
– Serve with pita chips or even inside a pita bread
If you like navy beans, try them in vegan baked beans, Ribollita or in a pressure cooker couscous salad.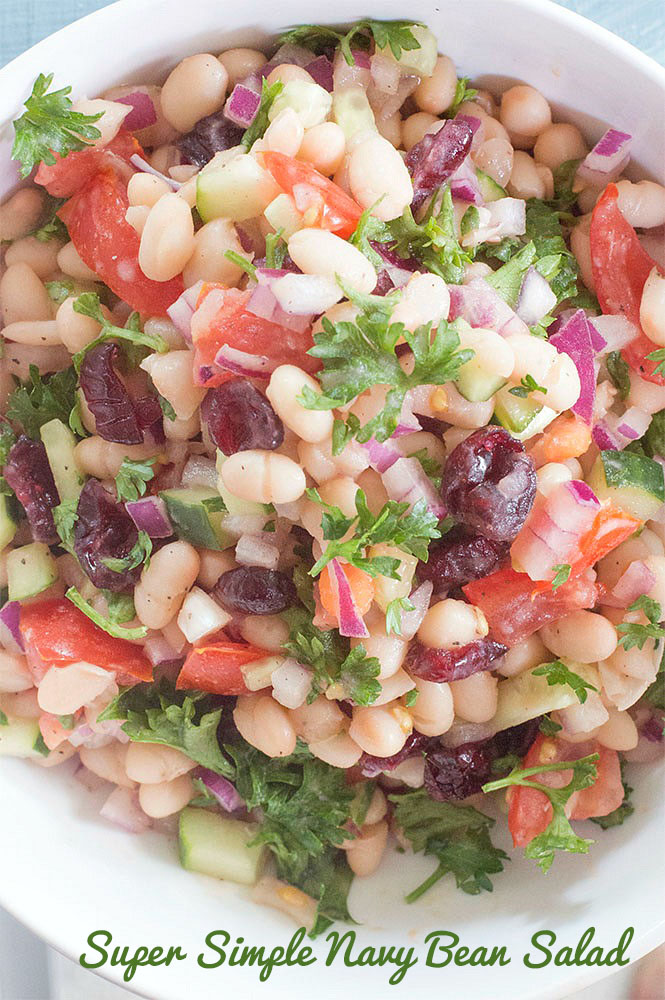 Recipe Inspiration
Growing up, we had a lot of British influence when it came to food. We used to call French fries "Chips" and potato chips were "Crisps".
"Beans on Toast" was not appetizing at all.
When I left home, I dropped navy beans out of my diet completely.
For 20 years, I never ate it and I never missed it.
It only took me 20 years to confront navy beans, but, I have finally conquered it.
Yay!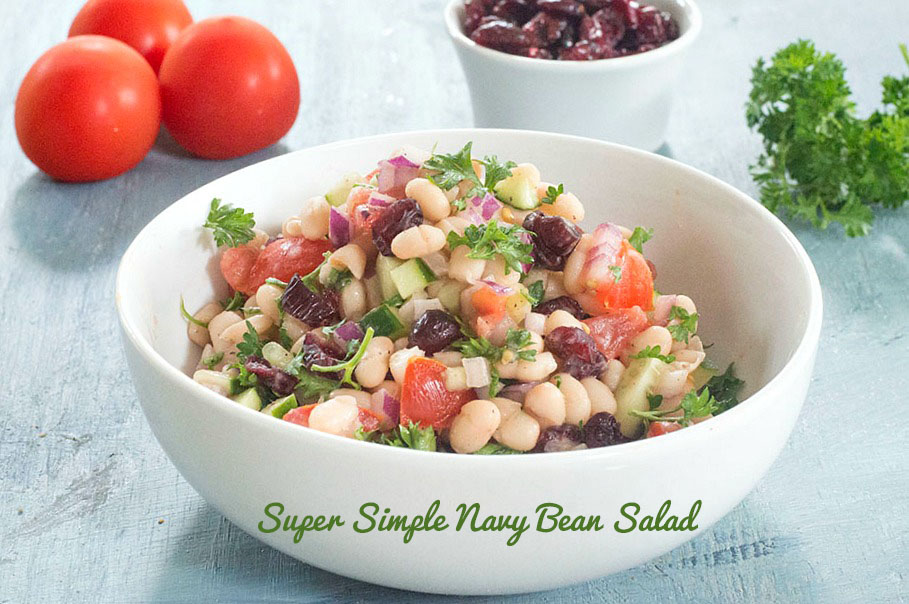 With this recipe, I have made them look cool and sexy (Yes, I said SEXY!!!). Whoever said that vegan food isn't sexy has never tried this vegan navy bean salad.
And nothing makes a meal sexy like adding my favorite tomatoes! Campari tomatoes can make every meal look deliciously sexy!
Campari tomatoes are not just for tomato soup or pickling. They are perfect for this salad because they have a little sweetness in them.
The good things about it
– This navy beans salad is very easy to make. It comes together in under 10 minutes and
– You can eat it all year round. Its perfect healthy lunch recipe or as a side dish.
– Put it in a pita pocket and it will be the perfect on-the-run vegan lunch!
– Its the perfect taste contrast. Sweet meets onions and parsley.
– It has a cooling effect on your stomach because of the cucumber and parsley
Want one more reason to love these navy beans? They are a good Vegan Protein source. Navy beans contain about 12% of protein and 30% when cooked. It also has tons of dietary fiber and useful minerals.
So, tell me what food repulses you and I will try to make it deliciously sexy!
You will also like
Mix peas, mushrooms and navy beans together for an easy side dish.
If you have parsley leftover, turn it into a hummus recipe
Dried cranberries make this stuffed acorn squash look so colorful and delicious.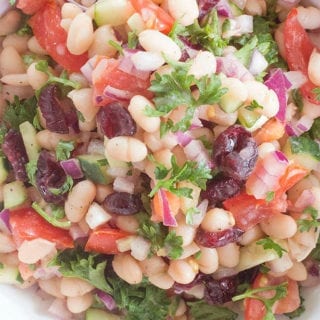 Navy Beans Salad Recipe
A Super Simple Navy Beans Salad Made With Fresh Ingredients

Instructions
Put navy beans in a strainer


Run them under cold tap water for 45 seconds


Place them on a tea towel and dry them completely. Put them in a bowl


Add the finely chopped cucumber

Add the finely chopped red onion

Add the cubed Campari tomatoes


Add the crushed garlic cloves


Add the chopped parsley


If using salt, add it now


Add the extra virgin olive oil

Add the freshly squeezed lime juice

Add the dried cranberries

Mix Well and Serve

Notes
For best taste, you can set aside the navy beans salad for 20 minute to let it marinate before serving
Nutrition
Serving:
4
g
Calories:
182
kcal
Carbohydrates:
30
g
Protein:
1
g
Fat:
7
g
Saturated Fat:
1
g
Sodium:
296
mg
Potassium:
158
mg
Fiber:
2
g
Sugar:
21
g
Vitamin A:
220
IU
Vitamin C:
10.2
mg
Calcium:
19
mg
Iron:
0.5
mg