Navy Beans Salad Recipe – This navy Beans Salad is very healthy, quick salad idea. Made with Parsley & all healthy ingredients.  Perfect vegan salad for the whole family to enjoy
Growing up, we always ate navy beans in a tomato gravy and then put on top of toast.
If I never ate another navy bean in my life, I would have never complained!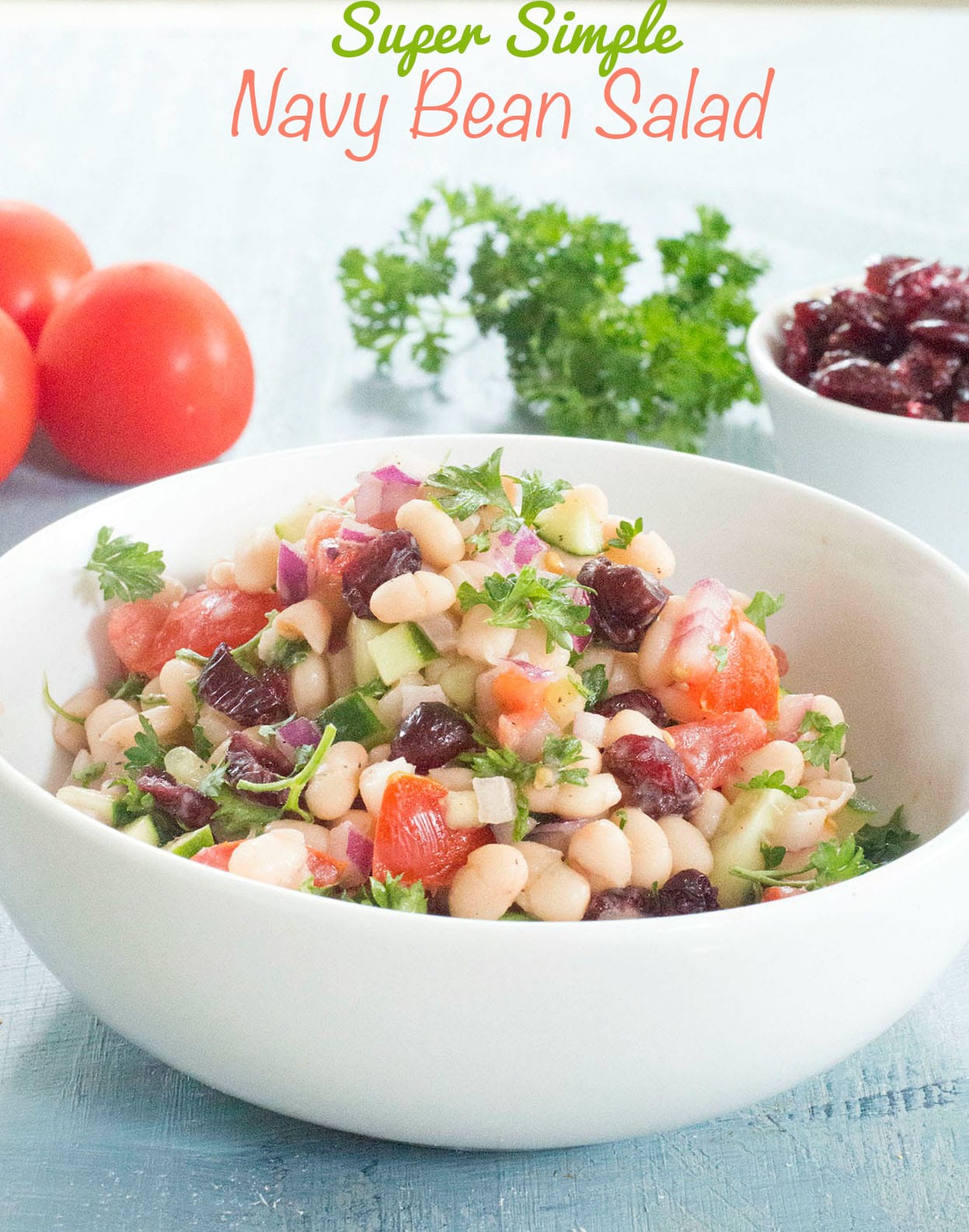 MY LATEST VIDEOS
Growing up, we had a lot of British influence when it came to food.  We used to call French fries "Chips" and potato chips were "Crisps".
"Beans on Toast" was not appetizing at all.
When I left home, I dropped navy beans out of my diet completely.
For 20 years, I never at it and I never missed it.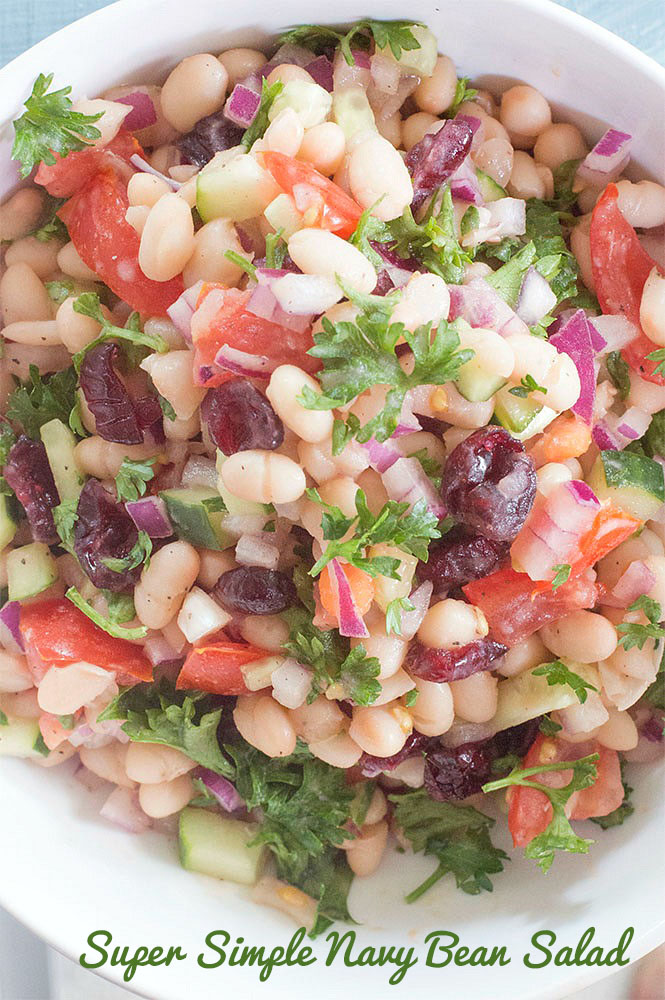 So, you are wondering why I have a recipe featuring these repulsive healthy beans?
When I started this blog, I aimed to tackle my food preconceptions
I aimed to look at ingredients that I disliked and find a way to like them!
That's what happened to my blueberry aversion.  I created my blueberry vinaigrette and now I LOVE blueberries.  They were at the center of my vegan mini scones and overnight oats recipe.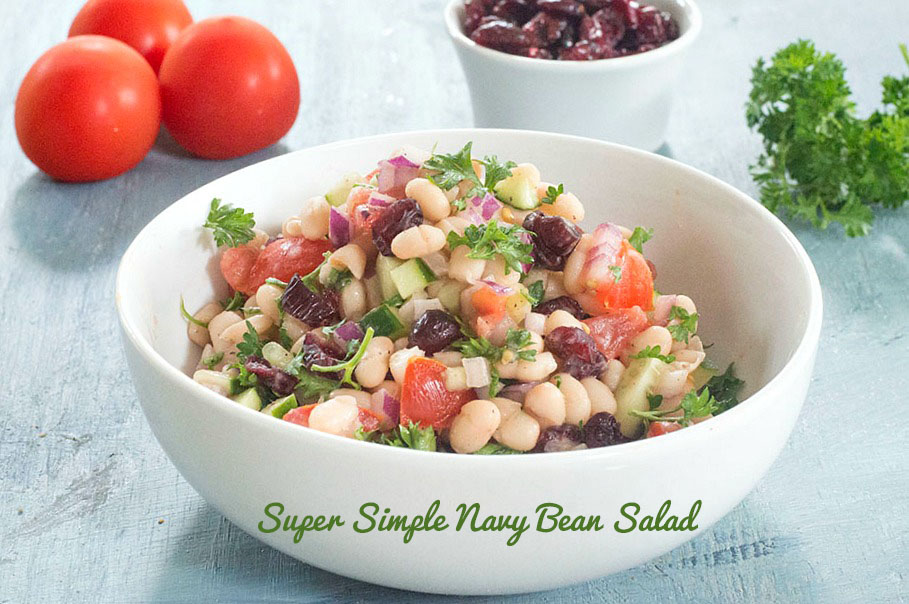 It only took me 20 years to confront navy beans, but, I have finally conquered it.
Yay!
With this recipe, I have made them look cool and sexy (Yes, I said SEXY!!!)
And nothing makes a meal sexy like adding my favorite tomatoes!  Campari tomatoes can make every meal look deliciously sexy!
Whoever says that Vegan food is not sexy has never tried this Navy Beans Salad!
This navy beans salad is very easy to make.  It comes together in under 30 minutes and you can eat it for lunch or as a side dish.  Put it in a pita pocket and it will be the perfect on-the-run vegan lunch!
Want one more reason to love these navy beans?  They are a good Vegan Protein source.  Navy beans contain about 12% of protein and 30% when cooked.  It also has tons of dietary fiber and useful minerals.
You can use the canned variety or follow this method by the Kitchn on how to cook dry navy beans.
So, tell me what food repulses you and I will try to make it deliciously sexy!


Super Simple Navy Beans Salad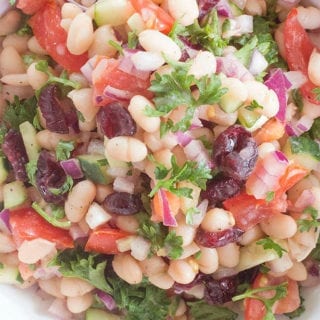 Navy Beans Salad Recipe
A Super Simple Navy Beans Salad Made With Fresh Ingredients

Ingredients
Instructions
Put navy beans in a strainer


Run them under cold tap water for 45 seconds


Place them on a tea towel and dry them completely. Put them in a bowl


Add the finely chopped cucumber

Add the finely chopped red onion

Add the cubed Campari tomatoes


Add the crushed garlic cloves


If using salt, add it now


Add the extra virgin olive oil

Add the freshly squeezed lime juice

Add the dried cranberries
Recipe Notes
For best taste, you can set aside the navy beans salad for 20 minute to let it marinate before serving