Cinnamon sugar pita chips – Only 4 ingredients required to make these baked pita chips. Quick and easy snack to serve with dip for game day parties or eat as simple lunch served with fruit salsa
It is that time of the year when I open my holiday spices. When January is about a week old, I pack up my cinnamon, nutmeg, pumpkin and cloves because I know that I am not going to be using them until September.
This way there is more room in my pantry for other junk food.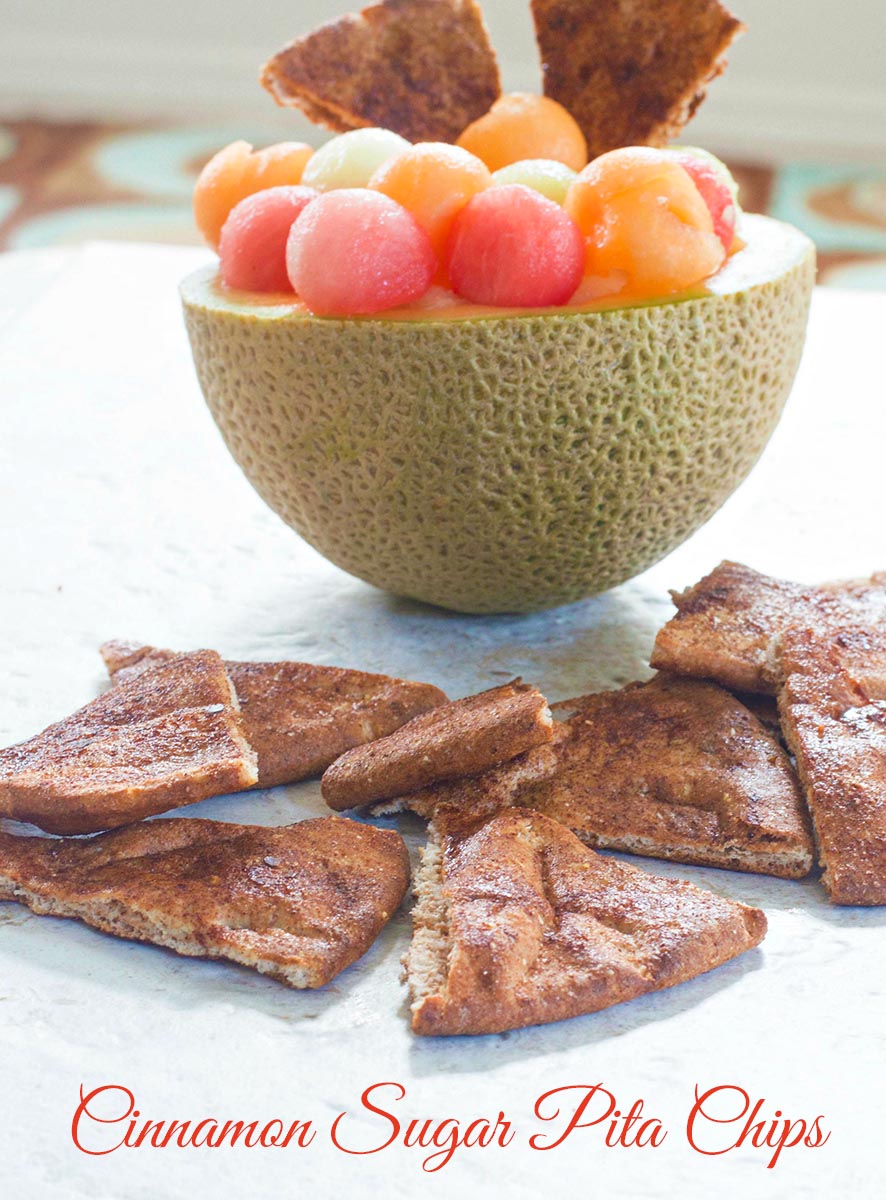 Cinnamon powder is commonly used in hot chocolate in my home. I put some whipped cream on my hot chocolate and sprinkle some cinnamon sugar on it. Is there a better combination than cinnamon and chocolate.
Today's recipe is inspired by my favorite breakfast place on the Jersey shore. The Turning Point is a breakfast / brunch only establishment, but, it is the best place to get the most scrumptious meals.
The last time I ate there was back in February 2012 and they had a delicious mixed fruit salsa served with cinnamon pita chips. It is my favorite "Last" meal memory from New Jersey.
Over the last three or four years, I have tried to recreate that recipe but my memory has failed me. So, I adapted a new version of that recipe and it came out delicious. The recipe is coming tomorrow, so, keep an eye out for it.
Baked pita chips are always popular because they are on the healthier side. This chips are made using whole wheat pita because they are dense and can hold any topping. You can also use tortillas and make these baked churro chips.
What is your favorite topping for these cinnamon sugar pita chips?
Cinnamon Sugar Pita Chips
1) Preheat oven to 300 degrees
2) Take a whole wheat pita bread and cut it into 2 equal rounds. I used 2 pitas in this recipe, so, I had 4 rounds of pita bread
3) Mix 5 tsp of sugar with 2.5 tsp of cinnamon powder and mix well.
4) In a small bowl, add 2 Tbsp of earth balance butter and melt in the microwave
5) Brush the melted butter on both sides of the pita rounds. Be generous with the butter.
6) Place the buttered pita on a baking tray and sprinkle with the cinnamon sugar. Turn over the pita rounds and sprinkle the other side.
7) Place the pita bread on a baking tray with the inner side facing up
8) Put the tray in the oven and bake for about 7 minutes or until you see the top is browned
9) Remove from the oven and let it cool for a few minutes
10) Using a pizza cutter, cut the pita chips into rectangular shapes
Serve the cinnamon sugar pita chips with a parsley hummus or fruit salsa. You can also keep the pita whole and serve it with this melon salad recipe.
Have you tried my vegan eggplant chips?
Cinnamon Sugar Pita Chips
4 ingredients Baked cinnamon sugar pita chips for the perfect holiday snack

Instructions
Preheat oven to 300 degrees

Take a whole wheat pita bread and cut it into 2 equal rounds


Mix sugar with cinnamon powder


In a small bowl, melt vegan butter in the microwave


Generously brush the melted butter on both sides of the pita rounds

Place the buttered pita on a baking tray and sprinkle with the cinnamon sugar


Turn over the pita rounds and sprinkle the other side.

Place the pita bread on a baking tray with the inner side facing up

Put the tray in the oven and bake for about 7 minutes or until the top is browned

Remove from the oven and let it cool for a few minutes

Using a pizza cutter, cut the pita chips into rectangular shapes

Serve them immediately
Notes
NUTRITION INFO IS APPROXIMATE
Nutrition
Calories:
279
kcal
Carbohydrates:
43
g
Protein:
5
g
Fat:
10
g
Saturated Fat:
2
g
Sodium:
339
mg
Potassium:
95
mg
Fiber:
5
g
Sugar:
11
g
Vitamin A:
535
IU
Calcium:
41
mg
Iron:
2
mg