Roasted fingerling potatoes in a rich vegan butter sauce with sun-dried tomatoes, onions and fresh oregano. This is how potatoes are done!! Make this a side dish or eat it by itself. They are simply irresistible.
Can you taste the delicious sun-dried tomatoes just by looking at this picture?
I am droooooling just by looking at this photo!
More than ever before, I really wish we had smell-o-vision, so, you could inhale the wonderful aroma coming out of my kitchen when I was making these amazing potatoes!
Tips for making these potatoes
To get the maximum flavor of each potato, cut the fingerling potatoes lengthwise! Don't cut them into rounds or cubes because you won't be able to taste the potatoes.
Once I figured out the best method to cook them, the next step was, "how long to roast fingerling potatoes". The right answer is slowly and surely!
I set preheated the oven to 400° before putting the potatoes into it. I very lightly oiled them before spreading them out on a baking dish. They are were in a single layer so that they all got roasted evenly.
The fingerling potatoes were roasting in the oven for forty minutes at 400°. Roasting them slowly made them really crispy. Keep your oven temperature at 400 and remove them when they pass the knife test.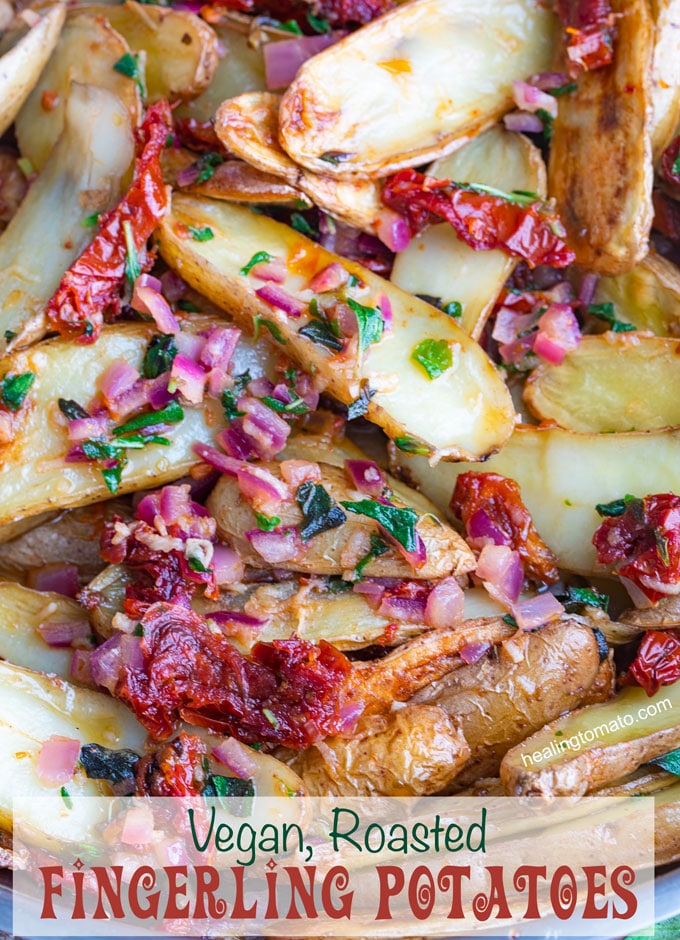 Can you believe that they are all vegan? Who says that vegan food is not rich and comforting?
I used vegan butter because I really wanted to make this a meal that everyone can share. Vegans, vegetarians and meat eaters cannot resist these colorful potatoes!
Recently, I used a rich vegan butter sauce in my casarecce pasta and it was beyond delicious. I realized that this was a good way to flavor meals without having to work too hard. On days when I am short on time, I can whip these up in 30 minutes or less.
Sun-dried tomatoes in vegan butter sauce
The key to these fingerling potatoes are the sun-dried tomatoes. Instead of getting dry sun-dried tomatoes, I went with sun-dried tomatoes marinated in oil and Italian herbs. I used (affiliate link) California Sun Dry Sun-dried tomatoes (julienne cut).
These sun-dried tomatoes are so flavorful and versatile, they can be used in any recipe. Soon, I am going to post a couscous recipe which used these tomatoes. Trust me, you will love them!
I had initially bought these fingerling potatoes for my skillet sweet potatoes recipe, but, realized that they would taste better in a recipe without any sauce. and wanted to see what to make with them.
Since they were so easy to work with, I just had to make another recipe with them as the stars!
I brought together a collection of my best potato recipes. Check it out and send me your favorite.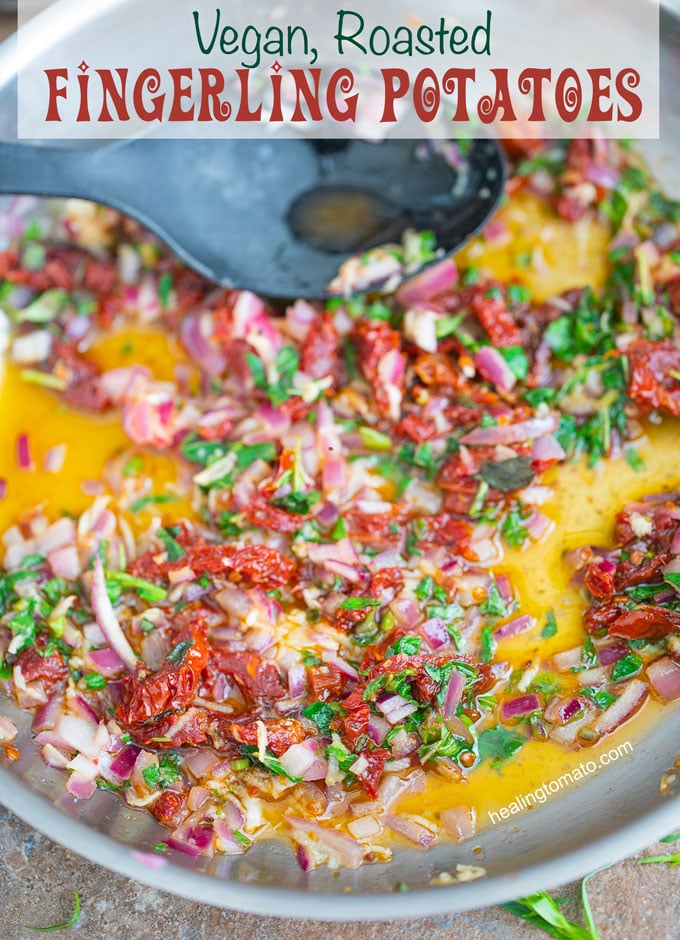 Why roast the potatoes?
So, my main dilemma in this recipe was, "How to cook fingerling potatoes?" I tried baking the fingerling potatoes before adding them in this recipe and it wasn't good. It turned out a little mushy which is never good.
I also fried them but that was just a giant oily mess! It was one of those cases where all I could taste were the oils and no other flavors came through. If I can't taste the yummy sun-dried tomatoes in this recipe, it's goes in the FAIL pile!
The best way to cook fingerling potatoes was to roast them. Oven roasted fingerling potatoes are crispy, yet, delicate. The rich garlic butter sauce has no problem blending with these crispy fingerling potatoes. They are not dry or mushy which is exactly what I wanted from this recipe.
Have you checked out my 5 tips on how to bake the perfect sweet potato post? Its my fool-proof way of baking the most delicious sweet potatoes ever.
What meal will be the perfect accompaniment to these oven roasted fingerling potatoes?
If you like this potato recipe, you will love these potato recipes too:
Want to understand sun-dried tomatoes better? I expose my love for it in this guide to sun-dried tomatoes post
Roasted Fingerling Potatoes
Oven roasted fingerling potatoes in a rich vegan butter sauce with sun-dried tomatoes

Ingredients
For roasting the potatoes
24

oz

Fingerling Potatoes

1 packet or about 16-18 fingerling potatoes

2

tsp

extra virgin olive oil
For the vegan butter sauce
2

Tbsp

Vegan Butter

I used Earth Balance Stick

½

cup

Sun-dried tomatoes

use some of the brine that comes with sun-dried tomatoes

1½

Tbsp

Garlic

shredded

¼

cup

Red Onions

finely diced

⅓

cup

Fresh Oregano

use fresh oregano for best results

½

tsp

Salt

Adjust to your taste
Instructions
Preheat oven to 400°F


Cut the potatoes lengthwise (about 4 slices per fingerling potato)


Add the oil to the potatoes and mix well


Transfer to a baking tray and spread them evenly (one layer only)


Place the tray in the oven


Roast them for 40 minutes or until they pass the knife test


Remove them from the oven and set aside


Heat a heavy bottom pan on medium heat


After 30 seconds, add the vegan butter to the pan


Add the garlic, onions and sun-dried tomatoes to the pan


Add the salt and fresh oregano


Mix well


Gently transfer the potatoes to the pan


Mix the sauce and potatoes well before serving

Notes
Knife test is when you pierce the potatoes with the tip of the knife. If the tip pierces the potatoes easily and comes out with a little bit of potato stuck on the tip, it means that the potatoes are ready.
Or do what I do, which is to carefully remove one of the fingerling potatoes and taste it. 🙂