How to make vegan pie crust from scratch? It needs just 5 ingredients to make a flaky vegan pie crust.
Version 1 of this recipe was originally posted on November 3rd, 2014 and updated on 10-10-19.
Do you know how many pie flavors exist?
Me neither.
From fruity pies to elaborate chocolate pies, there isn't a pie I haven't liked!
Making a vegan version of the pie crust is a game changer! Now, I can make them all and not feel guilty!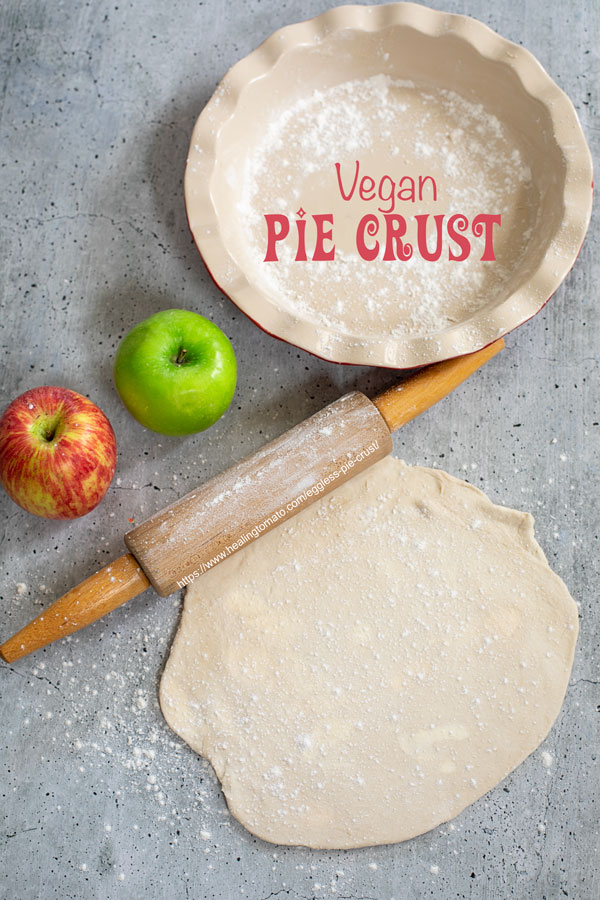 Tips for making vegan pie crust
If you are not baking pies immediately, pre bake in a pie pan it and freeze it.
This pie crust comes out flaky and delicious. Instead of vegetable shortening, I use whipped coconut milk.
Once you make the dough, refrigerate for 30 minutes to overnight. This way, the butter and flour have had a chance to get to know each other well.
Set a 1/2 cup of all purpose flour aside for rolling the dough. Its easier to make roll out the pie crust when its floured well.
Use ice water + Apple cider vinegar combination when mixing the pie dough. It helps the dough remain thick
I made this a dairy-free pie crust, but, if you want to make it vegetarian, add heavy cream. Whip it up a little before adding to the flour.
Related Post: Have you checked out my guide on what vegans eat and don't eat?
As always, be sure to sift the flour first before adding other ingredients. It will make it so much easier to knead it into a dough
Personally, I am a fan of hand kneading the dough. But, a food processor or a stand alone mixer
Do not over knead the dough. The butter should remain whole and not melt until it starts baking. If it starts melting before you bake it, the dough is going to be a blobby mess!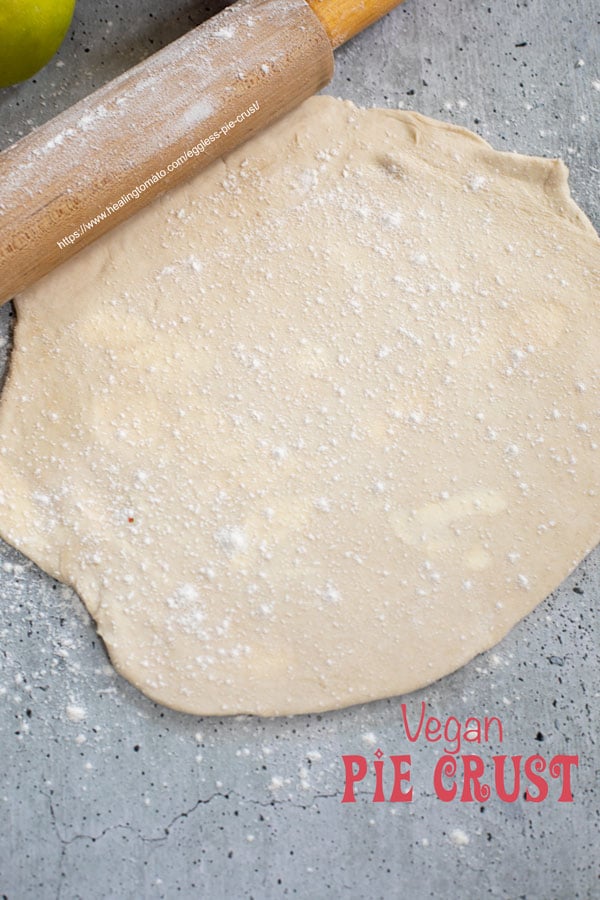 Vegan Pie Crust FAQs
What flour should I use to make a vegan pie crust?
All purpose flour is the perfect flour to make a pie crust. Its my go-to flour to use because its so easy to knead. I have also used whole wheat pastry flour when I made a sweet butternut squash pie. It will also make a flaky crust.
What can I use to bake a pie crust?
Pie pan
Pie dish
Cast iron pan
Foil Pie Pan
Do I need a rolling pin to roll out the dough?
Smooth Empty bottle (with no labels on it or image embed in bottle)
Use your hands to shape the dough. Place dough in the pan of choice and slowly press down on it to take the shape of the pie
Ideally, a rolling pin is the perfect way to roll out any dough. Its specifically designed for that one purpose. Wine bottles are a great way to roll out dough. Be sure to use an empty wine bottle 🙂
Is apple cider vinegar necessary to make a vegan pie crust?
Any vegan pie crust is incomplete without vinegar. It adds a natural and slight tang to the crust. Additionally, it helps bind the dough better.
Lately, I am obsessed with Apple Cider Vinegar. It has been a substitute for all recipes that call for lemon. Apple Vinegar has so many healing properties, so, I am incorporating it in all my recipes.
If you can find the unfiltered and raw Apple Cider Vinegar with "Mother' in it, use that. It has more enzymes and has far more useful properties than the regular vinegar.
Can I refrigerate vegan pie crust?
Yes, you can easily refrigerate this vegan pie crust. There two ways I have tried and loved them both.
Freeze the dough
Partially Pre-bake the pie and refrigerate / freeze it
Here is a little more details on how to refrigerate using these 2 methods
Where can I buy vegan pie crust?
I have never found vegan pie crust in stores. In my area, its has become increasingly hard to find it.
Occasionally, I can get it from Whole foods via Instacart (You need an account), but, they don't have them this time. I will keep an eye out on their site and let you know when its available.
Wholly Wholesome has gluten free and vegan pies that you can try. I have not tasted them, so, try it and let me know. They do look good, so, I am going to try a pie recipe from them.
How to freeze pie dough
Kneed the dough and make a ball out of it. Be sure to not over work the dough. The butter needs to stay intact.
Once you have it in a ball, lightly flour the dough.
Wrap it in clear plastic wrap and refrigerate.
To freeze it, place the wrapped dough in a Ziploc bag and seal it well.
Write the date on the Ziploc bag and freeze it. Use it up within 6 months
How to freeze pie crust
Make the dough and roll it out.
Place the dough on the pie dish of choice
Shape the pie dough to the pie dish
Place parchment paper in the middle of the pie crust and top it with a thin layer of uncooked rice
Place the pie in a 350° preheated oven
Heat it for about 20 min or until it begins to hold shape.
Remove from the oven and remove the parchment paper + rice when its cool to the touch.
Gently wrap the pre-baked pie crust in parchment paper and place it in a Ziploc bag
Write bake date on the pie crust and freeze. Use within 6 months.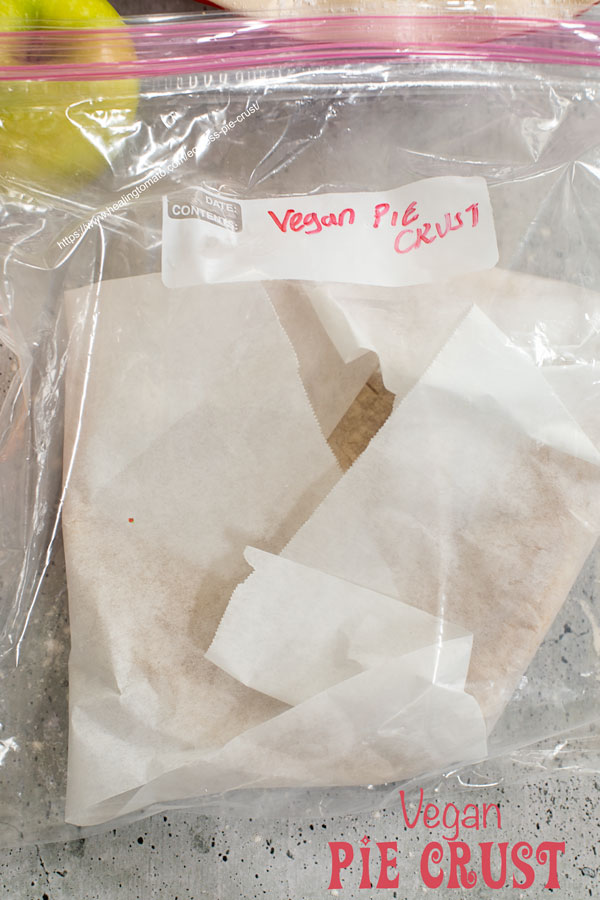 What to make with the dough?
I used this pie crust recipe to make a tomato galette and the recipe turned out so amazingly delicious. This galette is a flaky and crispy on the outside, so, make it and send me pics.
Next, I think I am going to make some good old-fashioned Apple Pie with this recipe. Watch for the recipe coming in the next couple days.
Maybe for Christmas dinner, I am thinking of a Raspberry or a Blackberry pie. I have never made either, so, it should be a fun challenge. I also plan to give away a few free pie crusts to friends and family.
The butter in this eggless pie crust recipe is the vegan butter. I used Earth balance brand (unsalted, but salted works too) because it really tastes like the regular butter. It melts the same way and its also very easy to work into flour.
Use coconut oil, if you don't like using butter. You will have to experiment with amount to add to it.
How to make vegan pie crust from scratch

In a bowl, sift 2 cups of all purpose flour into a bowl
2. Add 1 stick of vegan butter (cut into small pieces
3. In a separate bowl, whisk 1 can of coconut milk (full fat)
4. Add the whisked coconut milk to the flour
5. Kneed a little before adding 2 tsp ice water + 1 tsp apple cider vinegar to the bowl
6. Kneed gently until you have a smooth dough ball without overworking the dough
7. Wrap the dough in clear plastic wrap
7. Refrigerate for 30 min to overnight
8. Flour a flat surface with all purpose flour
9. Remove the dough from the wrap and place it on the floured surface
10. Depending on the size of the pie pan, cut the dough in half or use the whole ball
11. Refrigerate the dough not being used and roll the other one into a ball
12. Start rolling the dough until its slightly bigger than pan
13. Flour the pie pan or cast iron pan that you are using to bake the pie (I am using cast iron for a future recipe)
14. From here, follow the instructions of your pie recipe. You can even pre-bake the pie and save it for future use.
Version 1 of this recipe
From time to time, I will go through old recipes to update the content. Sometimes, I update just the images and sometimes, I give the recipe a complete makeover
This time, I changed the images of this post and made adjustments to the recipe. In addition, I also updated the text in the post to provide more info to make this crust.
This recipe was originally posted on November 3rd, 2014 at 7:26 PM. Click here to get version 1 of this recipe.
There are some recipes that just don't stand the test of time. When I first made this recipe, I added too much water to the recipe. It was a typo which was never corrected.
Now, I went in and corrected the whole recipe, took new pics and wrote up tips for making it. The crust is a light and flaky crust which can be used in sweet or savory recipes.