This pumpkin Olive Oil Cake is made with pumpkin puree and extra virgin olive oil. Olive oil makes it moist and soft. Topped with an aromatic rose water icing
Disclosure: Goya sent me three of their extra virgin olive oil products (through the Meatless Monday movement). No monetary compensation was provided. All opinions and notes are my own.
Can you believe I baked a cake?
I had to pinch myself several times to make sure I wasn't dreaming.
As you all know, I have long since known that I wasn't born with a flour thumb!
But, I baked this cake and it turned into a soft, moist, fluffy and delicious pumpkin dessert!
Just like how a cake should be!
Tips for making this vegan cake
– Use a bread pan instead of a cake pan for a more softer cake recipe. I also like my cakes "taller" and not "wider" which is why I used the bread pan. My pan is (affiliate link) 5.75″ x 3″ from Amazon.
– I used all purpose flour instead of cake flour. I find it easier to work with, but, you can also use cake flour or pastry flour
– I went easy on the sugar in this recipe because my icing was sweet. You can adjust the sugar level by tasting the batter
– Mix the wet and dry ingredients separately. Its much easier to mix them separately first before mixing it together
– When the cake is done, turn off the heat and leave it in the oven for about 5 minutes. This will make the pumpkin cake softer
– About 5 minutes before the cake is done, you can place thin slices of oranges on top of the cake. It gives it a nice texture and design to the cake
– If you don't want the rose water in the icing, you can add it to the cake mix. Or, you can do what I did and add it to both
---
Why I love this olive oil pumpkin cake
Take a look at that perfect texture of this olive oil cake! Its light and airy.
Plus, its all vegan!
I didn't need to use eggs in this recipe. The olive oil does the job of the egg which is awesome!
I also used almond milk instead of heavy creams or milk. The almond milk gives this pumpkin olive oil cake the softness and that practically-melt-in-your-mouth texture.
Even before you taste it, you get a wonderful whiff of pumpkin, vanilla and roses. That's because I used the rose water in it which I had left over from my roasted vegetable recipe from last year.
Do not skip the rose water because it really makes this recipe taste heavenly!
---
Olive oil cake origin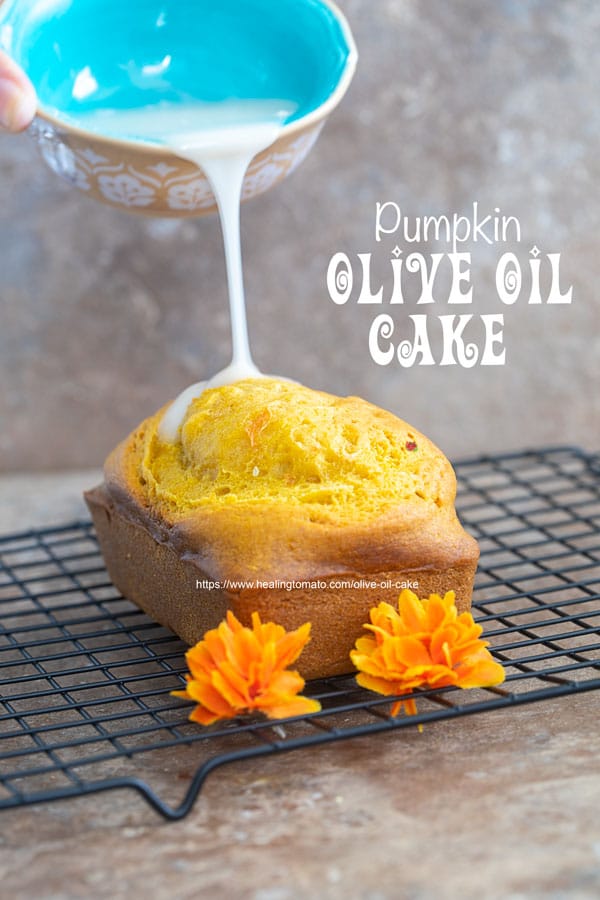 Baking with olive oil has been a tradition for centuries. Mediterranean countries, Italy and even Spain have used it for generations to bake scrumptious desserts
Olive oil producing countries have long since used it in their baking because it makes the dessert very sweet. They have used in breads, cakes and all kinds of desserts
My recipe is a blend of Spanish, Mediterranean and Middle Eastern cuisine. Its also inspired, in part, by Short Girl, Tall Order's recipe.
---
❓ Answering Common Questions
Can you taste the olive oil in this cake?
No, not at all. The olive oil doesn't add flavor to this cake. It's mostly here as a replacement for the eggs. It also makes the cake very moist and spongy.
Why are eggs not needed to bake this cake?
This cake is moist and delicious, without eggs, because the olive oil does a great job of bringing all the ingredients together. It acts as the binding agent and gives the cake that characteristic spongy texture. If you use eggs in your baking, try this easy Japanese style mini soufflé cheesecake recipe by Little Bit Recipes. Or, you can make a straight up, delicious vegan pumpkin spice cake where you won't miss the eggs!
Can this cake be made without pumpkin flavors?
Yes, you can easily bake this cake without pumpkin. Just adjust the milk and sugar amounts.
If you have leftover pumpkin puree, check out how I preserve the pumpkin puree and use it all year round.
How to bake this cake
PREHEAT OVEN TO 350°
1) In a large bowl, sieve 2 cups of unbleached all purpose flour
2) Add vegan sugar to the sieve. Its not necessary to sieve the sugar; I did it because my sugar had clumps
3) Add the baking powder, salt and baking soda to the sieve
4) Add 1/4 cup fresh orange juice
5) Add 1/2 cup Goya Organics Premium Olive Oil
6) Add 1/2 cup pumpkin puree to the bowl. You can mix at this point, if you want
7) Add 3/4 cup almond milk. The image shows half cup, but, I added more after that.
8) Optional: Add 1/8 tsp vanilla essence and 1/8 tsp rose water to the batter
9) Mix well and set aside
10) Lightly oil two 5.75″ x 3″ pan
11) Slowly pour the cake batter into the pan. Fill it up about 3/4 of the way. Use the remainder in the 2nd pan
12) Smooth out the top of the cake and gently tap the pan on a flat surface to remove any air bubbles
13) Place the pans in the oven on the bottom rack
14) At about the 35 minute mark, gently pierce the side of the cake with a toothpick
15) If it comes out clean with no liquid on it, the cake is ready.
16) Turn off the heat, but, do not remove the cake from the oven. You can move it to the top rack. Keep the oven door closed and the cake in there for about 5 more minutes
17) Prepare the icing by adding (affiliate link) 1/2 cup vegan powdered sugar and 1.5 Tbsp of almond milk to a bowl
18) Add 1/8 tsp of vanilla essence to the bowl
19) Add 1/8 tsp of rose water to the bowl. Mix well
20) After the cake has cooled to room temperature, drizzle the icing on top of the cake and set it aside for about 10 minutes before serving
That's it!
How to serve this cake
This olive oil cake can be considered a coffee cake! That means that it can be served with coffee at anytime. It's a great Mother's Day brunch recipe or serve it as a birthday cake.
It tastes so good with frappucinos or Macchiatos. There is something so delicious about coffee and olive oil cake!
If you love to dress it up, top it with a blueberry crumble!
Try these dessert recipes
Air fryer snowball cookies – This is a super easy way to make snowball cookies (AKA Italian wedding cookies).
Vegan French toast pudding – This is one of my favorite holiday desserts. It's made with simple ingredients and so easy.
Cranberry loaf – This loaf is similar to my olive oil cake, but it's made with a chia egg. It's also a great coffee cake and great for holiday season.
Sharing is caring
Don't be shy, chime in below in the comments. Let me hear your opinion on this olive oil cake recipe. If you enjoyed this, please give it 5 stars and share it on Facebook, Pinterest, Twitter, and Instagram
Olive Oil Cake
Olive Oil Cake made with pumpkin puree and rose water

Instructions
To Bake the Cake
Preheat Oven to 350°


In a large bowl, sieve the unbleached all purpose flour

Add vegan sugar


Add baking powder, salt and baking soda


Add Goya Organics Premium Olive Oil

Add pumpkin puree to the bowl and mix


Add almond milk


Optional: Add 1/8 tsp vanilla essence and 1/8 tsp rose water to the batter

Mix well and set aside

Lightly oil two 5.75″ x 3″ pan

Slowly pour the cake batter into the pan


Fill it up about 3/4 of the way. Use the remainder in the 2nd pan

Smooth top of the cake and gently tap the pan on a flat surface to remove air bubbles

Place the pans in the oven on the bottom rack

At about the 35 minute mark, gently pierce the side of the cake with a toothpick

If it comes out clean with no liquid on it, the cake is ready.

Turn off the heat, but, do not remove the cake from the oven.


Move cake to the top rack and keep the oven door closed for about 5 more min

Let it cool to room temperature

To make the Icing
In a small bowl add the vegan powdered sugar and almond milk


Add vanilla essence and rose water to the bowl; Mix well


Drizzle the icing on top of the cake and set it aside for about 10 minutes


Serve with milk or coffee

Notes
– You can substitute all purpose for cake flour or pastry flour
– To make vegan powdered sugar, you can take regular vegan sugar and blend it until its powdered. I found that coffee grinders do a great job of blending the sugar
Nutrition