Affogato translates into English as "Drowned", so, its literally Ice Cream drowned in liquid. Sounds super delicious, doesn't it? This Italian Dessert is traditionally drowned in spiked coffee, but, I decided to make a 3 different recipes that are non-alcoholic.

This post is Sponsored by Breyers delights but the content and opinions expressed are my own
I have had affogato once only!
I have NEVER forgotten the taste of that delicious dessert!
Whenever I see ice cream, my taste buds go down memory lane to that one Affogato experience seventeen years ago and I start drooling!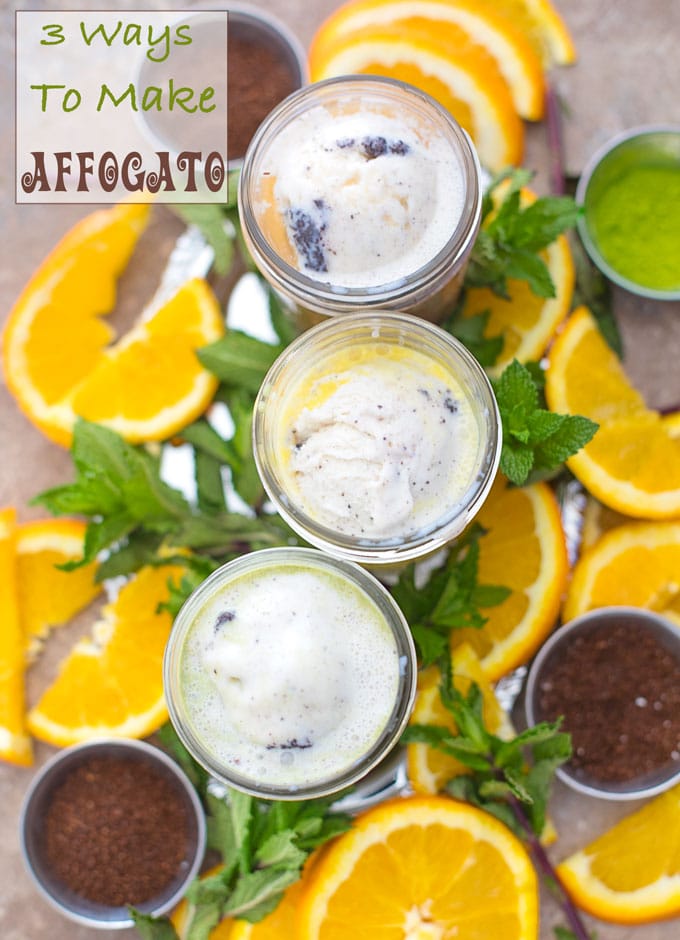 It was a sticky, hot, humid summer day in New York City and I was walking around Little Italy, looking for a good place to stuff my face with some delicious pasta. I came across a little restaurant that had a chalkboard sign of affogato outside.
All I saw was the ice cream in it and I decided to park myself in one of their outside tables. After a meal which included a sinful amount of pasta, I decided to try their affogato. In those days, I didn't know how to order affogato, so, I asked them to make a virgin version of it and they obliged.
They added the espresso at my table and I saw the ice cream be drowned in a sea of aromatic coffee! One spoon of it and I felt like I was in heaven! The ice cream melted in my mouth and the coffee made it taste so delicious!
So, when Breyers delights asked me to make a recipe, I just had to pay homage to my favorite indulgent dessert by making affogato!
Why is Breyers delights the best ice cream for affogato? Well, let me count the ways:
1) Each pint has only 260-330 calories! I used 1 scoop only which makes this a healthy indulgent dessert!
2) Each pint has 20g of Protein! Yes, I did a double take too! I love desserts that have built in amounts of hight protein!
3) It has 1/2 the calories of other Breyers Ice Cream flavors! That makes me drool!
4) It has 20-40% Less fat compared to other Breyers Ice Cream Flavors! This is why they make affogato taste even more delicious
If you are a BJ's Wholesale Club Member, you are in luck! They have Breyers delight in their ice cream aisle. They sale it by the box of 4 pints and its worth every penny!
BJ's Wholesale Club sales so many items on bulk at affordable rates. I love getting all their organic greens like Kale for my Turmeric Smoothie Bowl and their bulk mushrooms for my roasted garlic mushrooms . If you aren't a member, you are seriously missing out on some amazing savings.
Head there today and send me pics of some awesome deals you find.
So, how do you make affogato 3 different ways? Let me start with my favorite one!
1) How to Make Orange Julius Affogato
I loved how delicious it turned out. The orange juice worked so well with Cookies & Cream Breyers delights. I prefer using fresh orange juice with it because it tasted so good. However, you can also use frozen orange juice because it is concentrated.
All you have to do is add milk, honey and a drop of vanilla essence. The vanilla essence is optional and I added it to get aroma from the ice cream
2) How to Make the Traditional Affogato
The second version of affogato is the easiest and its the most traditional version. All you have to do is add 1 shot of espresso to 1 scoop of Breyers delight and you are all set. You can choose to add vanilla essence, sugar or milk.
I made the traditional version for Sunday brunch and it was a hit with everyone. There is just something so comforting about coffee and ice cream that makes everyone feel happy and content.
3) How to Make Matcha Affogato
Yes, my obsession with matcha has taken me to new heights by putting it into ice cream! Matcha was delicious in pancakes, crinkle cookies, hazelnut butter and vegan tzatziki.
But, my favorite matcha recipe so far, has been in this matcha affogato recipe. So what is matcha affogato made from? Its very easy to make because it took me only 2 minutes to make. Most of that time was spent boiling milk in the microwave.
I took about 1/2 cup of almond milk (you can use regular milk too) and heated it in the microwave. While it was heating, I prepared the other ingredients. I muddled one mint leave and added matcha, honey, nutmeg and cinnamon. Then, I added the milk and mixed it well with a spoon for about 1 minute. Finally, I added that mixture to the ice cream and voila! Just like that, I had matcha affogato!
You haven't lived until you have tried green colored affogato!
So, how do you serve affogato?
3 Ways Of Making Affogato
Affogato Made 3 Ways
3 quick and easy ways of making Affogato. Matcha, Orange Julius and Traditional

Ingredients
For the Orange Julius Affogato
1/2

cup

Orange Juice

Fresh prefered, but, frozen ok too

1/2

cup

Heavy Cream

or your choice of milk

1

tsp

Honey

1

drop

Vanilla Essence

Optional
For the Traditional Affogato
1

shot

Espresso

You can use strong coffe or latte too
Instructions
Matcha Affogato
In a microwave safe cup, add almond milk and matcha


Using a Matcha Brush or a whisk, mix the milk and matcha


Place in the microwave and heat for 30 seconds

Muddle one leaf of mint


Add the honey, nutmeg and cinnamon to the muddled mint


Add the milk and matcha mixture to the muddled mint. Mix until everything is well-blended


Place one scoop of Breyers delight ice cream into an ice cream bowl or mason jar


Add the Matcha Mixture and serve immediately

For the Orange Julius Affogato
Using a whisk, mix all the ingredients for Orange Julius Affogato together (except the ice cream)


In an ice cream bowl or mason jar, add the Breyers delight Ice Cream

Top with the Orange Julius mixture and serve immediately

For the Traditional Affogato
In an ice cream bowl or mason jar, add the Breyers delight Ice Cream

Add the one shot of espresso or coffee of your choice.


I added hot espresso, but, you can also use room temperature coffee


Serve Immediately

Nutrition
Calories:
61
kcal
Carbohydrates:
36
g
Protein:
8
g
Fat:
3
g
Saturated Fat:
2
g
Cholesterol:
10
mg
Sodium:
141
mg
Potassium:
262
mg
Sugar:
31
g
Vitamin A:
150
IU
Vitamin C:
20.7
mg
Calcium:
209
mg
Iron:
0.3
mg