Roasted Potatoes with Cilantro Pesto is a very quick side dish for any recipe. Takes only 30 minutes to make and serve it with Pasta or eat it for lunch
Have you tried Cilantro pesto and potatoes?
There is something very comforting about eating roasted potatoes but it is even better with cilantro pesto
Tips for making these potatoes
You can bake the potatoes in the oven or in your instant pot for faster cook time.
The skin of the potato has so much nutrition so do not discard it, if possible
Make the cilantro pesto in advance and refrigerate for future use
Serve this potato as a side dish or eat it as a light lunch
You can also add peas or mushrooms to this potatoes.
You can also use a basil pesto or scallions pesto for this recipe.
Loved by potatoes lovers everywhere
Personally, I just love the hearty taste of potatoes. My favorite is the red potato, but, I am an equal opportunity devourer of potatoes.
Sweet potato recipes make regular appearances on this blog. Loaded sweet potato recipe was so delicious.
Also, my sweet potato curry recipe has become a favorite in my household.
So, it was time for a change. Today, I used the red potato, skin and all.
The key to this recipe, I found, was to keep the skin on. It made the potatoes crispier.
Is there any truth to potatoes being healthy when eaten with their skin, I wonder? If anyone knows the answer to that, please enlighten me.
Today's recipe is a quick meal idea for a side dish or even a quick lunch. Put it inside a pita pocket and eat it right at your desk.
The roasted potato recipe takes only 20 minutes to make. The pesto takes about 10-15 minutes to make.
I have tried this recipe with sweet potatoes and it tasted good too, but, I prefer it with the red potatoes.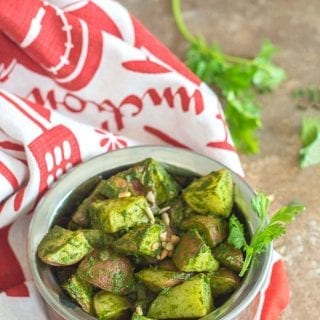 Roasted Potatoes with Pesto
Roasted Potatoes with Cilantro Pesto is a very quick side dish for any cuisine

Instructions
To Make the Cilantro Pesto
In a medium pan, roast the sunflower seeds for about 1min until evenly brown

Wash the cilantro thoroughly then put into a food processor

Add the roasted sunflower seeds

Fill the processor with the remaining ingredients

Process on medium speed until everything is well blended.
To make the Roasted Potatoes
Preheat oven to 400 degrees

Wash the potatoes thoroughly

Cut the potatoes into cubes. Do not peel the skin

In a baking pan, add the potatoes and oil


Bake for about 15 minutes or until the potatoes are browned

Remove the potatoes from the oven and set aside

Let it cool for about 2 minutes


Add about a 1/4 cup of the Cilantro Pesto and refrigerate the rest


Serve Immediately
Notes
These potatoes will stay in the fridge for about 5 days
Nutrition info is approximate
Nutrition