Homemade vegan cilantro pesto made with fresh cilantro and sunflower seeds. This pesto comes together in under 15 minutes and is the perfect topping for potatoes or pasta
Cilantro is one of the herbs that people either LOVE unconditionally or one that people HATE with a passion!
So, are you in team LOVE cilantro or team HATE cilantro?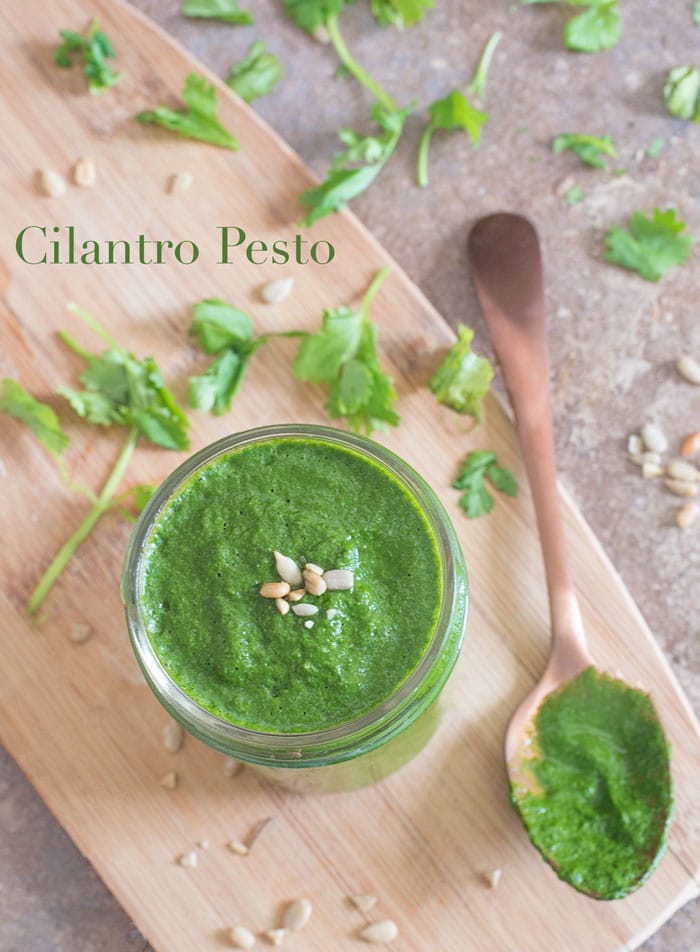 Standing up for cilantro
When it comes to cilantro, there is no middle ground. No compromise, no "meet me half way" and no "I like it a little bit"
There is a science as to why some can't stand the taste of cilantro. It tastes like soap to some people and the reason is because they are genetically predisposed to hate cilantro.
I am one of those in the LOVE cilantro camp. It is so common in Indian food and not just for garnish. If you have tasted green chutneys at Indian restaurants, they are made using cilantro
If you are looking for a quick pesto recipe, this vegan cilantro pesto is going to be exactly what you need. I added toasted sunflower seeds for a little nutty flavor.
To keep from adding too much oil to this pesto, I added a little chickpea water. The water is the liquid you find in cans of chick peas.
There are so many wonderful uses for it because it is a terrific Egg substitute.
How to preserve from basil pesto
This vegan cilantro pesto is also a great way to preserve cilantro. I can't tell you how many times I have bought cilantro only to see it wilt away.
Lately, I have been on a "preserve herbs" kick like my basil butter recipe. Next, I want to try preserving parsley.
Now, I just make the pesto and store it in ice cube trays. When I am ready to use, I just pop about 2-3 ice cubes into a recipes like this roasted potato recipe.
Other pesto recipes
If you are a fan of different pesto varieties, then I think you will like other types of pestos.
Arugula is a good base for pesto recipe. This one uses cashews also, giving it a very dense and nutty flavor.
Made with fresh home grown purple basil and a jar of bell peppers. Such an easy recipe that you will keep making it over and over again.
Scallions are not just for garnish. Blend them up and make a creamy pesto recipe.
Fresh summer tomatoes can be used in this pesto recipe. It's unbelievably easy to make and can be used in so many recipes.
In what recipe do you plan to use this cilantro pesto?
Cilantro Pesto Sauce
Homemade vegan cilantro pesto made with fresh cilantro and sunflower seeds
Ingredients
3

bunches

Cilantro

discard stems

¼

cup

sunflower seeds

shelled

2

Tbsp

chick peas

Skin removed

2

tsp

chick peas liquid

1½

tsp

salt

2

tsp

whole peppercorns

2

tsp

lemon juice

(or to taste)

1

Jalapeno

¼

cup

water

¼

cup

Extra Virgin Olive Oil
Instructions
In a medium pan, roast the sunflower seeds for about 1min until evenly brown


Wash the cilantro thoroughly then put into a food processor


Add the roasted sunflower seeds


Fill the processor with the remaining ingredients


2 Tbsp chick peas,

2 tsp chick peas liquid,

1½ tsp salt,

2 tsp whole peppercorns,

2 tsp lemon juice,

1 Jalapeno,

¼ cup water,

¼ cup Extra Virgin Olive Oil

Process on medium speed until everything is well blended.


Remove and serve


Store the vegan cilantro pesto in glass bottles and refrigerate. Serve with pasta or potatoes

To freeze, fill up ice cube tray with the pesto sauce and refrigerate for 8hrs


Remove the cubes and transfer to a Ziploc bag.


Mark the date on the bag and refrigerate for up to 6 months.

Notes
Pesto will be good for about 2 weeks when refrigerated or for up to 6 months when stored in the freezer