Vegan Roasted Green Beans Recipe made with fresh green beans and mushrooms roasted in the oven. Mixed with a spicy tahini dressing.
Disclosure: I made this green beans recipe for Jenny Melrose's Blog. Reprinted here on my blog with permission.
There is something very special about eating green beans. No matter what time of the day or month, I can eat green beans when put in front of me
Add tahini to green beans and I am in food heaven!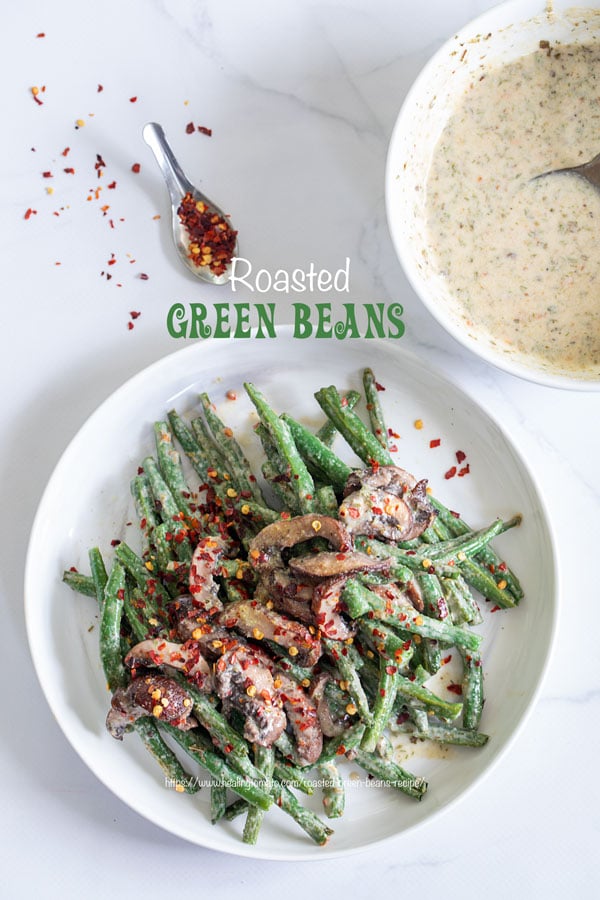 Tips for making these roasted green beans recipe
Roast the green beans and mushrooms separately. Their cook time will be different, depending on the thickness of your mushroom slices.
Slice the mushrooms about the thickness of two quarters.
To make ahead these green beans and mushrooms, you can roast them before hand. However, don't mix in the lemon tahini sauce until you are ready to eat.
These oven roasted green beans and mushrooms can be served as a side dish or eaten as a light lunch.
The lemon tahini dressing is easy to make, so, you can even make it the night before
Only add water to the tahini mixture if the tahini is thick in consistency. Otherwise, the tahini sauce mixture will be too thin to coat the green beans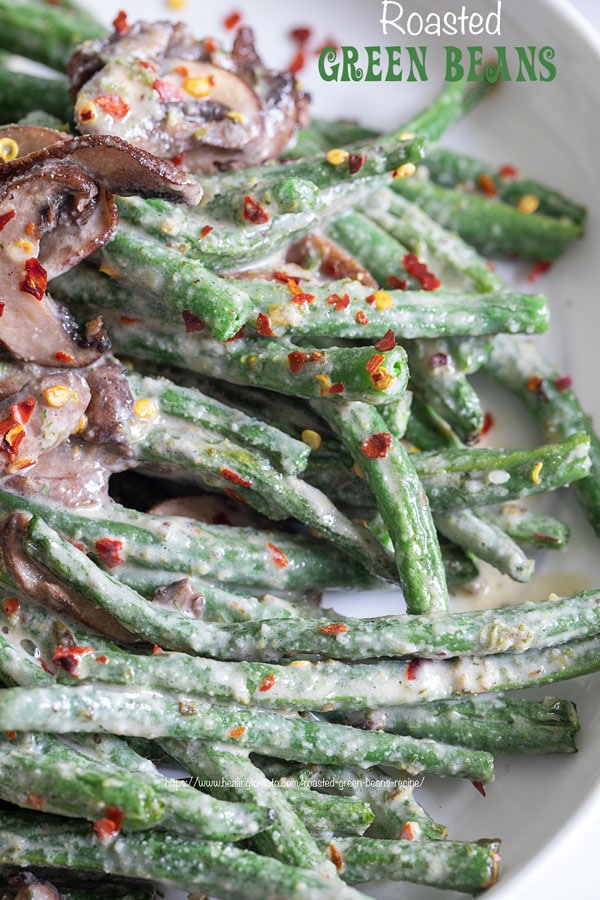 Why I love this recipe
A little more than 2 years ago, I talked to Jenny Melrose about creating a recipe for her blog. She was delighted that I would bring a vegan recipe to her blog.
My challenge was to create a recipe that would appeal to people of all diets. She has a diverse group of readers, so, I was happy to create a recipe for all.
Green beans are universally loved, so, I decided to make them the focus of my recipe. So, I began experimenting with various ingredients to make the perfect recipe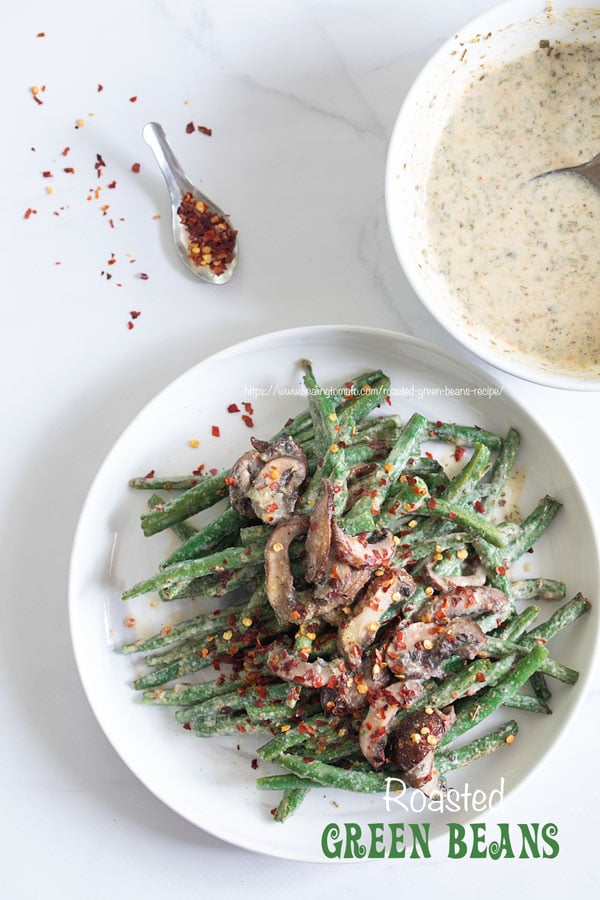 Do you know how many green bean recipes I had to eat until I got the recipe just right?! Far too many to count, but, I am glad I got to experiment. I have fond memories of those few days of trying recipes
I finally settled on tahini dressing to blend the ingredients because it was so unique. I hadn't seen any recipes before that used tahini with green beans.
All the ingredients came together and the rest was delicious history. Today, these green beans recipe is my favorite side dish to serve with any meal.
If you don't like green beans, this recipe just might change your mind.
Have you spent time experimenting with green beans? What is your favorite recipe?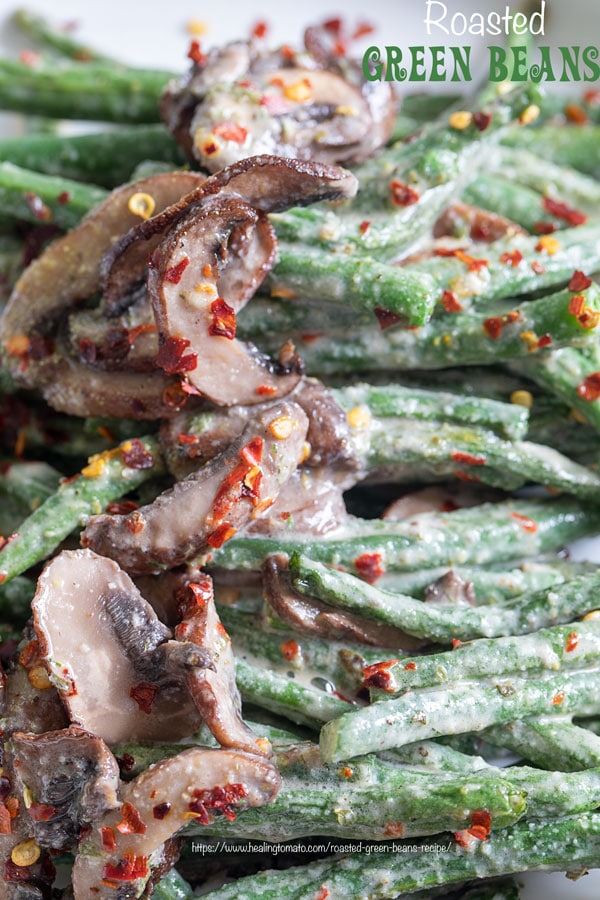 Common questions for making this recipe
Can I freeze leftover roasted green beans?
No, I don't recommend freezing these roasted green beans recipe. That's because they will be a mushy, watery mess when you thaw them out. Plus, the tahini dressing doesn't taste well after being thawed.
You can definitely refrigerate the green beans, but, use them up within 2-3 days of making them.
Ideally, you want to freeze the roasted green beans and mushrooms without the dressing. If you feel like you made too much, freeze the extra veggies and then add the lemon dressing to the veggies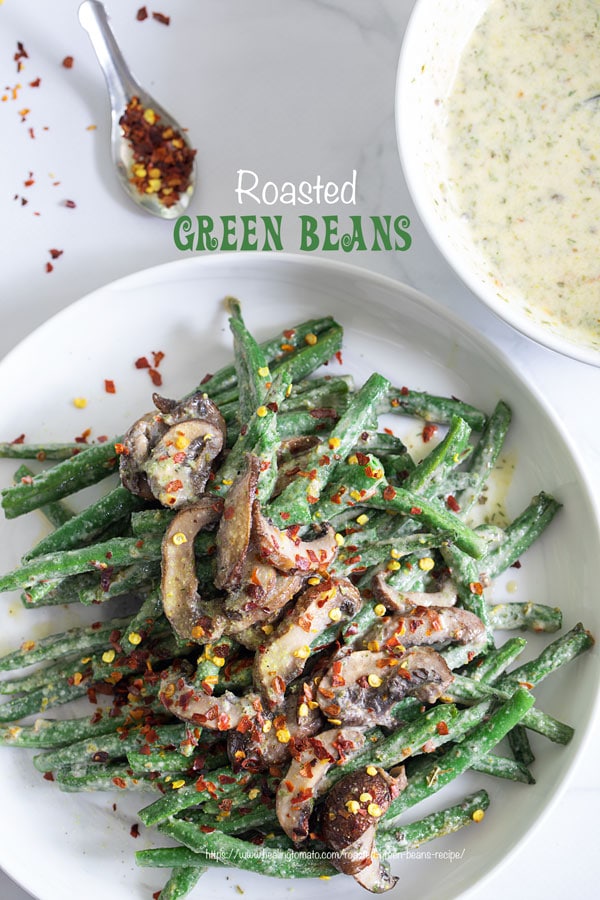 ---
How to reheat roasted green beans?
Preheat oven to 250° (If you have a small batch leftover, then use the mini toaster oven)
Spread out the green beans and mushrooms on a baking tray
Place the baking tray in the oven and bake for about 15 min. The time will depend on how cold they are. It shouldn't be more than 20 min to reheat in the oven
---
Can I use canned or frozen green beans?
Personally, I have never used canned or frozen green beans in my recipes. So, my knee jerk reaction is to say no. If you are apt at using both of these green beans, then, feel free to use them
I don't think you can get green beans to look like this image below if you were using canned or frozen green beans!
Send me your tips and tricks by commenting below. I would love to know how you made them.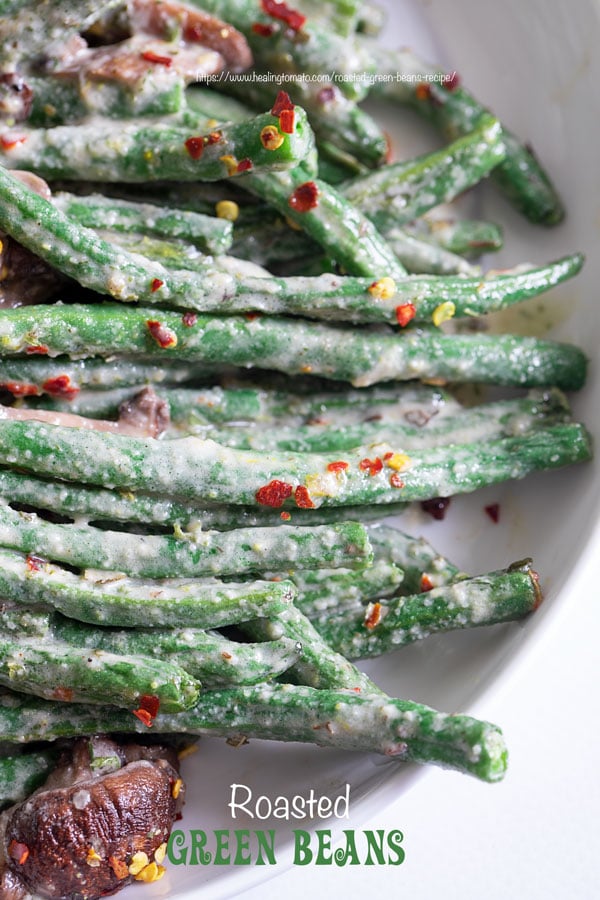 ---
Are mushrooms necessary in these recipe?
Just look at how pretty the mushrooms are in this recipe! They add a different texture, flavor and color to the recipe
So, yes, mushrooms are absolutely essential in this roasted green beans recipe. You can use brown button mushrooms or white button mushrooms
Or, use grilled portobello mushrooms and cut them into strips to add to this recipe.
---
Are green beans the same as string beans?
Green beans are a generic term used to refer to "French beans" or "String Beans" or "snap beans"
String beans, in modern day, are now 'stringless' because the strings have been removed as they evolved.
Source: Wikipedia and MyRecipes.com
What else can I add to this recipe?
Pearl onions
Red onions
Sun-dried tomatoes
Slivered almonds
Peppitas
Zucchini
Scallions
Garlic pieces
---
What is the right temperature to roast green beans?
After all my testing, this is what I have discovered. First, preheat oven to 400 degrees. It is the perfect temperature to cook green beans. That temperature is perfect to get crispy green beans
In my older oven, 375° was ideal temperature. I don't know why that is the case, but it worked. Gas ovens and electric ovens do bake differently, so that could be the reason.
Is this recipe vegan keto friendly?
Yes, roasted green beans is a vegan keto friendly dinner recipe that you will love to make over and over again. It's packed with good fats and happens to be low carb too.
It's the perfect vegan keto Thanksgiving side dish. Be sure to use organic ingredients in this recipe.
How to work with mushrooms
For this recipe and any recipe where I use mushrooms, I always wash them a day before I cook them.
The reason for that is because:
The mud in the mushrooms takes a while to clean. I like to thoroughly clean it before using it any recipe. I like to make sure there is NO water left in the mushrooms before cooking them.
I like to make sure there is NO water left in the mushrooms before cooking them. Water makes them soggy and messy. I like my mushrooms to be tender crisp when biting into it
Also, the mushroom stems can be used in the recipe or can be removed. If you don't use the stem, put to use in a vegetable stock recipe. Or, put it into a compost pile
What dressing works best
If a spicy tahini dressing is not your thing, I do have a few other dressing recipes that you can try. Which one is your favorite?
---
When to serve these roasted green beans
These green beans are perfect side dish to any dinner recipe. They can be served with Greek food, Italian food or good old-fashioned Southern meals
They are also perfect to serve at Thanksgiving dinners. Why serve boring roasted green beans, when you can serve these spicy, crunchy green beans?
---
More recipes you will like
You are in luck because I have quite a few more green beans, mushrooms and tahini recipes for you try. Which one is your favorite?
Simple, quick energy bites made with dates and tahini. It's the perfect vegan protein snack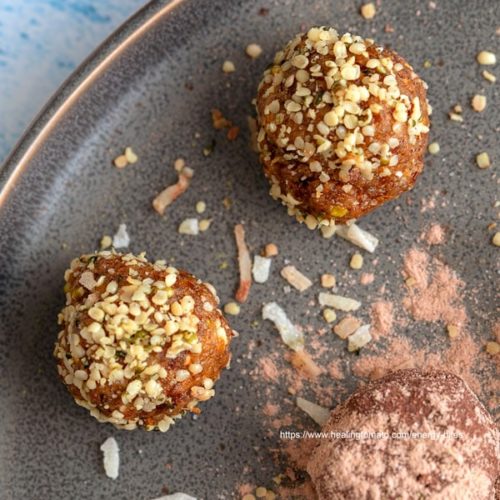 Vegan jackfruit barbacoa in a spicy bbq sauce
Vegan Barbacoa Recipe with Easy Barbacoa Sauce
A hearty, spicy and versatile vegan barbacoa recipe

Check out this recipe
Roasted cauliflower and orzo mixed with a basil pesto tahini sauce
Roasted Cauliflower Salad With Orzo in a Basil Pesto Tahini Sauce
A quick, easy roasted cauliflower salad recipe with orzo and roasted red pepper. Served with a basil pesto tahini sauce

Check out this recipe
Green beans and quinoa mixed with a simple orange salad dressing
Green Bean Salad Recipe
Quick, easy green bean salad recipe made with quinoa and a simple orange dressing

Check out this recipe
This is a one pan green beans and potato recipe that works great as a side dish to any meal
Vegan Green Beans and Potatoes with Corn
Simple vegan green beans and potatoes recipe made with simple spices. Side dish or perfect lunch meal for vegans, vegetarians and omnivores. Takes 30 min or less
Check out this recipe
A fun way to use peas and mushrooms to make a simple side dish.
Peas and Mushrooms Recipe
Sauteed green peas and mushrooms with navy beans, bell peppers + Spices
Check out this recipe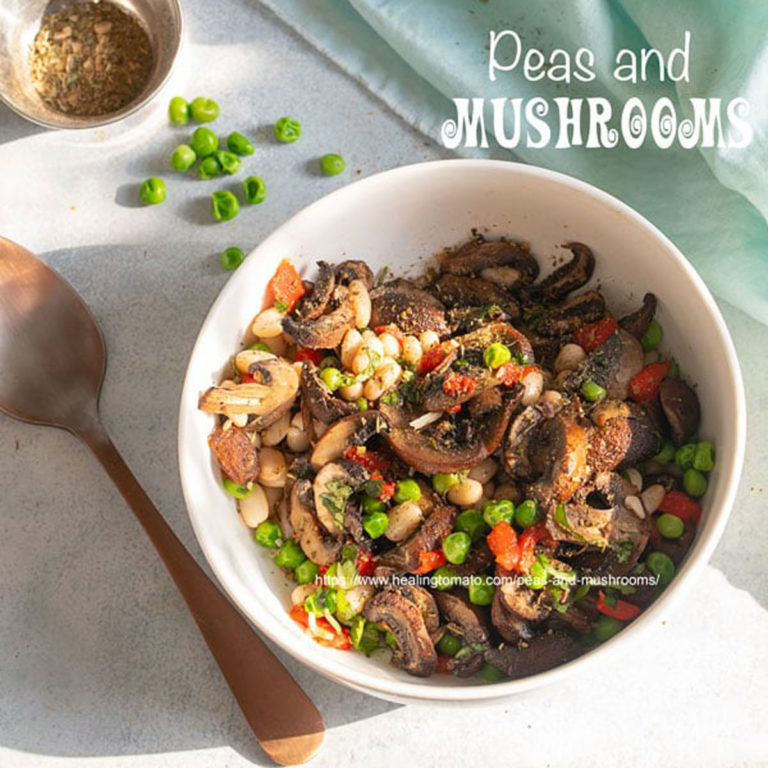 Now, its your turn to tell me about your favorite way to cook green beans, tips and tricks, and how you like to serve green beans.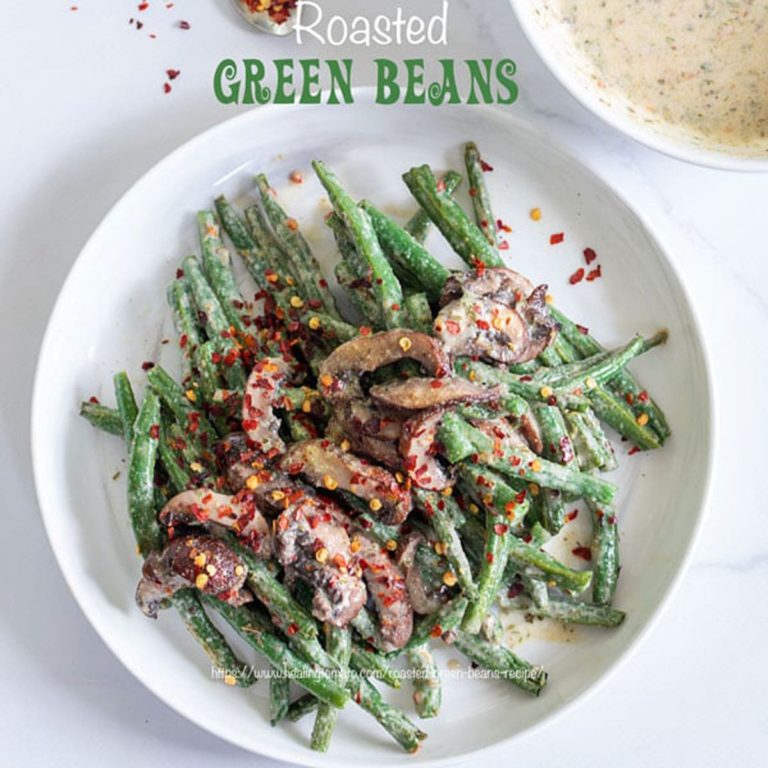 Roasted Green Beans Recipe
Spicy, Crunchy Roasted Green Beans Recipe with Mushrooms in a lemon tahini sauce
Ingredients
For the veggies
8

oz

green beans

4

oz

brown button mushrooms

3

Tbsp

extra virgin olive oil

divided into 2 equal parts

2

tsp

salt

divided into 2 equal parts
For the tahini dressing
1/4

cup

tahini

1

tsp

cumin powder

1

Tbsp

red pepper flakes

1

Tbsp

dried parsley

1

Tbsp

dried oregano

1/4

tsp

dried dill

2

tsp

extra virgin olive oil

1/2

tsp

salt

optional

1

tsp

onion powder

1/2

tsp

garlic powder

1.5

tsp

lemon pepper

1/2

cup

water

optional, see notes before adding water
For Garnish (optional)
1

tsp

lemon zest

optional

1/4

tsp

red pepper flakes

optional
Instructions
Preheat oven to 400°

In a mixing bowl, add the mushrooms, salt and oil

Mix well and spread the mushrooms evenly on one side of the baking tray

In the same mixing bowl, add the green beans, salt and oil

Mix well and spread the green beans on the other side of the baking tray

Place the tray in the oven and cook for 15 minutes

Remove from the oven and flip the green beans (optional)

Place tray back in the oven

Roast for another 10 minutes or until the green beans are wrinkled

While the green beans are roasting in the oven, prepare the lemon dressing

Add all the tahini dressing in a bowl and use a whisk to mix it all together

When the green beans are roasted, remove from the oven and transfer to bowl immediately

Drizzle the lemon tahini dressing over the green beans and mushrooms

Mix well, garnish and serve
Notes
– – Nutrition info is approximate
If your tahini is thick in consistency, add water until it can be mixed using a whisk. You don't need to add more than 1/2 cup of water
If you don't flip the green beans, keep the tray in the oven for 20-25 minutes or until the beans have been cooked