A simple, yet, healthy spinach salad with bagel chips. Make this for a Light Vegan Lunch or a Side Dish. Can be put into a wrap too
Note: This is version 2 of a recipe I published in 2016. Click here to version 1 of this recipe
Did you know that March 26th is National Spinach Day?
How did I not know about it until a couple days ago???
Spinach is my favorite green veggie and so, I feel really dumb for not knowing about the one day dedicated to it.
Tips for making this spinach salad
If you can, use organic spinach for this salad.
You can cut the veggies the day before
Assemble this salad when you are ready to eat. Otherwise, the bagel chips will get soggy
If possible, don't peel the skin from the cucumber.
I used a medley of cherry tomatoes for this spinach salad recipe. But, you can use any tomatoes in it
If you have time, take the tomatoes and warm them up by grilling them for 1 minute on stove top grill. It will bring out the juice
Make the dressing a day in advance to give it time to marinate. This is optional, but, it will make the dressing taste even better
I didn't add vegan feta cheese in this recipe. You should, if you have the time to make it in advance
Why I love this salad
When I first made this salad back in 2016, I used the spinach salad as a bagel topping and it was so delicious!!
I think I ate this salad combination everyday for the next 6 months. That's how much I was obsessed. Eating all that spinach also did WONDERS for my skin.
Since I have suffered from acne for most of my life, I was always looking for natural skin care options. But, even I had no idea how much spinach would help my skin.
So, I think adding spinach to my regular diet helped my health in many ways. To this day, spinach is always my go-to recipe when I feel like my skin is dull, dry and acne prone.
Common questions
What dressing goes with spinach salad?
Basically, any light dressing will work perfectly. The key is to get a dressing is not overpowering your taste buds.
A very sour or a very sweet dressing will compete with the strong taste of spinach and onions
So, I always go with a light, oil based dressing for a spinach salad
Is Spinach Salad Low Carb
Yes, my spinach salad recipe is low carb because I am using all veggies and natural ingredients.
Use low Carb Bagel Chips like (NOT an affiliate link) Dixie Food's Baked Bagel Chips.
Adding your favorite ingredients can change that, but, always consult a nutrition professional for more accurate information
What kind of spinach should I use
Baby spinach is my go-to spinach to use in this spinach salad recipe. Its so easy to work with and its much easier to put into your mouth.
You can use regular spinach in this salad recipe. Make sure you wash it thoroughly and tear it up by hand to bite size pieces
P/S: Did you know that March 26th is National Spinach Day?
What to add in a spinach salad
Red Onions
Cucumber
Tomatoes
Kalamata Olives
Avocado
Sun-dried tomatoes
Bell Peppers
Croutons or air fryed tofu.
Candied Walnuts, pecans or almonds
Feta Cheese
Use any combination of the above ingredients in your spinach salad recipe
How to make a spinach salad
Take 2 cups of loosely packed baby spinach – Remove the stems and thoroughly wash and dry the baby spinach
2. Cut 1/2 of a cucumber – Wash the cucumber thoroughly and cut it into julienne. Preferably, keep skin on
3. Cut 1/2 cup of cherry tomatoes into halves – Use a variety of colorful cherry tomatoes. Wash them and dry. If you have a few extra minutes, heat them on stove top for a few minutes before adding to the salad
4. Julienne 1/4 red onion – If this is too much onion, use about 1/8 of a red onion in the recipe
5. Add 1/4 cup kalamata olives – If you are using feta cheese, use regular black olives instead.
6. Prepare the Spinach Salad Dressing – Combine EVOO, Lemon Juice, Dijon Mustard, Agave, garlic, salt and dried basil. Preferably, make this the night before
7. Add the bagel chips – Add the bagel chips and top with the dressing.
8. Mix Well and Serve – Eat it for lunch or as a side dish
Do you like kale salads too? Try my warm kale salad with pomegranate.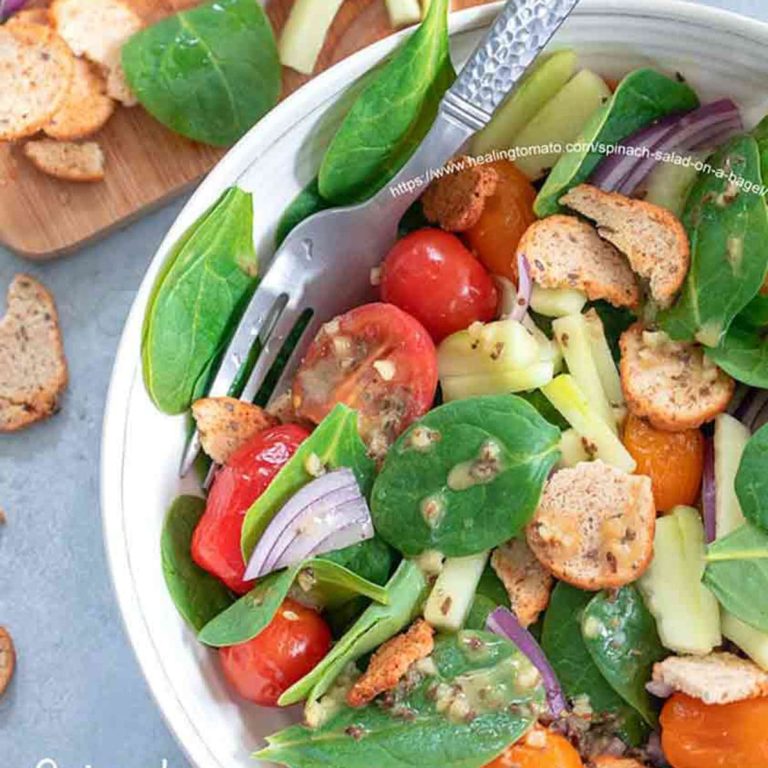 Spinach Salad With Bagel Chips
Quick, Healthy Spinach Salad Recipe with easy ingredients

Ingredients
For The Salad:
1.5

cup

baby spinach

thouroughly washed, dried, stem removed

1/2

cucumber

washed, julienned

¼

red onion

julienned

6

cherry tomatoes

use a medley

¼

cup

kalamata olives

1/2

cup

bagel chips
Instructions
Remove the stems and thoroughly wash and dry the baby spinach

Place baby spinach in a salad bowl


Wash the cucumber thoroughly and julienne it


Wash cherry tomatoes, dry, cut into half. See notes


Julienne the red onion and add to the salad


Combine the ingredients for the dressing. Do this the day before, if possible


Drizzle the salad dressing on the spinach salad

Mix well and serve immediately

Notes
– Do not peel cucumber's skin
– If you have a few extra minutes, heat tomatoes on stove top for a few minutes before adding to the salad
– If you are using feta cheese, use regular black olives instead of kalamata
– Serve this salad immediately after assembling it
** Nutrition Info is approximate
Nutrition
If you have leftover bagel chips, you can use them to dip in 5 cheese dips or use them as base for canapes.
Version 1 of this recipe
This recipe was originally posted on August 1st, 2016 at 1:19pm. See the original recipe here.
From time to time, I will re-visit old recipes and refresh them. Sometimes, I just change a couple ingredients, add new images, or update the text of the recipe. Also, I am working on converting my old recipes to vegan
Over the years, I have made minor tweaks and URL changes to this spinach salad recipe.
However, this time, I modified most of the recipe based on some of the feedback I heard from all of you. Most of you noted that its hard to bite into this sandwich without making a mess. Since many of you take it to lunch, they find it a little embarrassing to eat this salad.
So, I want you to know that I heard you and made changes to this recipe. First, you can still use mini bagels. Sandwich the salad between two halves of the mini bagel.
If that's not an option, then use bagel bits like I did in the updated recipe. You can also make croutons out of the stale bagels
Your input is incredibly important to me. As you can see from this recipe, I listen to your tips and requests. So, feel free to let me know your constructive opinion on any of my recipes
If you made this spinach salad recipe, be sure to rate it below.
What is your favorite spinach recipe