Dutch Oven Creole Potatoes and peas flavored with homemade creole seasoning. This recipe takes very little effort to make that even the most cooking challenged person can make it
I made these potatoes and peas as a side dish!
However, I think I can eat it for breakfast, lunch and dinner!
I can eat the whole batch of these creole potatoes and peas! You might even see me licking the dutch oven!
Tips for making them
Use the Dutch Oven because it cooks the potatoes and peas to perfection! They won't be mushy or under cooked. The dutch oven cooks them evenly, so, I love using it for this recipe
Do not stir the ingredients until the very end. This will make sure that they remain soft and delicious
Don't forget to spray the inside of the Dutch oven before adding the potatoes. I made this recipe 2 times because I forgot to put oil the bottom. Took quite a bit of elbow grease to remove the stuck on potatoes and peas!
After adding the potatoes to the dutch oven, be sure to even out the potatoes. Try to avoid the potatoes stacking on top of each other
Do NOT thaw the frozen peas. This is the most important tip of this recipe. You will loose texture and taste of the sweet peas. Let the steaming system of the Dutch oven cook the frozen peas. You will have the best tasting peas you have ever tasted
You can refrigerate or freeze these potatoes and peas. I recommend reheating them in the Dutch oven, if possible because they will taste like you just made them
Why make it in Dutch oven?
The Dutch oven is fairly new kitchen gadget to me. My first use of it was when I made my Vegan Paella in it.
I saw how evenly it cooked the quinoa and I was immediately sold on its value. All the flavors were evenly distributed giving it a delicious flavor
Its incredible enamel Dutch oven knows how to cook food. I didn't have to do anything more than dumping the ingredients into it. I think the less you do in the dutch oven, the better it cooks the food
Take my word for it when I say that I have never had such perfectly cooked potatoes like they turned out in this Creole potatoes recipe. They weren't mushy like when I cook stove top or in the pressure cooker.
So, don't be surprised if you start seeing more vegan Dutch oven recipes on my blog.
What makes it creole?
I had a spicy creole potato salad about 10 years ago that was so good because of all the right spices were blended together. This spices were then mixed with the potatoes to give it a very unique flavor
So, I thought I would try and re-create it, but, put my own spin on it. These Creole potatoes is more of a side dish and not a salad recipe which makes it more appealing to everyone
Creole cooking, to me, is about getting the right spice for any ingredient. I love trying to figure out what spice will go best with broccoli or squash. There is a soul-satisfying experience when eating Creole recipes
In this recipe, I also got to use the best creole seasoning recipe ever! I am tooting my own horn here because it is that good. Plus, it takes less than 5 minutes to blend the spices together which means we don't have any excuse not to make it
4 easy peas recipes
I always believe that no one can resist peas! Put a bowl of cooked sweet peas in front one someone and watch them devour it! Those cute little peas make any recipe taste better
Answering your questions
Can I make these recipe with sweet potatoes?
Yes, these creole potatoes would be just as perfect with sweet potatoes too. You may have to experiment with the oven temp and time. I think sweet potatoes may cook faster than sweet potatoes
P/S – Here are my 5 great tips on how to bake a sweet potato
Can I make it before hand?
Ideally, you want to serve these creole potatoes right out of the oven. If that's not possible, make them no more than 24 hours before hand. To re-heat, use the Dutch oven again.
Spray the bottom and gently place the cold potatoes+peas in the dutch oven. Place in a 300° preheated oven and cook for about 10-13 min. Serve Immediately
You can go the Microwave route, but, I cannot guarantee the results
Can I cook these recipe stove top?
I think these potatoes are best if cooked in a steam type environment that the Dutch oven provides. I was truly impressed by how well the potatoes cooked.
All the potatoes were cooked evenly and they didn't turn mushy at all
When can I serve these potatoes?
I wrestled with this question myself. In the end, I think these creole potatoes are the perfect side dish to any main course meal. I thought of putting it in a taco recipe with coleslaw topping. Going to experiment with that later
What do you think about serving them as a side dish for Thanksgiving? I think it would be perfect for a Creole Thanksgiving or a Vegan Thanksgving too
What is your favorite recipe to make in the Dutch oven?
Other Dutch oven recipes
If you are like me and love cooking in the Dutch oven, here are a few of my favorite recipe I made in it. Which one is your favorite?
A hearty soup recipe made with vegan sausage and baby sweet potatoes
Vegan chili made with corkscrew pasta, kidney beans, homemade refried beans and butternut squash
The classic Spanish dish made into a vegan-friendly recipe using quinoa, artichoke and olives
---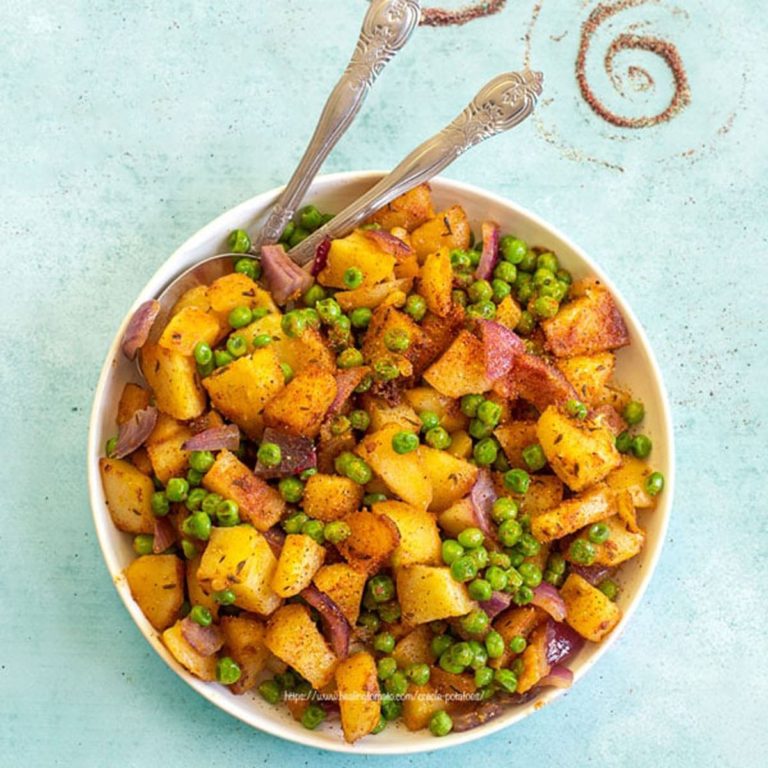 Creole Potatoes and Peas
Creole potatoes and peas with a sinful amount of creole seasoning. These potatoes are cooked in the Dutch Oven and require almost no effort
Equipment
Swiss Diamond PC1225cR Enameled Cast Round Casserole 5 quart Rubis Rouge, Rubis Rouge, 9.75"
Ingredients
Oil spray

3

potatoes

medium sized

¼

cup

vegan butter

melted

3

Tbsp

Creole Seasoning

½

red onion

cubed

8

oz

baby sweet peas

frozen (DO NOT THAW)
Instructions
Preheat oven to 400°

Wash the potatoes thoroughly first

Peal and chop the potatoes

Spray the bottom of the Dutch oven with an oil spray

Add potatoes to the Dutch oven and make sure you don't pile them

Pour the melted butter all over the potatoes

Generously add the Creole Seasoning

Close the lid of the Dutch oven and place it in the preheated oven

Bake for 26 minutes

Gently remove the Dutch oven

Lift the lid gently and add onions

Add the frozen Peas, right out of the freezer. No need to thaw them

Close the lid again and place the Dutch oven back in the oven

This time cook for 11 minutes only (at 400°)

Remove from the oven and carefully open the lid

Mix with a wooden spoon, being careful to not mush the potatoes or peas

Transfer to serving bowl

Optional – top with 1 tsp of Creole seasoning before serving