Tofu Scramble With Southwestern Flavors – This is a quick vegan breakfast recipe full of flavors and nutrition. The southwestern flavors in this scrambled tofu recipe are the perfect way to start the day
Tofu can be bland, but, if you prepare it with the right spices, it can be lip-smackingly good!
I like my tofu mixed with all kinds of spices. I have marinated it in Indian spices and in Mexican salsa!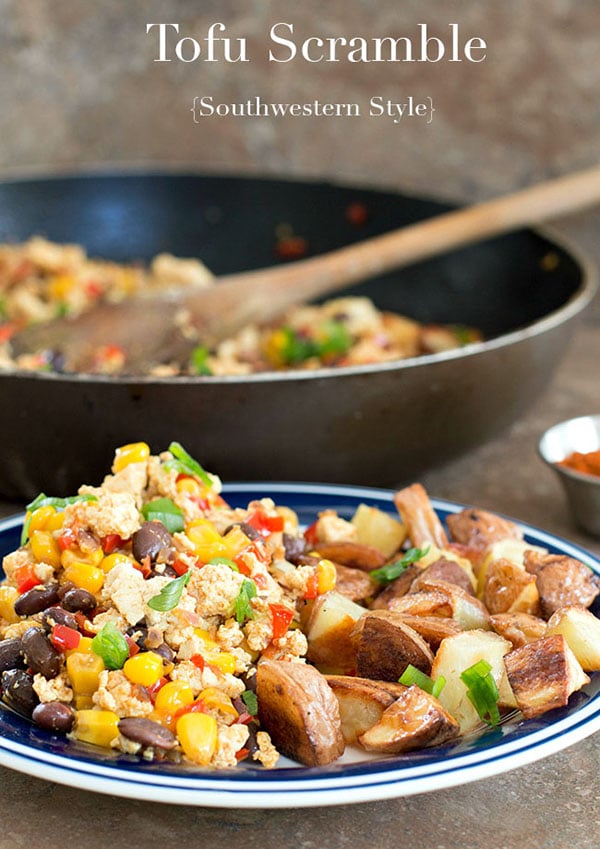 You know how much I love both those cuisines! They are my top go-to meals because they can be so flavorful and hearty!
Today, I bring you a tofu recipe with southwestern flavors!
Southwestern flavors are usually rustic cuisine and packed with spicy peppers.  For me, the spices are usually the most alluring part of Southwestern cuisine.
For this recipe, I added potatoes which I don't do often but it makes for a nice and hearty dinner.  You can substitute sweet potatoes, if you prefer.  Either way, it will be a delicious meal.
When I eat this tofu scramble for breakfast, I feel energized and it lasts all day.  It is the protein from this meal that makes all the difference.  I don't find myself dragging my feet or lethargic all day.
Some vegans like to put vegan eggs in breakfast recipes, but, I am not a fan of them.  I find them to be too hard to digest and they they leave an weird aftertaste.
Tofu is an acquired taste for me (and maybe for you to?).  It can be bland, but, that makes it perfect for any recipe.  I like to think of it as a blank canvas which I can pair with any ingredient and turn it into a masterpiece.
Here is a little secret.  The best tofu scramble accompaniment is this Mexican mimosa recipe by Garnish With Lemons.  The sparkling wine adds a delicious flavor to the tofu.
Ok, I am seriously craving this meal right now.  I don't know why I write recipes after I have eaten them! I know that just looking at the photos will make me hungry.
Yet, I never learn.  🙂
Just look at this photo! Doesn't it just make you want to run to the kitchen and whip up a batch?
How great would this recipe be on a lazy morning when the rain is pounding away outside and the forecast calls for more rain.
Or worse, the forecast calls for 5 ft of snow….
So, next time you are looking for a simple breakfast recipe that is vegan, healthy and filling, I hope this tofu scramble recipe pops into your mind.
What is your favorite tofu recipe?


Tofu Scramble Recipe
Tofu Scramble Recipe – Southwestern Style
Tofu Scramble made with hearty ingredients that can be made in 30 minutes.

Ingredients
For roasting the potatoes
For the rest of recipe
1

cup

red bell pepper

finely chopped

1/4

red onion

finely chopped

2

cloves

garlic

finely chopped

2

tsp

coconut oil

1/4

tsp

cumin seeds

1/2

tsp

salt

optional

1

tsp

cayenne pepper

1/2

cup

sweet corn

1/2

cup

black beans

thoroughly washed

1/2

Block

firm tofu

drained, crumbled

1/2

tsp

black pepper

freshly ground

1

tsp

Lime juice

Freshly squeezed

1/2

piece

Hatch chili

finely chopped
Instructions
Preheat oven to 400 degrees

In a bowl, add extra virgin olive oil, sea salt and cut potatoes

Spread the potatoes on a baking tray and roast for 20 minutes or until browned

While the potatoes are in the oven, heat a medium pan and add 2 tsp of coconut oil

Add cumin seeds, chopped garlic, hatch chili and red onions until onions are browned


Add the bell peppers and cayenne pepper.


Mix well and let the red bell pepper soften (about 7 minutes)

Add corn, black beans and tofu. Mix well


Add the roasted potatoes, freshly ground black pepper and lime juice.


Garnish with Cilantro or green onions and serve immediately

Recipe Notes
- If you are using canned black beans, make sure you wash them thoroughly.  This will significantly reduce the salt content of this recipe.  I place the black beans in a plastic colander and run them under cold water. 
Nutrition Facts

Tofu Scramble Recipe – Southwestern Style

Amount Per Serving (4 cups)

Calories 1020 Calories from Fat 225

% Daily Value*

Total Fat 25g 38%

Saturated Fat 4g 20%

Sodium 683mg 28%

Potassium 1634mg 47%

Total Carbohydrates 148g 49%

Dietary Fiber 12g 48%

Sugars 7g

Protein 52g 104%

Vitamin A 28.1%

Vitamin C 117%

Calcium 8%

Iron 24.7%

* Percent Daily Values are based on a 2000 calorie diet.