Dried Cranberries Recipes – A collection of savory recipes using this delicious snack
Do you have amazing friends who send you a dozen boxes of dried cranberries as part of a gag gift? If you don't have such helpful friends, I will gladly give them to you! For FREE!!!
Here is the lesson I learned: Don't bellyache to my "friends-with-a-very-strange-sense-of-humor" about not having enough dried cranberries for a recipe!! If I do whine to them about it, I will find a very nice UPS delivery man knocking on your door with 3 huge brown boxes!
So, as an ode to this abundant dried fruit currently occupying my entire pantry, I present to you these 10 savory lunch and dinner recipes that put dried cranberries to very good use.
Photo Credit: Ambitious Kitchen
Monique of Ambitious Kitchen put the cranberries into a burger!! Need I say more?  Ok, I will say just one more thing.  This burger has so many healthy ingredients and aromatic spices that I want to just give it a huge hug.  When I bit into this burger, I got a taste of sweet, spicy and all comforting flavors.  The wild rice works perfectly well with sweet potatoes and cranberries.
Photo Credit: Vegan Richa
Vegan Richa makes it on many of my recipe collections.  Her cooking style, presentation and savvy knowledge of ingredients has always made me admire her. Her recipe of this wonderful salad bursting with fruits and cranberries is a good example of how well she knows my taste buds.  If you are looking for a healthy lunch or a nice dish for a meal, you should absolutely make this recipe.  If you need cranberries, I can can overnight them to you.
This has to be the most amazing salads I have ever made.  Yes, I know I am tooting my own horn, but, it is so true.  It has so many healthy ingredients and the flavors are just the right level of intensity.  In the end though, the cranberries make this recipe AMMMAAAZINGG!!! They add a nice sweetness and a contrast to the parsley .  I added a little lemon juice to it and that was heavenly!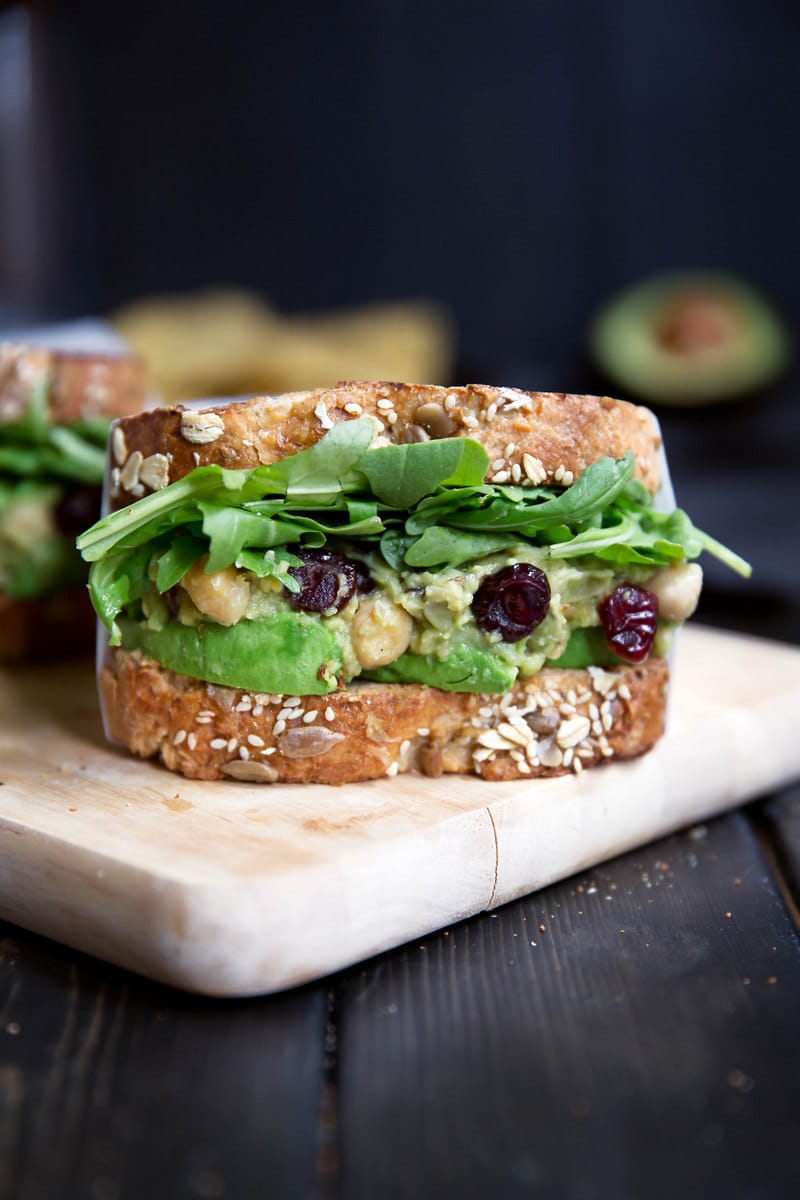 Photo Credit: Ambitious Kitchen
This is the second recipe by Ambitious Kitchen on the list.  How could it not make it onto this list, right?  Those cranberries are sitting pretty with all the other ingredients! Can you image just how delicious this sandwich would be for a working lunch?  You don't have to imagine it because you can make it yourself in just 5 minutes!! Isn't it so much better than that limp sandwich you were planning to take to work?
Photo Credit: Half Baked Harvest
Cranberries and pumpkin! Remind you of a certain feasting day? For me, mini pumpkins always remind me of going to pick pumpkins in upstate NY.  If you haven't tried it, I say you should have it on your bucket list.  Tieghan of Half Baked Harvest has a very unique eye.  She has managed to win me over by actually using dried cranberries and Brussels sprouts stuffed into mini pumpkins.  I should make this asap!
Photo Credit: The Cookie Writer
Pineapple may or may not be weird on pizza, but, you definitely won't think that cranberries on pizza is weird.  I guarantee it! This pizza recipe by Kacey of The Cookie Writer uses feta cheese and cranberries as pizza toppings.  Why haven't I thought of this idea! The pizza has other ingredients that compliment the dried cranberries perfectly, especially the caramelized onions.  Incidentally, the strangest ingredients I have used on pizza are fresh cherries.  What do you think of THAT?!?!
Photo Credit: The Roasted Root
I am not big on raw food, mainly because I have a poor digestive system which just cannot process uncooked red cabbage and cauliflower.  However, I would HAPPILY eat this salad in a heartbeat and gladly suffer the consequences my body will endure as a result.  Can you believe the ingredients that Julia has put into this recipe?  Cauliflower! Red Cabbage, Kale, Cranberries! Those ingredients make a perfect vegan salad that I must try.
Photo Credit: The Colorful Kitchen
Ilene of The Colorful Kitchen made muffins with apples and cranberries, then topped them off with mashed sweet potatoes. I am just swooning like a school girl meeting her favorite boy band! Ilene took all the staples of a Thanksgiving meal and infused them into the muffin.  Can I just say that I am so glad she put dried cranberries in the muffin? They make this muffin taste sweet and delicious.
Photo Credit: Jessica Gavin
When there is a culinary scientist in the kitchen, you are bound to get very creative recipes.  Case in point:  This heavenly salad by Jessica Gavin.  She added all the right ingredients and all the right flavors, ending with a recipe that is out-of-this-world delicious! In her recipe, cranberries are front and center! You can see them happily peeking from underneath the greens. There is no way I would be able to resists a huge bowl of this recipe.
Photo Credit: Garlic And Zest
These recipe get points from me for being the embodiment of true comfort food! Gratin's, in general, are my favorite comfort food on Thanksgiving day.  Rice and cranberries in it are a no-brainer! I decree that they should be in all gratin recipes!  Lisa of Garlic and Zest put kale in it, so, I can say that this recipe has a very delicious and healthy ingredient.  She put two types of cheeses in it (Gruyere and Parmesan!).  How can you not drool at this combination!  I think I am going to try this recipe over the weekend.  I have more than enough cranberries to go inside this gratin.
Dried Cranberries, anyone?