Dried cranberries can be used in so many recipes. From drinks to desserts, dried cranberries add nutrition, flavor and color to any recipe. Check out these easy dried cranberries recipes
This post was oariginally published on July 29, 2016. Click here to get version 1 details
What can you make with dried cranberries?
Turns out, there are a gazillion recipes that use cranberries and each one is just as delicious as the other.
This collection includes recipes from me and my fellow dried cranberries enthusiasts.
Which one is your favorite?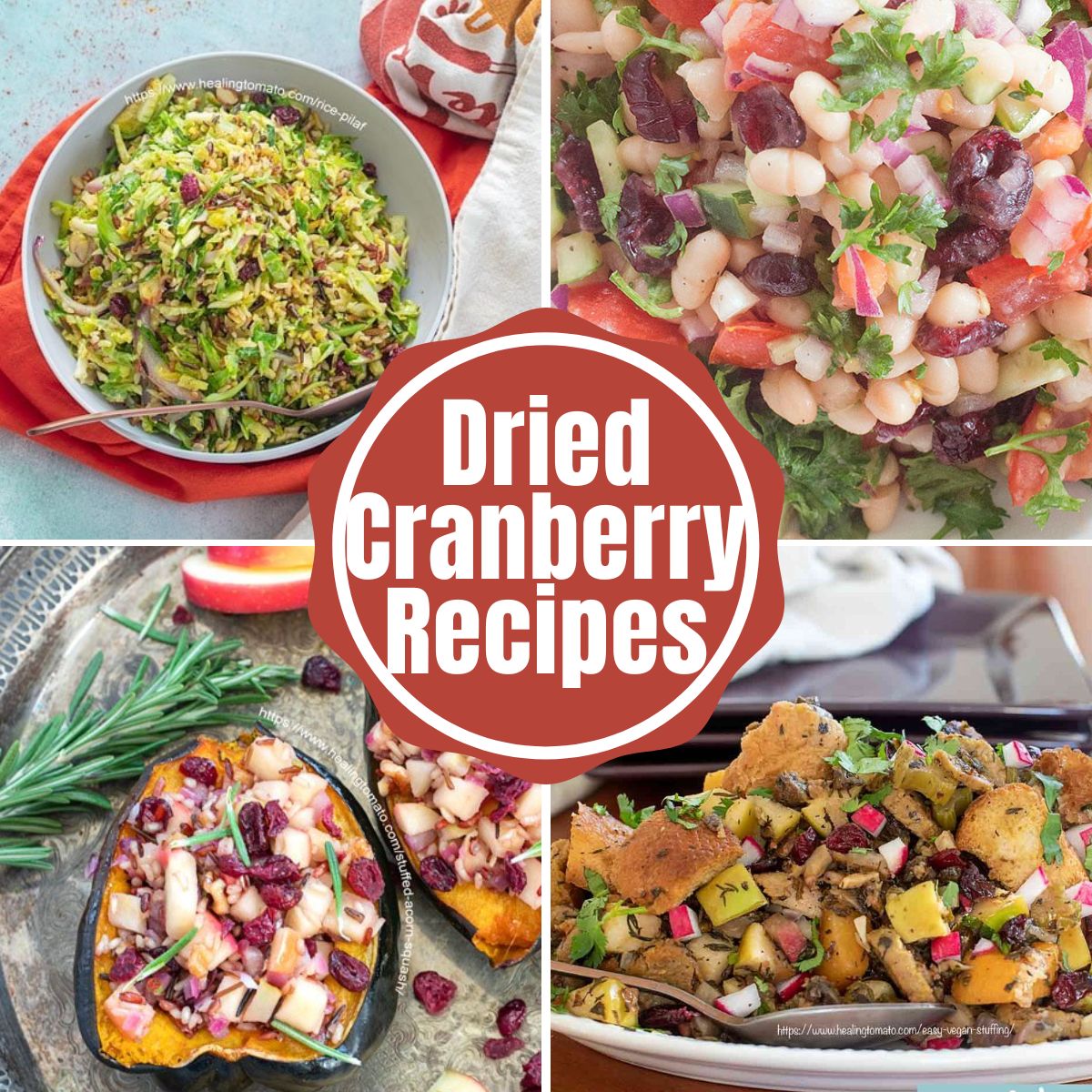 Tips for working with dried cranberries
Always keep them refrigerated. They will loose their texture, melt and clump up if left at room temperature or hotter.
Keep dried cranberries in a sealed container or package. If you keep them in their original packaging, make sure that seal grip is closed
I like to transfer the dried cranberries in a mason jar and put them in the door of the refrigerator
I use up my dried cranberries within 2-3 months of opening them. In the past, I have found that they tend to become rubbery over time.
Did you know that you can rehydrate (AKA reconstitute) dried cranberries by simply soaking them in warm water for about 20 minutes? Rehydrated cranberries would be perfect in a pie filling recipe or a cranberry sauce recipe.
---
Common questions
A simple thing as dried cranberries can have so many questions, right? Every time I look at a dried cranberry, a million questions jump to mind.
Here are a few questions I can answer about them. If you have more questions, feel free to contact me or comment below. I will do my best to find answers for you.
Can dried cranberries be frozen?
Dried cranberries can be frozen, but, only if you are using them in a cooking recipe. For example, freeze them if you are baking cranberry bread or if you are putting them in a soup recipe.
Don't freeze dried cranberries if you plan to use them in cold salad recipes or as toppings.

What nutrients are in dried cranberries?
From what I have read, these are some of the best things about cranberries
– Packed with antioxidants
– Help with digestion
– Prevent gum disease
– Good for Kidneys
Source: Well + Good and Live Strong.
Have you checked out my guide on vegan diet?
---
Recipes using dried cranberries
Dried cranberries should be enjoyed all year round. They have so much nutrition in them and they taste so good.
Here are some of my favorite dried cranberries recipes from my blog and from those of my fellow food bloggers. I broke them down to different categories to make it easier for you.
Visit the recipes, make them and be sure to leave a comment on those recipes saying how much you enjoyed them.
---
Salad Recipes
Topping them in salads is the easiest way to include them in your diet. Put it in almost any salad recipe and see how it instantly changes the salad for the better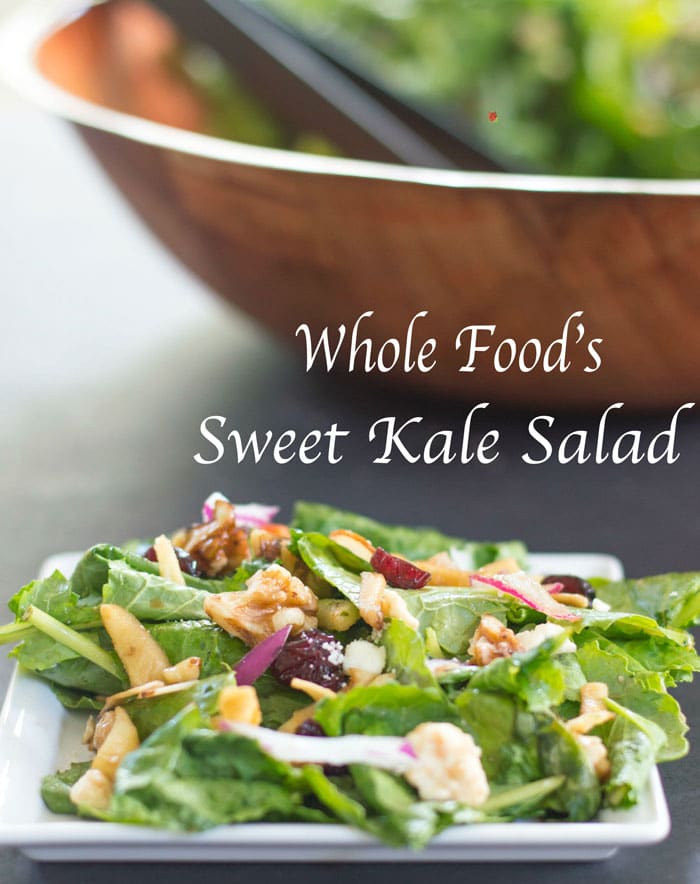 Want to make kale taste better? Add dried cranberries to it and you will fall in love with kale.
This is a copy cat recipe from Whole Foods. They used to have (and may still have?) this sweet kale salad which was beyond delicious. I make it all year round and it never gets old.
---
This is one colorful salad, wouldn't you agree? I made it 3 years ago and it steals the show whenever I serve it.
The beauty of this salad is not just in its presentation. It is also in it's simplicity. This recipe is all about just mixing ingredients without having to cook anything.
It will be your hassle free meal for Thanksgiving.
---
The cranberry adds a delicious sweetness to this tangy vegan stuffing recipe! I love how dried cranberries can completely alter the flavor of any recipe.
You won't regret making this vegan stuffing recipe.
---
No, there is no chicken in this salad. Instead, it has all delicious vegan ingredients that make a colorful and healthy salad recipe.
See how those cranberries make the chickn' nuggets pop? I am drooling just looking at this recipe.
---
Just like in kale salads, cranberries make spinach taste so good! This salad by Erhardts Eats is made with more ingredients like apples and onions.
P/s: have you checked out my spinach salad recipe?
She uses feta cheese in this recipe which gives it such a delicious salty flavor. Can you just imagine how good the feta and cranberries taste together. You can make a vegan version of feta cheese, if you prefer a vegan salad.
---
Snack recipes
Why not go beyond just the simple trail mix? Dried cranberries can be put into some very creative snack recipes.
These bloggers prove that they know how to harness the power of dried cranberries for a delicious snacks.
You have never had trail mix like these bites! Soup Addict ground up delicious ingredients of trail mix and made bites out of them!
Very creative, right? Plus, you don't need to turn on your oven for these bites. They are the perfect no-bake snacks
---
How much better would your coffee taste if you ate it with this biscotti? There is something very special about baking biscotti at home.
This is a great way to start the day or perfect for afternoon tea. I love this homemade biscotti recipe by Baking Sense. She knows how to work cranberries into it!
I bet these scones will taste great with a tall glass of caramel macchiato, right?
---
Until I saw this recipe by Beyond Measure Sustenance, I had no idea what Tajin spice existed. She makes her own recipe and you better believe that I will be making her recipe!
These popcorn is like nothing I have ever tasted. It looks so delicious! She describes the taste as "sweet, spicy, savory and tart!" That sounds like the best tasting popcorn.
I am definitely pinning this recipe to my "Popcorn Recipes that will make your grandma gasp" pinterest board.
---
Main dishes
Kale with curry flavors and dried cranberries! This is a delicious side dish that is ready in under 30 min.
This is a recipe made in one pan and it has lentils. There is a lot of protein in this recipe, so, vegans can rejoice!
---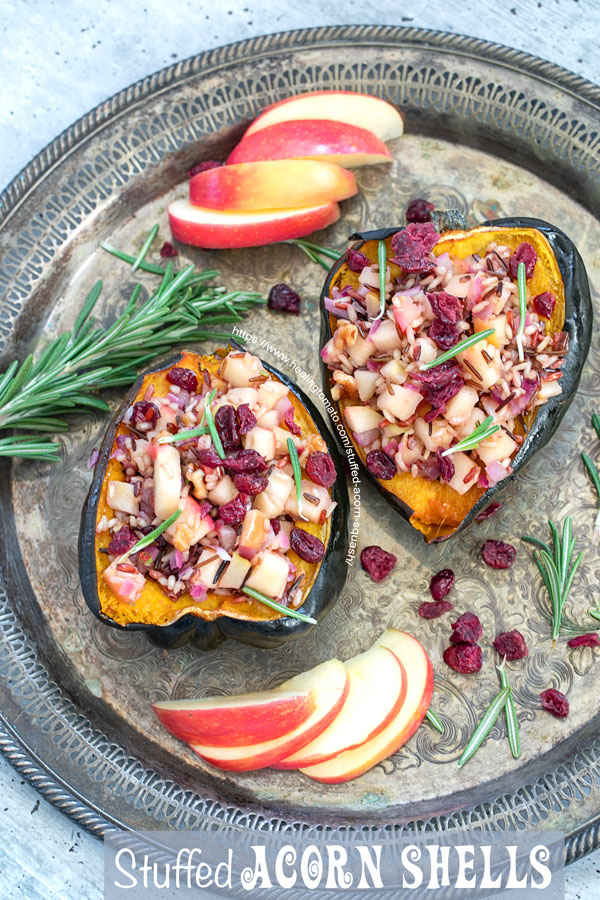 Freshly roasted acorn squash and stuffed with wild rice. Finally, I topped it with dried cranberries for that cheerful red color!
This recipe is quickly becoming a family favorite because it's so delicious and hearty. The acorn squash adds so much density to the recipe and stuffs you immediately.
---
Red and green are the staples of Christmas. The Greedy Gourmet used those colors in her Christmas rice which looks absolutely divine!
I wish I could put my spoon into pan and scoop out a huge spoonful of that rice. I would love to devour the whole pan in one sitting!
---
Brussels sprouts and dried cranberries work so well together. They taste like heaven, especially when blended with wild rice.
This meals is a family favorite and I like it because it's super easy to make. It can light up any Thanksgiving or Christmas dinner table.
---
Side dish recipes
This stuffed persimmon recipe is a sweet and tangy recipe. The tang is provided by the capers and the sweetness comes from the dried cranberries.
This is a hearty side dish that you can serve for Thanksgiving or as a light lunch. Whenever persimmons are in season, I find myself yearning for this recipe.
---
Just like me, The Little Sunny Kitchen discovered that brussels sprouts and dried cranberries taste delicious when paired together.
She took this recipe a step further by adding baby potatoes to the mix! Her recipe couldn't get any better than that!
P/S: I have a collection of baby potato recipes which are to die for!
---
Who said coleslaw is just for summer picnics? Joyous Apron has made a delicious fall coleslaw that is perfect for your Thanksgiving table!
I plan to use vegan mayo to make the dressing for this coleslaw. Together with apples and broccoli, this is going to be a delicious bowl of slaw!
---
Dining With Alice has shown me that pumpkin salad is the perfect side dish mainly because she oven roasted the pumpkins to perfection!
They have a caramelized texture which I love! It makes pumpkins taste so much better!
---
Dessert recipes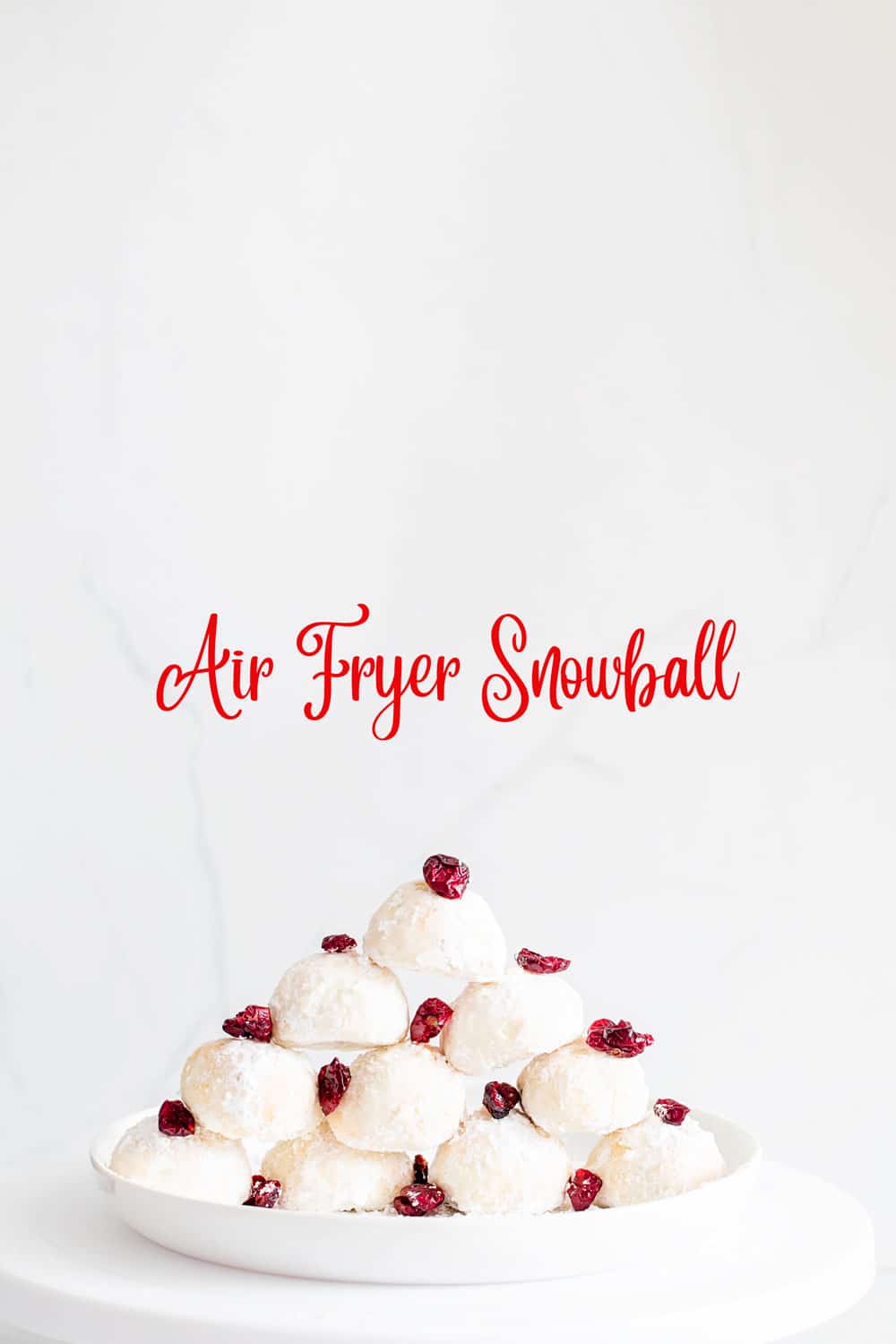 Let's enjoy the delicious flavors of snowball cookies! You know you love them and you could easily eat a whole batch of them!
These snowball cookies are made in the air fryer, so, that makes life so much easier.
Baking snowball cookies is never been so much fun!
You have never had cinnamon rolls quite like these before. I shaped them in the form of a rose and topped them with dried cranberries and pistachios.
This is a fun recipe to make for mother's day or for an eclectic brunch recipe.
---
Fudge is the universal dessert recipe that no one can resist! If you are one of those people who can resist fudge, you are seriously missing out on the best dessert!
Dancing Through The Rain made this fudge recipe in less than 10 min. Its as easy as throwing all the ingredients into a pan and letting it cool.
---
In my younger days, I used to love oatmeal cookies! In those days, I could easily eat a dozen of the cookies and not break a sweat!
These cookies by Beyond The Chicken Coop remind me of the good old days. They even make me want to eat the whole dozen!
How about you? Can you eat a dozen (or a baker's dozen?) of these cookies?
---
Usually, I am not a muffin fan which is why you haven't seen them on my blog (yet!). However, I think I will make an exception for these pumpkin muffins by The Rising Spoon!
Her muffins look perfectly baked and they look so moist! These muffins should be made all year round!
---
Why I "had to" create this collection
Do you have amazing friends who send you a dozen boxes of dried cranberries as part of a gag gift? If you don't have such helpful friends, I will gladly give them to you!
For FREE!!! ????
Here is the lesson I learned: Don't bellyache to my "friends-with-a-very-strange-sense-of-humor" about not having enough dried cranberries for a recipe!!
Back in 2016, I did just that! I whined and moaned to them about not having a cup of dried cranberries. Next thing I know, a very nice UPS delivery man was knocking on my door with 3 huge brown boxes!
So, this post is an ode to
An abundance of dried cranberries currently occupying my entire pantry
An ode to delivery drivers everywhere
And most important of all:
An ode to crazy, stupid, amazing, good friends!!
Sharing is caring
Don't be shy, chime in below in the comments. Let me hear your opinion on this recipe. If you enjoyed this, please give it 5 stars and share it on Facebook, Pinterest, and Twitter
⭐️ Want even more Healing Tomato recipes? Sign up for my weekly newsletter ⭐️
Version 1 of this collection
This dried cranberries recipes collection was originally published on July 29, 2016 at 1:32am. See original post by clicking here
From time to time, I will go through old recipes to update the content. Sometimes, I update just the images and sometimes, I give the recipe a complete makeover
This dried cranberries post had only 10 recipes and they were all delicious. But, dried cranberries are in so many recipes, so, I thought it was time to update the post.
This post is easier to read because I put the recipes in categories. It will be easier to find the recipe you want and you can easily jump around in the post.
So, let me know what you think of this post and send me some of your favorite dried cranberry recipes. I just might include them in this post (with your permission)
More posts like this one