A creamy and hearty vegan sausage stew made with vegan sausage, sweet potatoes, leeks and red kidney beans. This stew is the perfect vegan comfort food.
I caved!
You all have convinced me!
For the first time on my blog, I bring to you recipe that uses vegan sausage!
Thank you for pushing me to use it because it wasn't as bad as I had imagined. Vegan sausage actually made this a delicious recipe.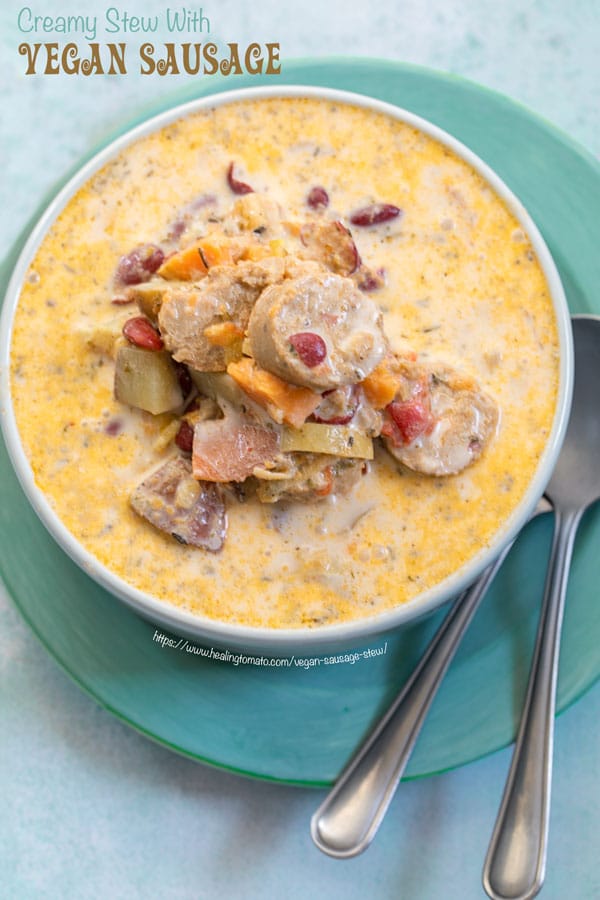 Tips for making this vegan sausage stew
Use an enameled dutch oven to make this vegan stew because the dutch oven really knows how to cook the ingredients to perfection
Make sure you spray the inside of the Dutch oven with oil. Otherwise, all the ingredients will stick to it and you will have a hard time cleaning it.
If you can find baby sweet potatoes, use regular sweet potatoes
Use fresh herbs in this stew recipe, if you have them. I wish I had fresh Rosemary or Thyme to add to the soup. It would have a heavenly aroma and delicious flavor.
If you don't have coconut milk, you can use Almond milk or hazelnut milk. Regular cream will work too and it will become a vegetarian stew.
Whole sausage works in this recipe, but you can also use crumbled sausage.
I used Field Roast's sausage, but, it's really easy to make it at home, if you have time. Try Food Network's vegan sausage recipe with black beans.
Make sure you cook the sausage for at least 30 min because it will taste better.
Making the case for vegan sausage!
When we were growing up, we never used artificial meats. In fact, it wasn't until I was in my teens that we heard of tofu. Our vegetarian Indian diet always contained vegetables, rice, pasta, lentils, etc.
So, whenever I see imitation meat that use seitan, soy-based, soy curls etc, I tend to run in the other direction. They taste too salty to me and they are tough to cook.
I do have a truck-load of respect for the companies that make imitation meats because they help people transition from a meat eating diet to veganism. That is a tremendous feat to achieve and the companies have always made great products.
So, when readers like you started asking for more "meatier" recipes, I felt that I should experiment. It was not an easy mind shift to make (took me 6 years of blogging before I posted a vegan sausage recipe, lol), but, I loved the experimenting process.
I have to say I was pleasantly surprised. The vegan sausage wasn't the worst thing I had tasted and it wasn't salty.
Two huge pluses!
First, I tried a breakfast recipe and it wasn't successful, lol. But, this vegan sausage stew turned out great after I tweaked the ingredients. The spices and sweet potato are the perfect compliment to the vegan sausage.
If you like vegan sausage, why not try a vegan cauliflower rice and sausage recipe or an easy vegan stuffing recipe
What's in the sausage?
These are the ingredients in the Field Roast Vegan Sausage. To make this vegan sausage stew, I went with the Smoked Apple Sage flavor.
Vital wheat gluten
Safflower oil,
Dried apples
Mashed potatoes (Yukon gold)
Yeast,
Liquid smoke flavor
You can also use Field Roast's vegan Italian sausage flavor. It will work great with this recipe. All their products are plant based so you can eat without guilt. Plus, they have the perfect sausage shape so it looks like you are eating the real thing.
If you want to make this a vegan beef stew, use a celebration roast.
P/S: This vegan sausage can also be used in a minestrone soup.
Common questions about making this stew?
As you make this recipe, you might come across some questions. I aim to answer the questions below. If you have other questions, please feel free to comment below.
I don't own a Dutch oven, so, what else can I use to make this stew?
Dutch ovens are really affordable to buy, but, I understand that they can be expensive sometimes. If you don't have Dutch oven to make this vegan sausage stew, try any one of these devices. You will have to experiment on the amount of time.
Slow cooker / crock pot (my 2nd favorite option)
Pressure cooker / instant pot
Large saucepan (cook stove top or in the oven at low to medium heat)
Can I make this stew without coconut milk?
Yes, you can absolutely make this stew without using any coconut or nut milk. This stew is perfect as a regular stew with a tomato base. The stew is perfect for a cold day, even if you don't add the coconut milk.
You can also use a nut milk like almond or hazelnut.
Can I freeze this vegan stew?
Yes, this stew freezes perfectly. If possible, freeze the stew without adding the coconut milk. When you thaw it out and heat it, add the coconut milk at that time.
Make sure you put the date you made the vegan sausage stew on the container. I like to use all frozen foods within 6 months of freezing.
Is this stew spicy?
The only spicy thing I used in this vegan stew are red pepper flakes. If you can eat them on your pizza, then, you will not find this stew spicy.
All the other ingredients in this recipe take over the taste of the stew, so, you won't find it spicy at all. You can also sub it with smoked paprika or eliminate the heat all together.
A few recipes using artificial meat
I don't have too many recipes where I use imitation meat. These 3 recipes are delicious recipes that you can make anytime of the year.
One of the ingredients in this vegan burrito is Tempeh. Personally, I consider tempeh to be imitation meat.
Vegan Burritos (Freezer-Friendly)
Gluten Free Quick and easy Vegan Burritos made with Cuban Flavors

Check out this recipe
This post uses vegan meatballs made by Gardein. Gardein had sent me a few of their products to test out.
How to make vegan calzones stuffed with meatballs
Stuff calzones with vegan meatballs and pizza sauce

Check out this recipe
How to make vegan sausage stew?
1) Preheat the oven to 400°. You can put the Dutch oven inside the oven while its heating. This way, the Dutch oven is also preheated
2) Spray the inside of the dutch oven with oil
3) Cut the vegan sausage into about 1″ thick rounds. After cutting them, add the sausages to the heated Dutch oven
4) Wash and chop the baby sweet potatoes. I like to keep the skin on.
5) Add the red chili flakes, salt and pepper (optional) and spices (Rosemary, thyme, oregano and ginger powder).
6) Drizzle the melted vegan butter over the sweet potatoes and vegan sausage. Do not stir. Optional: Add 1 bay leaf
7) Close the lid to the Dutch oven and place it in the preheated oven
8) Cook 30 minutes or until you can easily mush the vegan sausage, its ready
9) Remove the Dutch oven (It will be very hot, so, be sure to use oven mitts). Open the lid and remove bay leaf, if using.
10) Stir well and you can mash some of the potatoes and sausages. This is optional, but it will thicken the vegan stew.
11) Add 1 can of red kidney beans (Be sure to drain and wash them thoroughly first)
12) Add 1 can of diced tomatoes (15oz can or 2 cups)
13) Add 6 cups of water to the Dutch oven
14) Wash and finely chop 2 leaks. Add to the dutch oven and mix well
15) Close the lid and place the Dutch oven back into the main oven
16) Let the vegan sausage stew simmer for 75 min in the oven. I did open the Dutch oven a couple times to make sure that there was enough water.
17) Remove from the oven and open the lid. Add 1.5 Tbsp of Lemon Pepper and mix well
18) Serve as is because it tastes delicious
19) Or, add 1 cup of coconut milk to the Dutch oven
Serve this vegan sausage stew immediately or let it cool to room temperature before freezing.
---
If you are a huge fan of the Dutch oven, like me, you are going to love these recipes. They are easy to make and the Dutch oven churns out a delicious meal.
What recipe would you like to see me make in the Dutch oven?
Creole Potatoes and Peas
Creole potatoes and peas with a sinful amount of creole seasoning. These potatoes are cooked in the Dutch Oven and require almost no effort
Check out this recipe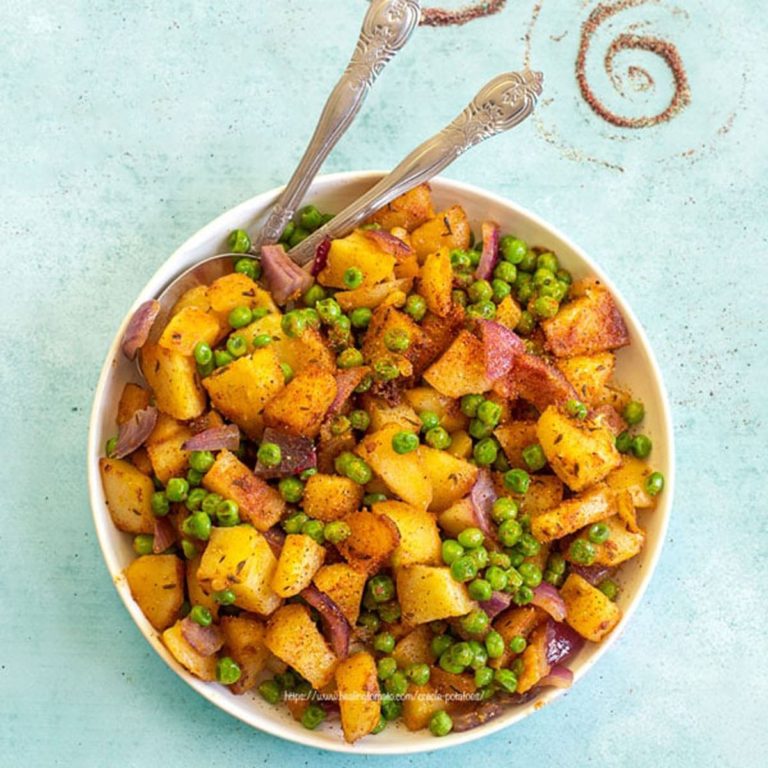 Vegan Chili
How to make a hearty vegan chili using pasta, red beans and refried beans. This vegan chili is made in the Dutch oven
Check out this recipe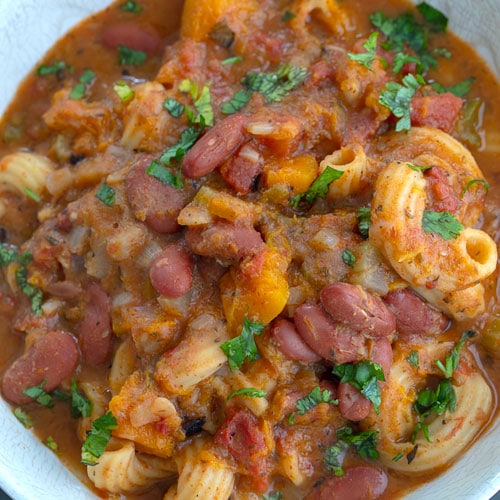 How To Make Vegan Paella
A simple vegan paella recipe made using paella and cooked in a dutch oven

Check out this recipe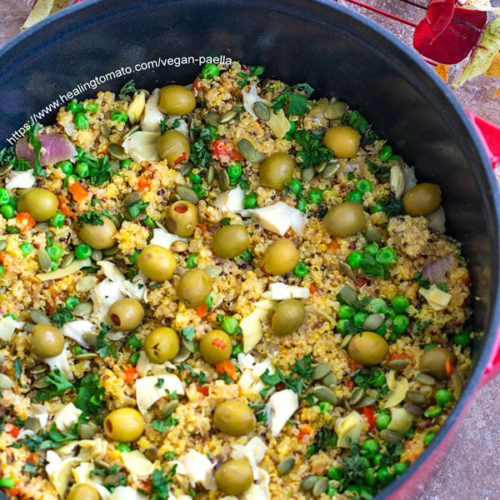 ---
Vegan Sausage Stew
A creamy and hearty vegan sausage stew made with vegan sausage, sweet potatoes, leeks and red kidney beans. This stew is the perfect vegan comfort food.
Equipment
6 Quart Dutch Oven

Soup Ladle

Oven
Ingredients
oil spray

to coat the inside of the Dutch oven

4

piece

vegan sausage

I used Field Roast's Smoked Apple Sausage

6

baby sweet potatoes

Keep skin on, wash and chop them

1

tsp

red chili flakes

optional

2

Tbsp

salt

1

Tbsp

Rosemary

1

Tbsp

thyme

1

Tbsp

oregano

1

tsp

ginger powder

4

Tbsp

vegan butter

melted

1

Bay leaf

optional

15

oz

red kidney beans

1 can, drained and rinsed

15

oz

diced tomatoes

1 can or 2 cups fresh tomatoes

6

cups

water

2

leeks

washed and diced

2

Tbsp

Lemon Pepper Seasoning

adjust to taste

1

cup

coconut milk

full fat, you can add more if you like it creamier
Instructions
Prepare the Sausage
Remove the label casing and stretch out the 4 sausages

Using scissors, cut between the sausages

Use a small knife to make a slit in the sausage. Slit it from the top to the bottom

Gently peel off and discard the casing
Make the vegan sausage stew
Preheat the oven to 400°. You can put the Dutch oven inside the oven while its heating. This way, the Dutch oven is also preheated

Spray the inside of the dutch oven with oil

Cut the vegan sausage into about 1" thick round and add them to the Dutch oven

Add the baby sweet potatoes

Add the red chili flakes (optional)

Add Rosemary, thyme, oregano

Drizzle the melted vegan butter over the sweet potatoes and vegan sausage

Do not stir. Optional: Add 1 bay leaf

Close the lid to the Dutch oven and place it in the preheated oven

Cook for 30 minutes. When you can easily mush the vegan sausage, its ready

Remove the Dutch oven (It will be very hot, so, be sure to use oven mitts).

Open the lid and remove bay leaf, if using.

Stir well and you can mash some of the potatoes and sausages

Add water to the Dutch oven

Add chopped leek and stir well

Close the lid and place the Dutch oven back into the main oven

Remove from the oven and open lid. Add 1.5 Tbsp of lemon pepper. Mix well

Serve as is or add 1 cup of coconut milk to the Dutch oven

Serve immediately
Notes
– Nutrition info is approximate