Quick, easy vegan mashed potatoes made with Idaho potatoes, homemade hazelnut milk, and vegan butter. In the pressure cooker, this recipe takes only 10 minutes to make

I don't know any vegan who doesn't love mashed potatoes, especially the creamy, buttery kind!
This is why I always make extra vegan mashed potatoes because they will be devoured within minutes!  Us vegans can really put away comfort food!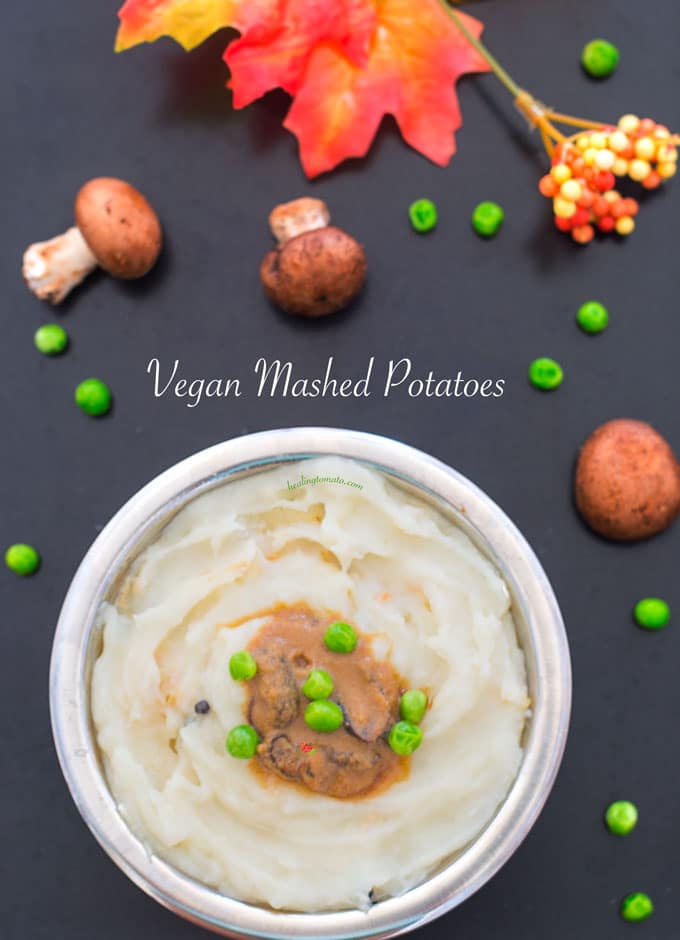 For this vegan mashed potatoes, I made them in under 10 minutes using my trusted pressure cooker which I am quite possibly in love with!
It cooked the Idaho potatoes in 5 minutes and I was ready to serve it immediately.  This was the first time I used a pressure cooker to make the them.  In the past, I have slaved over a boiling pot of water and I still never got the consistency just right
With the pressure cooker, it cooks the potatoes evenly and quickly.  So, I had the perfectly cooked potatoes in less than 5 minutes.
Talk about quick and easy Thanksgiving sides, right?
I also used melted butter, homemade hazelnut milk and whole peppercorns for this recipe.  I wanted to make them as close to your Grandmother's recipe as I could.
The mashed potatoes are topped with my homemade vegan gravy.  You are going to love this gravy because I used coconut flour and coconut milk to make it.  Its super easy, creamy and smooth!
My Bestek pressure cooker has the nutritious cooking option which was perfect for these mashed potatoes.  It cooked them delicately and precisely within 5 minutes.
This recipe is part of my 3 ways to make mashed potatoes in a pressure cooker (Vegan).  Check out my mashed sweet potato and my Mediterranean mashed potato recipe.
What's your favorite mashed potato recipe?
Related: Get more of my pressure cooker recipes

Vegan Mashed Potatoes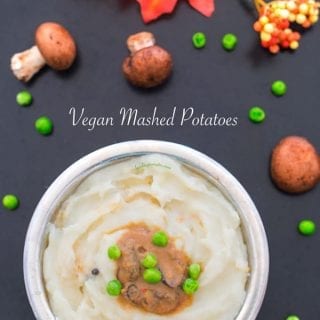 Vegan Mashed Potatoes
Quick and easy pressure cooker mashed potatoes

Instructions
Peel and roughly chop the Idaho potatoes


Place them in the inner compartment of the pressure cooker


Add all the remaining ingredients except the Bell Pepper Strips and Kalamata olives


Close the lid of the pressure cooker and seal the valve


Cook for 5 minutes and then release the valve


When the steam is out, open the lid and mash the potatoes


Add the bell pepper strips and the kalamata olives


Mix well and transfer to a serving bowl


Garnish with chopped parsley, if using

Recipe Notes
Quick tips for cooking with a pressure cooker
1) Always put the pressure gauge to "sealed" before starting the cooking process.
2) Make sure that the lid is closed tightly before starting the cooking process
3) Always use a dedicated wall outlet to plug in the power cord of the pressure cooker
4) When using an electric masher to mash the potatoes, UNPLUG the pressure cooker before using the hand blender
5) When the cooking process is done, move the pressure gauge to release position.  Stand away from the gauge when you release the steam
6) Never leave the pressure cooker unattended when on and always keep children away from it.
Nutrition Facts
Vegan Mashed Potatoes
Amount Per Serving (3 cups)
Calories 152
Calories from Fat 9
% Daily Value*
Total Fat 1g 2%
Sodium 821mg 34%
Potassium 636mg 18%
Total Carbohydrates 32g 11%
Protein 3g 6%
* Percent Daily Values are based on a 2000 calorie diet.