A hearty vegan minestrone soup made with Romano beans, pasta, and vegetables. This one-pot vegan soup tastes incredible and it's the perfect comfort food!
Last year, I made the mistake of serving minestrone soup to an Italian!
What was my crime?
I used THE WRONG kind of beans!!
Is there such a thing as wrong kind of beans in Minestrone soup? Yes, there is such a thing and I found out the hard way!
Tips for making the best Minestrone Soup
Keep the heat even during the veggie cooking process. This way, the veggies can cook evenly. Once you are ready to simmer, it's ok to reduce heat at that point.
Use canned beans because they are already cooked and that will save you so much time. If you have to use dry beans, cook them first in the slow cooker or pressure cooker.
I prefer adding uncooked pasta before simmering because it will infuse the flavors into the pasta. But, if you are on a crunch for time, it's ok to cook the pasta on side of the stove while you are cooking the veggies on the other side.
You can use vegan lentil pasta or gluten free pasta in this recipe. It will work perfectly well in this recipe
I went with dried basil and other dried herbs. If you have any fresh herbs instead of the dried ones, use those
What is Minestrone soup?
Minestrone soup is a soup where veggies, beans and pasta happily reside together! The soup is a traditional Italian soup that is normally served over cold winter months.
The soup was introduced during the Latin expansion times and the base used to be spelt flour. Eventually, spelt flour was removed from the recipe and pasta became more staple.
Source: Wikipedia
P.S. pasta and beans is a popular combination on my blog. Have you checked out my vegan chili recipe made in the Dutch oven?
What is the right bean to use?
The right beans to use in Minestrone soup are Cranberry beans! They are also known as Barlotti beans, Roman beans, Romano beans or Saluggia beans.
As I found out the hard way, using red kidney beans in Minestrone soup is not good practice. Red kidney beans are part of the new evolution of minestrone soup recipes made famous by an Italian chain restaurant.
Image courtesy of Pixabay!
Last year, I served minestrone soup to a dyed-in-wool Italian and he wasn't happy. It seems that my using kidney beans violated a cardinal Italian rule. Needless to say, I was thoroughly embarrassed and put my minestrone soup recipe into the shame box.
Recently, I was told by someone that Minestrone soups are all the rage and that I should consider creating a recipe for my readers. I didn't tell them about my past failure of this recipe, but, I vowed to make a delicious recipe that wouldn't offend Italians.
What I found was that dry cranberry beans are really hard to come by and they also happen to be very expensive. So, I decided to try the canned version and luckily, they are not hard to find and more affordable.
Look for the cans that say Roman beans in your local grocery store. If you are interested in getting fresh cranberry beans, get them from (Affiliate Link) Amazon.
Choosing the right kind of pasta
Ditalini is the perfect pasta shape for minestrone soup. They are the small pasta shaped like small tubes. Ditalini, translated from Italian, means "thimble-sized"
I couldn't find Ditalini pasta at my grocery store. The funny thing is that it's always there on the shelves when I am passing by. This time, the one time I wanted to buy them, they were out of stock, lol.
Life can be funny sometimes, right?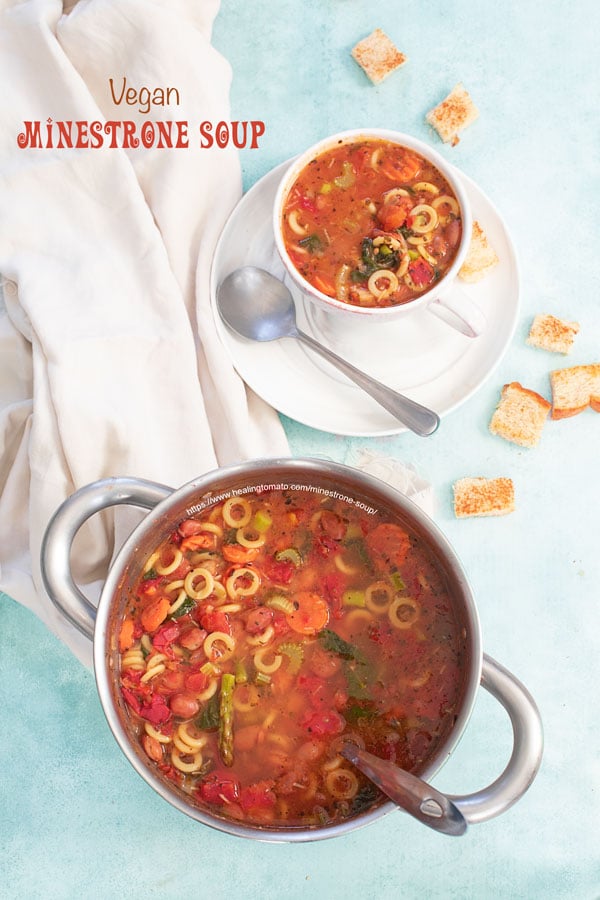 So, instead, I went with a different type of pasta. I choose Anellini pasta that are small and round in shape. They are a favorite with kids, so, I think they just might like this soup.
You can also use elbow pasta or mini conchiglie pasta. The smaller the pasta, the more perfect fit it will be for Minestrone soup.
If you are feeling a little experimental, go for orzo pasta. It makes for a delicious soup recipe.
Orzo is a family favorite. I have quite a few of recipes using orzo on my blog. Check them out and let me know which one is your favorite.
Common questions for making this soup
Making vegan minestrone soup is really easy and requires almost no effort. If you have any questions or concerns, all you have to do is contact me and I will be happy to answer any questions.
Feel free to leave a comment below too.
Is it vegan?
Yes, minestrone soup can be vegan. It is a soup that is perfect without any meat in it.
In fact, when it was first introduced in pre-Roman times, it was "vegetarian by necessity". It was a meal created for those that weren't rich.
As the recipes evolved, chefs started experimenting with meat products in the soup. However, the traditional minestrone soup recipe is vegan-friendly. Most chefs used to use cabbage stock for this soup
Every time I order soup at a restaurant or cafe, I always ask the chef if they used chicken stock in their recipe. This way, I know if the soup is vegan or not.
For a great vegetarian side dish to go with your soup, try my cheesy garlic bread with Italian spices!
Confused about veganism and vegetarianism? Check out my complete guide on how to tell which ingredients are vegan and/or vegetarian.
Can you freeze this soup?
Yes, you can freeze minestrone soup and thaw it out before heating it. A few quick tips on freezing minestrone soup.
If possible, don't add the pasta if you intend to freeze it. Instead, freeze without the pasta and add cooked when you are ready to thaw, serve it. Pasta soaks up the liquid, so, you may have to add more water when you thaw it out.
Thaw it at room temperature instead of using the microwave. Microwave will zap out the nutrients and heat it up unevenly.
Once thawed, place the soup in the soup pan and heat for about 10 minutes. Serve immediately
How do you say "minestrone"?
It is pronounced as min-eh-stro-nay soup. However, I have heard it called "Min-ay-stro-nee" also.
When in doubt, I like to go with my WWJOS! What would Jamie Oliver say, ????????. On his Food Tube network, the chefs refer to it as "min-eh-stro-nay"!
How about you! How do you pronounce it?
My favorite vegan soup recipes
Acorn Squash Soup Recipe
Copycat Panera's Acorn Squash soup recipe that is so easy to make. This soup is a very comforting bowl of soup on a cold winter night.
Check out this recipe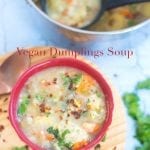 Healing Tomato Soup
Creamy vegan tomato soup with coconut milk is made by using roasted tomatoes and roasted bell peppers.
Check out this recipe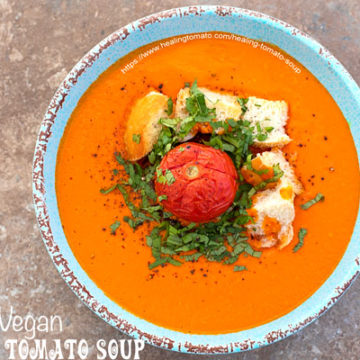 Want even more soups? Check out all my favorite soups
How to make vegan minestrone soup
Heat a strong bottom pan. I like to use a stainless steel pan to cook it. Set it on medium heat and add 3 Tbsp of extra virgin olive oil.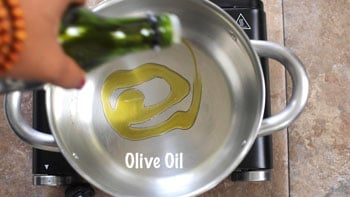 After 30 seconds, add 2 shallots (finely diced) and cook for about 1 minute, until they are softened
Add 3 cloves of garlic (grated) and mix with the shallots. Mix and cook for 30 seconds
Add 1 stalk of celery (diced), 6 asparagus tips (chopped) and ½ cup of carrots (I used precut crinkle carrots, not pictured). Mix well and cook for 5 minutes, until they are softened. Keep the heat at medium
Add 8oz of spinach (about 2 cups, lightly packed) to the pan and cover without stirring. Cook for about 5 min or until the spinach is shrunk to half it's size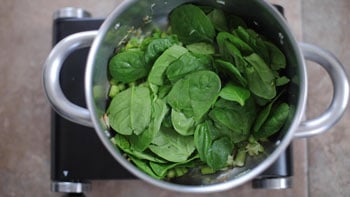 Open and mix well, before adding the herbs: 1 tbsp of basil, oregano, thyme and marjoram, ¼ tsp of dill weed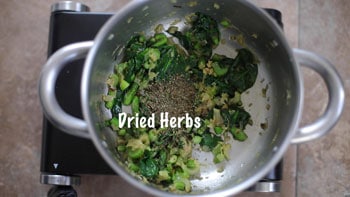 Add 2 Tbsp of lemon pepper
Add 3 tsp of salt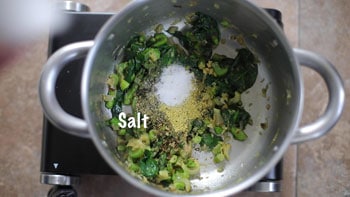 Add pasta of your choice. I went with anellini pasta (1 cup uncooked)
Add 15 oz of Romano Beans (1 can)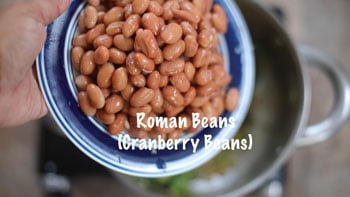 Add 15 oz of fire-roasted tomatoes (1 can)
Finally, add 3.5 cups of water and mix well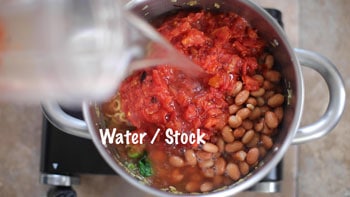 Cover lid and let it simmer for 20-25 min. When the anellini pasta has plumped to triple it's size, turn off the heat and serve immediately
How to make vegan minestrone soup
A hearty vegan minestrone soup made with Romano beans, pasta and vegetables. This one-pot vegan soup tastes incredible and its the perfect comfort food!
Ingredients
3

Tbsp

extra virgin olive oil

2

shallots

finely diced

3

cloves

garlic

grated

1

stalk celery

diced

6

asparagus tips

chopped

½

cup

carrots

crinkle cut

8

oz

baby spinach

about 2 cups loosely packed

1

Tbsp

basil

dried

1

Tbsp

oregano

dried

1

Tbsp

thyme

dried

2

tsp

marjoram

dried

¼

tsp

dill weed

2

Tbsp

lemon pepper

2

tsp

sea salt

1

cup

anellini pasta

15

oz

Romano beans

cooked, from a can

3.5

cups

water
Instructions
Heat a strong bottom pan on medium heat and add 3 Tbsp of extra virgin olive oil

After 30 seconds, add shallots and cook for about 1 minute, until softened

Add garlic and mix with the shallots. Cook for 30 seconds

Add celery, asparagus and carrots

Mix well and cook for 5 minutes, until they are softened. Keep the heat at medium

Add baby spinach to the pan and cover without stirring

Cook for about 5 min or until the spinach is shrunk to half it's size

Open and mix well, before adding the dried herbs, lemon pepper and salt

Add pasta of your choice, romano beans and fire-roasted tomatoes

Cover lid and let it simmer for 20-25 min. When the anellini pasta has plumped to triple it's size, turn off the heat

Serve immediately
Notes
Keep the heat even during the veggie cooking process. This way, the veggies can cook evenly. Once you are ready to simmer, it's ok to reduce heat at that point.
Use canned beans because they are already cooked and that will save you so much time. If you have to use dry beans, cook them first in the slow cooker or pressure cooker
I prefer adding uncooked pasta before simmering because it will infuse the flavors into the pasta. But, if you are on a crunch for time, it's ok to cook the pasta on side of the stove while you are cooking the veggies on the other side.
You can use vegan lentil pasta or gluten free pasta in this recipe. It will work perfectly well in this recipe
I went with dried basil and other dried herbs. If you have any fresh herbs instead of the dried ones, use those