A nutritious and colorful vegan pasta recipe made with red lentil pasta

Vegan pasta made with red lentils is the perfect base for a grilled vegetables pasta dinner.  Mixed with a simple vegan butter sauce and herbs, this pasta is a fun recipe to make for weeknight dinner
Disclosure – This post is sponsored by Barilla but the content and opinions expressed here are my own.
"Red Lentil pasta?"
"Red Lentil pasta!"
"Yay!"
This was my thought process when I saw Barilla's Red lentil pasta! Their bright orangish-red color got my attention and got my mind racing with all kinds of recipes!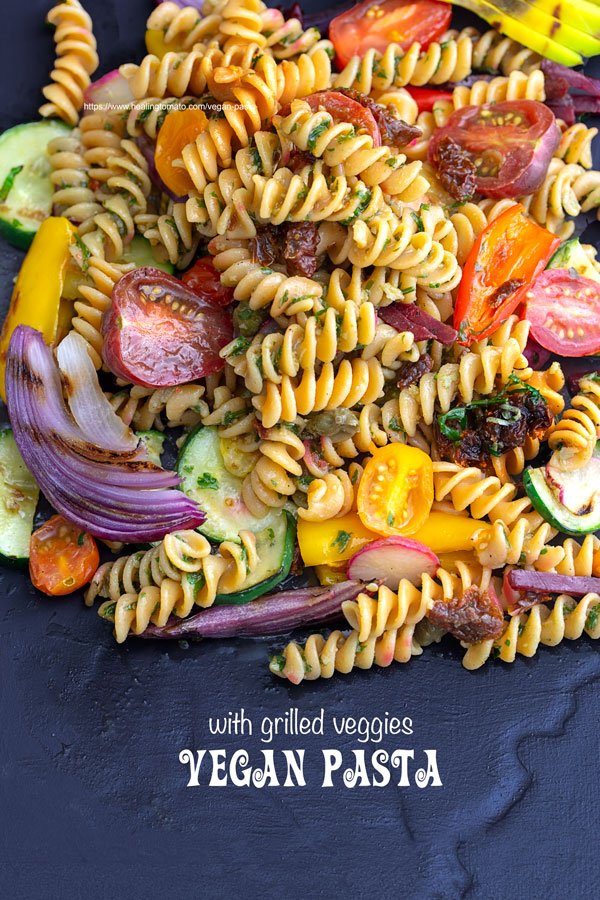 How to present this vegan lentil pasta?
The best way to showcase this pasta is with a whole bunch of grilled veggies.  Together, the pasta and veggies make for a very colorful and delicious pasta recipe.
This pasta is a great way to add protein to my vegan diet and its also a great way to get my veggies for the day.
I went with cucumbers, mini sweet peppers, julienne beets, colorful cherry tomatoes, avocado, red onions, radishes and topped with tangy capers!
Whew!
That's a lot of ingredients, but, I assure you that they are all worth the grilling
What about the sauce?
I am glad you asked that question. 🙂
The sauce I used is a combination of my fresh herb vegan butter sauce from my casarecce pasta and the rich vegan buttery sun-dried tomatoes from my fingerling potatoes recipe
Vegan butter with fresh herbs and sun-dried tomatoes drizzled over red lentil pasta and grilled vegetables!
Need I say more?
A little more about Barilla's Vegan Pasta
– Barilla made these vegan pastas from one single ingredient! That's it.  You can get the pasta made with (affiliate link) Red Lentils or (affiliate link) Chick Peas
– These lentil pastas are made using plant-based protein.  It makes me happy to know that I don't have to worry if it has any animal-based protein.  There is no taste difference either, so, you don't have to worry about
– Pasta that is rich in good fiber always gets my attention.  Thankfully, this pasta by Barilla is Fiber rich!
– I thought that the taste would be affected because it happens to be Gluten-free and Non-GMO certified.  But, I couldn't have been more wrong!
Overall, Barilla's vegan pasta is made with all good ingredients.  There is nothing I don't like about it.
Tips for Making This Vegan Pasta
– Use cooking spray to grill the veggies.  It will grill them perfectly without an oily taste
– This pasta doesn't freeze well, so, make it on the day you are going to consume it.  The grilled veggies will retain their fresh taste
– Add the buttery sauce about 30 minutes before you are going to serve it.  This will give it a chance to marinate all the ingredients
– You can use any fresh veggies that you have in you refrigerator.  The vegan pasta will blend well with any veggie
– Don't forget the capers! They add a delicious tang to the is recipe and it really brings out the flavors of the red lentil pasta itself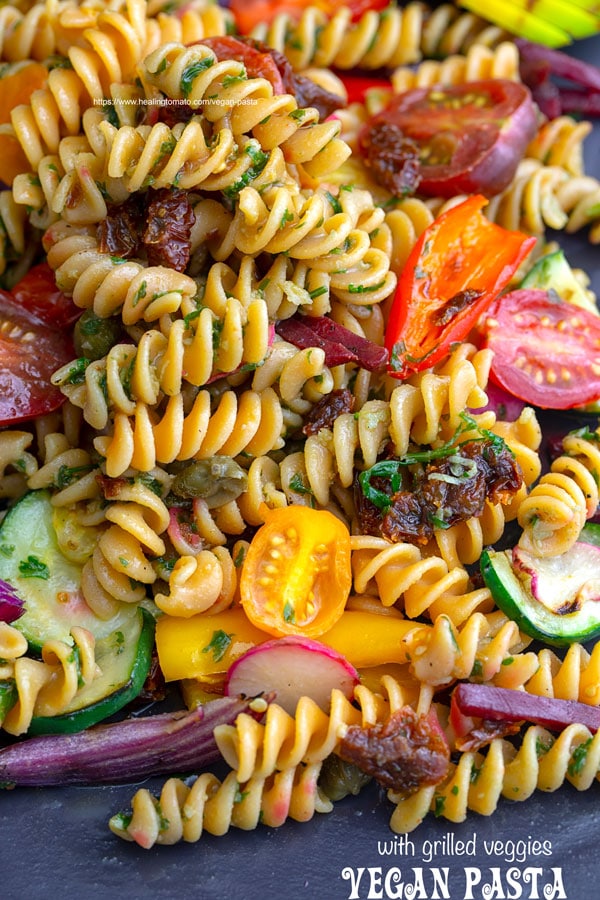 Other Veggies You Can Use With Red Lentil Pasta
– Mushrooms
– Bell Peppers
– Artichokes
– Julienned Carrots
– Broccoli
– Any Squash Variety
Theis Barilla pasta is also delicious in a cold pasta recipe.  Or in a delicious 9 tomato marinara sauce.
What are your thoughts on vegan pasta?  Have you tried these vegan red lentils pasta by Barilla?  I want to hear your thoughts about it, so, please comment below.
How To Make Vegan Pasta with Grilled Veggies
Vegan Pasta With Grilled Veggies
A nutritious and colorful vegan pasta recipe made with red lentil pasta

Print
Pin
Rate
Ingredients
Instructions
To Cook the Pasta
Bring water to a boil


Add salt and pasta


Cook for 9 minutes and then drain, set aside

To Grill the Veggies
Heat your stove top grill for about 3 min on medium heat


Spray it with cooking spray


Add the veggies to the grill and grill each side


You can grill one veggie at a time or cook them all together


Place grilled veggies in a bowl


Add the cooked pasta to the bowl

For the sauce
Heat a medium saucepan and add the vegan butter


When it melts, add the garlic and let it brown for 30 sec


Add the oil, fresh herbs and sun-dried tomatoes


Mix well and cook for about 2 minutes on medium heat


Drizzle sauce over the bowl of pasta and grilled veggies


Mix well and set aside for 30 minutes


Serve with garlic bread or by itself

Notes
Nutrition info is approximate
Nutrition
Calories:
387
kcal
|
Carbohydrates:
46
g
|
Protein:
16
g
|
Fat:
36.5
g
|
Saturated Fat:
5
g
|
Sodium:
362
mg
|
Potassium:
834
mg
|
Fiber:
11
g
|
Sugar:
8
g
|
Vitamin A:
2130
IU
|
Vitamin C:
61.6
mg
|
Calcium:
42
mg
|
Iron:
2.6
mg