These 5 hearty vegan recipes prove that you need a Dutch oven in your kitchen! Make dinner meals, side meals and even date night dinners!
Do you own a dutch oven? If yes, you know and appreciate it's power!
I didn't own a Dutch oven until last year and now, I am in love with it! I can't go a week without making something in that Dutch oven.
This big, red kitchen gadget has weaved it's way into my heart!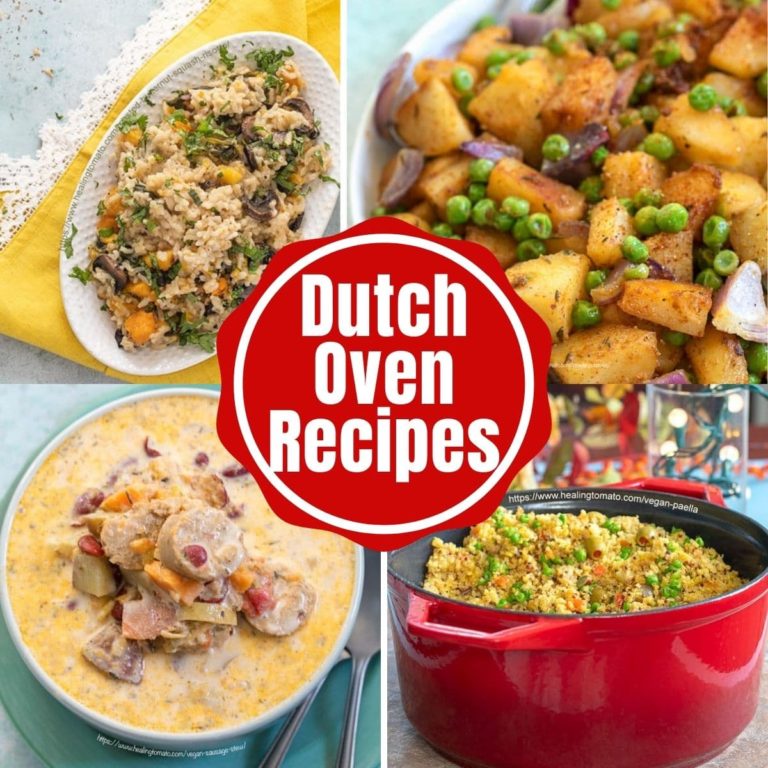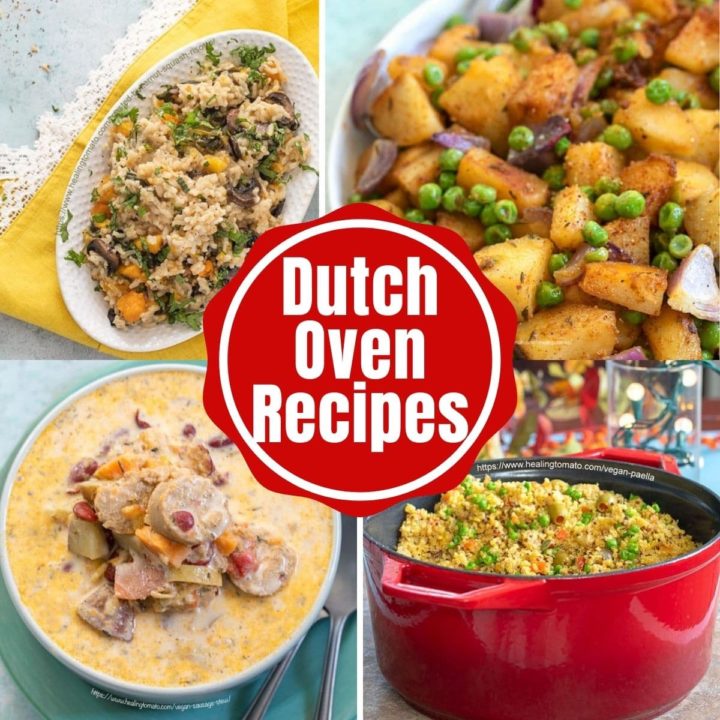 What is a Dutch oven
A Dutch oven was originally invented to cook food over an open fire. The original Dutch oven was made with cast iron material. It could withstand the open flame and distribute heat evenly.
They were invented with the outdoor camper in mind. It was meant to help campers cook the fish or animal they just caught. This meant that it would taste delicious and remove the need to refrigerate the catch for transport.
Now, that outdoor Dutch oven still exists. It has evolved in many ways for the outdoor chef. But, it seemed like the indoor people were missing out on this amazing culinary experience!
So, the kitchen Dutch oven was invented and home cooking would never be the same again!
Today, indoor Dutch ovens are made of ceramic, enamel and even cast iron. The indoor Dutch oven uses the same concept as the outdoor one.
The heat from the oven is evenly distributed throughout the ingredients and food cooks like it was cooked outdoors!
My Dutch oven is (Amazon Affiliate Link) a 6″ Round Dutch Oven made by Swiss Diamond. It's an enameled cast cookware that is oven safe and stove-top safe.
---
Tips For using the Dutch oven
Try not to crowd the ingredients in a dutch oven! The more "air pockets" that the insides have, the better it will cook.
Cook the ingredients in batches, if you do have too many ingredients. This will make sure that all the ingredients will cook well. In the end, bring all the ingredients together in the Dutch oven for one final cook through.
Always butter or oil the bottom of the pan before you add any ingredients. Learn from my mistakes, because, once I didn't follow this advice and had to spend a lot of elbow grease cleaning the bottom.
To clean the Dutch oven from the inside, first soak it in water. Throw out the water after soaking it for about 30 min. Clean using a paper towel or a mesh scrubber.
If it has burnt residue, add water to the Dutch oven. Heat it on medium heat for a few minutes and then discard the water. Use a wire mesh scrubber to remove any remaining residue.
If you have a cast iron Dutch oven, oil it inside out before storing it. This will prevent rust on it.
---
5 hearty vegan recipes made in the Dutch oven
These 5 recipes are made in the Dutch oven and that's why they taste soooo very delicious! Which one is your favorite?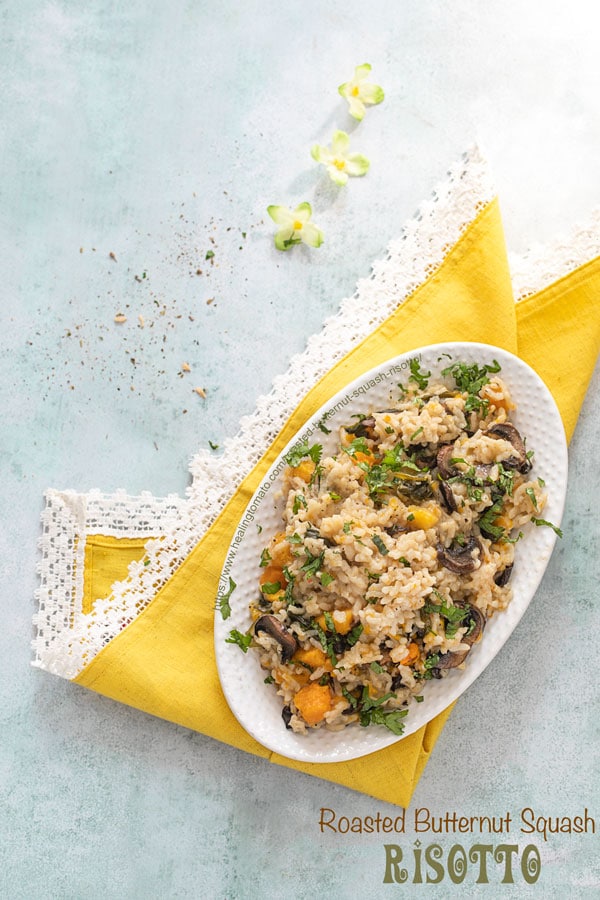 Do you have date nights and you don't have a good vegan recipe to make? Recently, a reader told me that it's the hardest thing for them. They can never find a good vegan date night recipe.
So, this vegan risotto recipe is for him and anyone who is loking for easy date night recipes. Why spend hours making a recipe when you could be primping up for your date night, right?
All the hard work is done by the Dutch oven, so, you can sit back and relax. The risotto will make your live very easy.
Butternut Squash Risotto
An easy vegan butternut squash risotto made in the Dutch oven using just a few simple ingredients
Check out this recipe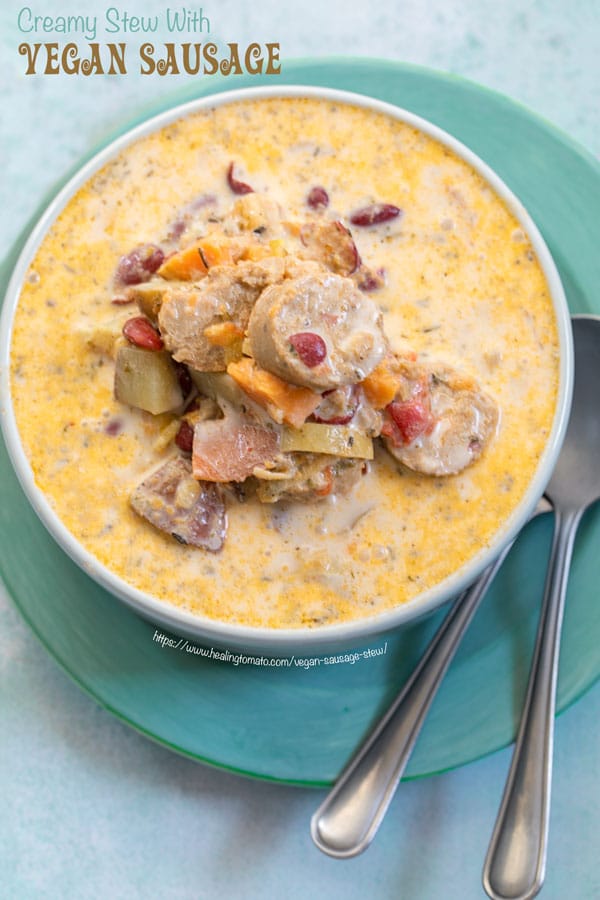 One thing that the Dutch oven does better than anything else is a stew! It has the slow simmering down to a science!
I discovered just how good a stew turns out when I made this vegan sausage stew. It cooked all the ingredients from the inside out!
This stew is can be made in the winter, fall or even summer. The meal is hearty and filling anytime!
Vegan Sausage Stew
A creamy and hearty vegan sausage stew made with vegan sausage, sweet potatoes, leeks and red kidney beans. This stew is the perfect vegan comfort food.
Check out this recipe
---
You haven't had potatoes until you have made them in the Dutch oven. These potatoes and peas came out so good because the steam inside the Dutch oven makes the ingredients practically melt in your mouth.
Go to the recipe and you will see why it is a super easy recipe to make. I didn't have to do anything except add the ingredients. In the end, I just stirred everything and served it.
It's a great side dish or make it just as a meal by itself.
Creole Potatoes and Peas
Creole potatoes and peas with a sinful amount of creole seasoning. These potatoes are cooked in the Dutch Oven and require almost no effort
Check out this recipe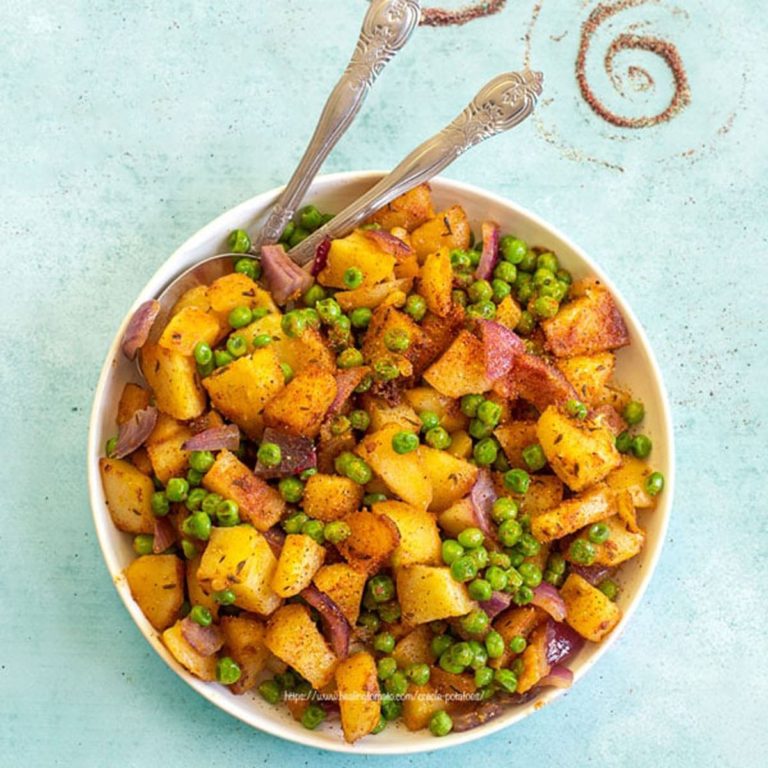 ---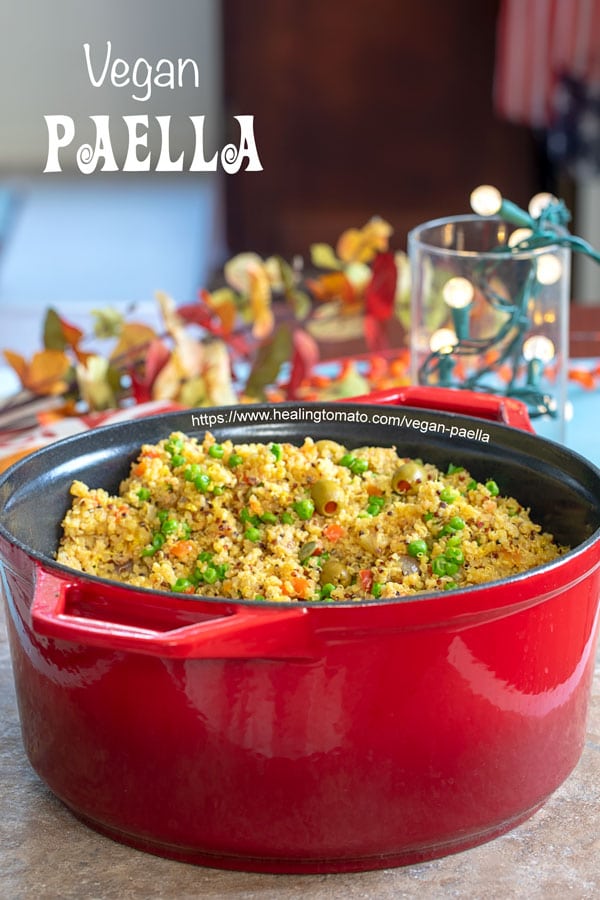 This is a very special recipe to me because this was the first time I discovered the power of the Dutch oven.
I made this quinoa paella in it and oh boy! This has to be the best meal I ever made. I was so impressed by how well it cooked the quinoa. They were light and fluffy!
The Dutch oven made the salty and tangy flavors of this paella stand out! It's steaming process made sure that it carried the flavor to every molecule of each ingredient!
How To Make Vegan Paella
A simple vegan paella recipe made using paella and cooked in a dutch oven

Check out this recipe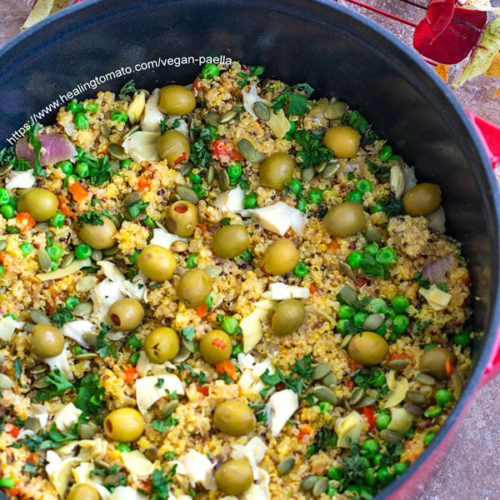 ---
I don't think I can ever make a chili stove top again! The way this chili tasted in the Dutch oven could never be achieved by stove-top cooking. I describe this recipe as "can't-eat-just-one-bowl good!".
This recipe has quite a few ingredients, so, I cooked them in batches. The pasta was cooked in the Dutch oven along with the other ingredients, flavoring it from the inside out!
This is a hearty meal that doesn't care about seasons! I have made this in the summer and I made this in the fall too! It hits the spot each time!
Best part is that it can be made ahead and refrigerated. I like to make it over the weekend and serve it during the week. It tastes even better after the ingredients have had a chance to get know each other very well. 🙂
Now that I have shown you 5 hearty vegan recipes that I made in the Dutch oven, how about 5 recipes that I wish I had made in the Dutch oven?
P/S: have you checked out my Beet Chili or my Vegetarian Bean Chili?
Vegan Chili
How to make a hearty vegan chili using pasta, red beans and refried beans. This vegan chili is made in the Dutch oven
Check out this recipe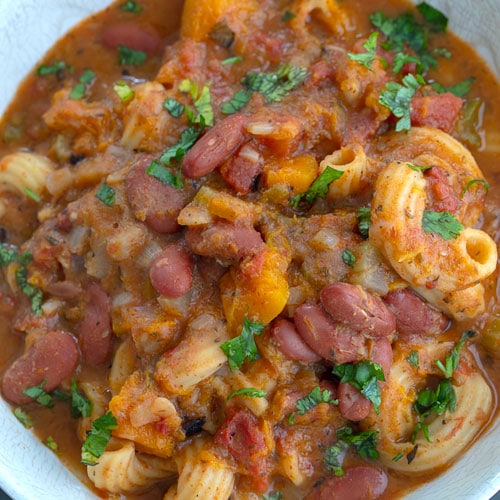 ---
Here is a recipe for date night! Pasta shells stuffed with vegan ingredients is an aphrodisiac recipe like no other!
I made a Rosa sauce, but, you can serve it with just marinara sauce. To make a vegan rosa sauce, add vegan Alfredo sauce to it.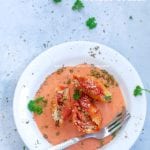 ---
5 recipes that can be made in the Dutch oven
So, here are some recipes that I should have made in the Dutch oven, but, was too stupid not to make them in it! Learn from my stupidity and make them in the Dutch oven instead! 🙂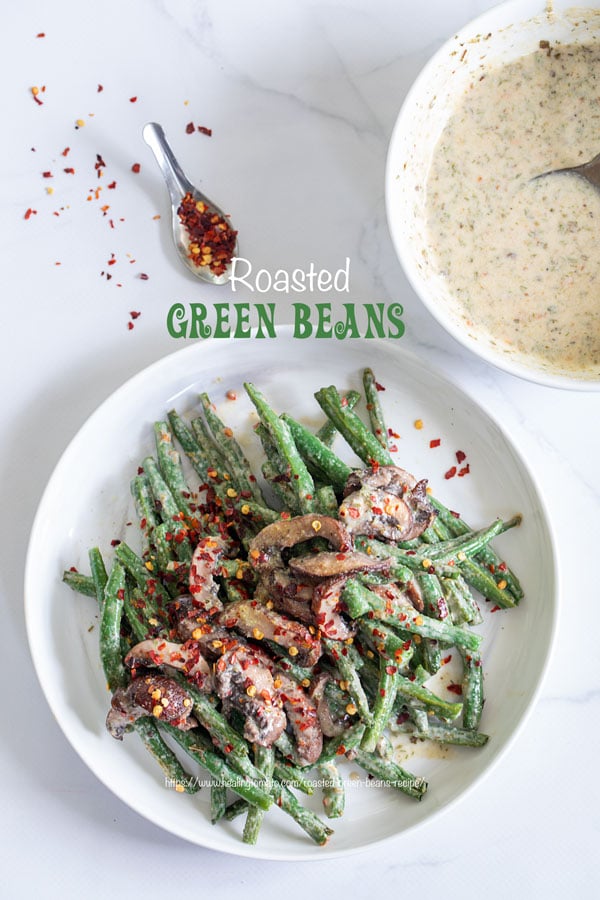 Here is what I did wrong. I roasted the green beans and mushrooms separately in the oven using a baking tray!
That was just good time wasted because I should have roasted them in the oven. Better yet, I could have used a steamer insert that would have steamed the veggies and then added the sauce over them!
Now, I make them in the Dutch oven and they turned out so good!
Roasted Green Beans Recipe
Spicy, Crunchy Roasted Green Beans Recipe with Mushrooms in a lemon tahini sauce
Check out this recipe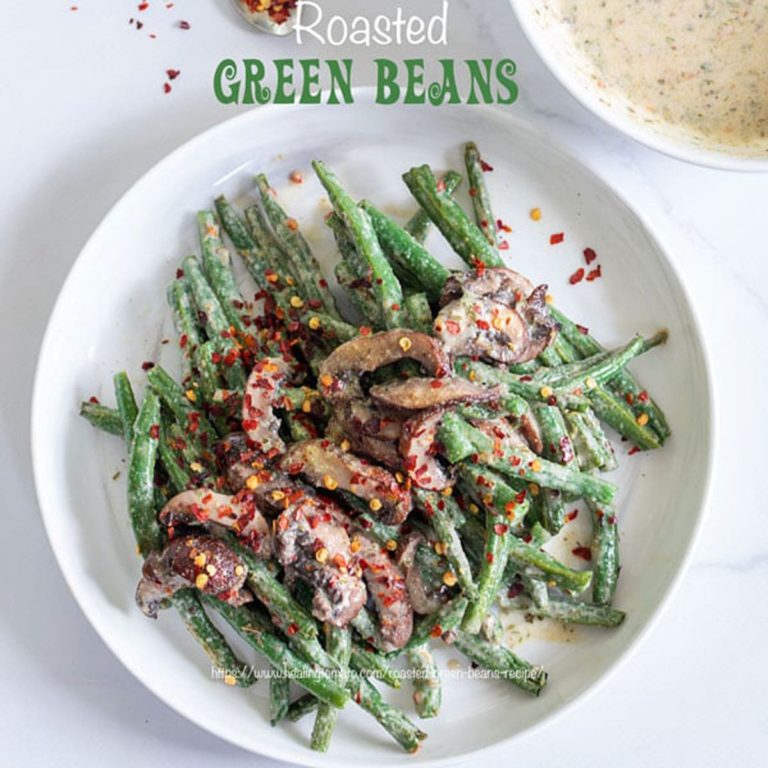 ---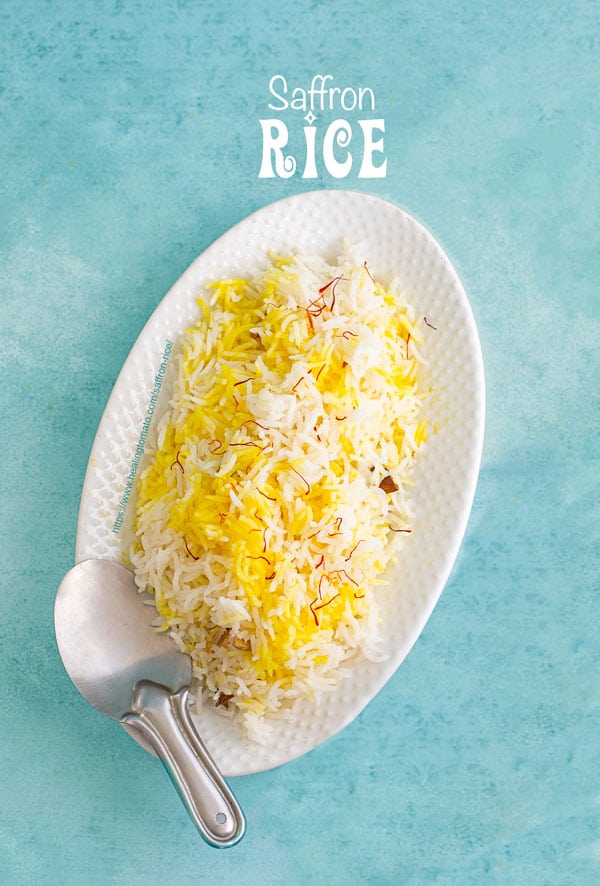 Steaming rice in the Dutch oven is a time saver. I can cook the rice in it and not worry about draining the excess water.
Once the rice is done cooking, I will finish it by adding the saffron and other ingredients. That's all!
Sounds so easy, doesn't it. Make it in the Dutch oven and share your results with me.
P/S: Here is how I make rice stove-top.
How To Make Saffron Rice
How to make a fluffy saffron rice. This recipe is so easy to make and it's very aromatic
Check out this recipe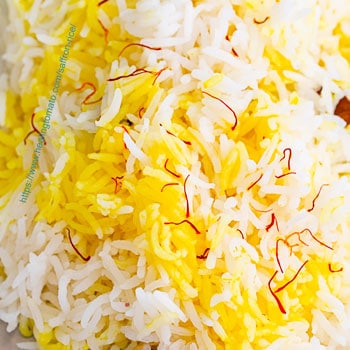 ---
I know how well the Dutch oven cooks mushrooms and how well it cooks peas. So, why the heck didn't I make this recipe in the Dutch oven???
This time, I am making it in the Dutch oven and it will make my life so much easier. The key is to slice mushrooms thinly so that they cook faster and evenly.
This meal is a great side dish with a main course. I can even put it into a pita pocket and have it as a light lunch.
Peas and Mushrooms Recipe
Sauteed green peas and mushrooms with navy beans, bell peppers + Spices
Check out this recipe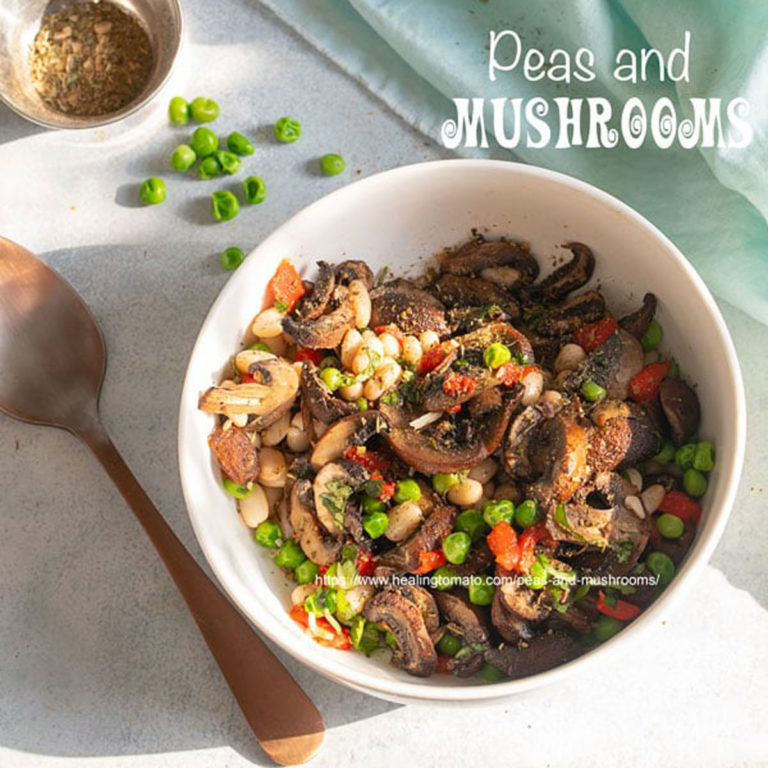 ---
This is a recipe that I had intended to cook in the oven, but, chickened out in the end. I went with the stove top method and it wasn't bad.
But, I think my time would be better spent making it in the Dutch oven. I think the stainless steel pan was a little small for the ingredients and as a result, the rice was cooked unevenly.
In the Dutch oven, this recipe can be made in batches. I would cook the spinach and veggies first. Then, I would add rice + water in the end and let it simmer for about 45 minutes.
Would you make spinach rice in the oven?
How To Make Spinach Rice
Quick and Easy Spinach Rice made in one pan with peas, mushrooms and tomatoes. This is the perfect vegan side dish or main course meal.
Check out this recipe
---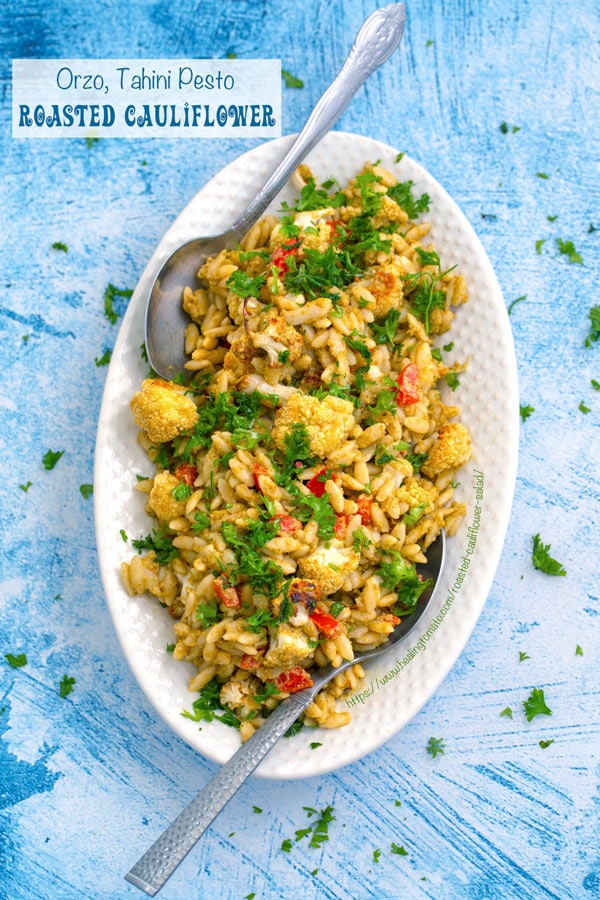 This recipe, with a little experimentation, would have turned out just as delicious in the Dutch oven. I wold have to experiment on how to best cook the bell pepper along with the cauliflower, but, I think it will be cooked perfectly.
I love how well the Dutch oven can steam veggies, with or without a steamer insert. My favorite veggies to cook in it is the potato and cauliflower. Which veggie is your favorite to cook in the Dutch oven?
Roasted Cauliflower Salad With Orzo in a Basil Pesto Tahini Sauce
A quick, easy roasted cauliflower salad recipe with orzo and roasted red pepper. Served with a basil pesto tahini sauce

Check out this recipe
---
Thank you for reading my list of 5 hearty vegan recipes made in the Dutch oven. So, it's your turn to tell me about you experience with the Dutch oven. Have any tips on the best way to use it? Best recipe to make in it?
Send me your comments below and you will make my day!