This is a super easy mug cake (no eggs) recipe made with pumpkin, chocolate chip, pumpkin spice and vanilla extract.
I am beginning to bake cakes!
Can you believe it? I actually have a bakers thumb now, who knew!
Those of you who know me, know that I have the hardest time baking anything!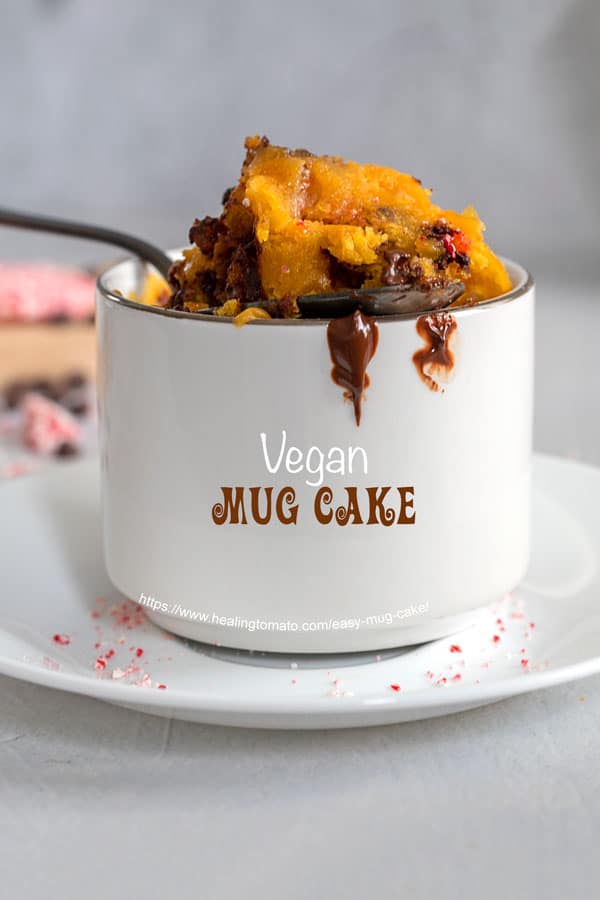 Tips for making this mug cake
Cover the top of the mug with something, but, leave a little room on top for cake to rise. I like to cover anything that I put in the microwave.
If you don't have hazelnut milk, you can easily make your own.
You can use almond milk, if you don't like hazelnut milk or don't have access to it. However, the taste may not be the same, so, try to add a few hazelnuts.
The mug cake is best when eaten right out of the microwave. If you can't eat the whole mug cake, you can cover it tightly and refrigerate.
I made this a chocolate chip pumpkin mug cake, but, you can put in any ingredient you like. Freeze dried berries would be perfect in this cake
You can add a drop of rose water to the mug cakes and it will give the cake a heavenly aroma. This is optional, but, I highly recommend it
If you prefer, make the batter in a mixing bowl and then transfer to the mug to microwave.
This is how I store leftover pumpkin puree so I can use it in other recipes.
---
Why I love this recipe
To get comfortable with baking, I am starting with small, easy cake recipes. With each bake, I am starting to gain confidence in my dessert making.
Prior to this vegan mug cake, I had made an olive oil pumpkin cake which was beyond delicious! After that, I have experimented with a few cakes and one of them turned out really, really delicious. It will be posted someday soon. Major procrastination on that recipe!
But the best part is that this cake tastes delicious!
---
How to microwave this cake
Can I just get 2 disclaimers out of the way? First, every microwave is going to be different. So, cook times will vary.
Second, size does matter! 🙂 When I experimented and then made the video, I used the tall mugs. Those mugs took 3-4 min to cook the cake. But, when I used the small mugs, it cooked in under 3 min
So, I want to say that experiment with the total time and let me know what you find. I microwaved mine on 45 second increments, so, that prevented me from overcooking it.
When the cake is browned from the top, it means that the cake is cooked. I like the top to be just a little under cooked because it makes the cake moist from the inside
What else can I add to it?
Freeze-dried berries
Nutella (Nutella is Vegetarian, but, not vegan friendly)
Caramel (Lucky for us, there are vegan caramel available on the market)
Butterscotch (Its easy to make it at home, if you want vegan. There are several recipes online for vegan butterscotch)
Make it a carrot cake mug cake
Oreo Cookies (Oreos are vegan friendly)
I know I am missing quite a few ingredients to add to the cake. Send me your favorites to add to mug cake.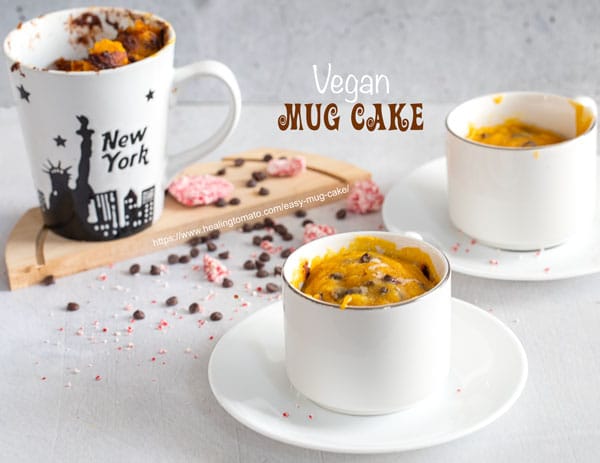 ---
What non-dairy milk to use for baking
Hazelnut milk is my perennial favorite nut milk to use in any recipe. I love its nuttiness and flavor from hazelnut milk.
Until now, I used to make my own hazelnut milk, but, I recently discovered a really good store-bought version. Its light, natural flavor completely floored me.
This milk is by Elmhurst 1925. This is not an affiliate link and they are not paying me to write this post. This is purely a fan girl's praise for a hazelnut milk that I actually like. They are on the pricey side, but, totally worth it.
They also make other nut milk, in case you don't like hazelnut. My recommendation is to add about 1 tsp of ground hazelnut to the mug cake, if you use another flavor of milk.
---
Common questions when making this cake
Are chocolate chips vegan?
Most chocolate chips in the market use butter or non-vegan sugar to make the chocolate chips.
But, there is good news. Enjoy Life (NOT an affiliate link) makes chocolate chips that are very vegan friendly. Not only do they make vegan chocolate chips, they also make it in a facility that is dedicated dairy-free and soy-free line.
If you want more info on what is vegan-friendly, check out my guide to everything vegan
What kind of mug should I use?
My favorite mugs to use are stoneware mugs because they handle well in the microwave. Also, they distribute heat evenly, so, the cake doesn't come out dry in one area.
The mugs I used are by Cityscape's Signature collection found on EBay. My mug is 4.25″ in height and 3.6″ in diameter.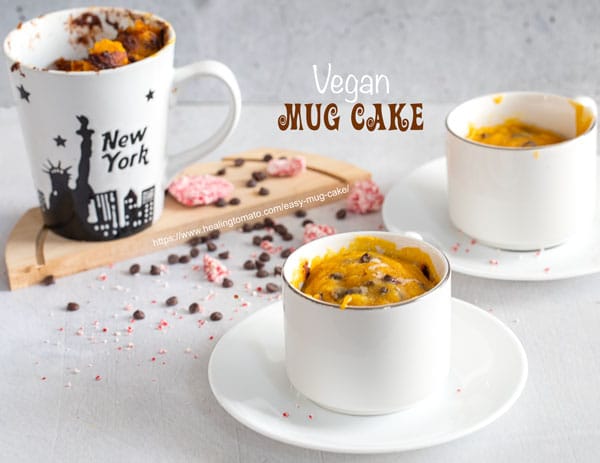 What should I decorate the cake with?
Funfetti
Vegan whipped cream
Chocolate sprinkles
Chocolate syrup
Strawberry syrup
Can I bake this cake in the oven
I can only recommend baking them in Ramekins and not mugs. I know they will bake well in small ramekins that can withstand the oven temps.
Add water to a baking pan. The water should be about half-way outside the ramekin. Put the batter into the ramekin and place tray in a preheated oven of 300°F. Bake for about 20 min or until you see the dough rise above the ramekin
Remove and serve
Can I freeze mug cake
To freeze the mug cake, I removed the cake from the mug and wrapped it in parchment paper. After that, I placed the cake in a zip-lock bag, put the date on it and put it in the freezer
The cake wasn't the same once I thawed it and heated it in the toaster oven for a few minutes. Yes, you can freeze the pumpkin mug cake, but, it won't taste the same.
I prefer refrigerating it and using it up with a couple days. All I did was to tightly seal the top of the cake before placing it in the freezer.
This cake is so delicious, I doubt you will have to worry about refrigerating it.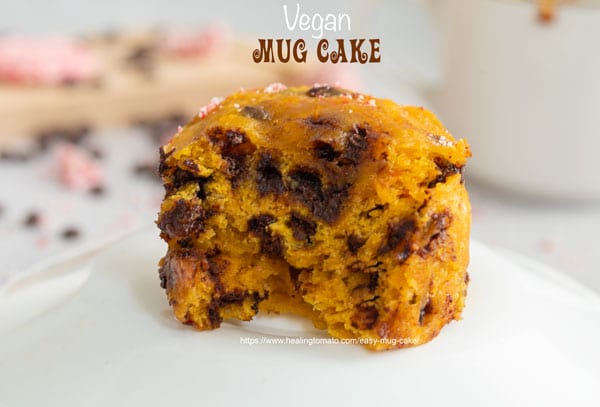 More chocolate and pumpkin recipes
I couldn't close this post without recommending some of my favorite chocolate and pumpkin recipes. Which one is your favorite?
Made a hot chocolate and added ice to it. This is a cool summer drink
Vegan Frozen Hot Chocolate
Frozen Hot Chocolate made with milk and steeped mint. This silky smooth ice drink is perfect way to beat the summer heat.
Check out this recipe
Energy bites made with tahini and dates. They are the perfect vegan protein snack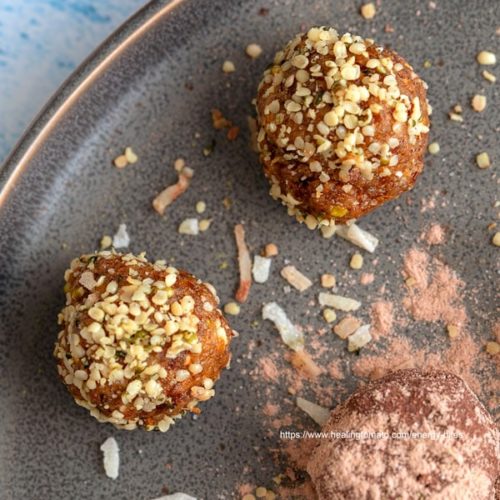 Chocolate banana smoothie bowl
Chocolate smoothie bowl made with avocado, peanut butter and nuts.
How to make Chocolate Banana Smoothie at Home
This decadent chocolate smoothie bowl is ready in 5 minutes

Check out this recipe
Vegan pumpkin smoothie made with coconut milk, nutmeg, cinnamon and a swirl of blueberry sauce
Vegan Pumpkin Smoothie
Pumpkin smoothie made with coconut milk, nutmeg and cinnamon.

Check out this recipe
Warm, hearty pumpkin soup with butter beans added for more nutrition and texture
Vegan Pumpkin Soup with Butter Beans
Vegan Pumpkin Soup with Butter Beans is flavored with Cinnamon + Nutmeg and Simmered to Perfection
Check out this recipe
Easy Mug Cake
Bake a chocolate chip pumpkin cake in the microwave easily with just a few ingredients
Equipment
Microwave

Microwave safe mugs
Ingredients
⅛

tsp

baking powder

1

Tbsp

vegan butter

¾

cup

all purpose flour

sieved

2

Tbsp

pumpkin puree

2

Tbsp

vegan chocolate chips

¼

cup

agave

1

drop

vanilla essence

optional

½

cup

hazelnut milk
Instructions
Add all the ingredients in a microwave safe cup

Clean the sides of the mug from the inside

Bake the mug cake for 3-4 minutes (Use 45 sec intervals)
Notes
– Nutrition Info is approximate
– Your microwave time will vary based on your microwave and the size of your mug. Cook in 45 second intervals. It will be done when the top is browned