Stale Bread turned into Panko bread crumbs

How to make panko bread crumbs from stale bread? Its very quick and easy to make homemade bread crumbs using day old bread that might be going stale.
I love homemade anything!
Its the challenge of making something myself that always inspires me to try.
There is nothing wrong with the store bought version of panko bread crumbs. In fact, I buy them all the time.
This time, I had bread that was going stale and I decided to turn it into bread crumbs
Looks like the stuff you buy from the store, doesn't it?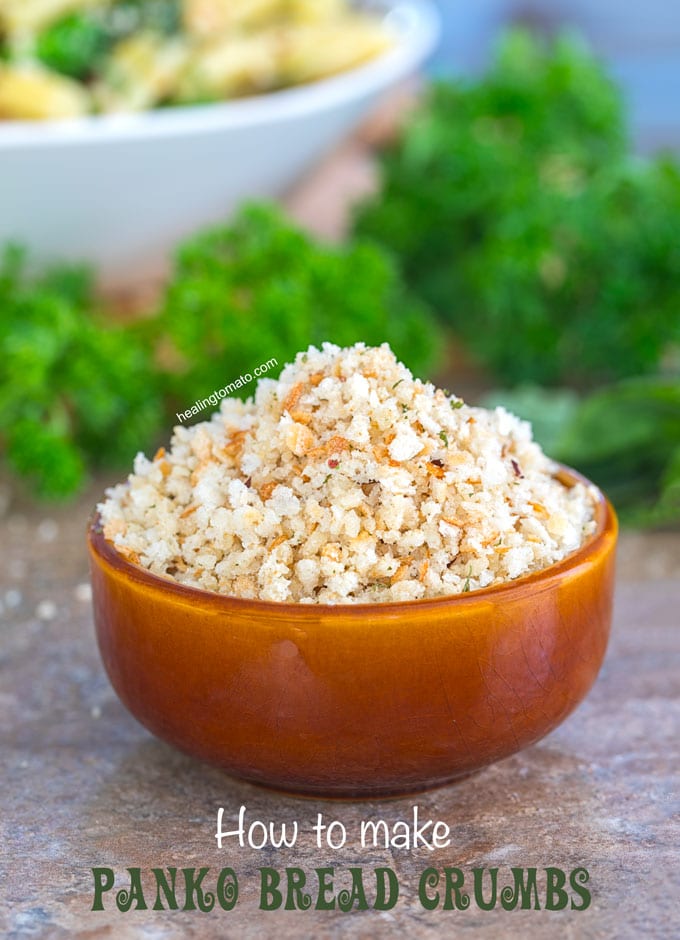 Recipe Inspiration
If you have questions about Panko bread crumbs or stale bread, check out my FAQ section, where I answer some of the most common questions. Or you can jump directly to how to make my homemade panko bread crumbs
I bought Ciabatta rolls for the purposes of making my favorite eggplant Parmesan sandwich. Its one of my favorite sandwich recipes and I wanted to see if I could make a vegan version of the sandwich.
My good intentions of making this sandwich were no match for the craziness happening in my life. Things were so hectic after I bought the bread that I had to put the sandwich experiment on the back burner!
A few days later, I look at the bread and its starting to go stale.  How do I define stale bread? Well, for one, it wasn't soft like the day I bought it. 
Parts of the bread were hard and the other parts were on their way to being hard as a rock.
At this point, the bread may not be ideal for sandwiches, but, its perfect for bread crumbs. And, I am so glad I did that because they were the best panko bread crumbs ever made!
Plus, they are so easy to make. Takes less than 5 minutes to make them and they can last up to 4 months.
Panko Bread Crumbs FAQs
What's the difference between Panko bread crumbs and breadcrumbs?
The texture is the first difference you will notice.  Regular breadcrumbs are finely ground wheareas Panko is roughly ground.  The panko crumbs are flakier and is almost always made with white bread.  Regular breadcrumbs can be made from any type of bread.

Panko bread crumbs have been used in mostly Asian cooking.  However, many western chefs have started using it in their daily cooking because it adds so much texture to a recipe.
Can Panko bread crumbs go bad?
The store bought versions can last a very long time, as long as you don't expose them to air. I keep them in their container which is tightly sealed.  For the bread crumbs I make at home, I try to use them up in a week or two.  Since they are fresh and have no preservatives, they tend to have a shorter shelf life.
Can you refrigerate panko bread crumbs?
Yes! When I make them at home, I always transfer them in air tight containers and refrigerate.  This way, they remain fresh and last up to 6 months.  You can do the same with regular bread crumbs.
What's the best bread to use to make bread crumbs?
White bread is always used to make panko bread crumbs.  I used ciabatta bread to make it, but, you can also use Italian or french bread.  The key is to make sure the bread is stale so that it grinds up easily.  Sadly, fresh bread doesn't grind into powder texture.

For regular breadcrumbs, you can use any bread you have lying around.  I find that whole wheat bread makes for really finely textured bread crumbs.
What can you make with Panko bread crumbs?
That's the best part, because, the sky is the limit! Panko can be used in so many wonderful recipes that you will never get bored of experimenting.  They are great for stuffing recipes, pasta recipes, dessert recipes, appetizers and even a few desserts.

My favorite panko recipe to make are these spicy fried grit balls and for making these sweet potato wedges.  They were also perfect for my veggie meatball sub recipe.  Stay tuned because I am going to be using them in a delicious casarecce pasta recipe where they take the place of Parmesan cheese.
How do you make stale bread quickly?
If you don't have stale bread on hand, but, find an urgent need for it then there is a perfect way to make them.  Place regular bread in the oven at about 350° for about 5 minutes or until its hard.  Make sure its not browned.  Then, place it in a blender and grind it until its has panko texture.
What if you don't have bread on hand?
Ok, that's a tougher question to answer.  There are a few panko substitutes I have seen.  I have seen bloggers make it with saltine crackers or even melba toast.  Personally, I haven't tried it, so, I can't speak to it.  I have actually attempted to make them using biscotti and had mixed results.
Are Panko bread crumbs vegan?
Well, it comes down to the type of bread you use.  Most white breads are vegan, so, you should be ok.  I have seen some vegan ciabatta bread where eggs are not used, so, you can make it that way.  I saw a quick vegan ciabatta recipe by holycowvegan.com that looks delicious!
Can you make bread crumbs without a food processor?
Yes!! Isn't that good news? I find that I have become to reliant on the food processor, so, I try to find other ways to grind stuff. 

Take stale bread and place it in a ziplock bag.  Then, using a rolling pin or even a tenderizer, grind it to panko texture.  You might not get a fine texture like with a food processor, but, you will come really close to it. 

You might need to roast your bread for a little longer to make it harder and thus, easier to crush.
What kind of seasoning can you add to Panko bread crumbs?
Once again, the sky is the limit! Don't you just love hearing that?  I like adding all kinds of spices to it.  If I am using it in an Italian recipe, I will add italian seasonings in it. 

For Greek recipes, I love adding parsley and dill.  Yesterday, I experimented with adding Za'tar and it made the bread crumb taste exotically delicious.
Can I refresh stale bread?
Sometimes, you paid so much for bread and it goes stale quicker than you can use it! I hear you.  That happens to me so often.  Its too much bread to turn into bread crumbs.  So, what do you do?  Wet the bread by putting it under tap water. Then place it in the oven at "keep warm" or a very low temperature (about 150°). 

Let the water dry out and the bread will be good as new!  This revitalized bread will be perfect for my bread salad recipe.
Can you make croutons using stale bagels?
Yes and no! I realize that its a confusing answer.  The best bagels that make croutons are the plain bagels and the everything bagels.  I tried with the blueberry bagels and they didn't turn out so well because technically, blueberries don't go stale. 

So, the result was a slightly soggy mess.  The bread crumbs from the everything bagels was my favorite.  Use a bagel that doesn't have any soft ingredients like blueberries, cranberries, raisins, etc
So, Make your own breadcrumbs today and put your own seasoning in it. Then, make a delicious recipe using these panko breadcrumbs and send me the pics!
What do you plan to make with these breadcrumbs?
Homemade Panko Bread Crumbs
Stale Bread turned into Panko bread crumbs

Print
Pin
Rate
Ingredients
Instructions
Place the ciabatta roll in a processor


Add dried parsley, oregano, basil and salt


Grind everything to Panko texture


Use it immediately or store in the refrigerator

Notes
If your bread is not stale or stale enough, preheat oven to 360°.  Place the bread in it and roast until its hard but not browned.  Remove and cool it before grinding.
If you have time to "stale" your bread, leave the bread outside for about 2 days.  Make sure its not moldy when you turn it into bread crumbs
Nutrition
Calories:
11
kcal
|
Carbohydrates:
2
g
|
Sodium:
601
mg
|
Potassium:
51
mg
|
Fiber:
1
g
|
Vitamin A:
340
IU
|
Calcium:
40
mg
|
Iron:
1.1
mg