Hearty vegan soups that are delicious and heartwarming?  Yes, there are so many delicious soup recipes that vegans, vegetarians and even meat lovers can feast on.
I find myself craving creative soups for lunch lately.  My favorite soups are those that are made with fresh veggies.  So, I put together a list of 5 delicious soups that are good for any time of the year.
I have tried teas and hot totties to help sooth my cold, but, nothing worked as magically as these soups.
5 Hearty Vegan Soups for Meatless Monday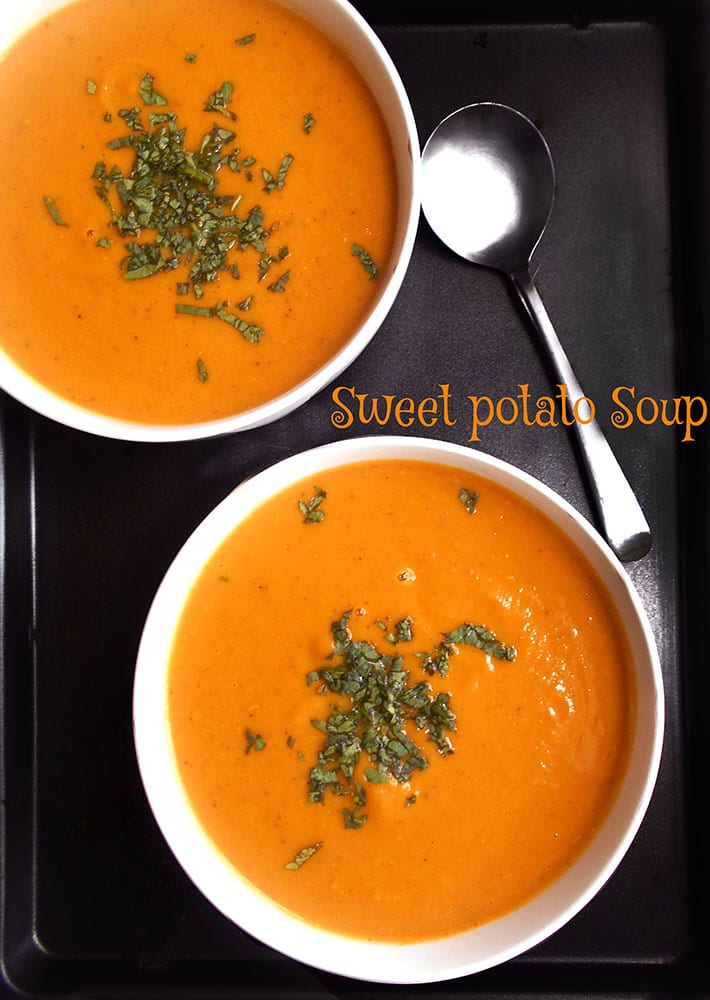 This potato soup is made with all fresh ingredients and it has fresh herbs.  The soup includes sweet potatoes, turnips, ginger, garlic, rosemary, basil, apples, hazelnuts and almond milk.  The veggies are roasted with the herbs and then blended to perfection.  It is the perfect soup for those cold winter nights.
Best part is that it takes only 30 minutes to make.
Ceara knows her way around soups, doesn't she?  Not only did she make this spicy bean soup look delicious, she made sure that it "comes together in a pinch".  Her recipe can be made in 20 minutes, so, there is no excuse to eat junk food.  She also includes one of my favorite Indian spices – the cardamom.  I think it is so underused in Western cooking.  I plan to use more cardamom in other vegan soups.  Along with cardamom, she used other wholesome ingredients like green peas, lentils and dry kidney beans.
3) Creamy Cauliflower Soup With Sriracha Swirls
Is there anything else you need to know after seeing these "sriracha swirls"!.  I am in love with this creamy cauliflower soup recipe by Bianca of Elephantastic Vegan blog. This vegan soup has the perfect kick to it that will make you savor the party in your mouth.  She roasted the cauliflower on the stove top and blended them with coconut milk.  It is topped with toasted pumpkin seeds which gives this vegan soup a nice crunch.
4)

Pesto Soup With Gnocchi, Beans & Greens
Have you ever wanted gnocchi in your soup?  Well, the very clever Isa of Post Punk Kitchen made it happen and she makes it look effortless!  Her Pesto soup with Gnocchi, beans and greens has me drooling!!  That soup looks like a bowl of vegan soup heaven to me.  I think one bowl of this soup will have me feeling like I am wrapped in a nice warm blanket and sitting by the fireplace while a snow storm rages outside.  I love the use of greens like basil and Swiss chard in her recipe.  She used cauliflower to give this recipe a creaminess.  I am going to make this using my homemade gnocchi.
I discovered this recipe last week when I came down with a cold and needed a meal that will help clear up the stuffiness in my head.  When I found this soup, I wasn't sure if the tofu would taste great in this soup, but, I tried it anyway.  I am so glad that I was wrong about the tofu because it turned out to be absolutely delicious.  This recipe is from Erica of Coffee and Quinoa blog.  Her Asian noodle soup to cure a cold has so many delicious Asian flavored topped with a light helping of Sriracha sauce.  She added soba noodles, bok choy, carrots and ginger which are all required ingredients for hearty vegan soups.  So, do as I did by curling up on the couch with a bowl of this soup in my hand and said goodbye to my stuffy head blues.
When is your favorite time to eat soup?