Hearty Vegan Soups that warm you up from the inside out on those very cold winter nights. These soups are really easy to make and they are so very creative. Nothing beats a hearty soup!
Hearty vegan soups that are delicious and heartwarming?
Yes, there are so many delicious soup recipes that vegans, vegetarians and even meat lovers can feast on.
I find myself craving creative soups for lunch lately, especially soups made with fresh veggies. So, I put together a list of 5 delicious soups that are good all year round.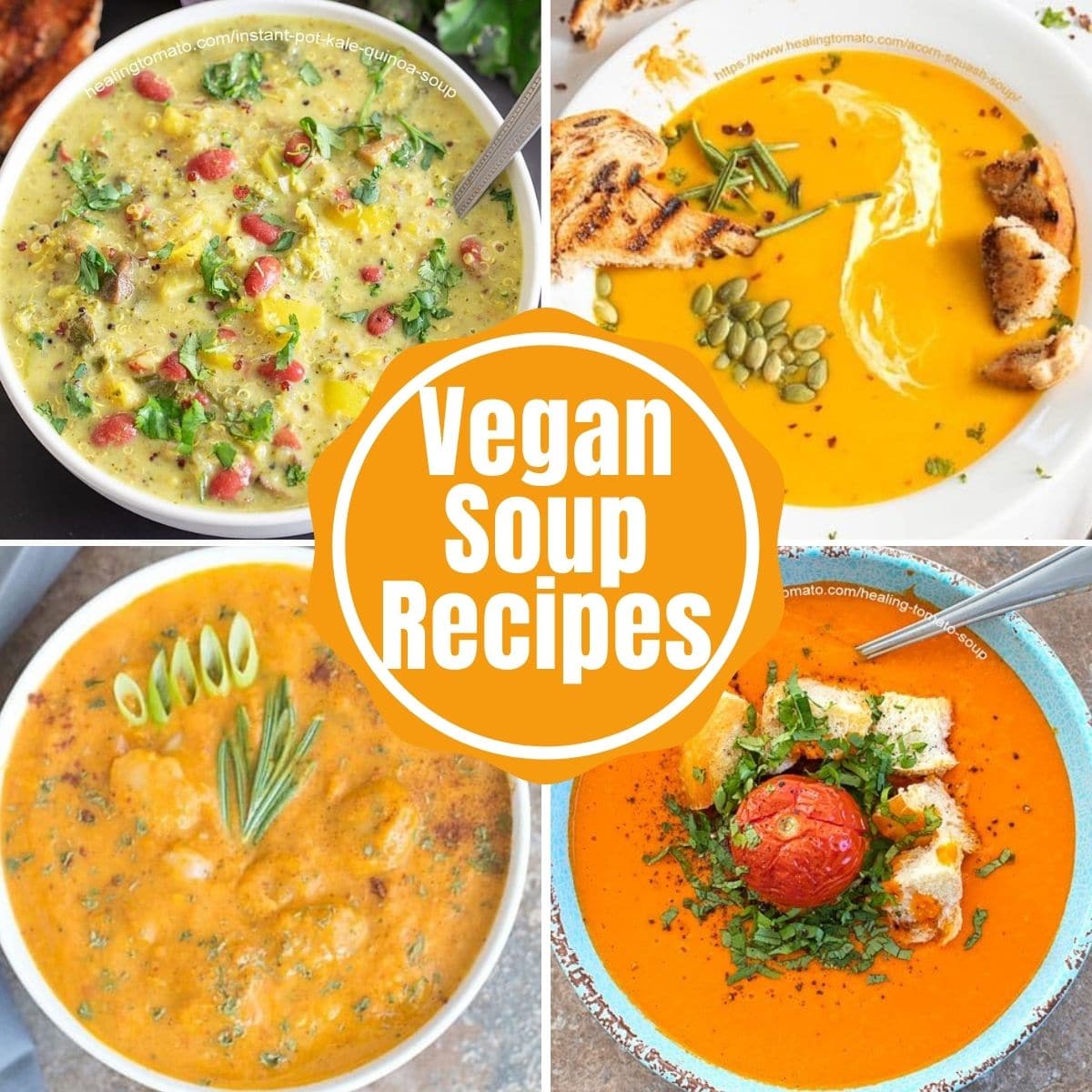 Hearty meatless soups
These soups are quick, easy and so comforting. I use real vegetables and ingredients to make them and that's makes a huge difference.
Which one of these is your favorite?
I have tried teas and hot totties to help sooth my cold, but, nothing worked as magically as these soups.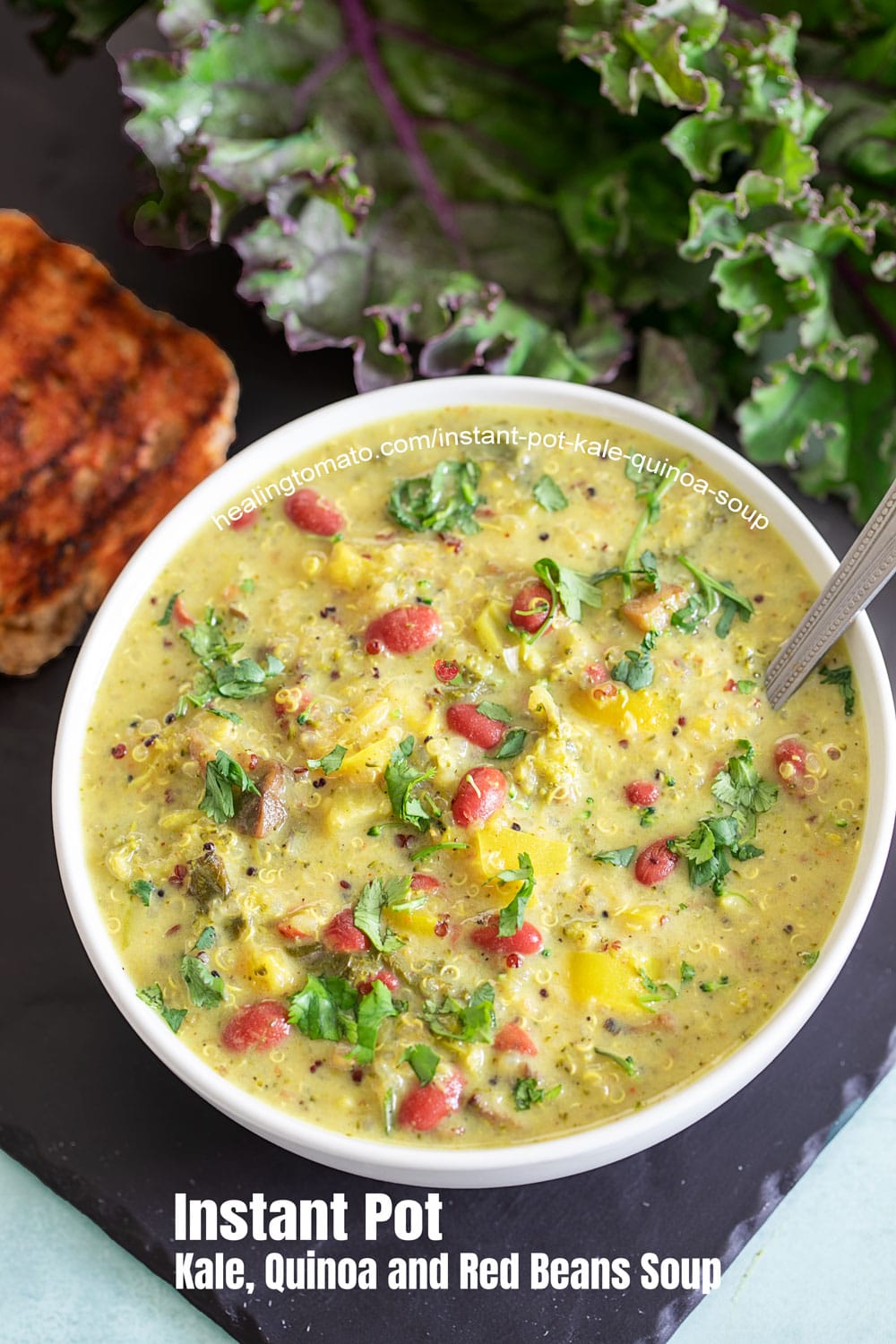 This is the heartiest vegan soup recipe you will make. It's made with protein rich ingredients and other essential nutrients.
I added purple kale, mushrooms, broccoli and bell pepper to it. Best part is that it is made quickly in the instant pot.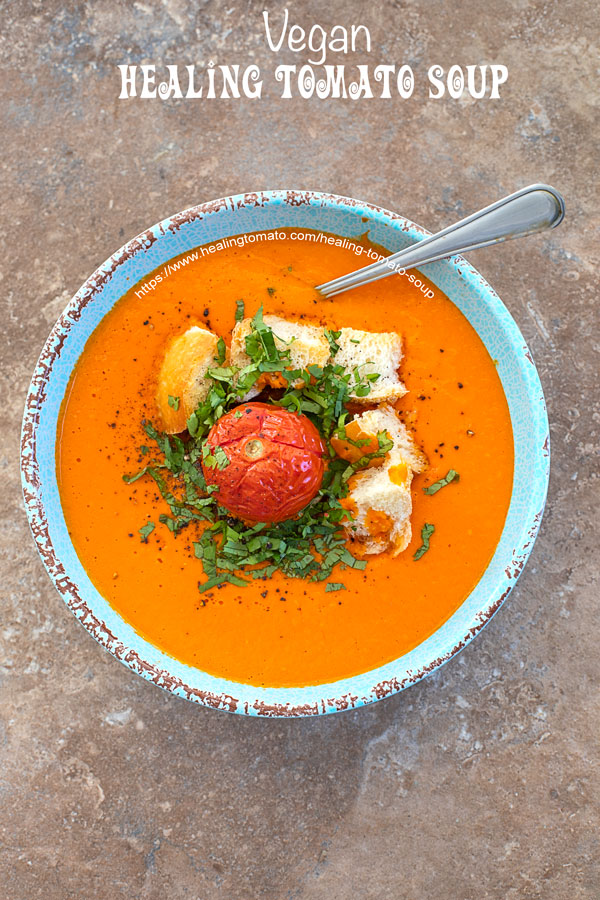 Tomato soup is part of my soul! Its one of those soups that I must have even when the weather is hot!!
I love grilled cheese and tomato soup any day, especially on a rainy day.
The soup is made by roasting tomatoes and red bell pepper before bringing them together with spices. Doesn't that sound like the best vegan soup ever??
---
This is a fun soup to make in the fall season! I used freshly roasted acorn to make this soup.
The fall spices add a delicious kick to the soup and help fight the winter blues! It's a copycat version of Panera's autumn squash soup. Only, mine is vegan-friendly.
This winter acorn squash soup is now a family favorite. The soup is so easy to make and it can also be made in advance. So, we make a big batch of it over the weekend and enjoy it all week.
---
Hot soup with fresh veggies and pigeon peas! Doesn't that sound delicious?
This soup also has dumplings in it, but, they are not what you think. These dumplings are made by pouring batter directly in the soup. It makes the soup much lighter and more flavorful.
The soup takes almost no effort to make and its one of those vegan soups that you can make it all year round.
---
Adding Butter Beans to a creamy soup seems strange, but, let me tell you that its delicious!
The beans make this soup very hearty and delicious. The butter beans work so great with pumpkin in them. If you haven't tried it before, try it now!
Also, why would you only eat this soup during pumpkin season? It needs to be enjoyed whenever you are in the mood for a hearty soup.
---
Are you a fan of jackfruit? Its one of those vegan ingredients that has taken me a really long time to start liking.
But, once I put it into this chowder recipe, I have found a new appreciation for it. Jackfruit has a dense texture, so, it gives this soup a very hearty texture.
Paired with corn, I think you will love how it warms you up from the inside out. Vegan Soups are made better with jackfruit in them.
---
5 more irresistible soups
5 Soups are never enough, am I right? Here are a few more of my vegan soups that you can make anytime.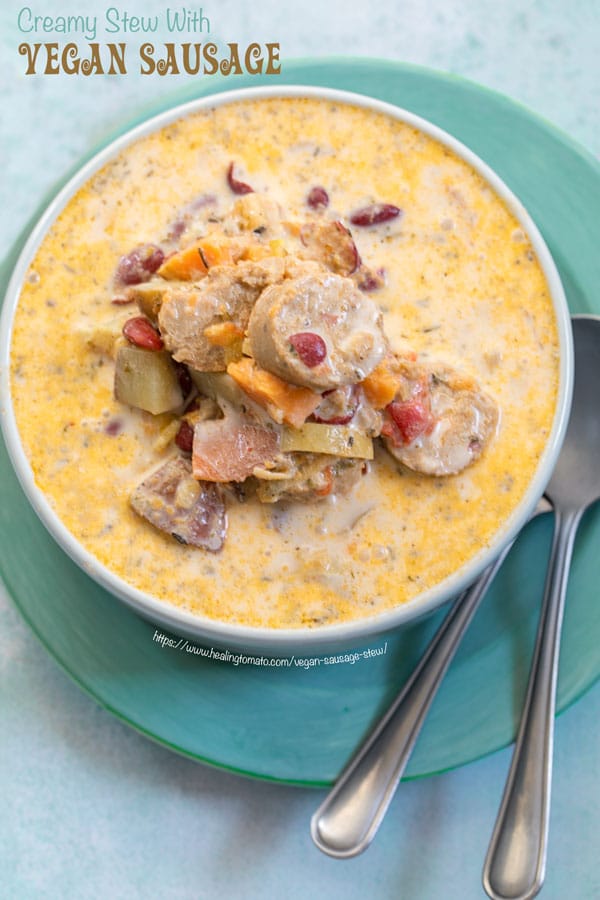 Yes, I tried vegan sausage and Yes, it wasn't too bad! 🙂
I have been against using fake meats in my recipes. Personally, I think it's possible to be vegan without eating any vegan sausages or vegan beefs, etc.
But, I tried a recipe using this vegan sausage brand I found in my local grocery store and it wasn't bad. The stew is hearty and delicious. It also takes very little effort to make.
Do you like fake meats?
---
This potato soup is made with all fresh ingredients and it has fresh herbs. The soup includes sweet potatoes, turnips, ginger, garlic, rosemary, basil, apples, hazelnuts and almond milk.
The veggies are roasted with the herbs and then blended to perfection. It is the perfect soup for those cold winter nights.
Best part is that it takes only 30 minutes to make.
I have even more vegan soup recipes and vegetarian soup recipes on my blog. There is a soup for every mood you are in.
---
Do you love orzo? It's such a versatile pasta item that it can be mixed with cauliflower for a side dish or be put into a warm winter soup recipe!
This orzo soup is made with fresh spinach, carrots and chick peas, among other ingredients. Just a sip of this soup and all my teeth stop chattering, my body is all warmed up!
How often do you cook with orzo?
---
This is an older recipe, but, that soup still stands the test of time!! The soup is vegan and creamy made with roasted cauliflower and broccoli.
I added a few spices to this soup to bring out the flavors of the broccoli and cauliflower. I used coconut milk to give it a creamy texture. You can also use nut milks in this soup.
It's perfect appetizer before any meal on a cold winter night.
---
This is a different kind of butternut squash soup. First, I used butternut squash noodles in it instead of chopped or pureed butternut.
It also has black beans, corn and bell peppers. Taco seasoning brings all the flavors together.
It is a healthy soup that you can make in advance and use it when you need it.
---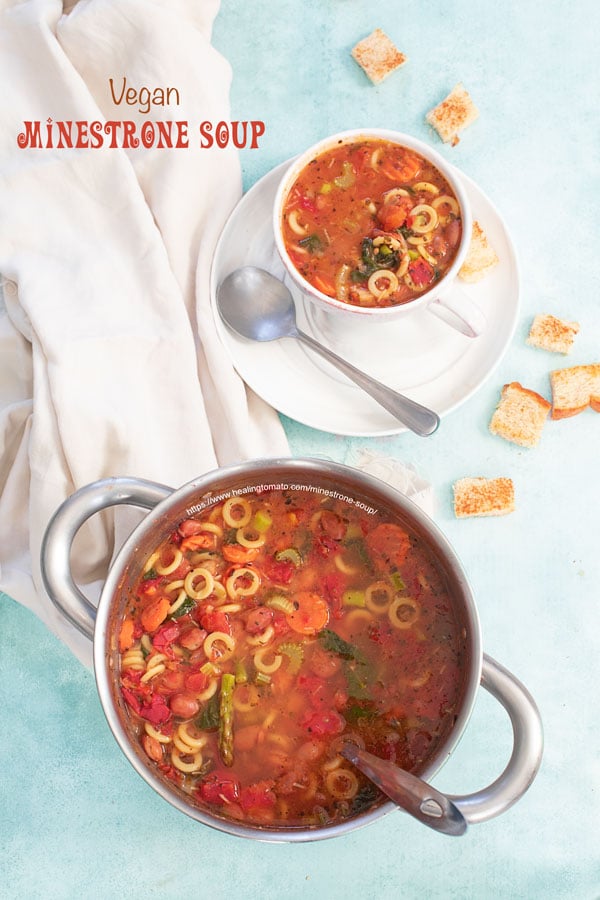 Minestrone soup is one of the easiest soups to make. It requires no pre-roasting of ingredients and all the ingredients get cooked in one pan.
I made this minestrone soup using authentic Italian ingredients like Roman beans and light pasta. This soup is perfect for those cold winter nights when you just want a simple meal to warm you up.
Have you tried minestrone soup?
I have tried teas and hot totties to help sooth my cold, but, nothing worked as magically as these soups.
Previous versions of this post
** Version one was originally posted on December 28, 2015 1:53pm.
** This post was updated on December 10th to add a few more recipes and change up the recipes from my fellow food bloggers.