How to create foil packet potatoes with sweet corn, onions and garlic. Top with vegan butter and basil pesto. Cook on a grill or roast in the oven.
Grilling veggies in a foil is so much easier that I thought it would be. Now, I am seriously kicking myself for not doing it sooner.
Over the summer, I discovered that I can foil grill almost any vegetable. From broccoli to rutabaga and everything else! I should have been doing more foil grilling
I credit Jamie Oliver for simplifying the process of foil cooking and still making it look beyond delicious.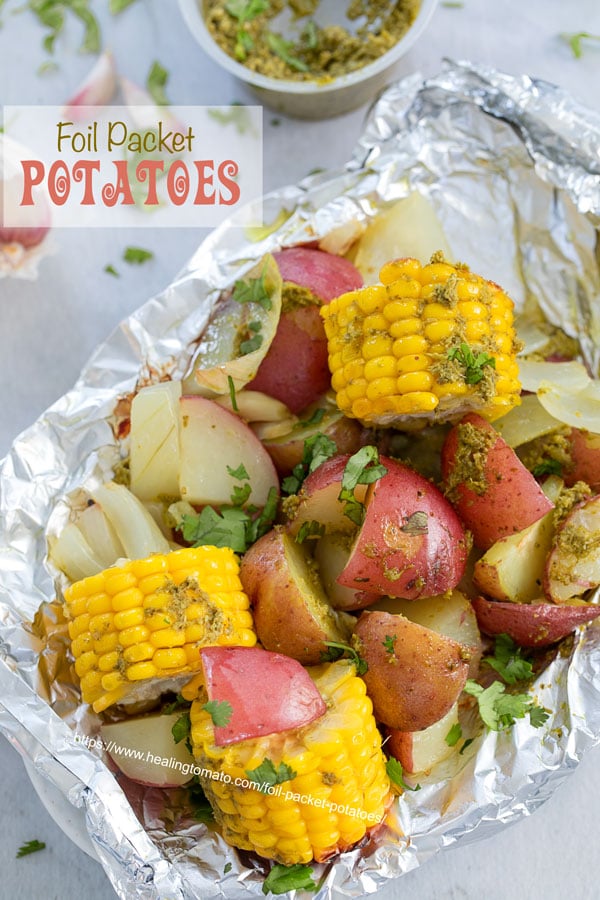 Tips for making these recipe
Fire up your grill for these potatoes. They can be made in the oven and even a toaster oven. But, they are best when grilled on a grill.
It will be easier if you can mix all the ingredients in a bowl first. Then, transfer them to the foil.
Use baby red potatoes because they are perfect for foil grilling and they taste great with sweet corn.
You can use store bought pesto, to make it faster for you. Or, you can choose any one of my pesto recipes – vegan pesto with scallions, cilantro pesto or arugula pesto
Refrigerate any unused portions in the same foil packet you made them in.
These foil packet potatoes can be mixed with any veggies. Add more vegetables in it like zucchini or any squash
These grilled veggies can be made year round and use veggies in season
Frozen corn will work in this recipe. Don't thaw the corn, just add it directly to the foil wrap. Cook it for about 3-5 minutes longer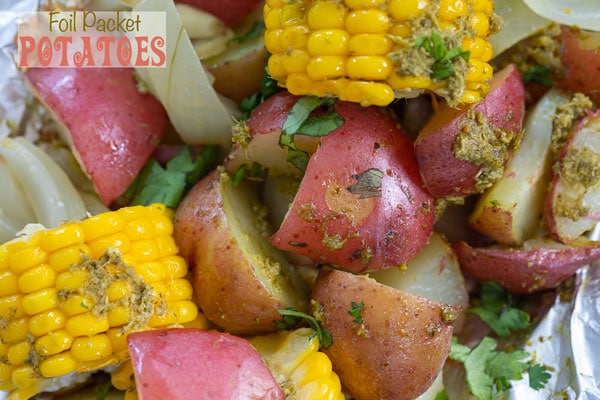 Why I love these recipe
First, I want to put a tiny disclaimer. There isn't a vegan or vegetarian potato recipe that I haven't liked! Potato recipes are some of my favorite foods in the world
So, now you know that it doesn't take much to please me when it comes to potatoes.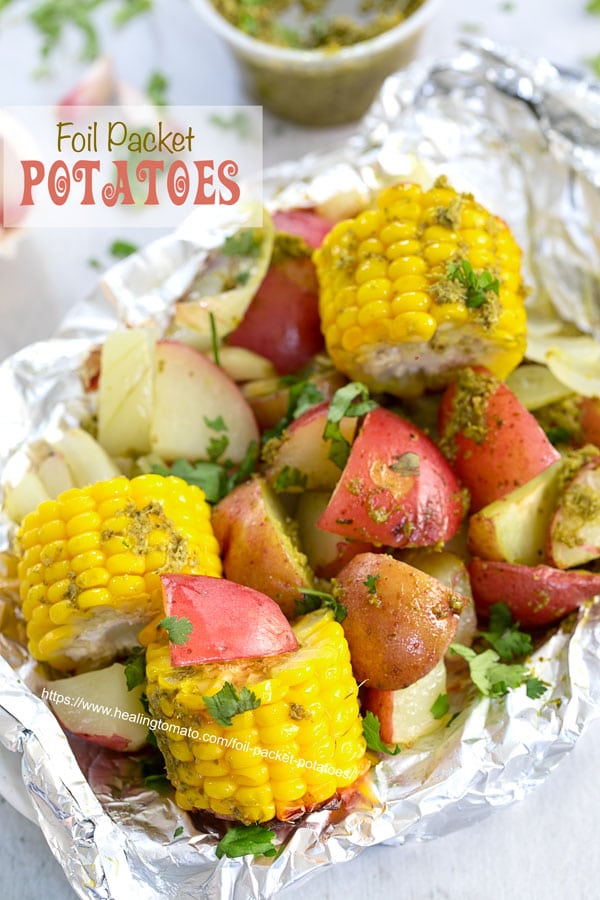 Recently, I made my creole potatoes with peas and boy! They were perfectly cooked in the Dutch oven and they were a huge hit in my home.
Grilling potatoes in foil gave me a renewed appreciation for these tubers. The steam that is trapped in the foil pockets made the potatoes and corn cook to perfection
There is nothing that I don't like about these foil pocket potatoes! Its that good.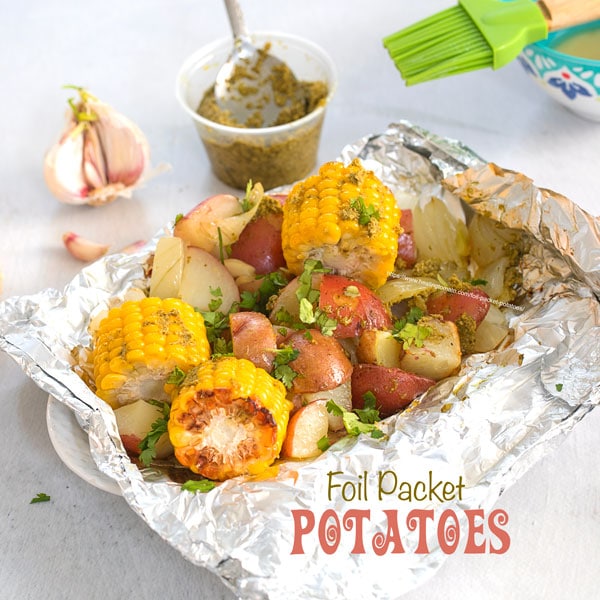 Answering your questions
Can I use sweet potatoes instead of baby potatoes?
Yes, you can absolutely use sweet potatoes in these foil packet potatoes. Chop them into the same size pieces that I cut the baby potatoes
I have even more tips for working with sweet potatoes. Have you tried them all?
How long to grill corn in foil?
Corn kernels in foil, along with other veggies, will take about 20 minutes
Sweet corn kernels by themselves will cook in 10 minutes or less
My favorite way to grill corn is by using sweet mini corn on the cob. I place the mini corn in foil packet, along with seasonings. Then, I grill for about 10 minutes.
Can I add sweet corn kernels?
Yes, sweet corn kernels are perfect for oven grilling or on a grill itself. You may have to experiment with the cook time, especially if you are using frozen sweet corn
My favorite way is to grill corn with other ingredients because they compliment any veggies. The corn brought out the best flavors in all the ingredients of this foil packet potatoes
Can I make these foil pocket potatoes by the campfire?
Yes, these foil pocket veggies are perfect for grilling by the campfire. They can be put directly into the fire pit, or, use a campfire grill stand.
To make your life easier, prepare the foil packet potatoes from home and put them in a cooler. This way, you just have to cook them over the fire.
I have a couple of corn on the cob recipes that you can grill by the campfire. Vegan grilled corn on the cob and cilantro grilled corn on the cob can easily be grilled over a campfire.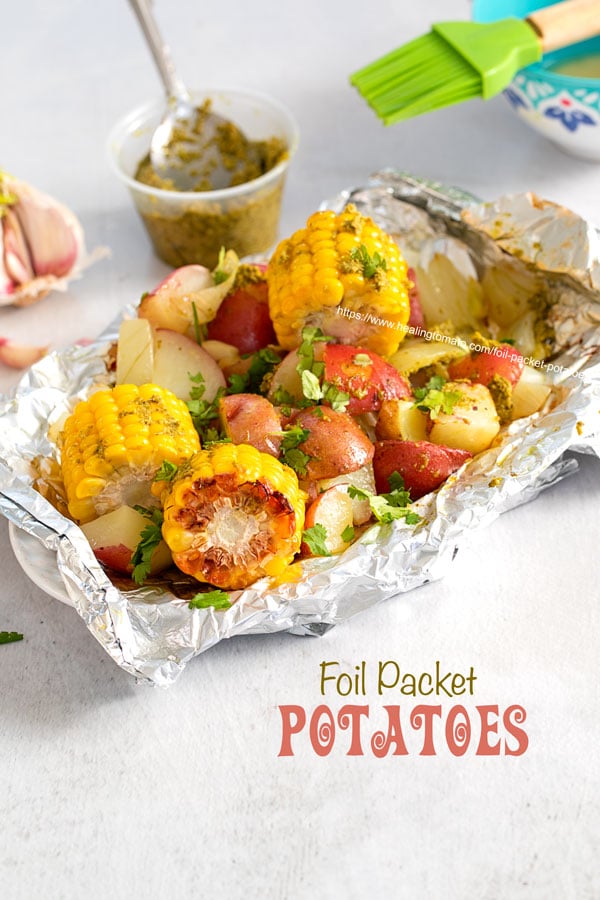 How to make foil packets?
Choose a rectangle shaped piece of aluminum foil. Ideally, you want the length to be twice the size of the width.
Fold the foil into half to form a crease. This crease will be the dividing line.
Place your ingredients on one half of the foil and keeping the veggies about 2 inches from the edges.
To seal in the stem, I baste the edges of half of the foil.
Fold the other half over the veggies to be grilled .
Start by folding the edges of the foil packet. Seal tightly to ensure that the steam doesn't escape
The top edge of the foil packet will be the last to fold over. If you have a liquid you want to add to the veggies (like wine? ????), add it from the top edge
Seal the last edge and place the foil pocket on a grill or place it on a baking tray and place it in the oven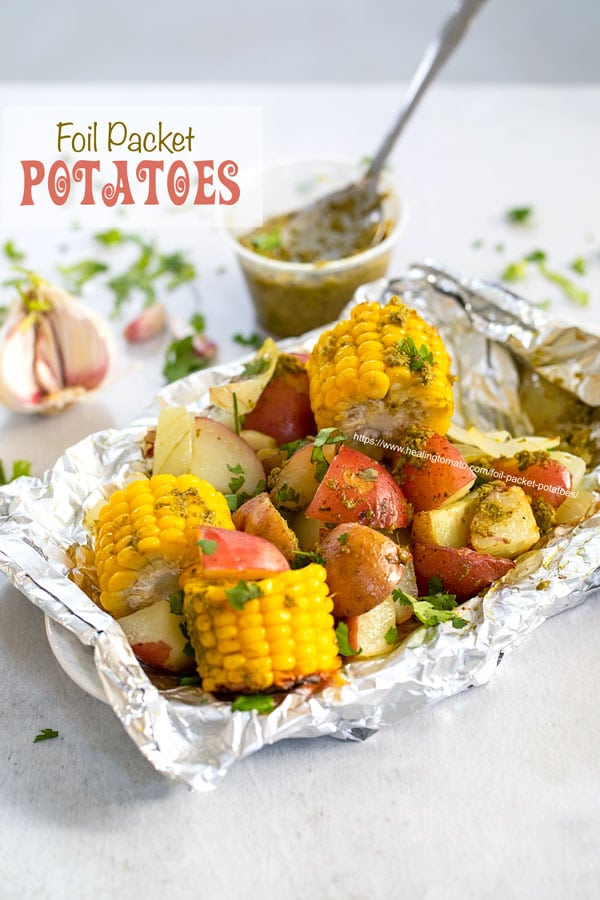 More Baby Potato Recipes
If you are like me and can't get enough of baby potatoes, then here are some more of my favorite potato recipes. Which one is your favorite?
Tofu Scramble with baby potatoes
If you love egg scramble, you will love this tofu scramble with southwestern flavors
Oven roasted potatoes mixed with a delicate cilantro pesto recipe
Sheet pan roasted broccoli and potatoes with extra garlic
Individual sized garlic potatoes in a rich butter-sage sauce
Baby potatoes in a rich tomato gravy with Indian spices and seasonings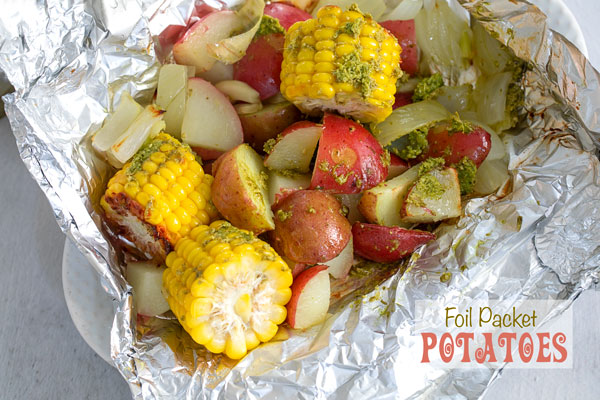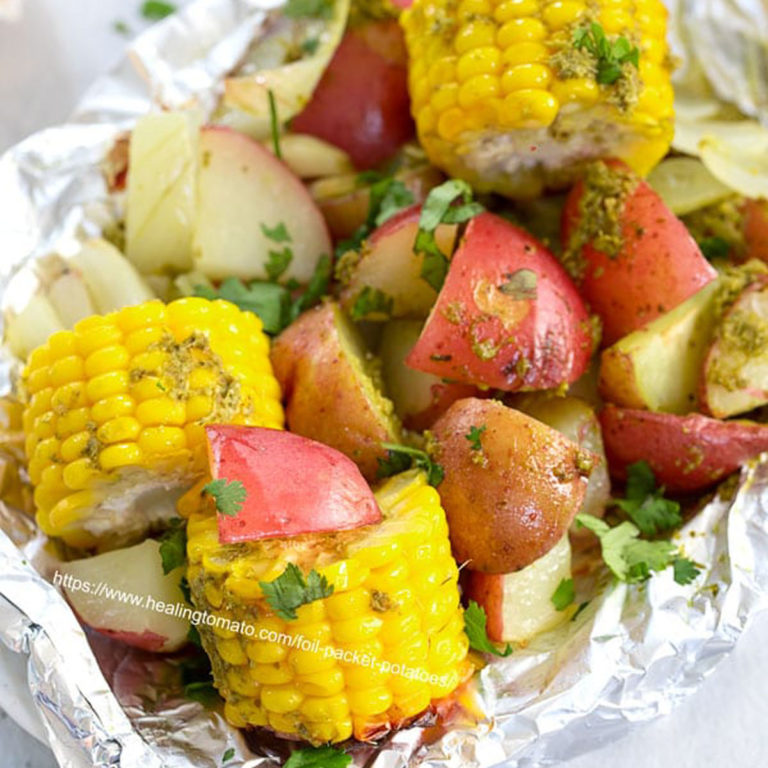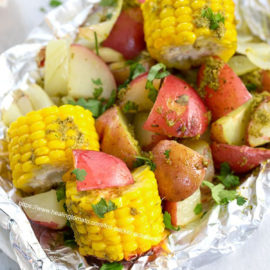 Foil Packet Potatoes
Quick way to grill baby potatoes in foil along with corn and mixed with basil pesto
Ingredients
4

baby potatoes

cut into 4 pieces each

1

sweet kernel corn on the cob

cut into 3-4 pieces

3

cloves

garlic

thinly sliced

¼

onion

roughly chopped

1

Tbsp

butter

cut into pieces, See notes

1

tsp

butter

melted, for sealing the foil, See notes

1

Tbsp

basil pesto
Instructions
If using an oven, preheat to 450°

Take a foil that is 21inches in length and 13inches in width

Fold the foil into half and open it. This will leave a crease

Add the potatoes to one half of the foil. Be sure to keep them about 2inches away from the edge

Pile all the other ingredients (except the melted butter) in the order listed

Using a basting brush to baste the edges of the foil with the melted butter

Bring the other half of the foil over the veggies

Fold the 2 side edges of the foil first. Keep it tight so that steam doesn't escape

Fold the last edge tightly

Place the foil packet on a grill and cook for 15 minutes

You can also place it on a baking tray and place the tray in the oven for 25min

Carefully open the foil packet after its done cooking

Mix all the ingredients well and serve immediately
Notes
NUTRITION INFO IS APPROXIMATE. PLEASE CONSULT YOUR HEALTHCARE PROFESSIONAL FOR MORE ACCURATE INFO.
** It says butter which means you can use vegan butter or you can use dairy butter.
Fire up your grill for these potatoes. They can be made in the oven and even a toaster oven. But, they are best when grilled on a grill.
It will be easier if you can mix all the ingredients in a bowl first. Then, transfer them to the foil.
Use baby red potatoes because they are perfect for foil grilling and they taste great with sweet corn.
You can use store bought pesto, to make it faster for you.
Refrigerate any unused portions in the same foil packet you made them in.
These foil packet potatoes can be mixed with any veggies. Add more vegetables in it like zucchini or any squash
These grilled veggies can be made year round and use veggies in season
Frozen corn will work in this recipe. Don't thaw the corn, just add it directly to the foil wrap. Cook it for about 3-5 minutes longer