Looking to make a vegan shopping list? Here are vegan pantry essentials that I always have in my home. These list includes shelf-stable ingredients, pantry staples and a few freezer items
Disclaimer: Brand names are included in this post and images. This post is NOT being compensated by any of the brands, financially or otherwise
Thinking of becoming a vegan? Don't know what to stock up?
I created this list for all those that are struggling to understand veganism or looking to expand their vegan cuisine pantry.
Have these essentials in your pantry and you will never be wondering what to eat as a vegan.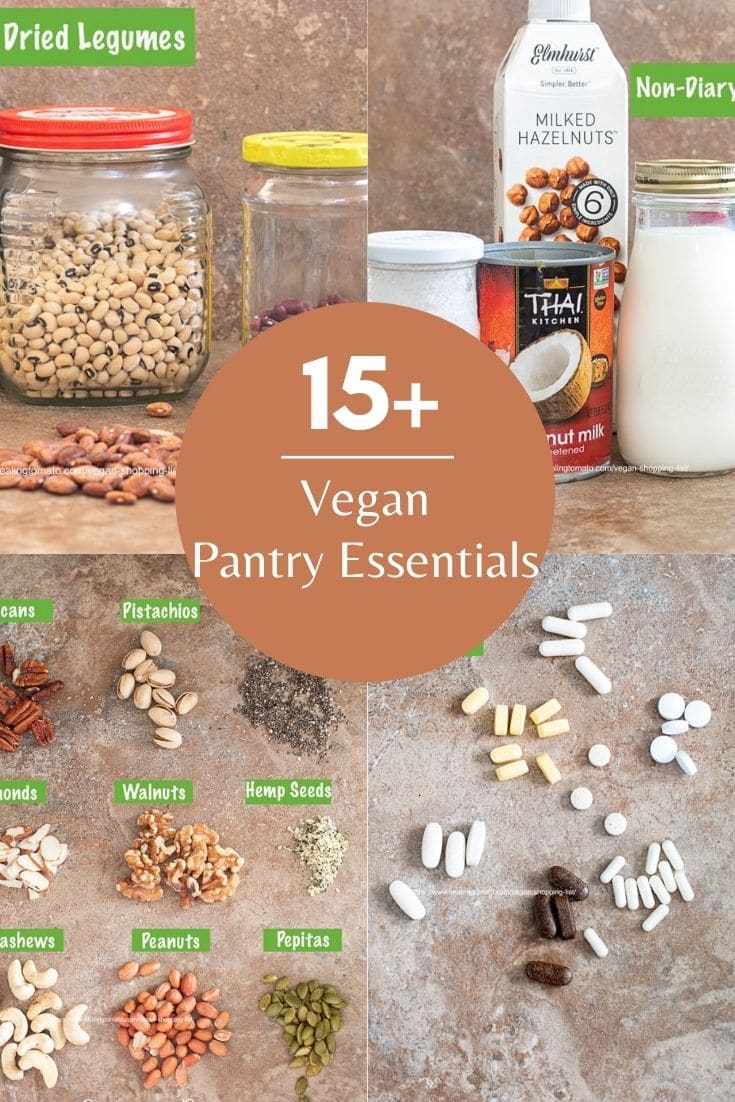 Tips for making a vegan shopping list and stocking up
If you can't find bottled water, use one of 2 options Floridians have been doing during hurricane season

Many grocery stores and big box stores have the water filling station in their stores. Bring your own gallons or buy empty gallons at their premises. Many of them will sell new empty gallons for about a $1. I know Walmart Neighborhood and main stores do that. Fill up these gallons for about $0.50 and save them for future use.
Fill up containers of water from your tap. You can use gallons, pots and pans, bottles and anything you can find. If you want, you can also boil the tap water before storing it.

Keep paper plates and plastic ware on hand. At some point, we will get tired of washing dishes!! ????
I am running out of pantry space, so, I keep sealed containers, cans bottled water, etc in my closet and even in the hallway closet.
Some of the items on this list may not be available in our local grocery stores or box stores. You can easily buy them from online stores like like Amazon, Vitacost, ThriveMarket, etc.
In all the confusion, it's easy to forget your seasoning and spices collection. You can have all the food in the world, but, what use is it if you can't season it, am I right? ????
From my past hurricane preparedness training, I have learned to have more non-perishable food items on hand over perishable. Non-perishable are foods that can exist outside of a refrigeration unit.
If you run out of containers to hold food in, like I did, use old salsa bottles, pickle jars, mason jars and any glass containers. I just make sure I have washed them thoroughly and dried them before storing edible items in them.
The nuts I mention in the list below tend to get rancid after a while. I like to put them in the refrigerator to delay it.
In addition to the essentials I mention in this list, I also have some junk food on hand. They may not be essential to provide nutrition, but, they will make me feel a little less anxious. Things like chocolates, chips, caffeinated drinks, etc are also in my pantry for when things get stressful.
Don't forget to have a manual can opener on hand
15 absolute food essentials that vegans should stock up on
Here are absolute essentials every vegan should have for a 14 day quarantine. Some of the items will last well beyond that quarantine period which is only a bonus, right?
If I have missed an essential item or if you would like to include your favorite in this list, please feel free to comment below. I would love to hear what you have to add.
Here is my list of vegan essentials, in no particular order:
1) Nuts and Seeds
At any given time, you will always see some kind of nuts in my pantry. I am always fanatic about having nuts in the house. They have so much nutrition that all vegans need.
So, why are nuts so important? They have magnesium, proteins, vitamins, zinc, manganese and many other nutritional essential that our bodies need.
Some nuts that I couldn't include in the image are sunflower seeds, pumpkin seeds, hazelnuts and Brazilian nuts
P/S: I know peanuts are considered legumes and not nuts. However, since people like to associate them with nuts, I am including them here.
2) Lentils and other legumes (dry)
There are many days where I survive just on lentils or chick peas. One reason they are so important is because they are one of the best source of proteins for vegans.
The next time someone asks you how you get your protein on a vegan diet, show them your pantry filled with lentils! Red Lentils, split black gram (urad dal), black beans, navy beans, lima beans, pinto beans and so much more.
You can make vegan refried beans at home using pinto beans. Then, put them into enchiladas, chili or layered dip.
Red lentils are great with Kale and curry flavors. French lentil is perfect for a lentil stew.
3) Canned goods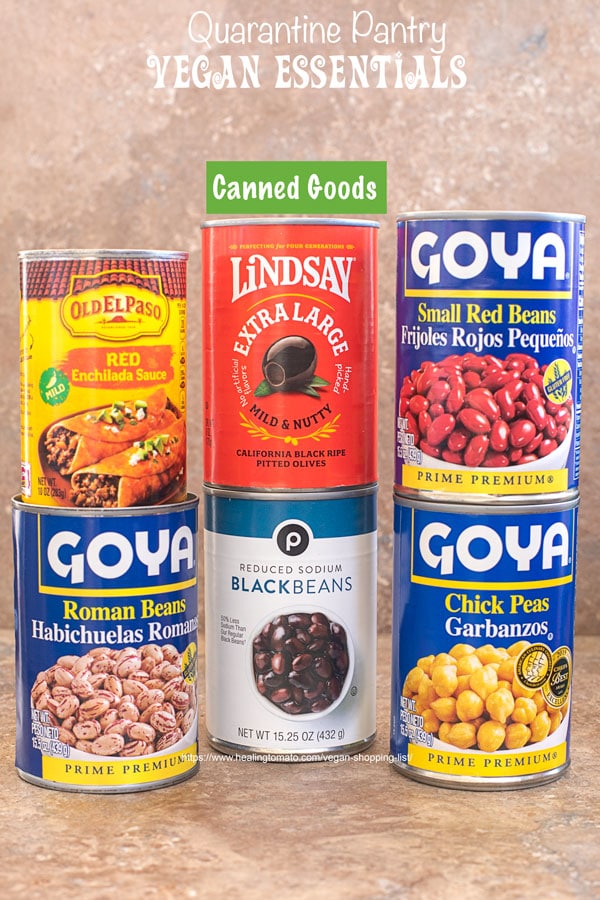 Cooking with dry beans and chick peas can be time consuming. So, let's keep a few cans of our favorite legumes on hand. They are great to pair with rice, pasta and soups.
I also like to keep cans for enchilada sauce and baby corn pieces because they can be useful to add to salads, enchilada casseroles or noodle recipes.
I like to roast the chick peas and eat them as a snack. I am going to stock up these roasted chick peas and munch on them while at my desk.
Black beans can be in freezer-friendly burritos or Mexican fried rice
4) Rice and grains
I don't think I can live without rice! I need my basmati rice at least 2 times a week. So, I stock up on basmati rice. I get a big bag from my local Indian grocery store, but, you can get them online too.
I like to make Saffron rice and spinach rice. Both of these recipes can be made-ahead and refrigerated.
Quinoa is easy to find locally and it is going to be filling in any recipe. It also has fiber and protein which are essentials that every vegan needs
Brown rice is also going to be helpful. You can put it in a rice pudding or stuff poblanos with it.
I like to keep a variety of rice like wild rice blend which is a mixture of so many different rices. It is lighter and great for pilafs or mushroom rice. I can make them and freeze them for future use.
If you like amaranth, store those in your pantry. You can always make a simple tabouli recipe from it.
5) Frozen vegetables
This is my biggest shortfall. I am so used to consuming fresh veggies that I rarely think about keeping frozen veggies.
This is an area that I definitely need to work on. So, learn from my shortcomings and stock up on frozen veggies. Most of the time, they are flash frozen when they are fresh. This means they will restore most of their nutrition while frozen.
The only 2 veggies you are likely to find in my freezer are sweet baby corn and baby sweet peas (yes, peas are legumes, but, I will include it in the vegetables section for now. 🙂 )
So, here is where I say, do as I say and not as I do! ????
When cooked, these frozen veggies can be very tasty. So, they do make me forget the fact that they are frozen and I devour them completely.
I like to make a roasted vegetable medley with vegan brown butter gochujang sauce.
What do you like to make with vegetables?
6) Fresh vegetables turned frozen
I did get a little creative with my frozen vegetables deficit. I took a few fresh veggies and froze them myself in zip lock bags.
Take that, empty frozen store shelves!!! ????‍♀️????
In the grocery store, they had these fresh veggies in bags. I took them home, washed them and put them in smaller zip lock bags.
Kale
Collard greens
Spinach, baby spinach
Carrots
Green beans
These fresh, yet frozen veggies, can go into curries, soups, stews and even smoothies. Check out how Foodlets turns frozen spinach into a fun skillet recipe for kids.
7) Frozen potatoes and French fries
Yes, potatoes are part of the vegetables family, but, I am creating a special section on this list just for them.
Alexia makes great French fries and flavored potato sides.
I love their house cut fries because they use real potatoes. When baked, they are crispy on the outside and moist on the inside.
I keep their hash browns, oven reds with olive oil and crispy onion rings in my freezer at all times. They are a great comfort food option.
P/S Alexia is not paying me to say any of this things about them. I have been a fan girl of their product for a very long time.
If you have fresh potatoes, they are easy to freeze. I like to boil them first in my pressure cooker. Then, I remove the skin and freeze them.
Writing the date I boiled them helps me remember how long they have been in the freezer.
The frozen potatoes can be used in soups or be mashed when you are ready to serve them.
8) Frozen Fruits
Frozen fruits are an absolute must because they flavor so many smoothies! A healthy smoothie for breakfast or as a snack will be great for when you are stuck indoors.
Get the kids involved in the smoothie making process. It's a fun activity for kids and it will keep them busy for a while. 🙂
My favorite to make is Mandarin orange smoothie. This smoothie uses canned mandarin, but, even frozen mandarin will work.
Just like vegetables, I froze fresh bananas, mixed berries and mangoes. They will last for months. Avocado freezes well too (it's a fruit). Frozen avocados and banana make for a delicious chocolate smoothie bowl
Also, olives are considered stone fruits, so have them on hand. They are PACKED with good fats and good nutrition. They can be very satiating, especially when turned into an olive salad.
9) Vitamins
Vitamins are more important than ever especially if you are not going outdoors as often. How will we get our daily Vitamin D requirement?
This is where vitamins become so crucial. I am making sure I have a 3 month supply of vitamins on hand. The B-1, B-12, Vitamin C, Vitamin D, Biotin and calcium supplements will be important to consume when you can't go outside.
Also, I am not a nutritionist or a doctor. These statements are some suggestions provided to me by professionals I talked to. Be sure to consult your doctor first.
10) Vegan non-dairy milks
Almond milk is perhaps the most consumed milk in my home. However, during this social distancing time, it is going to be hard to get them fresh.
So, I am going to do something I haven't done before. I am going to freeze almond milk, coconut milk and hazelnut milk. I also freeze coconut creme to put in desserts and smoothies.
It's not recommended to freeze almond milk, but, desperate times call for desperate measures right? I freeze them in glass bottles because they will freeze well. You can use the box cartons they come in, but, I don't like to do that.
Alternatively, you can freeze almond milk in ice cube trays.
To thaw/defrost it, I put them in the refrigerator for about 12 hours. Or, if you want to thaw faster, put the bottle in luke warm water until it thaws.
Vegan yogurt can also be frozen and thawed in the refrigerator. The consistency might not be the same, but, it will taste good
Amazon also sells non-dairy, powdered creamers made out of soy and coconut milk. Stock up on them too.
If you own your own nut milk machine like NutraMilk, use that to make fresh hazelnut milk or butters.
11) Oils
How do you cook potatoes, vegetables and legumes without oil?
It's important for me to get a stock of olive oils. Then, I store them in a cool, dark place of your pantry.
Avocado oil, sesame oil and almond oil can also be kept on hand.
12) Pastas and sauces
When all else fails, you will always have pasta, right? I keep different shapes on hand, so, I don't get bored with the recipe.
A simple boiled pasta with store bought pasta sauce is a good meal to make for the family. Ragu makes a couple vegan sauces like Ragu Old World Style Organic traditional sauce and Organic mushroom sauce. Barilla has marinara sauce but it doesn't specify what kind of sugar they use in their sauce.
Or, you can make pasta without sauces. I have a huge collection of pasta recipes. Check them out and let me know your favorite.
P/S: I like to use some of those frozen veggies (from #5 and #6 above) with pastas.
13) Butters, spread, jellies and nut butters
Sometimes, a peanut butter and jelly can change your mood with just one bite. If you or I get cabin fever, a PB&J sandwich will be very uplifting.
Plus, what is breakfast toast without butter?? Or jelly? Just because you are isolated, doesn't mean you have to eat like you are stranded on a desert island!
14) Vegan Bread (Frozen)
Yes, there is such a product in the market as I discovered.
Can bread be frozen? Yes, frozen bread is a thing and it's great for those who love bread but don't eat it often.
I discovered that Food For Life makes delicious frozen bread. So far, I have only tried their sprouted grain sesame bread and it was delicious.
So, keep frozen bread on hand. Fresh bread is good, but, it may not last 2 weeks. At least It may not taste as good, 2 weeks later.
I have also tried frozen UDI bread. It makes the most delicious mushroom grilled cheese.
Have you tried frozen vegan bread? What is your opinion?
15) And, saving the best for last…. TOMATOES!!!!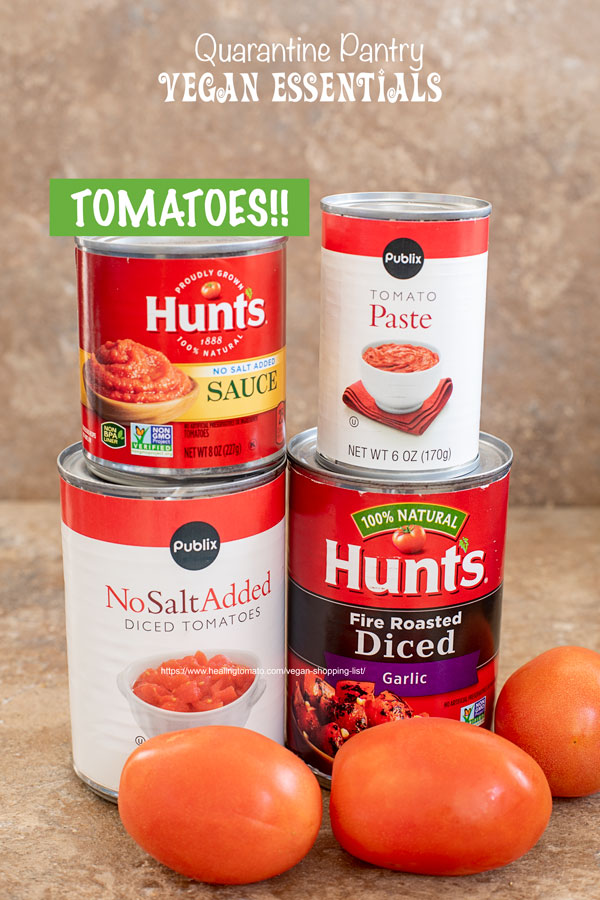 You had to see this coming! How could I make an essential food list and NOT list tomatoes? ????
I love tomatoes, as you may already know. I couldn't put all the fresh tomatoes and canned tomatoes I currently have because I would have to take that photo from space!! ????
Canned tomatoes can be put into chili, soups, curries, tarts, salads, salsas, sauces and the list is sky high.
I fresh tomatoes using The Old Farmer's Almanac's process of canning tomatoes.
Or, you can always pickle fresh tomatoes and use them on sandwiches.
Common questions about items on this list
As you were reading this vegan shopping list, did a few questions pop up in your mind?
P/S: Thank you so much for reading this far into the post. I know it's a long post, but, I wanted to give you as much information as I can. For me, the more information I have, the less anxious I am.
I am going to answer a few of those here. If you have more questions, feel free to comment below.
Why is it recommended to not freeze almond milk?
The almond milk makers don't recommend it because it thaws unevenly. This means that it thaws and separates into different layers.
The thick part of the milk will settle at the bottom and the watery part of the milk is at the top.
So, what do you do when you thaw the milk and see this layers? I like to whisk it or blend it up. The layers will mix long enough for me to consume it.
Can I stock up on canned veggies?
Yes, you can use canned veggies. However, I think I would keep them as option C! Personally, I am not a fan because I think the canned version will alter the flavors.
Also, canned vegetables tend to use preservatives that I don't like. If you can't find frozen or fresh vegetables in your area, then, go for the canned version.
I suggest rinsing the vegetables after you removed them from the can. Put them under running water and remove as much of the liquid they came in. Dry them before cooking them.
What kind of fresh vegetables can I freeze at home?
Green beans (whole or cut)
Spinach
Carrots
Broccoli
Onions
Bell Peppers
Squashes
Radishes
Cauliflower
Mix up the carrots, cut green beans, corn and peas to have your very own mixed vegetables recipe
Are there other things I should have that you haven't listed
Tortillas (great for enchiladas, burritos or wraps, or make tortilla chips out of them)
Pizza dough (my local grocery store sells pre-made dough that I can use right away or freeze for about a month)
Can opener (it's so easy to forget about having this gadget)
Condiments (ketchup, mustard, pickles, hot sauces)
Flours (for baking or making your own breads)
Cereals and bagels (granolas, frozen bagels and vegan-friendly cereals)
Vegan cream cheese (I like Miyoko's vegan cream cheese)
Vegan cheeses (I haven't found any store-bought ones I like, but, if you like one, use it
Vegan frozen dinners (I know Kashi, Healthy Choice and Amy's brands make vegan frozen dinners. I haven't tried them personally, but, I know others who swear by them)
Vegan egg-beaters
Tofu (it doesn't last beyond 2 weeks, so, use it up as soon as possible)
Do I have to get everything on this Vegan shopping list?
No, absolutely not. As a blogger, I feel like I have to give you as many options as I can. Then, you get to choose what you want and don't want.
Let me know what you liked and didn't like on this vegan shopping list.
Free Shopping List Printable
I created a free printable that you can take to the grocery store! Enter the items you are going to buy and check the boxes next ot it.
A quick note about getting the printable. Yes, I do need an email address for you to receive the printable. It's just the way the system is setup and I can't control it.
Once you sign up, you will be asked to confirm your email. When you have confirmed it, a second email will be sent to you with the link to the printable.
This also sets you up to receive my newsletters. I never send more than 3 newsletters a month. You will never be spammed.
Happy shopping!